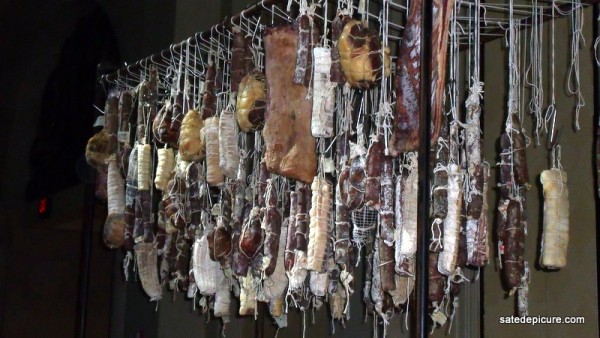 Momentum has been building around a salumi and charcuterie craze since last September when Mario Batali strung over 100 individual salume above his buffet station during Emeril's Carnivale Du Vin event at the Venetian Hotel in Vegas.  Batali decorated his station with all types of dry cured sausages and brought along three brand new commercial slicing machines so he could quickly and expertly cut the product to order as guests lined up to sample. Members of Batali's staff handed out fresh cut samples of several varieties of salumi while Mario worked the crowd in his bright orange Croc's and orange shorts, white bib apron tied around his waist. Armandino Batali, father of Mario and principal salumist at Salumi Artisan Cured Meats in Seattle, was the source of many of the salumi on display and Mario was proud to be slicing and handing out the goods.
Since that time I have traveled around the country and noticed more and more salumi on menus and, in some cases, chefs dry curing and aging salumi themselves. During a recent trip to St. Louis I dined at the Sidney Street Cafe and sampled the fine salumi that chef Kevin Nashan prepares and cures on site. After a wonderful multi-course meal at the café, Chef Nashan invited me down into the basement to see his curing room. He had six varieties of salumi (approximately 20 lbs worth) hanging in a climate controlled custom built vault, dehumidifier cranking away in earnest. Nashan offers a mixed salumi plate as an appetizer with house cured cabbage and fresh pretzel bread. His salumi is excellent and Nashan displays tremendous depth and talent in an old-school way as he works his kitchen making nearly everything from scratch.
Sidney St. Cafe Salumi Appetizer
Last weekend I noticed another phenomenon; construction of the first free-standing charcuterie shop I have seen in years while visiting Santa Cruz, California. Although pressed for time, I pulled into the chalky dirt parking lot of the Swift Street Courtyard to take a quick glance at the tasting rooms for Bonny Doon vineyard and discovered el Salchichero Handcrafted Charcuterie right there in the marketplace. El Salchichero, its name ablaze over the entry on a big red sign with white lettering,  is the inspiration of chef Chris LaVeque. He got his start selling charcuterie at the Santa Cruz Community Farmer's Market out of a pop-up booth while serving as Sous Chef at Bonny Doons Cellar Door Café. El Salchichero wasn't open yet when I passed through but the shop was nearing completion and it was perfectly located right next to an artisan bakery and Boony Doon's tasting room. I can just imagine customers grabbing a nice baguette at the bakery, a fine glass of Syrah from Bonny Doon and a slab of pate from el Salchichero as an afternoon snack. That LaVeque is inspired enough by charcuterie to open up a dedicated shop left me smiling as I took off to the south, late for a meeting. If he had been open I would have never made my meeting! Best wishes Chris.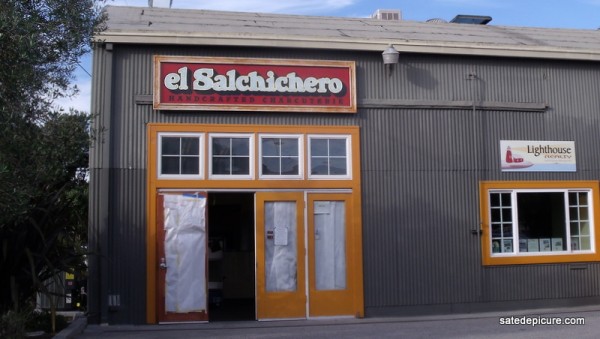 Il Mondo Vecchio. My favorite salumi in the U.S., hands down, is that of Mark DeNittis of Il Mondo Vecchio in Denver, Colorado. DeNittis got his start by tinkering with various approaches to dry curing while teaching meat cutting at Johnson & Wales University. Denver has a perfect dry climate for dry curing and Denittis' kitchen at Johnson & Wales was well suited for testing small batches of salumi and for creative experimentation. Early on in his experimentation DeNittis, a Massachusetts native, discovered a knack for producing high quality, all natural products and it was then that the seed was planted for commercializing his work via Il Mondo Vecchio. In short order, DeNittis secured a facility, a USDA inspector, a source for incredible fresh pork and a couple of partners and Il Mondo Vecchio was born. Since then, the company has grown considerably producing more than a half dozen products that are available online at their retail partner mondofood.com. Five of my favorites
Il Mondo Vecchio Pork Pancetta
Denittis achieves a perfect balance with this cure and the pork retains a beautiful shade of pink with nothing more than pork, salt, and spices. His cure creates a firm yet pearly white fat cap with deep pork flavors with notes of fresh hay and spice. As this Pancetta renders it releases a concentrated pork aroma and wonderful creamy rendered fat.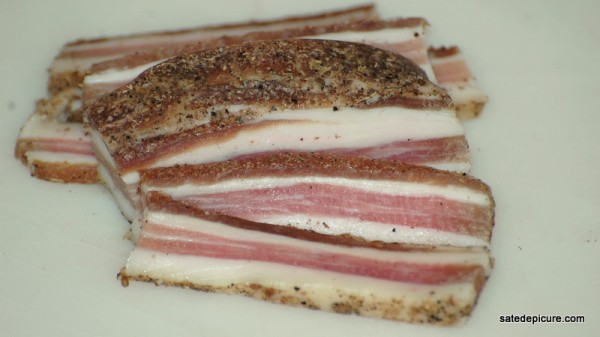 Il Mondo Vecchio Calabrese Soppresate
This Soppresate is made from pork shoulder with additional pork fat, sea salt, paprika, garlic, and spices. It has a balanced nose with notes of paprika and garlic up front. Of all the Il Mondo Vecchio Salumi I enjoy, this one is my favorite due to its spicy, porky, salty, garlicy flavor. The texture is best when sliced medium thin (1/16 of an inch) and served at room temperature.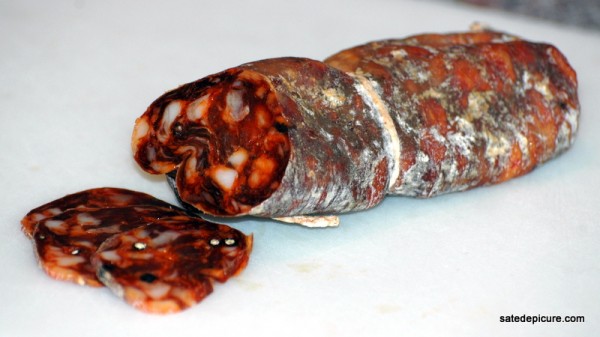 Il Mondo Vecchio Saucisse Sec
The Saucisse Sec is DeNittis' workhorse salumi. It is firm, fully cured and rich in flavor. Ingredients include Pork shoulder, pork fat, sea salt and spices. I serve this side by side with the Soppresate as a milder counterpoint to the Soppresate's spicy flavor.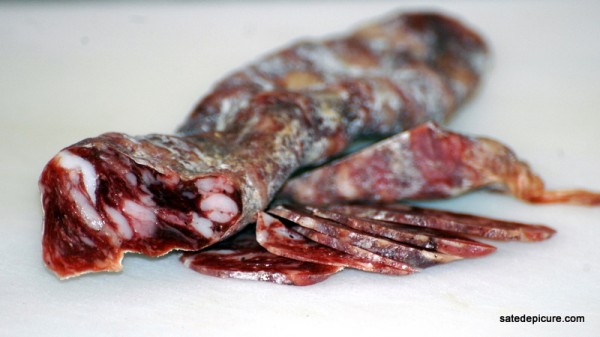 Il Mondo Vecchio Salume Vino e Pepper Nero
 The Vino e Pepper Nero is classic DeNittis. It consists of Pork shoulder, pork fat, red wine, sea salt, spices, and garlic and has deep notes of black pepper. In his early days, DeNittis often created unique salume like this one. The red wine helps create a deep color, firm texture and mild acidity that, paired with the spice and salt, provides a complexity unlike the other salumi I have sampled.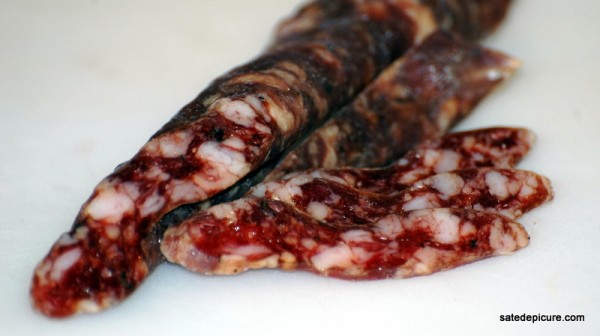 Il Mondo Vecchio Del Oro Beef Bresaola
Denittis gave me a sample of this Beef Bresaola. As he handed it to me he hesitated letting it go for a second, as though he wanted to keep it for himself, and it was right then that I knew it would be delicious. He also uses red wine in this item along with sea salt and spices but to a different effect. Although firm to the touch, this Bresaola shaves thin, has a nice firm outerl layer with fine marbeling on the interior and melts in your mouth.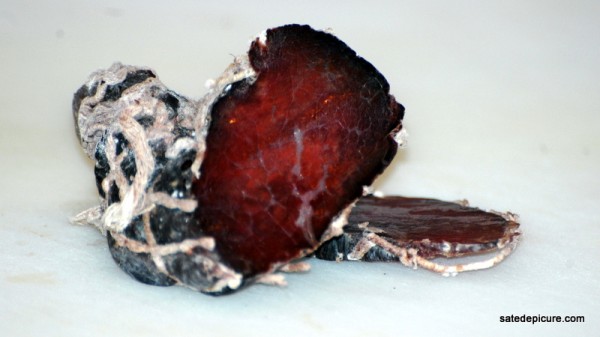 For more than a decade I feared that salumi and charcuterie were a dying art. More than one culinary school revised their curricula, eliminating garde manger and charcuterie from the curriculum. Over the past five years, contrary to popular belief, the art of salumi and charcuterie making has been expanding and I predict that an artisan salumi and charcuterie movement will take hold in the U.S. Il Mondo Vecchio is a great example.