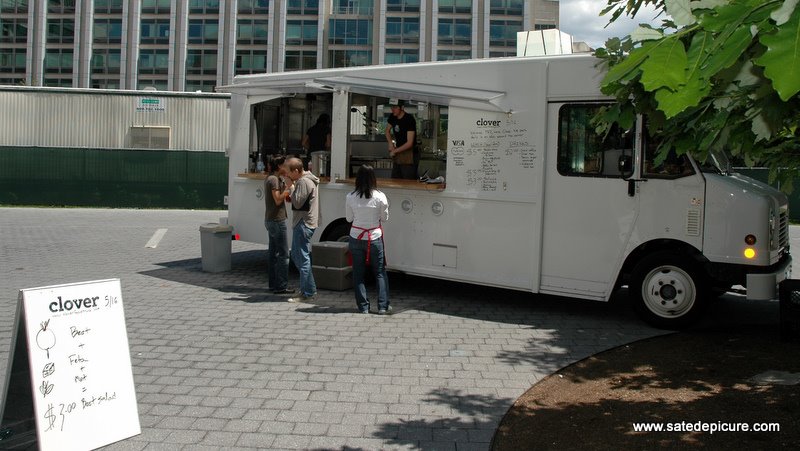 Rolando Robledo, a Chef Instructor at Johnson & Wales University for nearly a decade before departing last month, has joined Clover Food Labs of Cambridge Massachusetts as executive chef. Robledo refined his skill and earned his street "cred" at The French Laundry under Tom Keller and Grant Achatz, and during a stint a Charlie Trotters and the Waldorf. He has an enviable personal network in the culinary profession (Chris Cosentino was once Robledo's roommate) and was a popular and highly appreciated faculty member during his time at JWU. Having been named the named 2010 postsecondary educator of the year by the Foodservice Educators Network International, Robledo leaves JWU at the top of his game. That he departs to invest his time in Clover makes perfect sense.
Clover was started in 2008 by Ayr Muir (CEO). Prior to starting Clover Muir worked at McKinsey & Co advising the world's top consumer and retail companies and in marketing at Patagonia. He holds an MBA from Harvard Business School and a BS and MS from MIT. Muir hired Robledo, who has a BS and MAT from JWU, part-time in 2008 to develop menu items that matched his vegetarian, healthy, locally sourced, and eco-friendly food philosophy. Robledo added touches of his own during the development of Clover including an approach to food that is simple, honest, and hand-crafted, stating "we focus on ingredients, recipes, and hard work, but avoid mystery." For those of you who don't know Rolando, he has stayed true to this philosophy his whole career. During a visit to Clover he was working hard but seemed to be having the time of his life. With more than 30 people lined up to sample his fare, he had much to celebrate.
Clover Food Truck is not what you would expect; it's better. Of the food trucks I have visited during my travels, Clover has to be the cleanest, most efficient and well designed of all. Robledo's simple, high-integrity approach to food shines through from the lavender laced fresh lemonade to French fries that started as whole potatoes just minutes prior to being cut and cooked. The day I visited, the fries were scented with fresh rosemary (fries, rosemary, salt!) and absolutely delicious.
Clover cranks out a variety of vegetarian soups, salads, sandwiches and beverages including outstanding quality coffee. While visiting I also tried a wonderful egg and eggplant sandwich with herbed, diced, tomato, cucumber, and onion with garlic mayonnaise. The eggplant was perfectly cooked with notes of olive oil and fresh herbs and stuffed into a huge pita pocket. At $5.00 the sandwich was a great value.
Ayr and Rolando have several new Clover line extensions in development including a second food truck and a new outlet in the multimillion dollar MIT media lab building. If you want to check out Clover, try the original food truck. It is located on Carleton Street behind MIT Medical and the Kendall Square inbound MBTA stop. Operating hours are Monday through Friday from 8 a.m. to 3 p.m. Read more about the development of Clover on Muir's blog, www.cloverfoodlab.com