Thoughts on Service
Great Service Makes a Meal
Over the past six months, the best service I have experienced has been at restaurant Graham Elliott in Chicago.
Graham is a larger than life guy known for his wonderfully playful and avant-garde food since the days when he earned his "street cred" while Chef at Avenues located deep inside the Peninsula Hotel over on E. Superior St. The night I visited I was alone and without reservation. The Maître d' greeted me at the door, confirmed that I didn't have a reservation and promptly found me a small table in a quiet corner of the dining room at my request. I arrived at 5:30PM with a flight to catch out of Midway later that night at 8:45PM.
The dining room was half full at this hour so it took less than a minute for my server to greet me. I informed him of my time limitation and asked if he could walk me through the five course tasting menu ($69.00) in 60-70 minutes. He confirmed that he could, took my beverage order and headed toward the kitchen. I am sitting on a nice banquette for two. The tables are beautiful and stark hard-wood stained dark with no table cloths or butcher paper. The banquette is comfortable with a rich leather base that matches the masculine interior of the place. A minute later a back-waiter arrived with a nice glass of Trimbach Gewurztraminer (France, 2005) and I am off and running. It's 5:36PM
Four minutes later a wonderful amuse-bouche foie gras torchon lollipop arrives. Elliott rolls a foie gras torchon with pop-rocks and serves it on a stick like a lollipop. Although usually a bit resistant to such theatrics, the watermelon and strawberry pop-rocks did a nice job cutting through the fatty, coat your mouth, succulence of the foie gras. The sweet acidity of the Gewurztraminer made it all the better. The plate was cleared so quickly that I almost missed it. It's 5:44PM
My server, his name is Jeff, is back asking how the foie gras tasted. He inquires about the Gewurztraminer, asks if I am in town for a visit and suggests that I try the truffled pop corn that Elliott is known for. We agree to keep going with the Gewürztraminer. He takes off and another arrives to fill my water. A fork and knife appear. It's 5:47PM
My first official course arrives, placed gently and perfectly by a silent yet smiling back waiter. I notice that all the
waiters are between 20-30 years old, wearing jeans and G.E. (Graham Elliott) t-shirts and cool looking G.E. belt buckles. They consist of an equally distributed group of men and women of multiple nationalities. Looking around the room, each server is moving gracefully through the space with head waiters talking, back-waiters delivering food and water and a third crew clearing plates and replacing flatware. Now back to the food. My first course is a composed Caesar Salad consisting of a small block of trimmed baby romaine lettuce hearts topped with fresh grated parmesan and a silvery sliver of Spanish white anchovy, a smear of ancho dressing and a nice piece of toasted brioche. The taste is fantastic and the whole dish works well although the brioche and the plate were a bit too large for the dish. I rest for a minute, take a few notes, snap a picture and "poof" my dish is cleared. The back-waiter deftly crumbs the table and vanishes. Another arrives, places a spoon down in front of me and floats away. It's 5:55PM
Jeff is back. My next course is a bisque with cheddar cheese on a crostini, crispy pancetta, and a signature chive marshmallow. When the dish arrives my waiter explains the item describing how the hot bisque melts the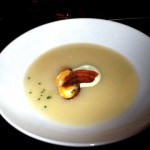 marshmallow upon contact. He pours piping hot bisque into the bowl and suggests that I give the soup a stir to properly blend the flavors and textures. Again, I am not a big fan of these types of theatrics and would not normally mix a sweet marshmallow with bisque and cheddar but once again the dish works perfectly. The flavors and textures meld together creating a simple yet complex flavor profile and mouth-feel. What a cool dish. Again, I pause, my water glass is filled, plate cleared and empty wine glass cleared, all within a minute of finishing. A knife and fork arrive along with a glass of Roussane. Its 6:03PM
The next course is a beautiful pair of sea scallops with pureed almonds and almond milk, sliced haricot verts, blood orange with virgin olive oil, browned butter and chive. This dish is much more traditional and really aligned with my
way of eating. It's perfectly cooked, perfectly seasoned and the whole dish works fantastically well together. The rich aroma of the browned butter and almond puree paired with the acidity and sweetness of the blood orange and the texture and sweet ocean flavor of the scallops is totally in tune. This is my favorite dish so far. At this point, I am starting to get excited by the quality of the food and the perfect execution of the service. Again the empty dish and wine glass are cleared and a fork and steak knife arrive. However, the server, who is calling the shots on wine for me now, explained the Roussane so quickly that I didn't catch what he said, the vintner or where it came from. Still, it went perfectly with the dish. After reviewing my receipt I discover that it was a 2005 D'Arenberg, Roussane from Australia. Perfect! It's 6:13PM
Jeff is back with the Beef and a complimentary glass (3 oz pour) of Tempranillo. His initial description of the Waygu beef rib with pureed carrots, roasted root vegetables, foie gras emulsion and beef jus was the deciding factor in my choosing the five course menu. This dish and the wine that went with it didn't disappoint.
 Elliott, at this stage of the menu, was showing a more traditional sensibility that aligns with my eating preference. More importantly, everything on the plate was perfectly executed, hot and perfectly seasoned. It tasted fantastic although I suspect the beef was cooked sous vide due to the extreme tenderness and high moisture and fat content. Sous vide or not it was perfect. The portion size was just right and I savored each bite without feeling the least bit full. Up to this point I may have consumed a total of 12 ounces of food. The beef dish consisted of another 4-5 ounces…just right. Jeff stops back to see how things are going and asks how I like the wine. I smile and thank him for the treat and his body language suggests to me that he carries in his head the attitude of any good waiter, one where a pleased customer brings a truly intrinsic sense of accomplishment. This guy has it! My plate is empty now. It sits for a minute and is cleared along with the wine. A fork and spoon arrive and my water glass is filled. Things are running like a fine tuned clock. Its 6:29PM
My final course arrives, a beautiful chocolate ganache, chocolate tuille,  with Guinness ice cream, toasted malt and cocoa. Once again the portion size is perfect, approximately 3 ounces in total. As I start to eat Jeff arrives to check in
again. His section has been filling up steadily since I sat down, he is working 5 tables including a  six top of trade show types who are still wearing their badges without knowing it. He jokes that we are right on time and asks if I want the check. I confirm that I do and he pulls it out and drops it on the table. Without any hubris what-so-ever, he smiles knowing that he nailed the service, wine choices and timing and I affirm his assumption by smiling back and telling him so. Total damage including wine: $101.47. I tip him another $25.00 to make a point about the quality of service he and the rest of the team provided. What a great experience. There is an art to good service that is mutually beneficial to the recipient (me) and the service crew as well. My guess is that Jeff and his team-mates get just as much emotionally out of providing good service as they do financially and that's the way it's supposed to be! Graham Elliott has assembled a team of pros! There is an art to good service that is mutually beneficial to the recipient (me) and the service crew as well. My guess is that Jeff and his team-mates get just as much emotionally out of providing good service as they do financially and that's the way it's supposed to be! Graham Elliott has assembled a team of pros! It's 6:45 now and I am in a cab heading for Midway. Never rushed, always attended to; feeling sated indeed!