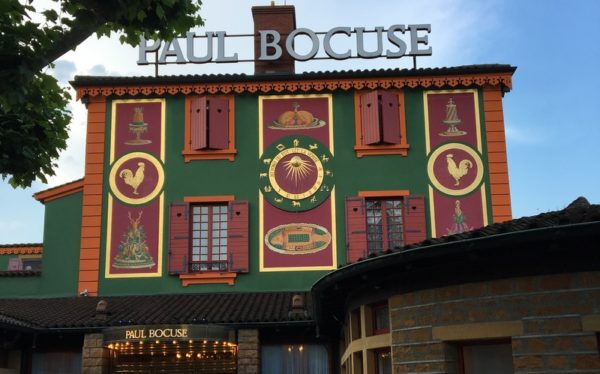 When I first met Paul Bocuse back in 1990 he was visiting the United States and made a stop in Rhode Island. I was assigned to be his assistant and spent a glorious stretch of time working side by side with his team preparing some of his classic dishes for a series of demonstrations and lectures including his iconic Truffle Soup and Rouget barbet en écailles de pommes de terre croustillantes (his famous Rouget with potato scales). The food was extremely simple, it wasn't intimidating at all. Yet each dish had a certain level of complexity at the same time. His team worked with camaraderie and precision using strong classical technique. As an eager yet inexperienced 24 year old – his they treated me with incredible patience and grace, sharing advice and technique generously while remaining poised as I worked hard to do things correctly. My nerves and nervousness gradually transitioned to focus because of how well they managed me.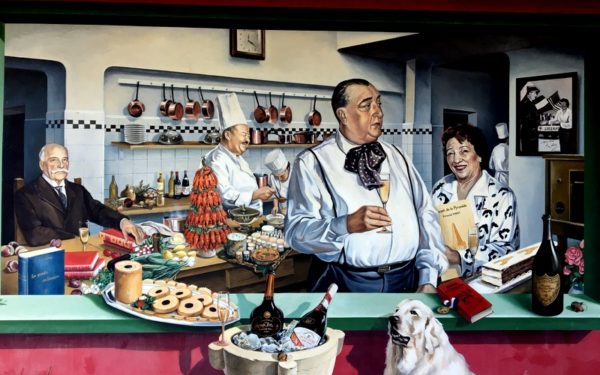 Painted Panel depicting Auguste Escoffier, Alexandre Dumaine, and Fernand & Mado Point
I was unaware of the importance of my experience that day though one of my mentors, Chef Jean Michel Vienne, did try to help me understand the depth and gravity of time spent in the kitchen cooking with Bocuse. Vienne explained in his heavy accent (he's from Marseilles) how slicing black truffles with Bocuse himself is a once in a lifetime event. His comments went in one ear and out the other as I focused on the slicing with Bocuse looking over my shoulder steadily providing instructions translated by Vienne.  Like so many things in life – it wasn't until years later that I realized what a gift it was to work with Bocuse even if just for a short period of time. At one point Bocuse touched my shoulder, smiled and gestured for me to keep working.  Today my eyes well up just thinking about it. As our time together ended Bocuse took pictures with me and Chef Vienne and signed our books and menus. He departed in a flash for New York offering to host us at Auberge du Pont de Collonges – leaving me with several ounces of fresh black winter truffles to enjoy (a treat I had never worked with until then).
Jean Michel Vienne, Chef Paul Bocuse, James Griffin – 1990
For multiple reasons it wasn't until 26 years later that I finally found my way to Lyon.  Every time I worked to adjust a trip to Europe to visit Lyon the timing didn't work. Then in the summer of 2016 things worked out and I was able to bring my daughter to Bocuse for dinner with a group of friends. To say that visiting Auberge du Pont de Collonges with my nearly grown daughter was a surreal experience is an understatement. Life has a way of taking twists and turns. She's eaten at some of the best restaurants the world but to visit Bocuse with her (and her best friend) was overwhelming and beautiful. We were seated in the main salon, treated like royalty, and afforded the best restaurant experience ever. That Bocuse and his team have been doing this at a "Three Star" level for more than 50 years leaves me speechless. He and his team are culinary athletes of the first order.
As chefs we all stand on Bocuse's shoulders. There are few if any who have done more to elevate our profession with such dignity, respect, grace, and consistency than Bocuse. When you consider the duration of his status as one of the best restaurants in the there is no comparison. Chef Bocuse, you make us better and elevate our profession. As a chef, I am forever grateful.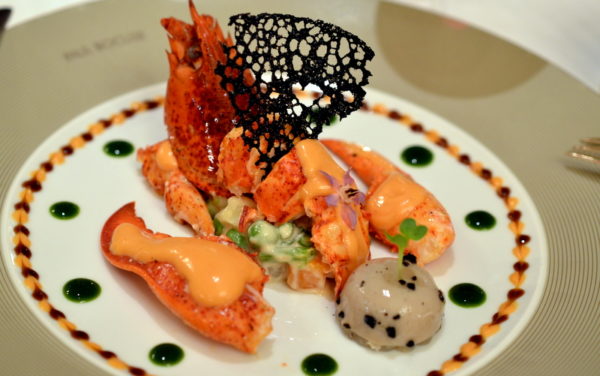 Salade de homard à la française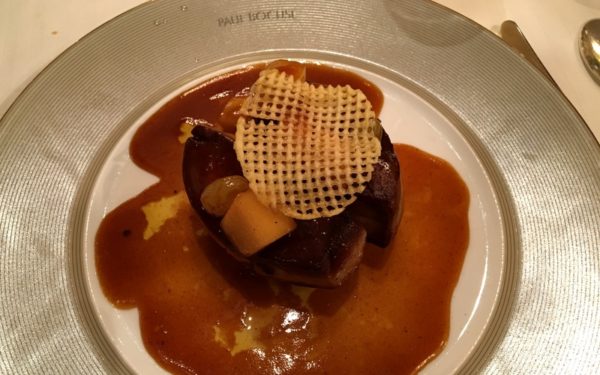 Escalope de foie gras de canard poêlée sauce passion
Rougets barbets en écailles de pomme de terre croustillantes
Granité des vignerons du Beaujolais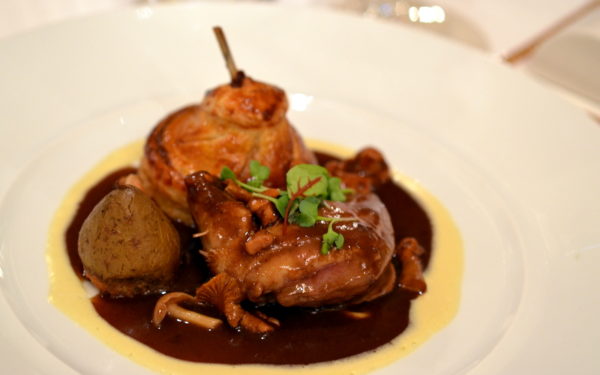 Pigeon en feuilleté au chou nouveau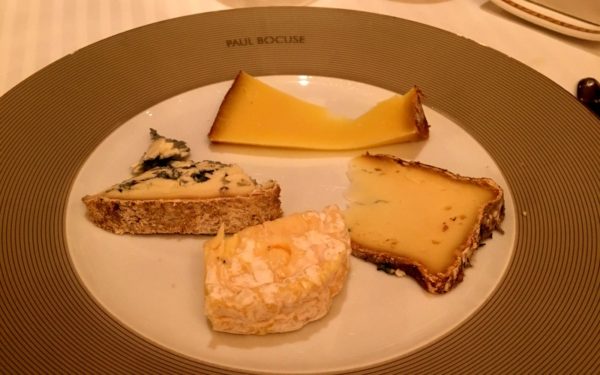 Sélection de fromages frais et affinés "Mère Richard"
(Counter Clockwise : Comte, Fourme d'ambert, St. Marcellin, Tomme de Savoie)
Crème Chocolate et griotte
Baba ah Rhum "Tradition"
Gâteau président Maurice Bernachon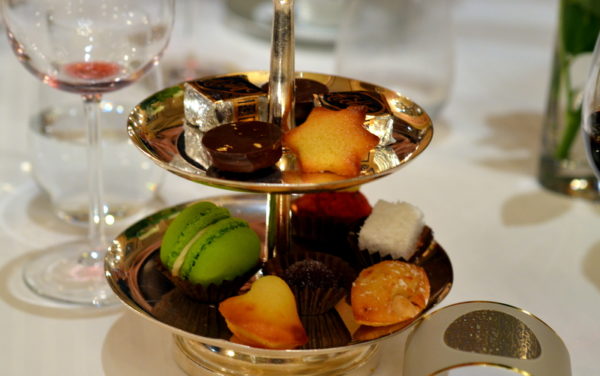 Délices et gourmandizes, Petits fours et chocolats
Dining Room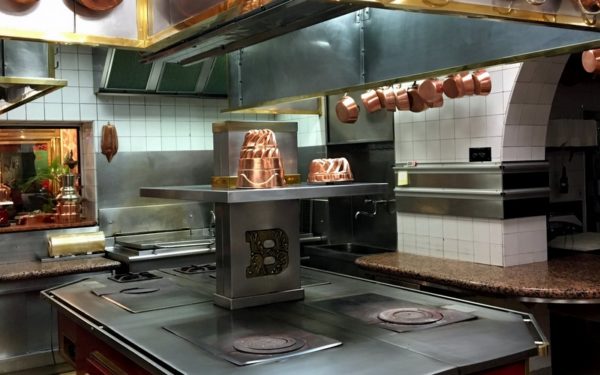 Kitchen
Place Setting
Menu: Auberge du Pont de Collonges MENU BOURGEOIS
Paul Bocuse – Auberge du pont de Collonges
40 Quai de la Plage
69660 Collonges au Mont d'Or
Tél. : 04 72 42 90 90