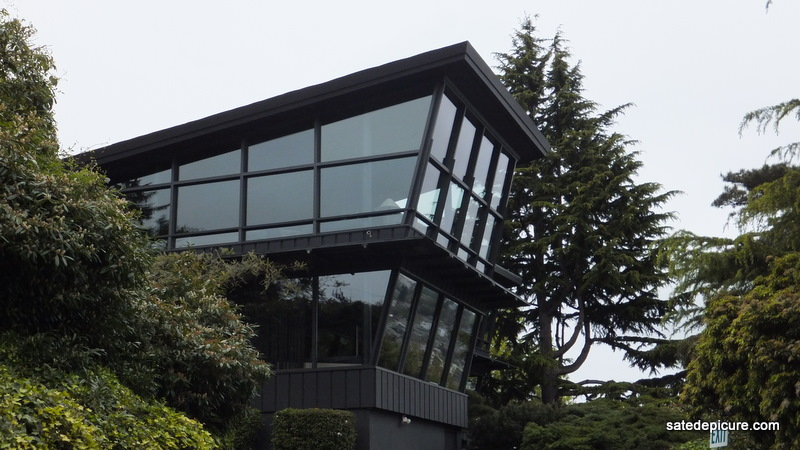 It's nearing sunset on a crystal clear blue-sky day in Seattle and I need to relax.  My meetings required traversing the city at  morning and evening rush hour and a good part of the day was wasted in traffic. I hate traffic. Now that's all behind me and I am on my way to dinner. After a few wrong turns (as usual) I find Canlis restaurant and pull up to the front entrance. The building is a dark brown wooden gem with a modern mid-20th century "Frank Lloyd Wright meets the North West" aesthetic including large exterior walls of pitched glass facing Lake Union down below. I step out of the car and the valet opens the double glass door entrance for me and takes my car keys. Before I can turn around, he is gone with my car and I walk away wondering why he didn't provide a claim check prior to departing. Shrugging it off, I head for reception to check in and after a very short wait find myself sitting in the lower dining room facing the windows and a magnificent view.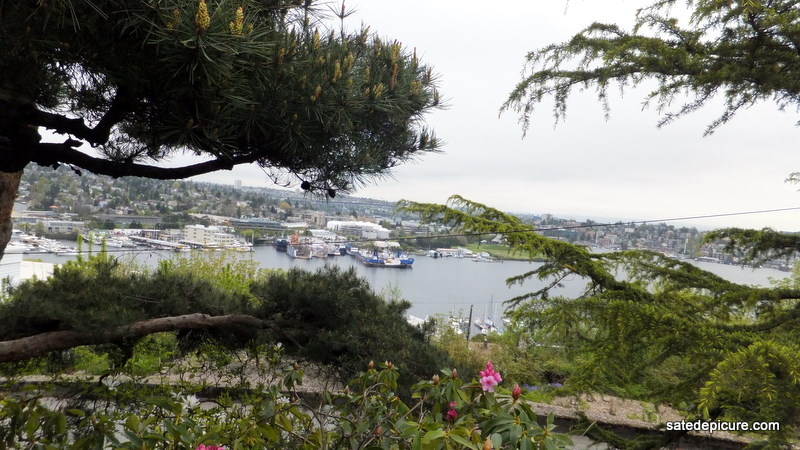 Peter Canlis founded his namesake restaurant 1950 when he was 69 years old after a career in the hospitality industry that spanned the globe from Greece to Cairo to New York, Hawaii and, ultimately, Seattle. According to family history Peter is credited with being an expert restaurateur and innovator and was one of the first in the country to employ team-style service n the dining room. He also understood how to create a niche for the restaurant and, in addition to excellence in the kitchen, employed  kimono-clad waitresses in his dining room; a likely influence that travelled back with him from his stint in Hawaii. Stunning photos of these waitresses serving the likes of Dean Martin, Sammy Davis Junior and Frank Sinatra line the wall along the back stairwell to the restaurant. Peter was a genius and Canlis was a definite "A-List" restaurant from the very beginning.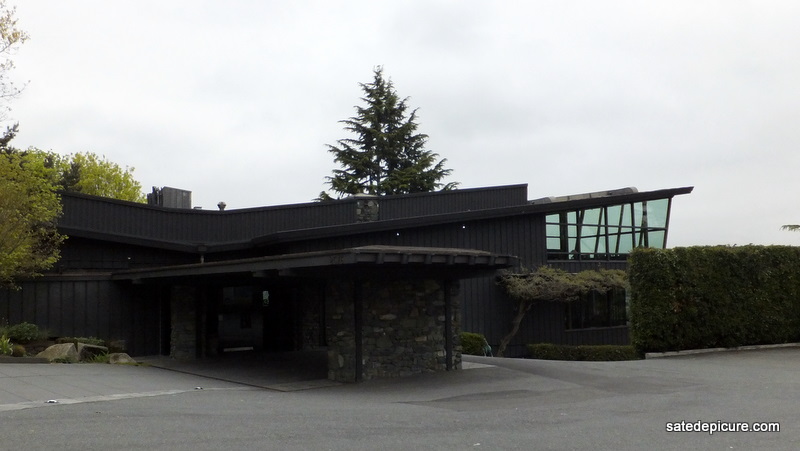 Incredible as Peter's story is the leadership displayed by third generation owners Mark and Brian Canlis (Peter's grandsons) is equally impressive. Talent is woven into the genetic fiber of this family. After taking the restaurant over from their parents (Chris and Alice) in 2005 Mark and Brian came to a point where they had to either sell the restaurant or double down, go all-in, and reinvest in the restaurant to bring it back to its former glory. The boys had a great opportunity to cash out and sell to a developer who planned to construct condominiums. They didn't sell out.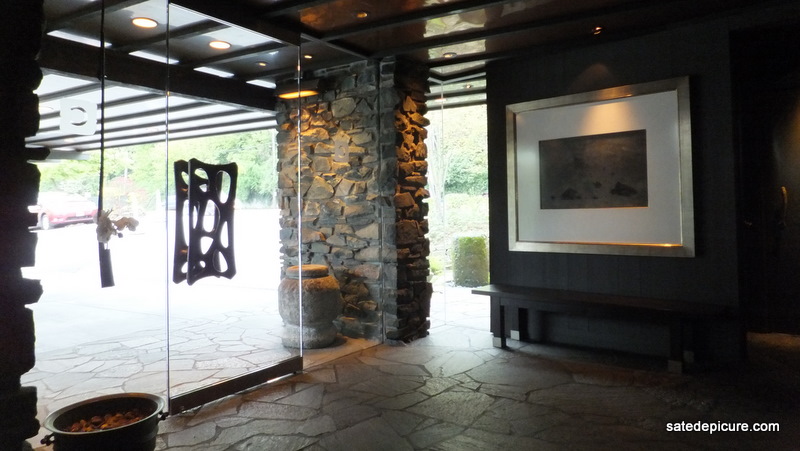 Like many restaurants in the U.S. that have more than 20 years of history, Canlis' food and service had gradually diverged from contemporary preferences and, from what I hear, the restaurant had become a bit threadbare and dated. What makes this story so different and so inspiring is that Brian and Mark took on the challenge of redirecting the restaurant and never looked back. Both displayed the courage and leadership required to wipe their approach to food and service clean and start over, something that scarcely happens in restaurants like theirs. Darwin's theory of evolution suggests that the most adaptable (fittest) organisms survive the test of time and adapt the restaurant did!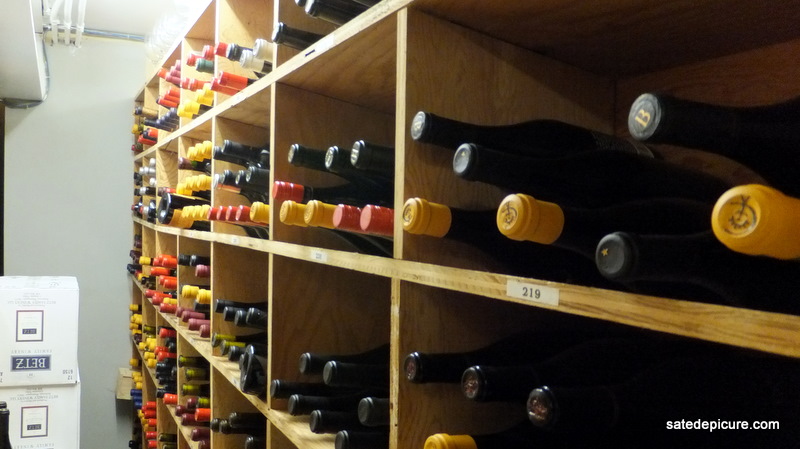 This is where Chef Jason Franey comes in. A friend at Eleven Madison Park in New York raved about Franey, her former colleague who served as executive sous chef at the restaurant prior to taking the helm at Canlis. She suggested that I visit Franey and have the chef's tasting menu. It was excellent advice. Franey joined Canlis in 2009 after Brain and Mark conducted a national search for what would be the fifth executive chef in the restaurants history. He took on the role of executive chef with full confidence and commitment and hasn't looked back. His kitchen, much like Eleven Madison Park, works like a Swiss watch with an ergonomic design (Brian and Mark rebuilt the kitchen for Franey) and sequence of production nothing short of perfect. I stood to the side in the kitchen as Franey seamlessly organized and expedited each order while carrying on a conversation with me. To say he is comfortable in this kitchen is an understatement. Franey is of medium height and build, wide around the shoulders, and radiates pure confidence. He is a culinary athlete in the major leagues just about to hit the top of his game. Delighted, I head back to the dining room.
Soaking it in, I begin to relax as the setting sun casts an orange glow through the long row of windows. Several smartly dressed couples from Seattle's young, urban and wealthy community hold hands and chat while leisurely sipping cocktails and sampling Franey's fare. In the distance I spot a single-engine sea-plane taking off from Lake Union below. The plane makes a wide circle around the lake gradually gaining altitude until it floats level with the restaurant, a bright flash of yellow paint passing between the tall evergreens just outside the window. My amuse bouche magically appears in front of me (I didn't even notice the server who brought it) and I forget the day, the stress, the traffic, the early departure in the morning and feel wrapped in comfort and care. Canlis has grabbed hold of me and I feel a depth of professional and authentic hospitality rare in the world today.
I have no way of gauging the quality of today's Canlis compared with the original operated by Peter in the 1950's but I bet Peter would be delighted and the Canlis of today could very well be the best yet. As my time at Canlis comes to an end I find my car waiting right outside the front entrance. Peter Canlis believed in anticipating the needs of his guests and surprising them by staying one step ahead with service. Having your car ready when you exit is one of the traditions preserved along with many others – no claim check required. Congratulations to Brian, Mark, Jason and the whole Canlis team! I leave relaxed, sated, and truly inspired.
 Chef's Tasting Menu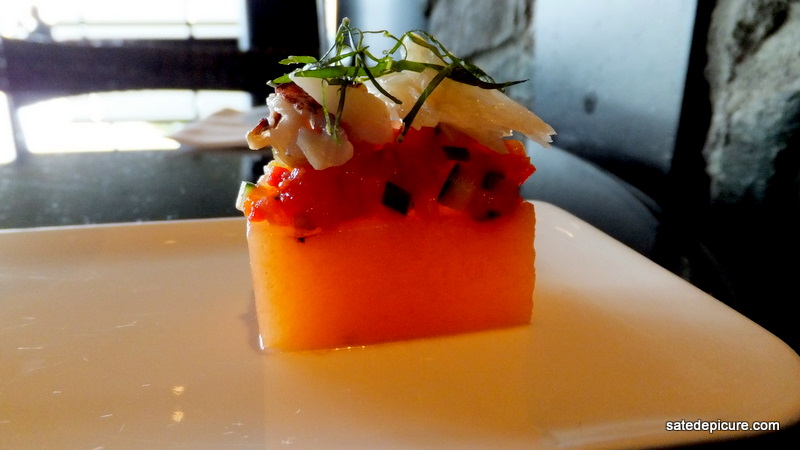 Amuse Bouche: Melon and Dungeness Crab
Peas and Carrots, Farm fresh goat cheese and a morel mushroom crumble
Duck Egg Slow poached with asparagus, watercress, and uni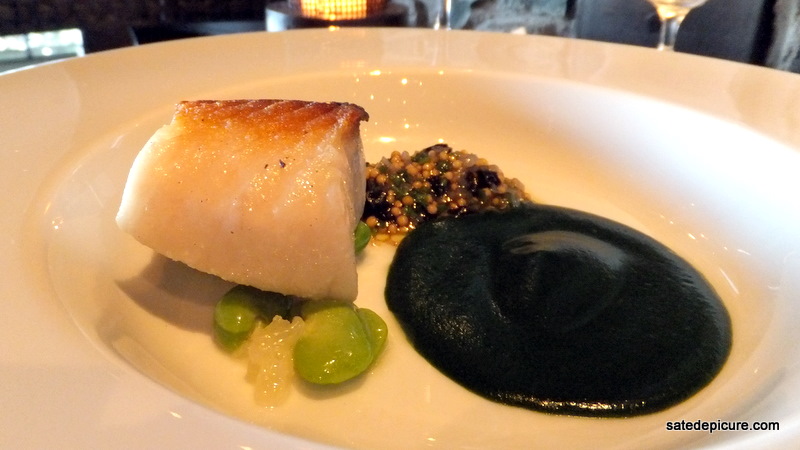 Black Cod Pan seared, with fava beans, nettles, and fermented black garlic
 Short Rib Braised for 48 hours, with ramps, broccoli rabe, and smoked bone marrow
Strawberry Fizz
Rhubarb Tart Strawberries, fennel ice cream, and Champagne espuma
Canlis Restaurant, Est. 1950
2576 Aurora Avenue North   •  Seattle, Washington 98109