On March 19th Charlie Trotter closed Restaurant Charlie and Bar Charlie at the Palazzo Hotel in Las Vegas when restaurant traffic, like a Las Vegas rain, dried to dust. Restaurant Charlie was closed at the top if its game because there wasn't enough traffic to sustain ongoing operations. Another great restaurant killed by a bad economy! The 120 seat restaurant, including a wonderful kitchen table perched on a private balcony above the hot line, and 18 seat Kaiseki bar was nothing short of spectacular and, more important, employed some really nice and talented people. Although seeing Charlie struggle makes me sad (he's a great guy), the effect this closure had on people like Chef Vanessa Garcia and Kaiseki Chef Hiro Nagahara is even sadder. Restaurant Charlie was just starting to gain momentum when it closed.
I would never have been to Restaurant Charlie if it wasn't for Trotter himself. When I bumped into Charlie Trotter at the Venetian late last year, he was chatting with rocker Sammy Hagar. Charlie was as energized as ever with a big smile on his face and asked if I had eaten at Restaurant Charlie yet. I hadn't and my response was disappointing to him. Hagar rolled his eyes. Wrong answer I guess. Trotter paused for a moment, asked if I was willing to endure a quick 5 course Kaiseki, (I was), and within 10 minutes I was on my way across the casino floor to the restaurant.
Alone and feeling a bit off guard, I sat at the end of the Kaiseki bar which was half full. After a minute or two my waitress stopped over and introduced herself (her name was Penny). I told Penny to guide me through the five course menu with wines. She smiled and departed to key in my order. A few minutes later Kaiseki chef Hiro Nagahara approached me and said hello. Hiro and I spent the next two hours chatting about his background, his love of Japanese cooking, global food, blending the traditional with the modern and the wonderful freedom he has to be creative at Bar Charlie.
Although I have more I could write about the way Nagahara waltzes his way through the kitchen while conversing with customers, I will save that story for another entry. Instead, I offer you the photos below with a feeling of loss that Restaurant Charlie is gone along with an enduring sense of privilege that I got to eat there before it closed. Keep your eye's peeled for Chefs Vanessa Garcia and Hiro Nagahara in the coming months, both  have bright futures. In particular, watch for Garcia. Fresh from receiving one Michelin star in 2009, and nominated for best new chef for 2010 by The James Beard Foundation, it will be interesting to see where she winds up.
 Five Course Kaiseki Menu
1st Course
Hirame, Black Grapes & Celery
Champagne Paul Goerg Blanc de Blanc Brut, France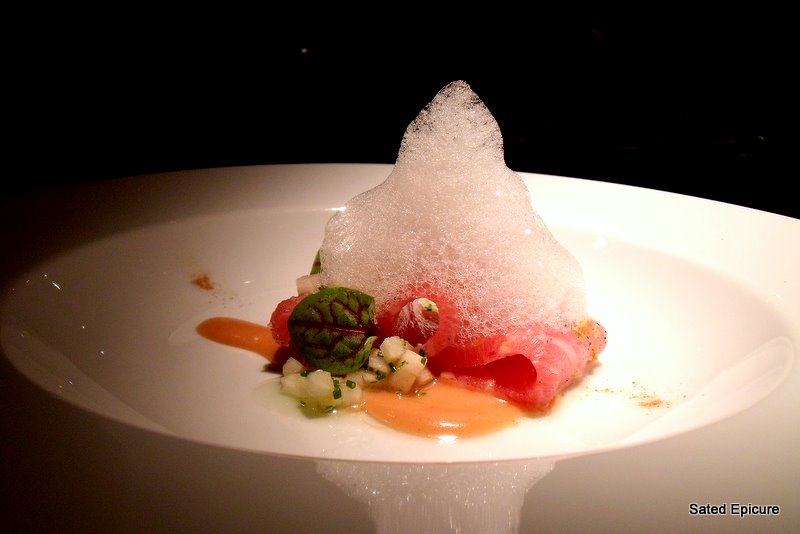 2nd Course
Spanish Blue Fin Tuna, Umeboshi & Seawater
The Southeast Cocktail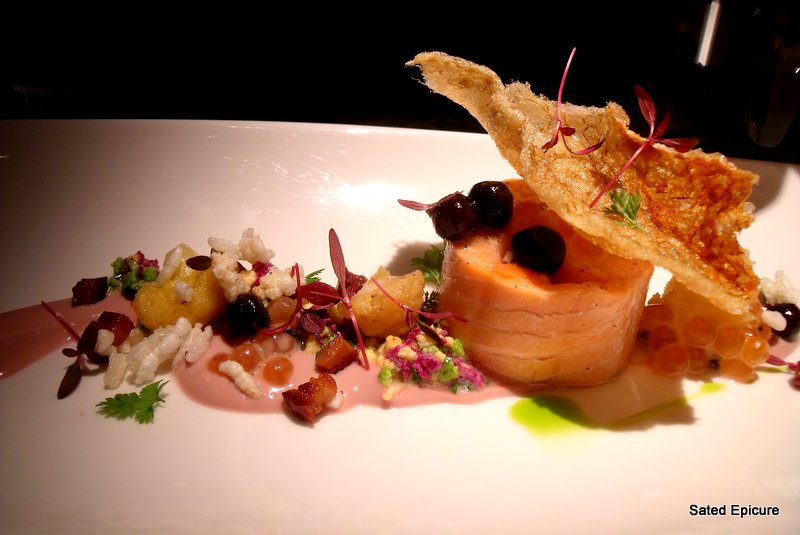 3rd Course
Tasmanian Ocean Trout, Cauliflower & Tapioca
2007 Riesling Kabinett "Maximin Brunhauser Herrenberg" von Schubert, Mosel, Germany
4th Course
Kurobuta Pork Belly, Herbed Cream & Baby Carrots
2007 Ken Wright "Abbot Claim" Pinot Noir, Yamhill-Carlton District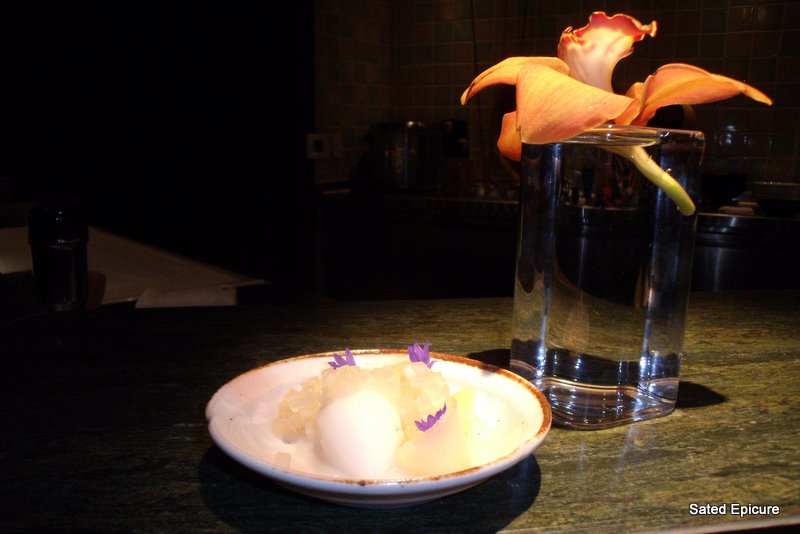 5th Course
Simple Coconut and Passionfruit Sorbet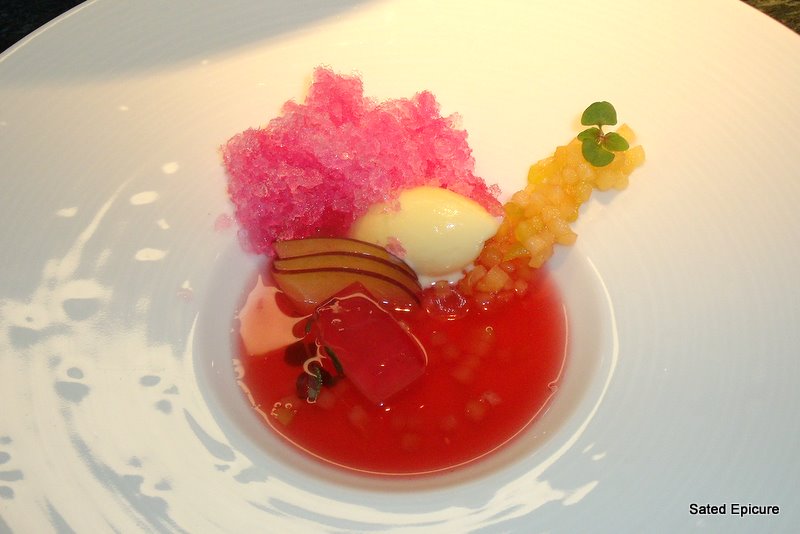 6th Course
Black Plum with Red Shiso & Charred Cinnamon Ice Cream
2006 Hauth Kerpen "Wehlener Sonnenuhr" Riesling Beerenauslese, Mosel German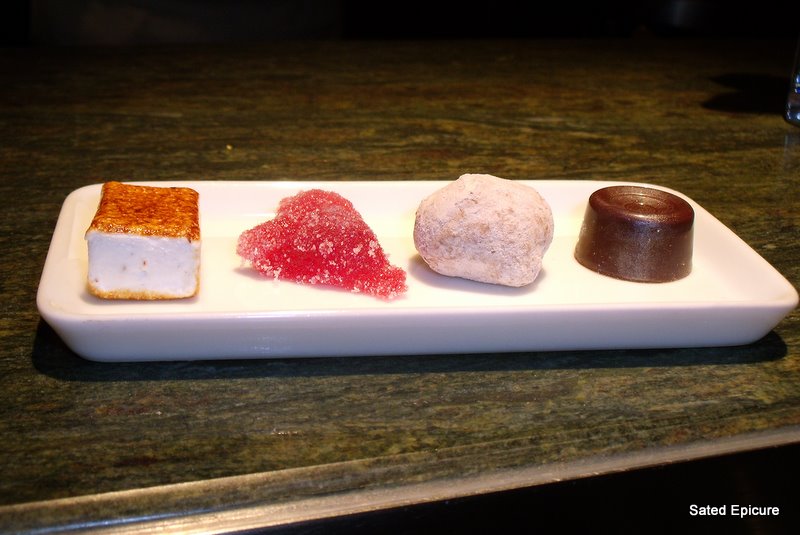 Friandise