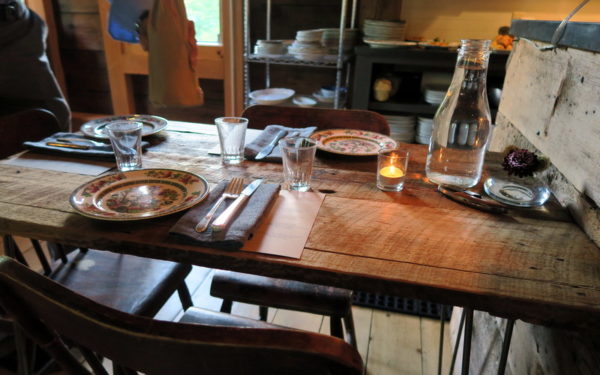 Tonight I was surprised – blown away actually – by my experience dining with Chef Erin French at her restaurant The Lost Kitchen way up in Freedom, Maine. This is a restaurant run by a team of women so dedicated to the cause that you can feel the restaurant's heart the minute you enter. This is more than a dinner, it's time spent in a family members home where the food and wine is incredible and the hospitality hangs on you like a warm blanket on a cold night. It's a vibe so comforting and laden with hospitality that it's hard to leave after dessert is served. Erin and her team of farmers, mothers, sisters, and friends has achieved the nearly impossible – an emotional connection with guests that strikes at your heart and palate. This place is incredible.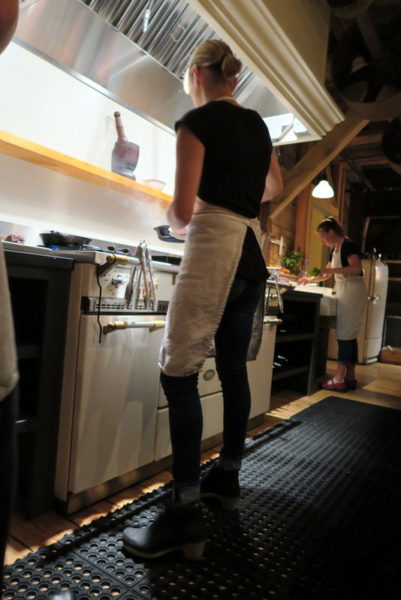 The restaurant is 200 miles north of Boston and just a half hour north west of Belfast in the rolling Maine hills some miles adjacent to the ocean. This is mid-coast Maine which remains a place suspended in time economically and one where people have learned to survive the hard way. Many spend the year working fingers to the bone while enduring summers that are all too short and winters that last too long. Freedom is typical – its small (very small) and has seen better days. We find our way down Pleasant Street and over the culvert to the parking lot on the other side of Sandy Stream. After parking the car and a quick walk back across a foot-bridge over the stream we enter the Mill at Freedom Falls.
Inside the warmly renovated post-and-beam dining room the welcome is deep and authentic – each barn-board table perfectly set. The menu is served banquet style and consists of four courses along with additional courses and amuse bouche.  The food is not precious or contrived – instead it dwells in the realm of elegant simplicity. French maintains a light touch and her dishes aren't overly seasoned or salted. It almost feels like a certain level of restraint flows under each item – and I love her delicate touch. She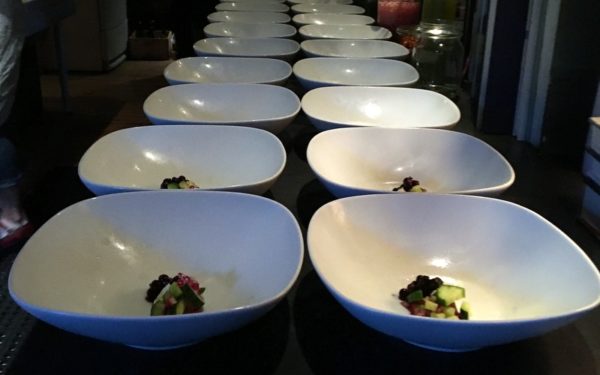 serves 50+ guests a prix fixe menu with just one seating per night. During service she and two assistants prepare every item in a wide open kitchen – cooking on a 60 inch LaCanche range from France. There is no hiding in this kitchen – the kitchen and dining room are one. And French isn't the type to hide. During the meal, often while foods are searing on the range, she personally visits each table in the restaurant offering warm greetings. She hauls ass – dressed in high heeled clogs, tailored jeans, a black blouse, and white kitchen apron. Her team exhibits care and great joy while floating through the restaurant during service. It's easy to tell these folks truly appreciate those of us who make the trip deep into the woods for such a great meal. These women (the moms, sisters, aunts, cousins, friends, and farmers) are reviving the town of Freedom through sheer willpower and hard work and we are, in part, the beneficiaries. This is more than a restaurant, it's a community movement of the best kind. Pure hospitality flows freely here and this is rare indeed. It's now one of my favorite restaurants. Heartfelt congratulations Erin.
~~~~~~~~~
Local Cucumbers, Radish, Butter, Cheese, Gougères, Olives, Cornichon, Marcona Almond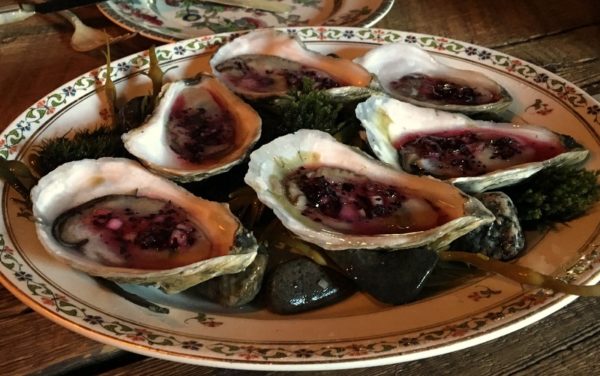 Pemaquid Oysters with Blueberry Vinaigrette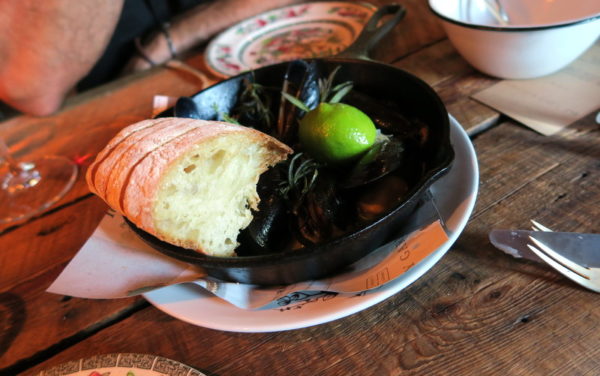 Mussels, Rosemary, Lime
Cold Wild Blueberry Soup, Buttered Croutons, Cucumber & Dill
Heirloom Tomato Salad, Many Basils, Smoked Ricotta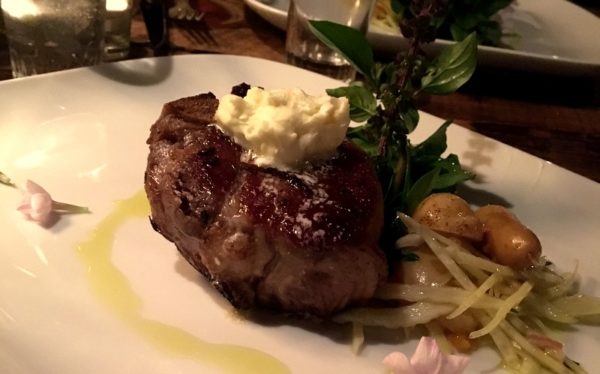 Local Lamb Chop, Whipped Feta & Lemon Butter, Fingerlings, Fennel, Tarragon & Peach, Baby Arugula
Sweet Corn & Vanilla Pot de Cream, Really Ripe Blackberries, Husk Cherries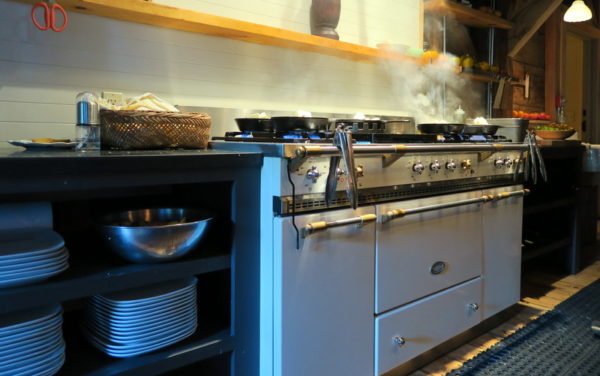 LaCanche Range in Full Force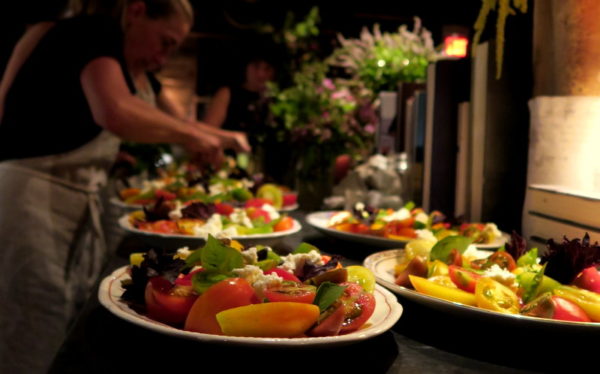 Plating Heirloom Tomato Salad with Many Basils
The Lost Kitchen
22 Mill St, Freedom, ME 04941
(207) 382-3333