To say 2016 was busy is an understatement. Projects and associated travel spanned my roles as an educator, board member, executive advisor, consultant and volunteer. The year included major trips to Chicago, Seattle, Paris, Washington DC, Athens and Thessaloniki Greece, Lyon France, and Vevey Switzerland. There were multiple side trips all over New England and visits to just over 50 full service restaurants – it was a great year and I am blessed to have the opportunity to constantly explore and benchmark across all sectors and segments of the food industry. There were so many great meals and dishes I am still vacillating over numbers 6, 7, 8, 9, and 10 with two dozen other dishes that could be included. However, my top five are locked in. As of now – here's my top ten list for the year. It's only natural that many of these are seafood!
#10 – L'Olivier, Vevey, Suisse – Lac Leman Perch, Summer Vegetables, Olives, Pine Nuts
Restaurant L'Olivier at Hostellerie Bon Rivage is special – Vegetables come from extensive gardens facing the lake and seafood is sourced from Christophe & Christine Liechti of Pecherie du Leman. My early evening trip to the terrace to sip Rosé and enjoy the local fresh perch proved incredible.
#9 – Matsuhisa, Aspen – Coconut Mochi Cake, Miso Caramel, Blackberry Lavender Ice Cream
Our visits to Aspen always include a trip to Matsuhisa for sushi and other treats – we love the place. The Coconut Mochi Cake with Ice Cream during this visit was over the top. It's a staple on the menu now – absolutely delicious and simple.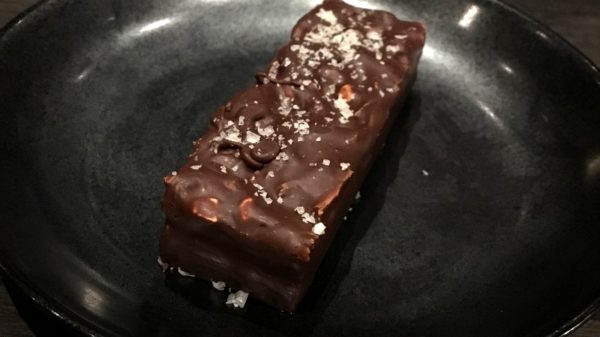 #8 – Roister, Chicago – Foie Gras, Black Walnuts, Pretzel, Marshmallow Bar
It isn't unusual for me to visit Chicago at least one or twice during the year. This year included three trips and on the second visit we dined at the recently opened Roister. Black Sabbath was blaring on the sound system when we sat down and the huge garage doors onto the sidewalk were open – the restaurant was absolutely electric and the food spectacular culminating with a deceptively delicious Foie Gras dessert bar that had me wanting to eat the plate it was served on.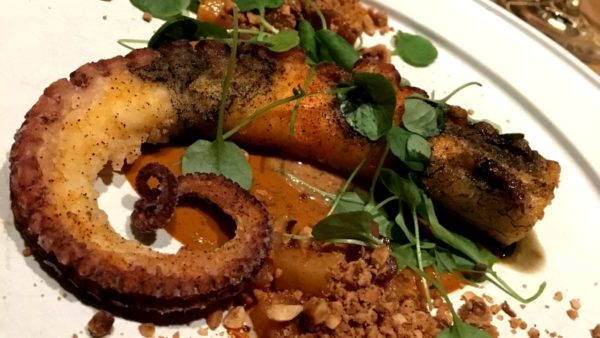 #7 – Cosme, New York – Crispy Octopus, Hazelnut Mole Pickled Potatoes, Watercress
Chef Enrique Olvera was banging around in the kitchen the night I visited Cosme. While on property he controls the sound system from his iPhone and every time he came out of the kitchen the music got louder. The room was pulsing with energy when I took a seat at the bar and had the bartender order for me. Of the many samples I tried, the octopus was spectacular. Not the prettiest dish of the year but one of the best tasting…and taste always wins!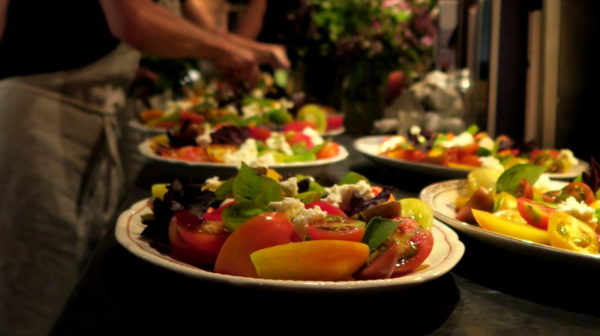 #6 – The Lost Kitchen, Freedom Maine – Tomatoes with Many Basils
I didn't expect chef Erin French to be so damn charming and talented. Her restaurant has more soul than 90% of those I visited this past year. It doesn't have the striking gravitas of Bocuse or the virtuosity of Alinea – it has something else though: a magnetic energy and the soul of an entire villiage. French's tomatoes with many basils isn't just delicious – it is a metaphor for the hope and future of the community surrounding the restaurant. Fabulous is an understatement.
#5 – Pineapple and Pearls – Sturgeon and White Beets, Matsutake
It is unprecedented when a newly minted chef-owner realizes his operation is all about the people involved including employees, guests, suppliers, vendors and the surrounding community. Chef Aaron Silverman knew this right from the beginning. I am a huge fan and his Sturgeon with Beets was so delicious that the thought of it still lingers.
#4 – Oberlin, Providence – Marinated Mussels, Garlic Chive, Sweet Potato
When Ben and Heidi Sukle's Oberlin was awarded #7 best new restaurant in America by Bon Appetit magazine in 2016 it gave me great joy. I have known Ben for years and always loved his food but felt he went unrecognized – until now. My wife and I enjoyed dinner with Ben in the fall and his Marinated Mussels instantly became a top five dish of the year. They're perfect. My heart fills with happiness as I see Ben and Heidi prosper!
#3 – Pierre Herme, Paris – Macarons
Our trip to Paris included an obligatory visit to Pierre Herme (the Rue Bonaparte location) for patisseries, macarons and cocolats. Herme and I met at the StarChefs conference back in 2011 and he's an absolute gentleman. We expected excellence – our expectations were exceeded. There's a reason Herme was named best pastry chef in the world in 2016.
#2 – Alinea, Chicago – Scallop with Corn Consommé, Shio Kombu, Nori
When dining in the gallery at Alinea one has to expect the unexpected. However, there was no way I could come close to anticipating how over-the-top delicious this scallop and corn consommé would be. The technique, precision, and absolute restraint used to produce this dish is evidence of passion, brilliance, and mastery – the purest form of elegant simplicity and deliciousness. The consommé crystal clear – the scallops dried into crispy sheets that melt into pasta like "noodles" when hydrated! This is the best thing I put in my mouth all year – period!
#1 – Paul Bocuse L'Auberge du Pont de Collognes, Lyon, France – Lobster salad 'à la Française'
Choosing the best dish of the year is never easy but my mind was made up after eating at L'Auberge du Pont de Collognes though it was only June. My rationale is fairly simple: in an industry that chews and spits out restaurants and chefs as often as the changing tide, Bocuse has maintained three Michelin starts for 50 consecutive years. He's the greatest chef of all time – period. My meal at Bocuse was old-school French in every way – and it was gorgeous. Service was perfect and the ambiance exceptional. I was washed over with the best hospitality I have received in years. Dining at Bocuse was one of the happiest meals of my life! Thank you chef!