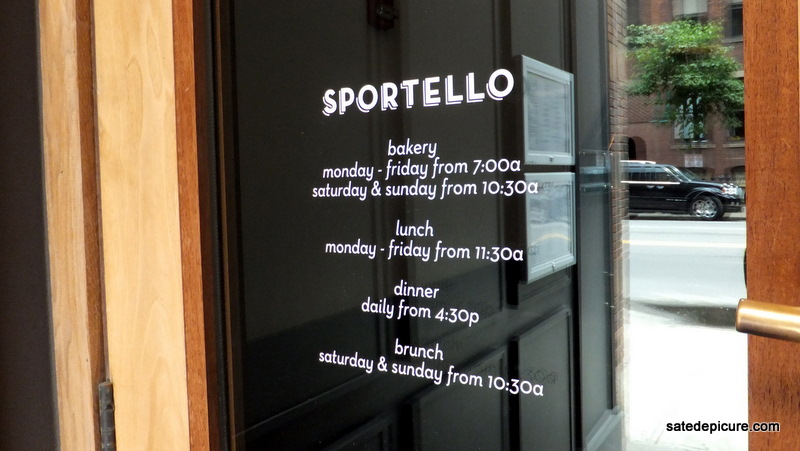 Barbra Lynch seems to design her restaurants so they run better without her than with her.  Don't get me wrong, Chef Lynch is at the center of her restaurant group. She is the visionary and the driving force behind every new concept and outlet. However, her restaurants are well run and the food at each and every one is consistently excellent, not just excellent when Barbara is in the house. I admire this.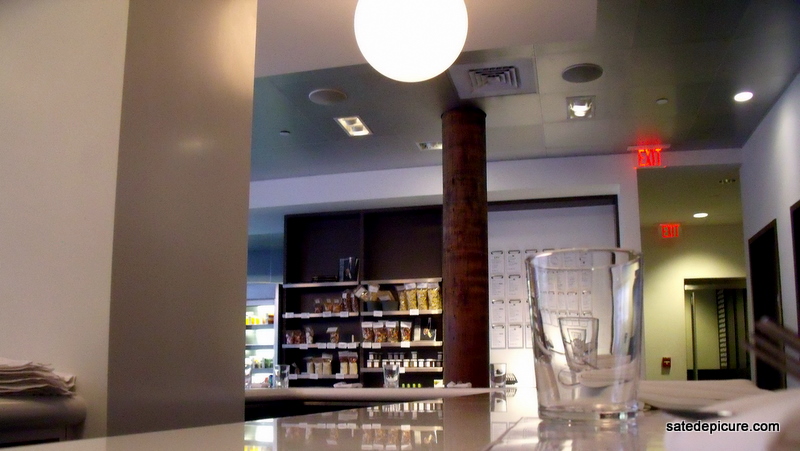 A recent trip to Sportello, Lynch's take on a modern lunch counter, is a case in point. I arrive a bit before lunch and take a seat on a black bar stool at the end of the counter closest to the hot line. Sportello is located next door to Menton, Lynch's fine dining outpost in the Seaport (Fort Point) neighborhood of Boston and one flight of stairs above Lynch's wonderful bar Drink.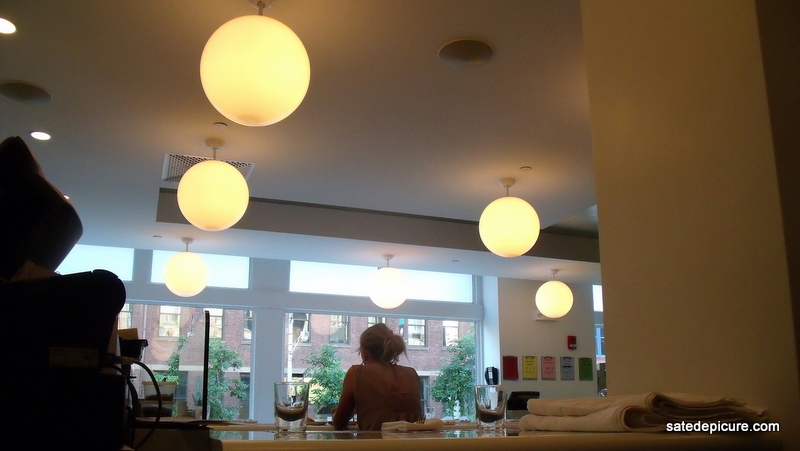 My server is just across the counter at the point of sales system talking with a colleague about the graduate courses she is taking in Gastronomy at Boston University. I can't help but hear her quick but detailed description of the course and the words she uses suggests to me that she is a writer and an intellect.  To my left, a heavy set chef walks past, glances at her and takes up station on the hot line. He makes eye contact with me for a second and smiles slightly and turns away to finish his station prep.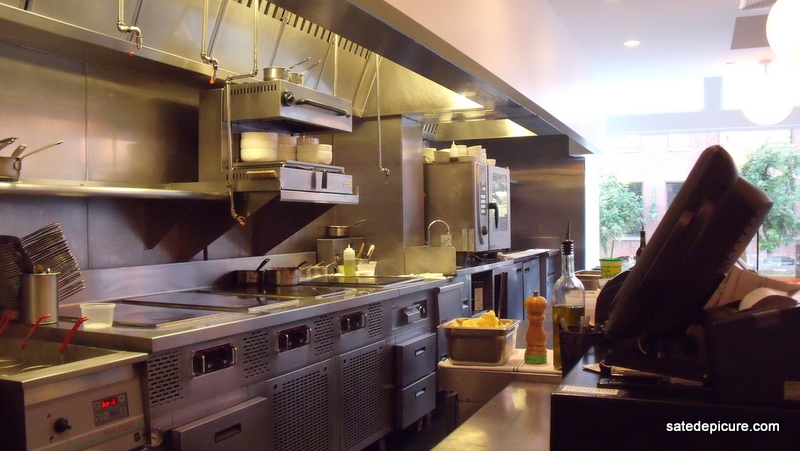 The kitchen at Sportello is wide open to the dining counter; the entire culinary crew is on stage. Now my server approaches and takes a drink order. I ask about BU and she smiles and fills me in on her background. She's working for Lynch to build her resume and learn the business while hoping her graduate degree will lead to greener pastures in the world of food, food writing, teaching or, perhaps restaurant ownership.
Off she goes to pull my drink order while I study the menu seeking options. She's back now with some suggestions. I ask her to bring me the two best selling items on the menu and she agrees to deliver a tagliatelle with sauce Bolognese and fried basil and her favorite item: a strozzapreti (hand rolled "priest chokers) with braised rabbit, picholine olives and rosemary. I am game so off she goes again.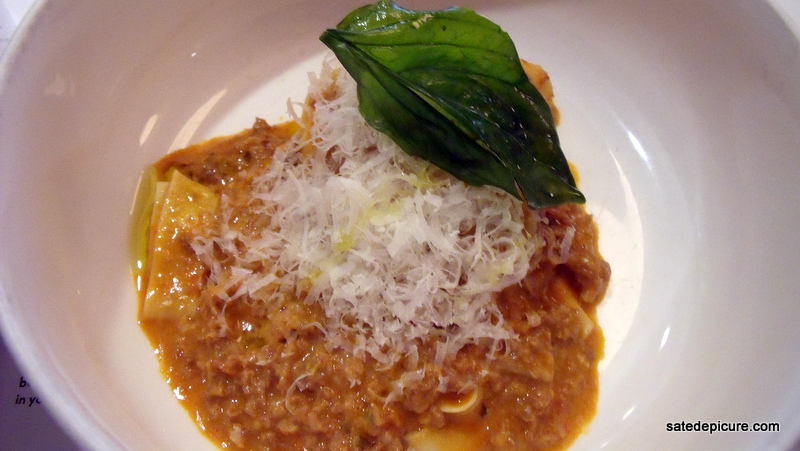 First up: a hot plate of tagliatelle topped with finely grated pecorino. For years I have been making an excellent tagliatelle, one that I roll a few extra times through the pasta machine to assure that the thin sheets have excellent bite after being cooked al dente, a la minute. The tagliatelle (the pasta itself) at Sportello exceeds my expectations. Better yet, the Bolognese is the real deal and not overcooked like so many I have tried. It's rich with a deep meat and tomato flavor. The basil leaf adds color and aroma; an excellent simple dish.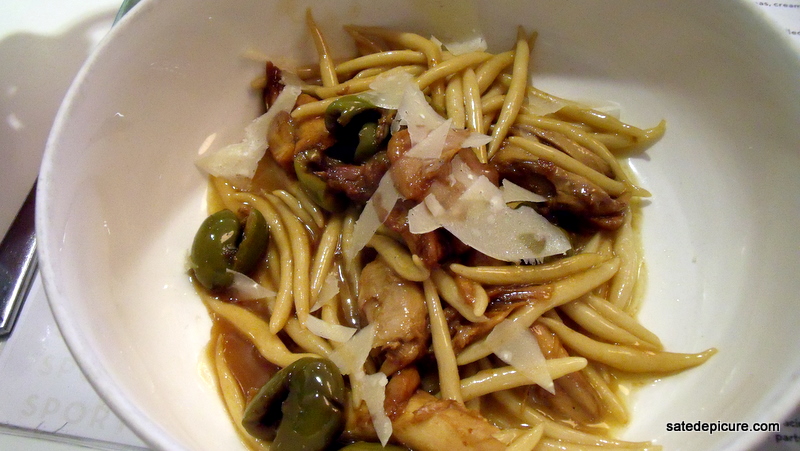 Second: the strozzapreti. The rustic inconsistency of the shapes of this hand-rolled deliciously light pasta is endearing. After braising the rabbit the sauce is reduced by eighty percent into a savory brown glace that clings with gelatinous tenacity to the pasta. Each piece of rabbit is moist and fork-tender throughout. This is a very rich dish that is cut by the light bitterness of the picholine olives and the saltiness of the pecorino. By the way, I ordered half portions knowing that Sportello would be generous. The rabbit is the best I have had in Boston.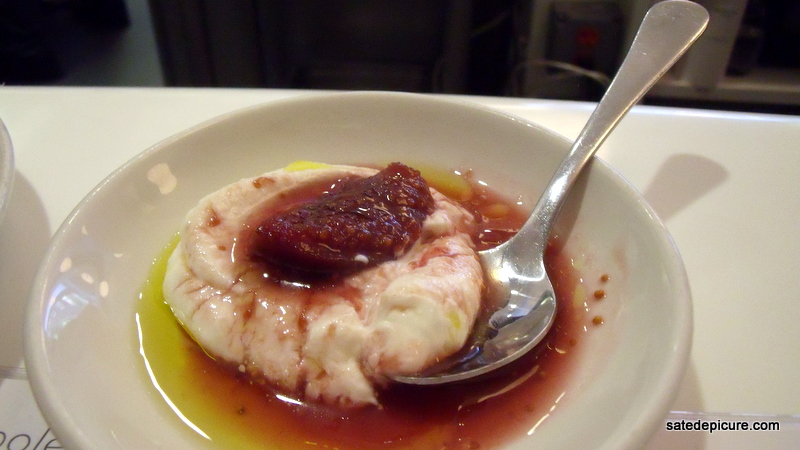 Prior to heading for the door I sample a small plate of fresh ricotta (usually an amuse at Sportello) as a dessert and it is a perfect ending. Not once did any employee at Sportello flash Chef Lynch's picture in my face. Her image isn't glued to the wall nor is it pasted across the menu. Sportello is a standalone restaurant with a good professional, smart crew that executes Lynch's cuisine with no pretense and with no need to stand on her shoulders all day long. I like this restaurant and, as I have said before, I like Barbara Lynch.
348 Congress St
Boston, MA 02210
617-737-1234