It's always nice to start the year with a benchmark visit to an excellent restaurant. I never take for granted how blessed and fortunate we are to have the opportunity to explore the food, beverage, and service at the best restaurants in the world. The creativity is amazing and every visit results in deep learning and reflection that I take back to my classroom and to life in general. This year we begin with a visit to Eleven Madison Park. It's a Saturday evening at 7:00 pm and we have a prime table reserved for six (a wonderful group of chef-friends I have known for 25+ years). When we arrive we are treated like royalty – everyone is. We waltz over to our six-top round and take our seats. It isn't long before we settle in for an awesome ride. Being here feels like flying first class on a great airline or taking a ride in my neighbors Mercedes S63 AMG – its so well engineered and thought-out, the experience and environment are luxurious and exciting while also comfortable, and relaxing. Lighting is great, acoustics are refined, spacing is excellent (there's plenty of room to move) and the company I am sharing is world-class. It's so darn easy to settle in here.
It isn't long before the food starts to arrive. First there's the mystery box with a savory cookie. You have to interact with this item and open it to enjoy it. Next a sampling of delicate hors d' oeuvres presented in a set of artisan wooden boxes – the boxes themselves are striking. When the caviar Benedict comes the simplicity and contrasting flavor and texture is pure culinary craftsmanship at its highest level (this dish was mind-blowing) not to mention the custom embossed tin the dish is served in. Every item we experience is exceptional – in many cases producing pure awe and joy. Then we visit the kitchen for a standing course while observing service in action.
The kitchen at Eleven Madison Park is the epitome of professionalism. It is so nice to see a spotless back-of-house running like a Swiss watch. Every member of the culinary brigade in production has a pristine chef coat and hat, the kitchen is immaculate, every station is organized; you can hear a pin drop it's running so smoothly. Though Eleven Madison Park is inspired by the tenets and philosophy of Jazz, executive sous chef Brian Lockwood's kitchen is more like a well conducted symphony its so smooth. I don't overlook how hard this is to achieve and have a new benchmark for my own practice. Humbled is an understatement.
And so it goes throughout the evening – incredible food paired with a refined and precise eye for all the tiny details in service, service-ware, guest interaction, timing, temperature, and aroma. This is hospitality, luxury, and craftsmanship at its highest level and it brings me such joy to see how far our profession has evolved over the past 30 years. I send warmest gratitude to Chef Daniel Humm and his partner Will Guidara, Manager Billy Peelle, Chef de Cuisine Dmitri Magi, Executive Sous Chef Brian Lockwood and our Maitre d' Todd Holtry. Thank you Eleven Madison Park for teaching us what the finest hospitality is supposed to be like.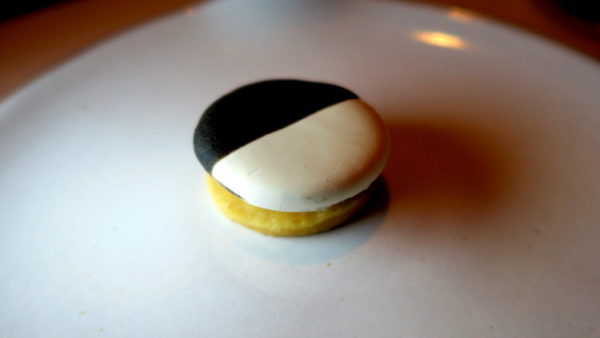 Black and White – Savory Cookie with Apple and Cheddar

Celery Root with Black Truffle, Salsify with Garlic and Thyme, Parsnip Pie, Rutabaga with Celery and Walnuts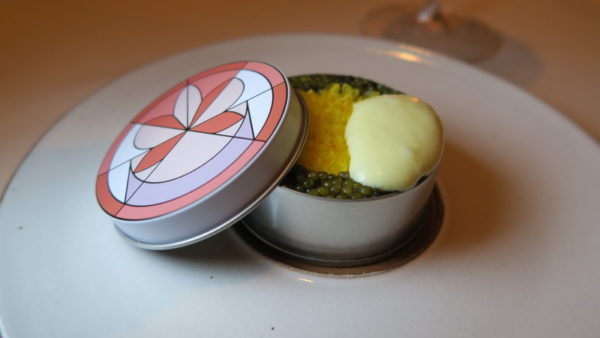 Caviar Benedict with Smoked Sturgeon, Ham, and Pickled Egg Yolk
Crab with Sea Urchin, Kohlrabi, and Apple
Foie Gras Seared with Brussels Sprouts and Lemon
Lobster, Butter Poached with Rutabaga and Pear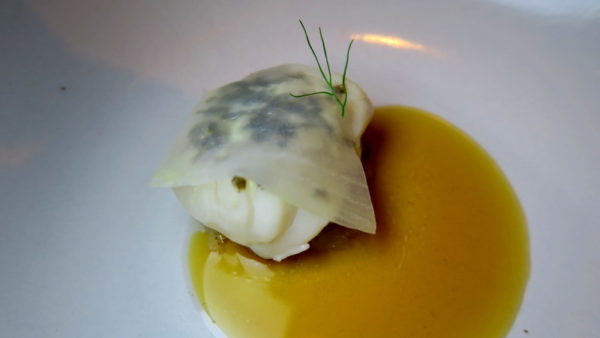 Striped Bass Poached with Fennel and Clams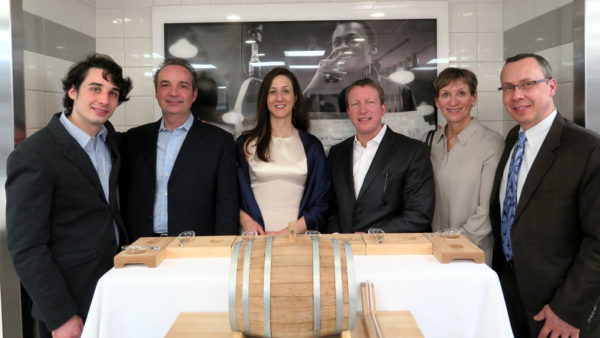 In the Kitchen – It Takes Many Years to Grow Old Friends!
Kitchen  Course:
Foie Gras Bon Bon – Pear Ginger Syrup Center, Candied Hazelnut Crust
Hermann J. Weimer "Noble Select" Riesling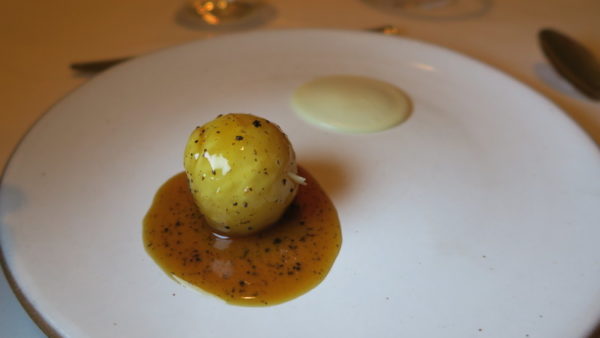 Celery Root Braised with Black Truffle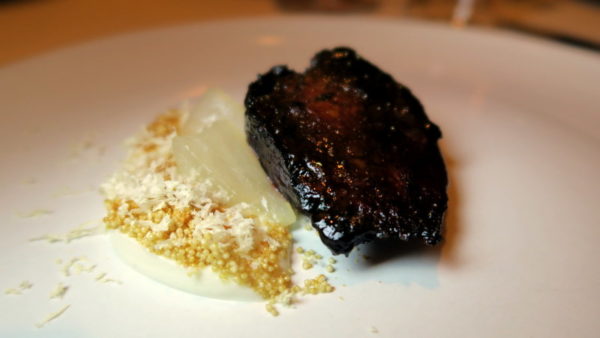 Beets Roasted with Onions and Almonds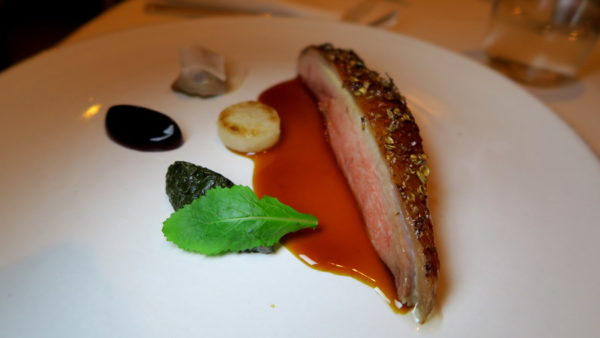 Duck, Honey and Lavender Glazed with Turnip and Huckleberry
Cheddar Tart with Apple and Mixed Greens
Pear Sorbet with Caramelized White Chocolate and Riesling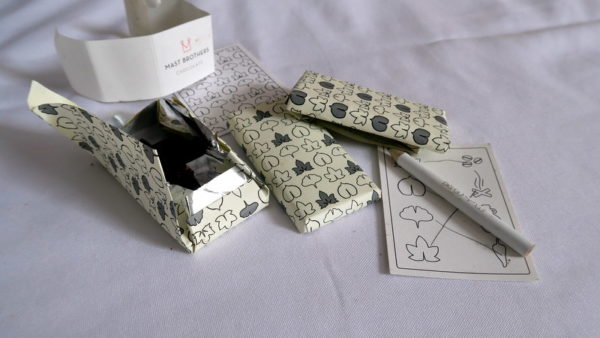 Chocolate "Name that Flavor"
Pretzel with Sea Salt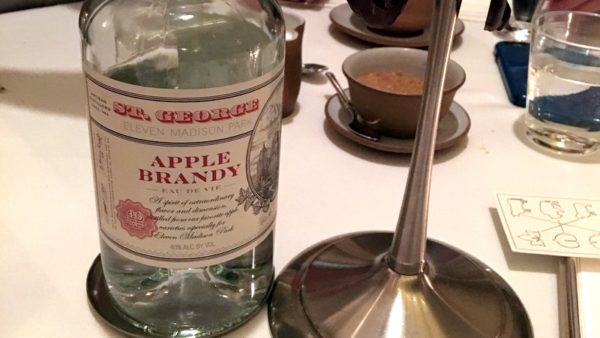 St. George Eleven Madison Park Apple Brandy Eau De Vie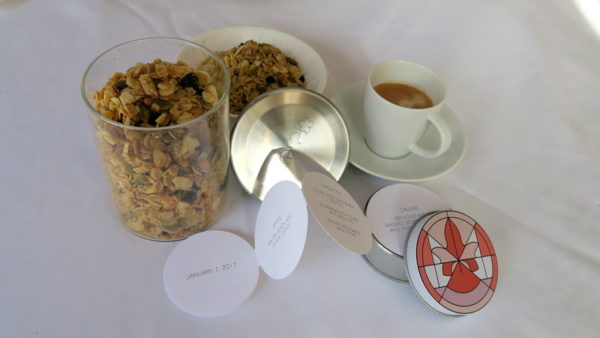 Morning After! The Best Granola Ever – Thank you EMP
11 Madison Avenue,
New York, NY 10010
212.889.0905
info@elevenmadisonpark.com