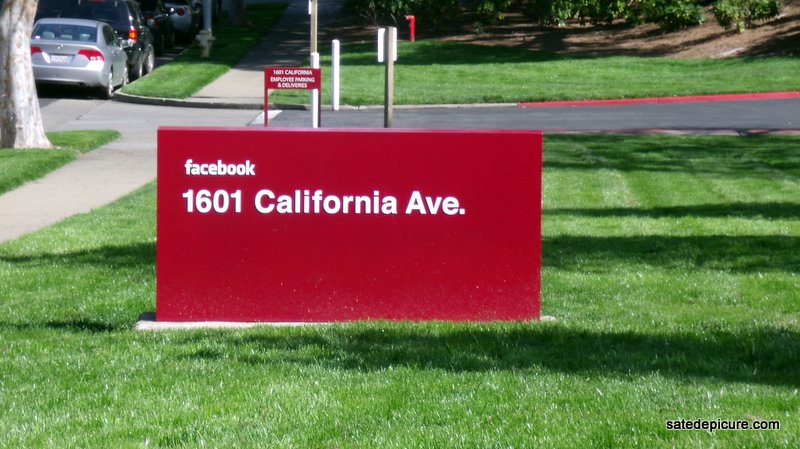 I am with a friend and we just spent 90 minutes driving north from Monterey up the 101 toward San Francisco, the pastoral garlic fields of Gilroy giving way to urban San Jose and Palo Alto. The sun is shining and the weather is dry, it's a classic northern California day. Along the way we decide to stop in and see Facebook Culinary Overlord (an all around good guy) Chef Josef Desimone, have breakfast, tour his shop, and find out the latest culinary happenings at the worlds most popular social media juggernaut. Although I make it sound like the visit is impromptu it really isn't, we decided to make this stop as part of our itinerary several months ago.
Prior to leaving home to make this trip I took time over several nights to read "The Accidental Billionaires: The Founding of Facebook" by Ben Mezrich a writer with a Harvard pedigree just like Facebook founder and billionaire Mark Zuckerburg. Although Mezrich paints a sensational picture of the creative genius and high drama that occurred during the birth of Facebook he also subtly reveals that Zuckerburg could potentially be a guy who likes the finer things in life like good food and wine (in addition to supermodels and long hours writing code). I wonder if this is true and what the typical Facebook employee eats. Maybe Joe will enlighten me.
With so much written about Facebook and Mezrich's sensationalism finally dissipating, my attention is drawn to the food and food preferences of the young and elite class of geniuses that run this place. What does a Facebook employee crave for a meal after signing on another five million users in a week or getting hammered in the New York Times for some sort of security breach or advertising strategy? After a few minutes waiting at the front desk, Chef Desimone steps into the lobby to greet us and in we go. Josef is unlike any other onsite foodservice chef I have ever met. His statistics aren't all that unusual; 3100 meals a day, operating hours from 4:00 am until 1:00 am, 53 employees give or take a few, generous but finite budget for food and beverage, the unit falling under the real estate division of the company. His approach to menu development, food safety, staff development, and culinary quality, however, are at the leading edge of the industry.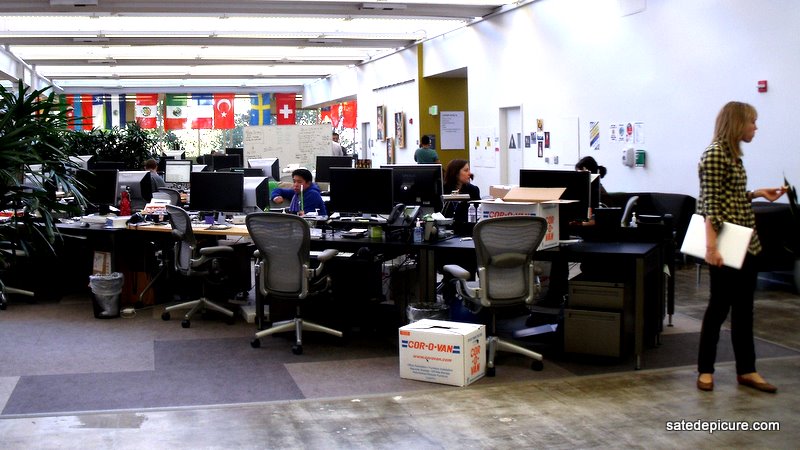 We are now walking through the wide central hallways of Facebook headquarters on our way to the dining room. Branching off of the main hallway are twenty foot wide workspaces with clusters of open cubicles populated with young, vibrant, totally engaged Facebook employees who don't even look up as we walk past. Turning a corner at a hallway intersection an employee snack station appears to my right. Joe points out the selection of fresh fruit, healthy snacks, ice cold beverages, hot beverages, cereal, candy, trail mix and the like, explaining how he first deployed these types of snack stations while executive chef at Google and has refined and improved the concept here. I ask Joe what other things he does differently at Facebook and he spins around the corner with me in-tow heading toward another bank of cubicles on the other side of the hallway where his desk is located. As we cross over to the other side of the skylight hallway two employees walk past, both dressed like they just stepped out of a mid-town Manhattan night club. Interesting!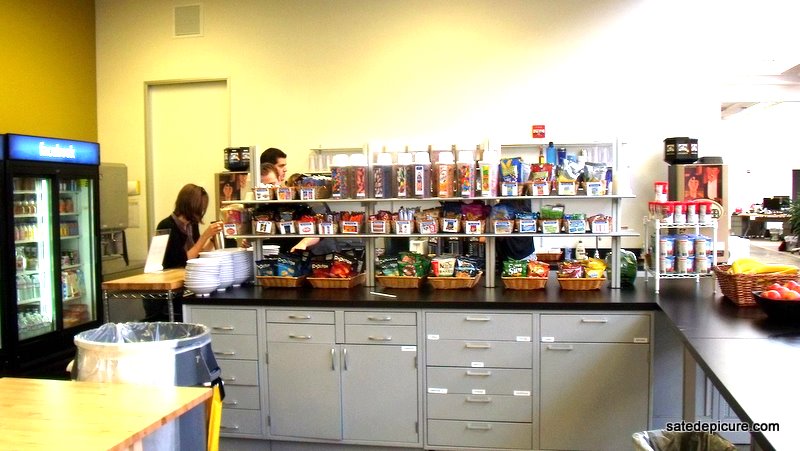 We get to his desk and Chef Desimone pulls open a file folder and starts thumbing through page after page of menus. Then, he logs into his computer and opens up a spread sheet. On the far left column are the months and days of the year for 2010; in the next column is a theme, in the third column a group of names. At Facebook "menus are like sandcastles" Joe says. Sandcastles I ask, startled? "Yeah, once you create one, it lasts for a day, then it's done and you make a completely new one." Joe goes on to tell me that at Facebook he never recreates the same menu twice. Every day he offers a unique, themed menu based on a country or event. He shows me a page from the April menu that includes themes, offered from Monday the 5th to Friday the 9th, titled "Major League Baseball Opening Day, Pasta Bar, France, Thailand, and Breakfast for Lunch." Each theme includes detailed menus, recipes, and production schedules created by the team leader and individuals assigned.
We make our way out into the kitchen for a tour, talking as we go. Joe operates a large kitchen divided into sections according to production. Refrigeration and food storage lines the back wall adjacent to a hot line designed for bulk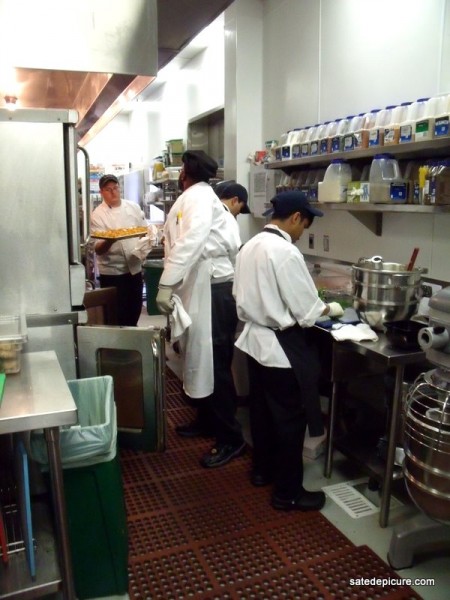 production (stocks, braises, bulk soups etc). In one corner of the space is a pastry production area and, rounding the corner opposite the bulk production line is another long hot line with a deck oven (he makes lots of pizza), wok station, fryers, griddle, and gas ranges. Across from this second hot line is a row of stainless steel work tables lined up end to end followed by the hot serving line. The kitchen is quietly busy and spotless. Every cook is professionally dressed and every one of them is wearing a hat. Joe's kitchen isn't just clean and organized it is wound tight like a Swiss watch. Seeing production in action prods our conversation back to menu planning.
The menu planning process which involves as much organization and discipline as it does creativity, is one of Joe's key training and staff development tools. He knows every detail of what was served in the past year and what is planed for the weeks and months to come and scrutinizes every menu, giving feedback and assistance along the way. He assures that there is always something new and of high quality being developed by his staff members and, in turn, the staff members never grow stagnant. Everyone, including Joe, is constantly growing and expanding his or her repertoire.
This makes me wonder if the culinary attention span of the twenty-something engineers employed at Facebook force chef Desimone to go to such lengths. He relays that his intent is to constantly offer new and interesting foods while also providing an opportunity for Facebook employees to expand their food preferences and refine their palate. He sees his role as one of providing sustenance while also providing a type of culinary education to employees too. He does, however, repeat proteins on a regular basis due to demand. "I can offer any kind of chicken and they will love it, they love healthy fish and they kill pulled pork when I run it" Joe relays. Rotating menus aren't a response to fickle eaters; they are a tool to keep eaters and employees engaged when the same group of cooks and consumers see each other five days a week.  Joe is one part conductor of an ever evolving symphony and one part jazz musician jamming as he goes, the same musicians (cooks) and audience (employees) at each performance.  He orchestrates the whole process while offering a regular core menu and group of accompaniments 20 hours a day.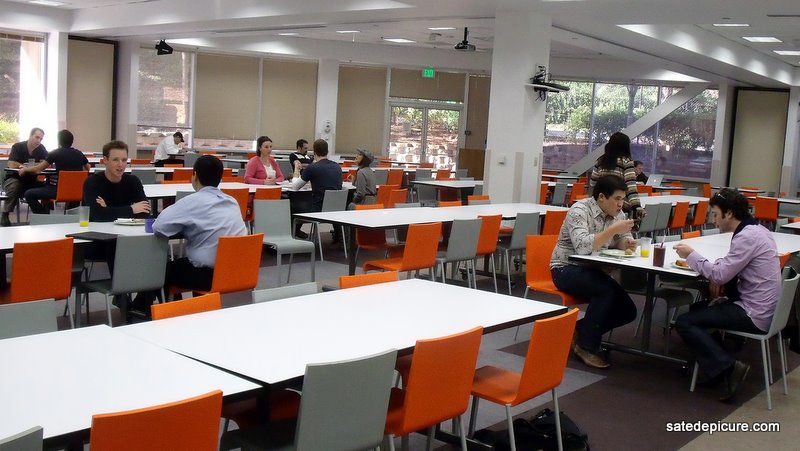 Looking out into the dining room, with is long bank of windows with views of the first floor patio, twelve foot high ceilings, orange and grey chairs, white tables, and neutral toned carpet, the design is sleek and bright. We make our way over to the beverage and cold food station and he shows me another innovation, an allergen symbol system. If the menu item being served contains egg, the item description posted above it on the sneeze guard includes a graphic of an egg. If it contains dairy, the description includes a graphic of a small milk carton. This system continues for wheat, nuts, shellfish, fish, alcohol, spicy and hot products. He also places on asterisk on items that are vegetarian and contain no meat products and two asterisks on items that are vegan and contain no animal or animal by-products. As Joe explains the system, we walk over to the baked goods section (breakfast is still being served) and I notice one of the Facebook employees taking a muffin from a basket. I ask her if the symbol system makes sense and she agrees stating that it took her less than two minutes to figure it out. The system is simple, clear, and effective. Joe is smiling.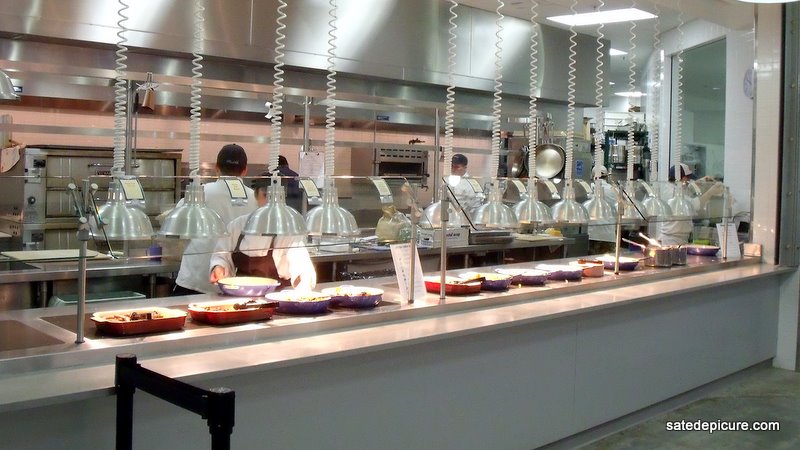 We pick up trays and head over to the hot line. I grab a spoon full of perfectly cooked scrambled eggs, a couple fresh sausages, some roasted potatoes and head for a seat. Three of us sit down to have breakfast and our conversation continues as Joe tells us about his professional background and vision for Facebook foodservice in the coming year. What makes his food so good is that it's perfectly prepared using the best ingredients and loses nothing in quality due to the massive scale he contends with. Time is running short now so I ask Joe what Zuckerburg likes to eat. Joe, the consummate professional, smiles and explains the incredible relationship he has with the Facebook executive team and that Mark Zuckerburg's food preferences are not up for discussion. He pauses for a moment in thought reading my face to see if I am disappointed by his answer. With a twinkle in his eye he leans over to whisper, the educator in him coming out again, and tells us that he continues to introduce Zuckerburg to new and exciting foods when ever he gets the chance. If asked, I bet Zuckerburg would tell me that Joe has never served him the same thing twice and that he's learned more about food from Joe than anyone else in his life! Facebook is an ever evolving community of eaters and Joe does food right for them all.