In The Beginning
In The Beginning: Me, She, and Jean Louis
In 1987, at the age of 21, I had my very first experience with world-class cuisine. It occurred at Jean Louis at Watergate in Washington, D.C. That night I crossed a threshold into a world of fine dining never to return. Every single dish I ate that night is still visible in my mind's eye. The faces of the waiters that night, the apéritif they served, the table where I sat and the décor of the restaurant are vivid in fine detail in my memory. That night wasn't just a dining experience it was an overwhelming artistic event filled with emotion and excitement. It came at a perfect time in my life.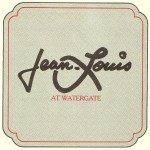 She and I chose the restaurant in a moment of inspiration after reading the sixth issue of Art Culinaire magazine published that same year. Rene, our balding middle-aged purchasing director, had an office on the ground floor of our building. I passed by one morning and saw the hard-cover magazine lying on his desk. The cheap hollow core door to his office was open so I slid my way in and took a look. A few minutes later Rene popped into his office aflutter with his cheerful attitude and usual warmth. "Beautiful stuff, huh" he offered. "That's for sure."  I had never seen anything like it. It was food porn and it sucked me right in. I stood absorbed by the book for what seemed like hours while the echo of Rene's voice floated in one ear and out the other. The book consisted of page after page of large color photos of the best plated food in the country. The recipes for these dishes were lightly printed around the perimeter of the page almost as an afterthought so as not to interfere with the food itself. After a minute or two I regained my composure and thanked Rene for letting me have a look. Walking out, Rene offered to let me borrow his copy. I declined. Instead he gave me an address in Atlanta where I could send for a subscription. The next day I sent out my request and a check for $56.00.
It wasn't long before the first issue came. Hours were spent studying the photos, the recipes, the portion sizes, flavor combinations, cooking techniques, color and texture combinations and overall aesthetic. Was the dish layered, stacked, dispersed, small in portion size, classical, contemporary or all of the above? I studied the dishes over and over again. More than once I wondered how in the hell the chef made the item on the page. There must be some secret technique, piece of equipment or ingredient that allows him to do this I muttered to myself. There's no way the dishes on this page are actually the ones served in the restaurant I thought. No one is that good.
Jean Louis Signed our copy of Art Culinaire that night
On more than one occasion we looked through the magazine together, debating each dish and wondering aloud how it was assembled. She was in love with food as much as I was and, to be honest, I was falling in love with her. Tall, thin, athletic, eyes brown with golden edges. She was quick and precise in the kitchen and she was all I could think about. Our shared view of food and philosophy provided a connection at a level I had never felt before. After hours of conversation woven gently into the gaps in time when we were together we decided to escalate our relationship to the next level by spending a long weekend together dining at the best restaurant we could find. Art Culinaire provided the inspiration for our choice.
Issue #6 was titled "Capital Ideas from Washington D.C. Chefs." It provided profiles and dishes from nine individuals from the greater Washington D.C. area. We decided that a long weekend in D.C. would work well since the restaurants looked great and the museums were free giving us something to do during the day. On page 8 of issue #6 we came across a photo of a wild-eyed chef with hair out of control, a cropped mustache and oversize glasses with a twinkle in his eye. The photos of his food stopped us cold. Seeing pictures of this sort of food at such an early stage in my career made me think for a split second about how much work was ahead if I ever wanted to be this good. I quickly realized that the gap between my culinary ability at the time and what was displayed on those pages was wider than I liked to admit. Still, like viewing a crime scene or auto accident, I couldn't look away. At the time, Chef Jean Louis Palladin was receiving a steady stream of accolades. The Art Culinaire article mentioned that Palladin had earned two Michelin stars while serving as chef at la Table des Cordeliers in France and carried that same quality and sensibility to his now famous restaurant in Washington, D.C. It was rumored that his food was as good as any three Michelin star restaurant in Europe. 
It took us 10 hours to drive down to Washington D.C. After a few wrong turns we found our hotel, the old Twin Bridges Marriott which turned out to be one of the very first Marriott hotels in the country. It was more of a walk up motor-inn than a hotel, but the price was right, our room was clean, and the location good. We quickly unpacked our stuff and started to get ready for dinner. We found our way over to the Watergate hotel and valet parked our car in the garage under the hotel. Jean Louis at Watergate was odd because it was located in what appeared to be the basement of the hotel. The door leading to the restaurant was on the far end of the parking garage, through a couple of doors and down a hallway.
We arrived at the maitre d' stand in short order. Having made reservations in advance, I stepped forward with confidence and gave the gentleman my name. He leaned forward, offered to take our coats and escorted us into the hallway leading to the dining room to wait. After a couple of seconds he returned and offered to get us a cocktail while we waited for our table. Being slightly intimidated I asked him for a suggestion, he made one and we went with it. Smooth as silk he was gone again.
After he departed we both stood mouth agape peering through the large glass walls that lined the hallway. Jean Louis had built a massive wine cellar on both sides of the hallway and glassed it in. With my nose pressed up against the glass, I spotted extensive vertical flights of all the greatest wines in the world. He had a flight of Petrus for every year starting in 1960!
All the waiters in the place were over 55, male, and French. In contrast, we were the youngest couple in the restaurant by at least a decade. When we entered the dining room at the end of the hallway more than one head turned. It was clear to the Maitre d that we were first-timers and in a flash of warmth he reassured us that we would have a great evening and quickly led us across the dining room to a table for two against the wall near the kitchen. We were seated, he handed her a menu and then handed one to me, smiled and walked away…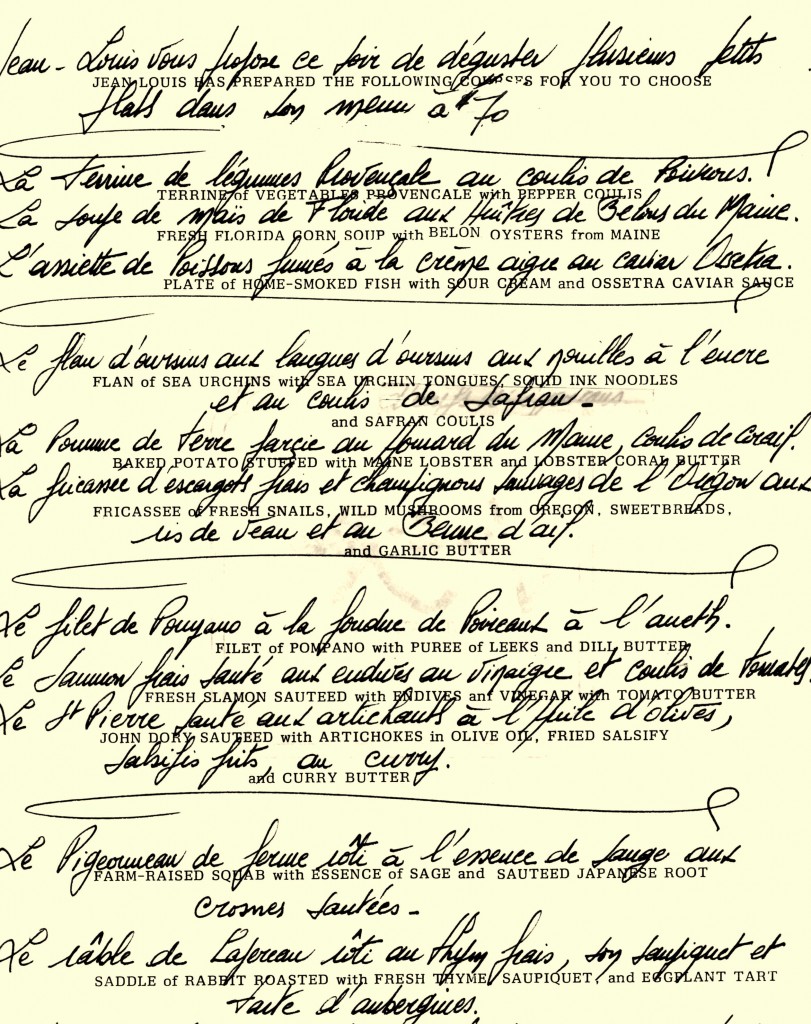 Our Menu from March 1987