Tonight I visit Smyth in Chicago with wonderful anticipation after reflecting on how our stories converge. Back in the 1990's and 2000's when I wanted a great meal in Chicago I would visit Charlie Trotters and it was there that I first saw Karen Urie (now Shields) at work.  Charlie introduced Karen as she passed me in the kitchen while I was hovering after an incredible meal. Karen prospered at Trotters prior to moving on with her (now) husband John Shields and this speaks to her strength and character. When I heard that Karen and John Shields opened Smyth in Chicago it warmed my heart – a culinary duo with a fantastic lineage paying it forward and inspiring a new generation of cooks and chefs. I placed Smyth on the top of my list for my next visit to Chicago.
Unfortunately I had a very limited window of time to visit Smyth – it had to be upon arrival to Chicago. My flight in was delayed but I was able to make my reservation – bouncing up the stairs to the door to Smyth right on schedule. One foot in the door and I am warmly greeted: "you must be Mr. Griffin – welcome, thank you for joining us tonight." I love it when the FOH crew is ready and organized. Though dining alone isn't always my preference, the team at Smyth placed me at a fantastic table within easy view of the pass and kitchen. It took all of five minutes to relax, order a Manhattan (with Rye) and start my journey.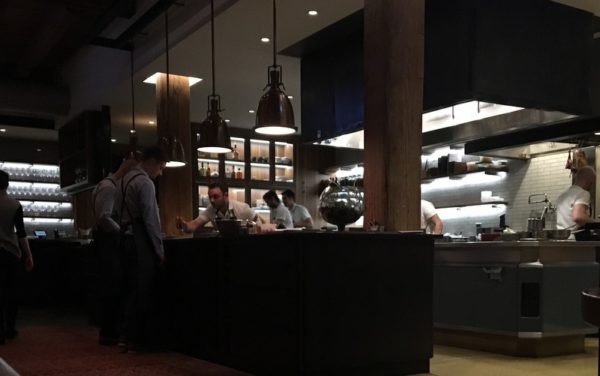 When I benchmark a great restaurant my goal is always to observe the details and to take what I learn back to my students. It is a challenge to remain fresh and current in a complex and constantly changing industry but evenings like the one I experienced at Smyth keep me inspired. Words fall short in expressing the warmth and hospitality that flows at Smyth. Their come-as-you-are philosophy, and casual but elegant dining room aesthetic rains with relaxation. You won't find white linen or stuffy servers here but you will find gorgeous walnut tables, classic Hans Wegner Kennedy chairs, and curated tableware. This is dining built on years of experience, mastery, and complexity rendered with integrity and purity. Congratulations Karen and John – thank you for a wonderful evening and for the inspiration. Best and blessings to you and your team.
Maitake, Spruce, and Sassafras Tea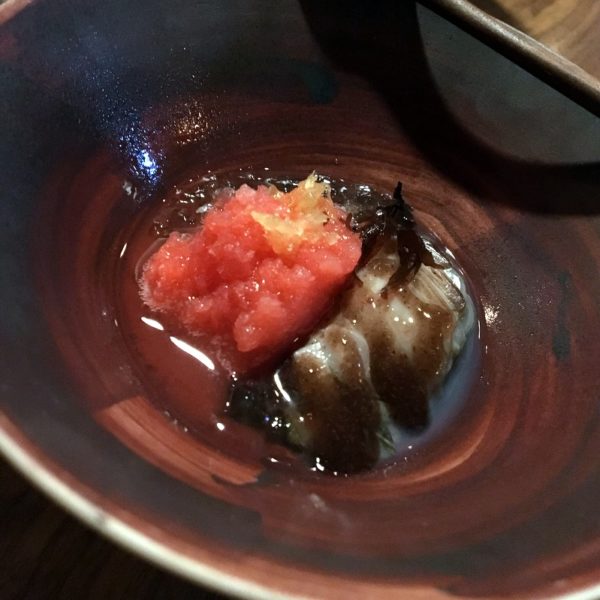 Salted & Frozen Radish, Oyster, and Seaweed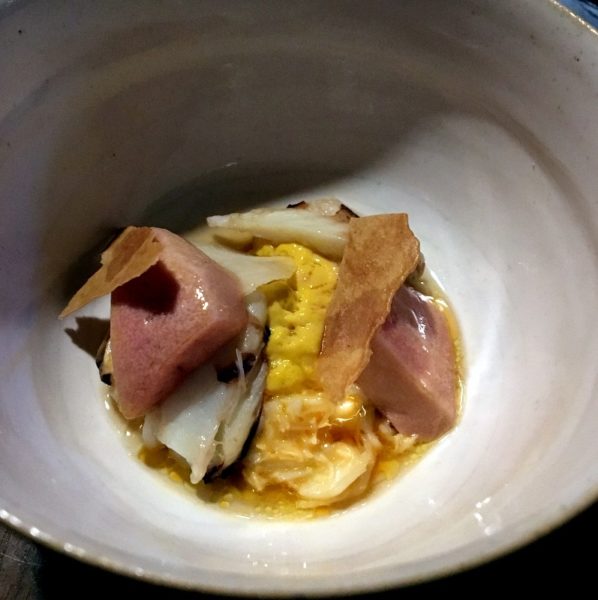 Dungeness Crab & Foie Gras with Scrambled Kani Miso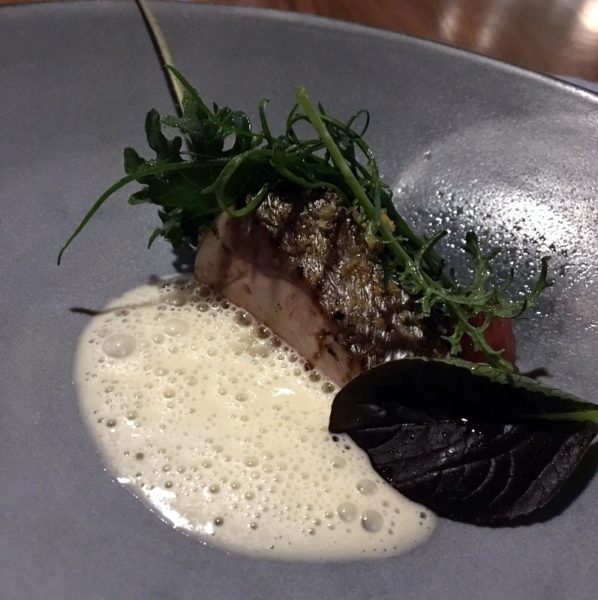 Shima Aji Seasoned With Its Fish Sauce and Spicy Plants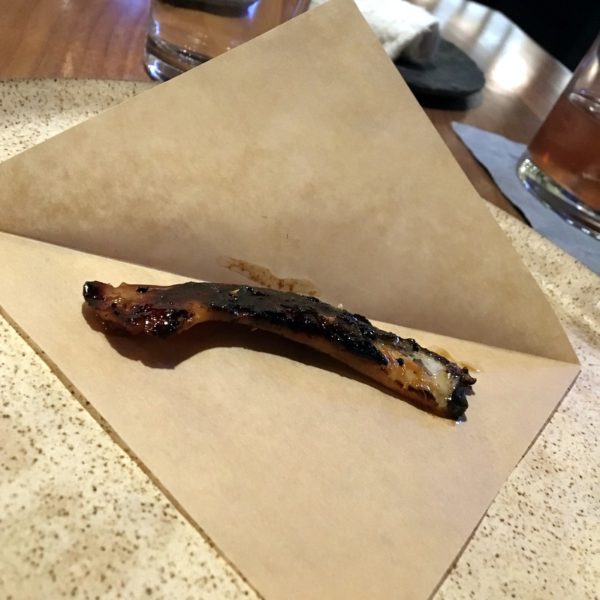 Shima Aji Ribs, Barbequed Over the Hearth
Uni Taco
Caramelized Potato & Sunchoke with Dried Scallop and Trout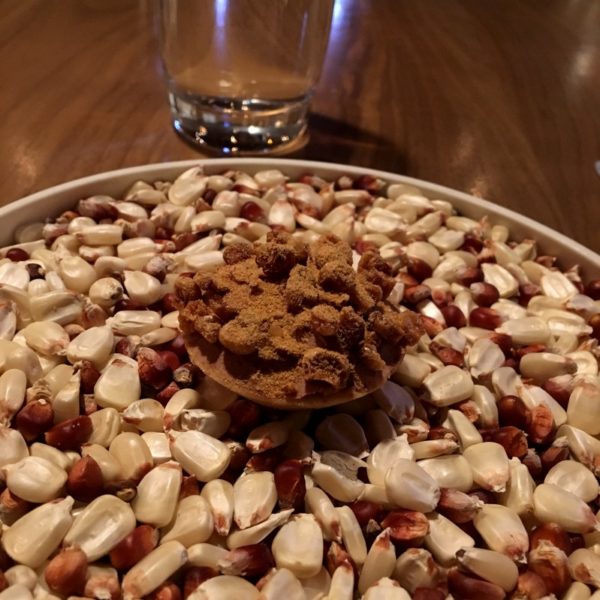 Dried Corn Tartlet with Squab Liver Mousse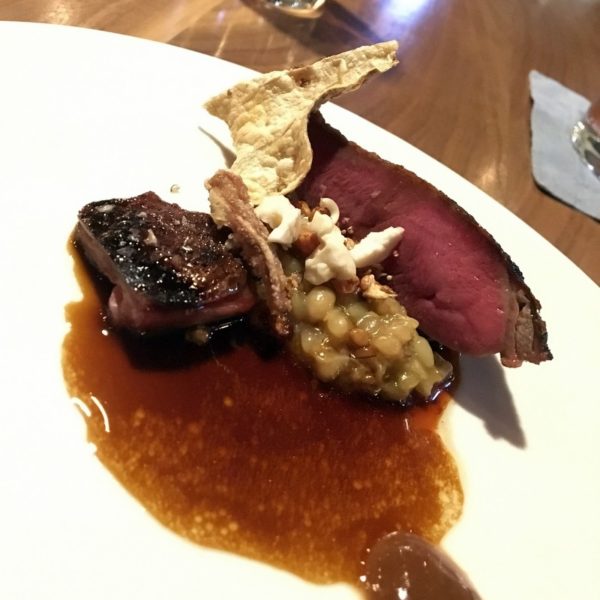 Roast Squab, Black Walnuts, Grains, and Apple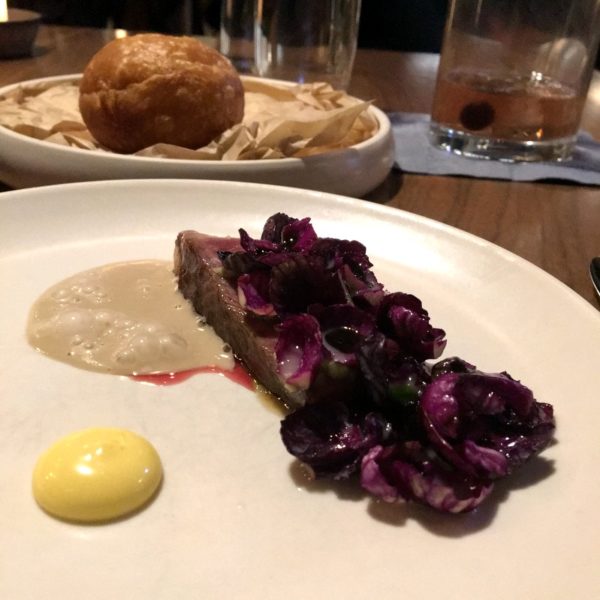 Brioche Doughnut with Aged Beef Au Jus, Ribeye of Beef, Wasabi, and Brussels Sprouts
Pickled Onions with Lamb, Black Allium, and Black Truffle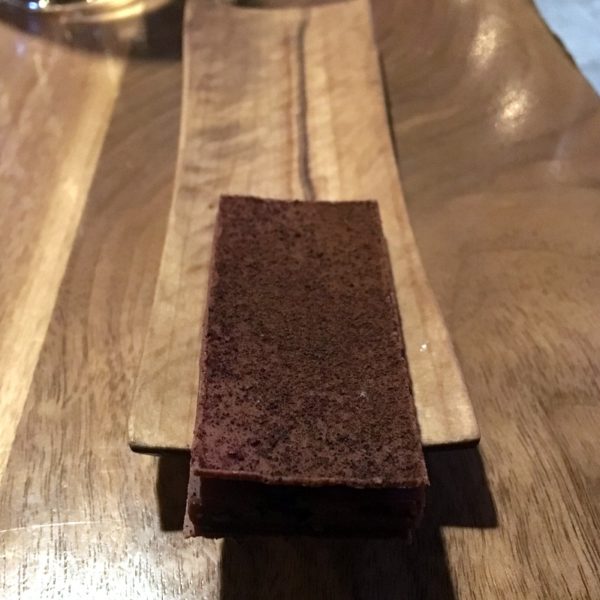 Milk Chocolate, Huckleberry, and Preserved Shiitake Mushroom
Egg Yolk Soaked in Salted Licorice with Frozen Yogurt Meringue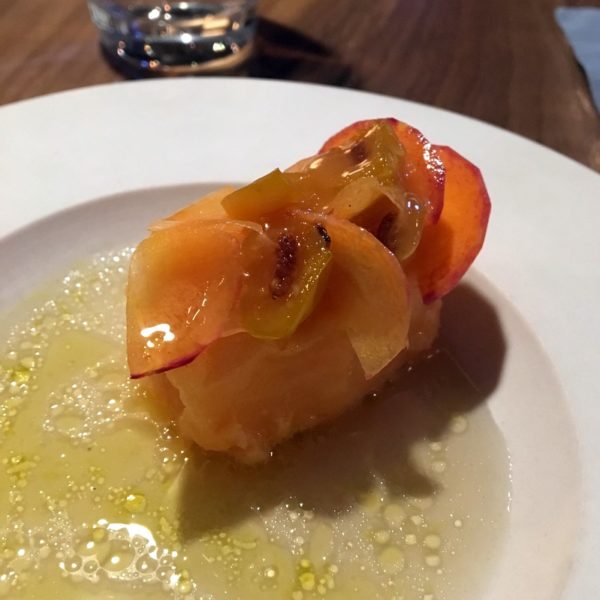 Carrot Sorbet, Pine Pollen, Honey, and Sour Quince Curd
Lovage Stem and Carrots Coaxed into Licorice
Smyth Restaurant
177 N Ada St #101,
Chicago, IL 60607