We arrive at Michel Richard's Central at 1001 Pennsylvania Avenue in Washington D.C. in a flutter. The rest of our party arrived an hour earlier, ordered lunch, and they're waiting for us while trying to delay service. We are en route when one of our friends at the restaurant calls and asks if she should order for us because the kitchen is closing in five minutes. We are running out of time. "Where are you guys?" she asks in desperation as we walk through the front door and out of the sticky heat that blankets the city this time of year. Wilted but in good spirits, we sit down and order with less than a minute to spare relieved to be inside where it's air conditioned.
Our server arrives, takes our order (adding it to the one already placed by the others) and heads toward the kitchen. I take a few moments to catch my breath and soak in the dining room décor. The restaurant is brushed with natural light from the west facing bank of windows that run the length of the dining room. This natural light compliments the high ceiling and two toned light fixtures that hang along the center of the room. It's a large restaurant with what appears to be over one hundred seats including several large banquettes with neutral colored leather upholstery. Tables and chairs are a natural maple and the Berber carpet is tan in color giving the restaurant a bright, earth toned natural feel. Sleek, contemporary, playful, (there's a huge portrait of Richard's bearded face on display near the wine cellar) and comfortable come to mind as I sit looking around what is now a nearly empty dining room. Although our server is not rushing us, our food arrives faster than expected disrupting my wandering mind.
Classic Beef Burger with Cheese. This burger is special. Richard makes his own hamburger rolls on site, the beef is fresh ground, shaped into a one inch thick patty and perfectly cooked, and the French fries are fresh as well. There is nothing like a simple item, perfectly executed, to make me happy. Classic Beef Burger $17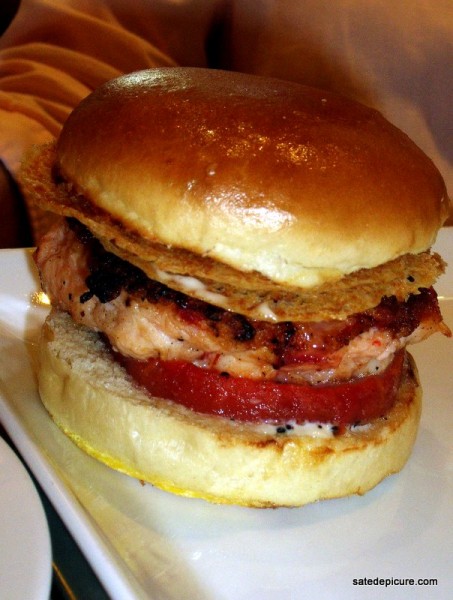 Lobster Burger from Heaven. Richard takes a couple of split lobster tails and intertwines them, grills them over high heat, plops them on a disk of lightly oven dried tomato sitting on the bottom of a fresh baked bun, tops them with potato crisps, a little special mayonnaise based ginger sauce, caps them with a fluffy, egg washed bun and serves. This is not an inexpensive dish but it is absolutely fantastic. The lobster is lightly charred from a hot pan but perfectly cooked, moist and toothsome (not easy to do with lobster) and the sandwich is big enough for us to split in half and share. When I cut the burger it remains completely intact. This makes me wonder if the lobster tails were dusted with transglutaminase (meat glue), I am assured they were not! No matter…it tastes wonderful. Lobster Burger $29
The only other guy at the table with me orders a simple New York strip steak. It arrives grilled to perfection with a topping of maitre d' hotel butter, spinach and arugula salad and a side of those awesome fries. I like the way the fries are served standing up in a cup, it keeps them crisp and the salt evenly distributed. He takes one slice out of the steak and it is exactly medium rare, piping hot, and seasoned. NY Strip $32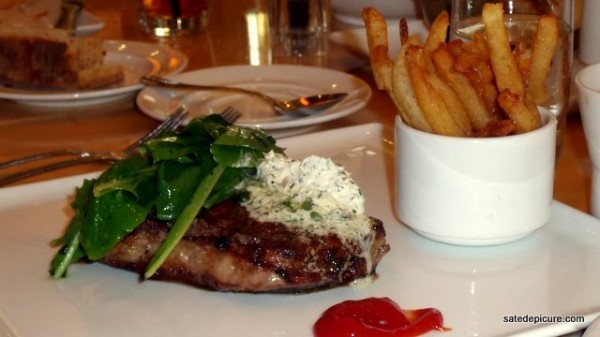 Being an oyster fanatic, we order our first dozen and share them. Nothing fancy with the presentation but they are ice cold, correctly handled and delicious. Unfortunately, I am still so enamored with the lobster burger that I forget to write down the types of oysters we are eating. I think they are Hama Hama's and Dabob Bay's but can't quite remember, probably because I was eating them so fast. Dozen Oysters $32
The same is true of dessert. We ordered four desserts to share knowing that Michel Richard earned his stripes as a pastry chef before starting a mini restaurant empire. Before I thought to snap a few shots of these items, it was too late, we had wiped out all but one; the bread pudding. What a shame, it would be nice to share a photo of Richard's signature "Chocolate Bar" dessert. Bread & Butter Pudding $8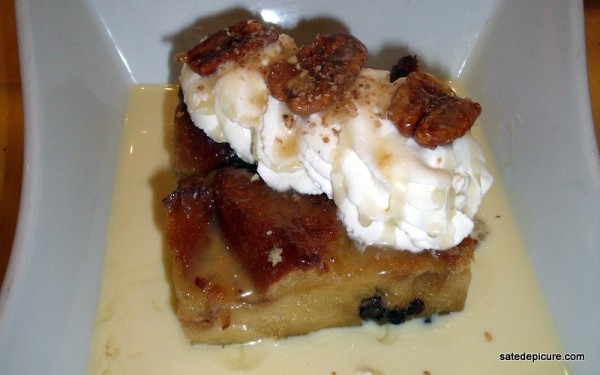 We were in an out of Central in about an hour. The food was fantastic and the setting comfortable and relaxing. Better yet, our server never once made us feel rushed, was gracious the whole time we dined, and walked us to the door with a smile.
Central Michel Richard
1001 Pennsylvania Ave., N.W.
Washington, D.C. 20004
202-626-0015