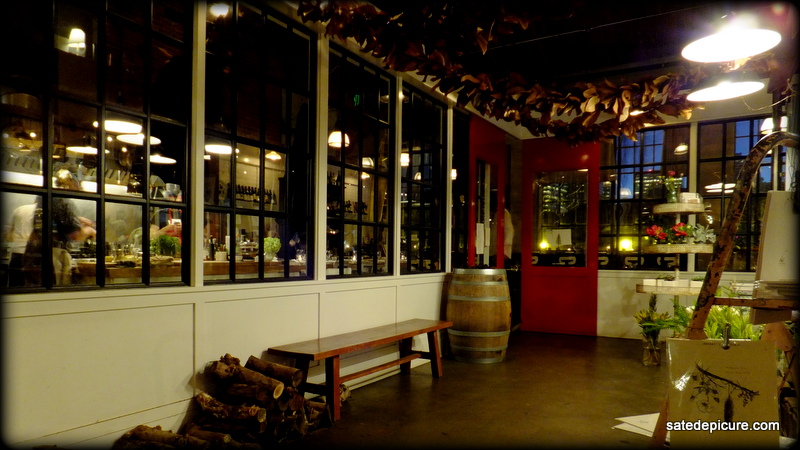 I make one last stop on my Seattle tour at chef Matthew Dillon's Sitka and Spruce back in the Melrose Marketplace. It's rainy and cold again and each fat drop falling from the sky cuts across my face. Stomping the water and weather off my feet, I head inside past the specialty butcher, the wine shop and bar, and flower stand. Tucked into the rear corner is Sitka and Spruce; separated from the rest of the market by a partition composed of large windows and white framing. It's warm and bright in here. Although inside the market, I am outside the restaurant looking in through the large eight over eight windows while I wait for the doors to open. Staring at the blur of cooks prepping and planning on the other side has me captivated with memories of my line-cook days in a prior life. Lost in thought, it is forever in a second before the double red doors slide open and I return to the moment and enter.
Inside and alone, I sit at the long hewn wooden counter of single stools running along the wall under a bank of exterior windows. Suddenly it feels overcast in here, with dim street lights casting a glow into the room, painted in neutral colors. Staring out through the glass while I wait for a menu, I notice that the window is old and probably original to the building. The glass is dusty and slightly fogged over and in places caulking has come undone. The rest of the restaurant space is mostly renovated, efficiently designed, otherwise spotless but with a planned historical texture and character. With high ceilings made of exposed timber and a large open kitchen with fireplace, it is clear that someone chose to respect and enhance this space rather than blow it to pieces. Overcast is the wrong word, the restaurant is subdued, the intensity retro but not fake, the vibe and the people smart, environmentally green, respectful and happy in that "we have a great restaurant and we know it, work our asses off but never take it for granted" sort of way.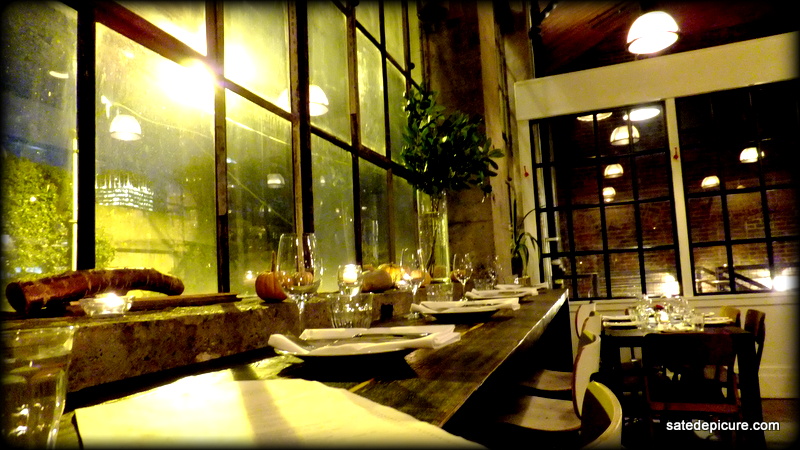 The menu arrives, she takes a minute to talk with me and figure me out "try the fresh anchovies from Oregon" she says remaining suspicious because I have a camera. "Do you like liver mousse?" Always I say especially when properly prepared and yours is served with sherried chanterelle mushrooms. Liver, chanterelles and sherry are flavors matched in heaven. Send one of those out too. "We have a small plate of buckwheat crepes with salted ham and endive, the endive is caramelized and wilted over the crepe." Yes please. She sees that I am fair game "how about the local halibut with sauerkraut?" How about it I offer.
Sometimes I don't even need to see the food to know that a restaurant is good. This is that kind of place. She could have sold me the entire menu if not for a limited budget and appetite, curious as I am. The fresh anchovies arrive first, five gorgeous fillets glistening with olive oil and fresh lemon. Medium thick slices of pickled green chili pepper as round as a pencil and a sprig of parsley provide shades of green to compliment the silvery white fish. These aren't salted and cured anchovies they are beautifully fresh, light and sweet fillets with perfect seasoning and spice; I could eat a dozen of them.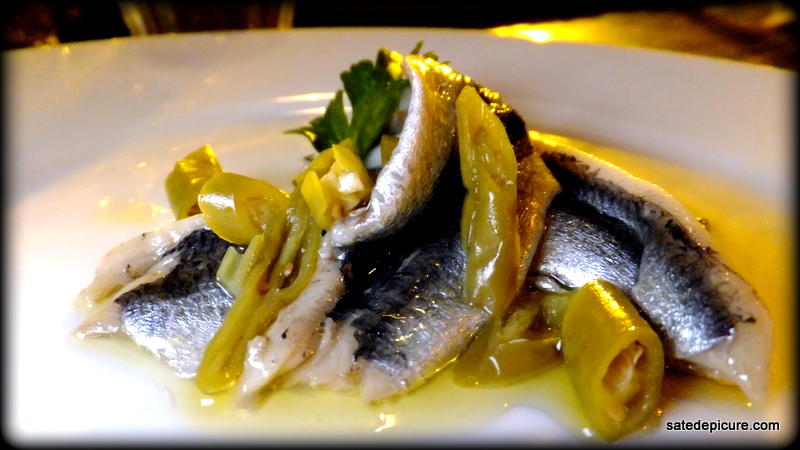 Marinated Anchovies from the Oregon Coast with Pickled Chili Pepper
A few more sips of sauvignon blanc and the liver mousse arrives. A thin coating of mousse tops lightly toasted slices of French bread and tart little huckleberries.  Sautéed chanterelles are layered on a sherry cream reduction with fresh herbs including dill and tarragon. These flavors are meant to go together and I sop up the mushrooms and sauce with the French bread slices.
 Cooked in Sherry with Huckleberries and Liver Mousse
Now I am overly distracted by the food and, when the crepes come, start to eat the dish before taking a photo. Catching myself, I pause, click a quick shot and dig in. The endive is caramelized just enough to wilt and sweeten, the bitterness having cooked out. There's more fat in this dish providing richness and depth. The portion is perfect. Then the halibut with sauerkraut and white carrots arrives. When in Seattle I usually order Sablefish with halibut a close second. Tonight Sablefish wasn't on the menu so I didn't think twice about the halibut. Seared then steamed gently, it arrives perfectly cooked albeit lacking contrast and color other than the golden brown top of the fish. However, the dish is a study of elegant simplicity pared with a level of craftsmanship worthy of praise. Each course arrives in perfect 12 minute intervals. In less than an hour I am sated and comfortably so.
Buckwheat Crepes with Salted Ham, Onion, and Endives
I will return to Sitka and Spruce, it is one of those restaurants that has an identity, simplicity, confidence, and level of execution that comforts and pleases in a manner similar to Avec in Chicago and No. 9 Park in Boston. More important, Sitka and Spruce is a reflection of Seattle itself in style and character and this too makes me want to come back to the city and to this place.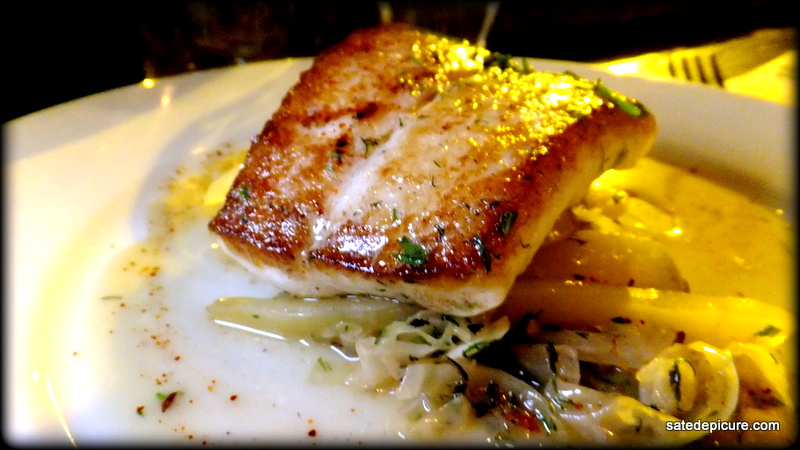 Seared and Steamed Pacific Halibut with White Carrots and Sauerkraut
531 Melrose Ave.  Suite 6, Seattle, WA 98122
(206) 324-0662