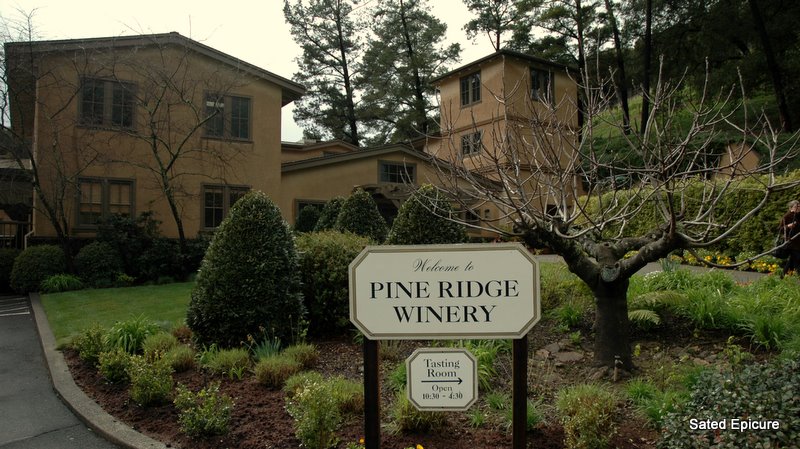 On a sunny afternoon recently I joined two other chefs for a casual drive in Napa California. The three of us wandered our way through the Stags Leap district on a lark after stopping by the Whole Foods in Napa for some beef and other provisions. In preparation for a night of cooking beef, we had Cabernet Sauvignon on our minds. One of the stops on our sojourn was Pine Ridge vineyards. Pulling into the parking lot, the first thing I noticed was that the tasting house at Pine Ridge is small compared to the other major vineyards in the area. The main building is surrounded on three sides by steep terraced hills overflowing with vines. Walking the well organized and maintained vineyard, it appears that Pine Ridge, like most of Stags Leap, has chalky volcanic soil. This is cabernet country! We tasted 10 wines during our visit but, for the sake of time, I will share my notes on just two of them.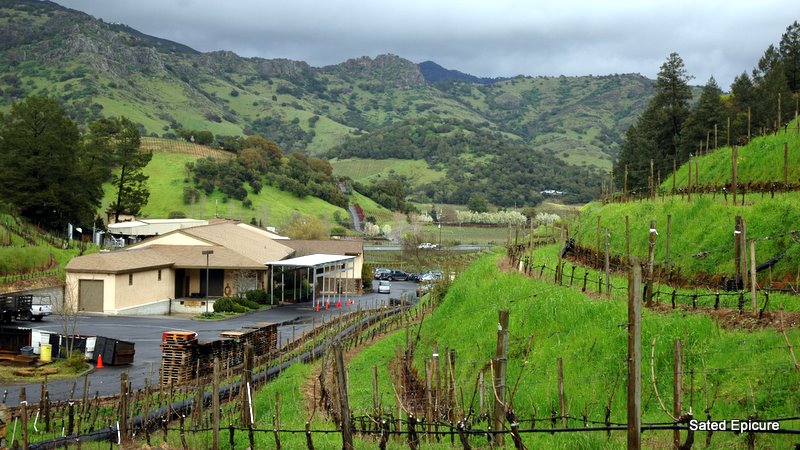 The 2006 Stags leap District Cabernet Sauvignon is a reasonable value at $80.00 per bottle. Our host described how Pine Ridge allows the grapes used to produce this wine extended hang-time allowing a richer, deeper flavor. This extended hang-time paired with the obsessive approach to production used by the vineyard including a hand cleaning and inspecting process for every berry prior to being pressed is probably why this wine has scored so well with Wine Spectator (WS91) and Robert Parker's Wine Advocate (91). Like many good cabernets, this one has an intense initial flavor of ripe dark cherry, blueberry and chocolate followed by a mellow punch of dried blueberry, tobacco and hints of cedar and smoke. The tannins are complimentary and mild in my opinion and it is suggested that the wine be decanted 30-60 minutes prior to serving. This is an outstanding cabernet for the price.
Of all the wines we tasted the most expensive was the 2005 Fortis at $140 per bottle. Fortis is a Bordeaux Blend style cuvee consisting of grapes from different regions (52% Stags Leap District, 28% Oakville, 11% Rutherford and 9% Carneros.) Fragrant notes of dried cherry, currants, toffee and oak combine with a creamy texture and the silky tannins that Stags Leap is known for. This wine has rich and regal start with a smooth and sweet finish that ends with chewy notes of dark chocolate and oolong tea. It is strongly suggested that this wine be double decanted to aerate the flavors.
If you ask me to decide which of the two I like better my answer is "it depends."  The Fortis is regal and refined and would marry well with a good roasted venison, swiss chard, rosemary roasted potatoes and any dessert that is primarily chocolate. The Stags Leap District Cabernet Sauvignon, after decanting and opening for a bit, is less refined and becomes lighter than the Fortis. It would pair well with beef tenderloin with bacon, a lighter cut of lamb or even a richly braised pork dish.  Dont think too much about it, you need both in your wine cellar!