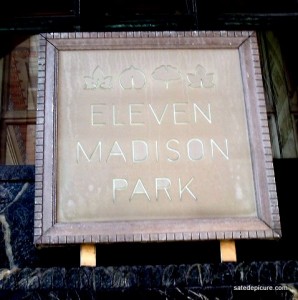 Being a chef, it's a real struggle to remain objective when dining out. If things go well, I am elated. My level of trust and faith in the establishment goes up as does my spending. If things go poorly, I am devastated. Every missed sequence in service, every fingerprint on a plate rim or empty beverage glass that sits for a duration of three minutes or more, and my patience begins to sink. In contrast, when food and service are exceptional, it feels like I am part of a symbiotic dance; me as the recipient of service and my server the provider. Without me, my server has no one to deliver service to. Without him or her, I have no one from which to receive it. Logic dictates that good service can only occur between two (or more) individuals who are mutually committed to the experience. And committed I was when I made my way across midtown toward 11 Madison Park restaurant. 
The sun was shining as I passed through Madison Square Park; the place was packed. A canopy of new leaves was starting to form and the large cast iron planters throughout the park were loaded with fresh flowers and ornamentals. Shake Shack was in the weeds with 200 people in line waiting and 
every seat surrounding it occupied. People were everywhere, sitting, standing and walking. Over the years it appears that Manhattan has become a children's paradise as evidenced by a half dozen moms with kids in carriages weaving their way along past the ornamental fountain and Eternal Light Pole the park is known for. I have never seen so many happy, healthy kids in the city. It was just after 1:00 when I crossed Madison Avenue. 
Although my preference is to try high end restaurants for dinner rather than lunch, today my schedule didn't allow this. However, I chose to use lunch as a way of testing the talent at 11 Madison Park. Lunch service for a chef can be more challenging than dinner. Finding the right balance between creativity, richness, and basic nutrition requires extra thought and refined restraint. The meal demands a degree of elegant simplicity. Move down scale and the meal could be deemed too common. Move up too much and the meal could be overwhelming to those who have to return to the office or some other commitment. It takes a special talent to find the middle. These were the thoughts running through my mind as I met a friend outside the place and we moved through the revolving door into the airy two story dining room. 
What has stuck with me on this trip is how youthful yet professional the service personnel I have encountered are. The hostess waiting at the entrance to the restaurant, attractive and in her late twenties, offered a warm and authentic welcome as we entered. She quickly found my name in the reservation system and came around her station to talk with us. She took my brief case and my friends coat and placed them in a closet and, handing him a claim check,  promptly took us to our table along the long banquette on the Madison Avenue side of the restaurant. I took the inside seat facing the dining room and my partner in this culinary adventure took the seat facing me. A few minutes later we were presented with our menus and offered a few minutes to look over the wine list before making a beverage choice. 
Our server was a delightful recent graduate of a prestigious culinary school in New York. After a brief chat about her background and menu favorites, she suggested we try a Pinot Blanc from the Terlan wine-growing region (Alto-Adige) of Italy. We both tried a 2005 Kellerei Terlan, Nova Domus, Resierva (60% Pinot Blanc, 30% Chardonnay and 10% Sauvignon Blanc). After enduring the wonderful, unseasonal heat outside, the cool, refreshing taste of this Pinot Blanc from just south of the Austrian border was sublime. 
11 Madison Park offers a two-course Prix Fixe ($28), three-course Prix Fixe ($42), and a six course gourmand menu ($68) for lunch. My dining partner was pressed for time and could stay until no later than 2:15 so we both agreed to have the two course menu. We placed our orders and sat back for a few seconds to relax. The tall ceilings, natural stained mill work and art deco light fixtures awash in the natural light that comes in through the high windows creates a comfortable ambiance. Relaxing wasn't difficult. As I soaked in the room, taking pictures as inconspicuously as possible, I took notice of the silver tray service being performed. Food sent from the kitchen comes out on rectangular silver trays with handles; two plates per tray. A back server carries and holds the tray while the front server removes the plates from the tray tableside and presents the items to the appropriate guest. I watched a team work its way from table to table within their section of the busy dining room performing this elegant and flawless service. While observing, it also dawned on me that my surroundings were exceptionally quiet. Although busy, the room wasn't bustling, that's the wrong word. It was cruising with pure comfort and precision. Then the food started to arrive. 
Our first course was a nice seasonal amuse-bouche of baby carrot marshmallows and foie gras terrine on asparagus gelee and a crispy wheat cracker. The presentation was well balanced and the flavor was stunning. Each marshmallow was shaped into a square and lightly dusted with a citrus powder reminiscent of dried Myer lemons. The foie gras 
terrine with asparagus gelee was a well conceived item with the foie gras stacked on top of the cracker base followed by the gelee. This approach allowed the fatty foie gras to serve as a barrier between the cracker and the moist gelee preventing the cracker from softening and crumbling. I tried the marshmallow first and it was light and smooth in texture, not rubbery like the commercial marshmallows you toast over a campfire. The light dusting of citrus powder provided a slight palate cleansing finish. Then I tasted the foie gras and asparagus gelee. A properly prepared gelee is so light in gelatin that it begins to melt in the palm of your hand after a couple of seconds. Both the foie gras and the gelee were perfect. The foie gras provided a wonderful rich burst of flavor followed by the postage stamp sized yet potent melt of the gelee. A very simple, delicious, yet technical start that left me excited for my next course. 
Next, our server approached us with a rosemary ficelle and a crispy mini baguette. Although perfectly prepared, the bread offering was made outstanding by the sweet unsalted organic cow's milk butter and fresh goat's milk butter served along with it. Contrasting the two, the cow's milk was rendered even sweeter when compared to the slightly pungent yet mild goat's milk butter. Both were tempered perfectly for service. These little details, executed in what appeared to be an effortless manner, are the hallmark of a great restaurant. 
With the mild taste of the goats milk butter just fading from my palate, our server arrived with a small cup of lemon grass and madras curry soup with petit langostino. The best way to describe this dish is subtle and subdued. Surprised to find a curry so early in a multi-course menu, it wasn't until I tasted the dish that I understood the thought process behind it. This was an exceptionally light yet rich curry with a lightly foamed curry froth above a broth very lightly scented with lemon grass and langostino. The three or four langostinos in the broth were perfectly cooked with each taste ending with a wonderful langostino finish. The texture of the dish was enhanced by a crispy rectangular cracker perfect for dipping, served on the side. My only problem with this dish was the stalk of lemon grass placed in the broth for service. I am not a fan of such impractical garnishes but acknowledge that, even though it wasn't a garnish I would eat, the scent of the lemongrass was mouthwatering. 
Daniel Humm, the chef at 11 Madison Park, is a wunderkind whose rise in the culinary profession has been meteoric. He's over six feet tall and imposing but with a boyish face. He runs a large, spotless, almost militaristic (in a very positive sense) kitchen. Since arriving at 11 Madison Park, Humm has steadily earned an escalating level of acclaim starting with a three star review by the New York Times in 2007 and, more recently, a four star review in August 2009. Over the years I have learned that the best time to eat at a great restaurant is while it is on it's way up and this is my impression of 11 Madison Park. This place is on its way to three Michelin Stars and there is no question in my mind that Chef Humm will achieve this result. 
Humm started his career as a teenager at a restaurant in Zurich in the North of Switzerland. Many of the dishes on his menu provide a glimpse into his Swiss heritage. This is why I chose the spaetzle with Niman Ranch Pork Belly, Pommery Mustard and Spinach as my next course. Surely this has to be a dish that Humm has made hundreds of times since his early years as a cook. He didn't disappoint me. The pork belly was flawlessly cooked (sous vide?) and garnished with a cluster of tender yet plump soaked mustard seeds, and melt in your mouth lightly browned spaetzle. The rich pork contrasted with the tangy mustard and silky smooth sautéed spinach creating a balanced combination. 
With spring in the air, I ordered the herb roasted Colorado lamb with Sucrine lettuce, garden peas and pickled mustard seed. When the dish arrived is was stunning. The wonderful roasted lamb was presented three ways (roasted loin, rib and sausage), served with a lamb reduction with mint, black trumpet mushroom, butternut agnolotti. The Sucrine lettuce was lightly sautéed and served as a base to the agnolotti, peas and pea tendril garnish. At first I was worried that the pickled mustard seeds in this dish would be too similar to the mustard garnish in the pork belly but this proved to be incorrect. The flavors of the lamb were a stark and wonderful contrast to the pork belly and proved an excellent main course with little if any flavor redundancy. Every item on the dish was expertly prepared and cooked with precision. I get hungry all over again just looking at the photo. 
Dessert service at 11 Madison Park is a bit surprising. They use a traditional dessert cart with a clear glass rolled top. The cart had five options on it when presented to me and I selected a pine nut dulce de leche tart and a cappuccino as 
 my final course. The reason that the dessert service was surprising is that it takes tremendous trust and faith for a chef of Humm's stature to allow his service personnel to portion and serve dessert via guerridon in the dining room. The loss of control is significant and the risk of inconsistent portioning and plating high. Such a decision is representative of a level of trust on part of Chef Humm and expertise on part of his servers that is nothing less than impressive. And, like the rest of my experience at 11 Madison Park, this too was flawless. The tart was delectable and, when paired with my cappuccino, a fitting end to my meal. My server, sensing that I was completely sated, and without hesitation, brought me a two ounce pour of a wonderful Sauternes to cap my experience. She read my every move and anticipated various ways to keep my dining experience consistently beyond expectation. What started out as a symbiotic dance ended with me becoming putty in her hands.  This was the best lunch I have had in years, as close as possible to perfect. With my meal finished, my server quickly slid over and suggested a quick tour of the kitchen. Instantly I accepted…but that's another blog entry!