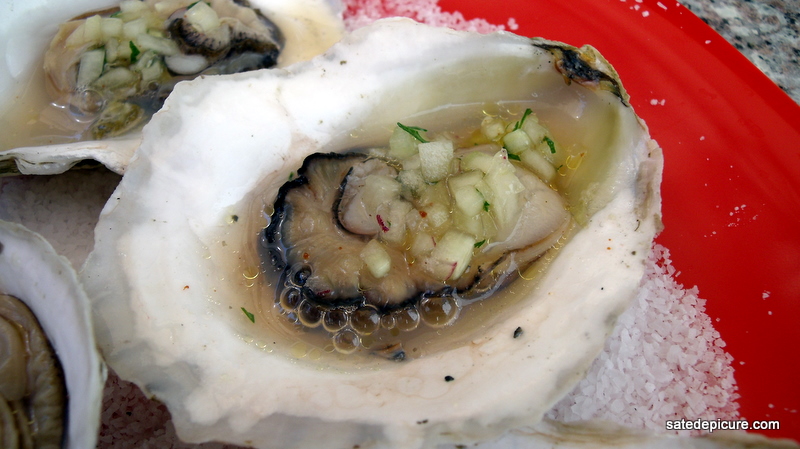 Next Saturday one of the best blowout oyster events in the country will take place just forty five minutes south of Boston in Duxbury Massachusetts. The fifth annual Island Creek Oyster Festival attracts up to 3000 people to Duxbury beach where the folks from Island Creek Oysters serve an estimated 30,000 oysters over a seven hour stretch from 3 to 11 p.m. The festival is a fundraiser for the Island Creek Foundation, a foundation that supports multiple causes and serves as proof that my favorite oysters are raised by people with giving hearts. If you like Oysters, there's no other place to be.
Inspired by the approaching festivities, I took some time today to purchase a couple dozen of Island Creek's best as a warm up for next week. These oysters are delicious. They are healthy and plump, briny and sweet. Like many cold water oysters, they have complex, crisp flavors that inspire me when I work with them.
Motivated, I scan the garden and fridge to see what's on hand for a quick snack. There are two beautiful organic cucumbers from Grateful Farms, three bursting ripe tomatoes from my garden, a handful of just-picked shallots, a fresh red onion (onions are great this time of year), and my out-of-control patch of fresh herbs out back. Just to be sure I am on the right track I step out onto my pack patio, shuck three oysters and slurp them down refreshing my memory of how good these oysters are. It's cool outside and I decide the weather is perfect for grilled oysters.
Grilled oysters are fantastic. When grilling oysters the trick is to cook them flat side up over a blazing hot preheated grill just until they start to pop open. Once they begin to open up, remove them from the grill and shuck off the top shell while taking care not to spill the juice. Just to be safe, I like to keep a large plate under my hands to catch any juice that may spill. If done right the oysters should be medium rare when served.
With eight medium rare grilled oysters topped with mignonette ready, I sit down with an ice cold Boston Larger and a napkin. Halfway through, the warm-up act takes effect and I start to wonder what next weekend will be like. How much effort does it take to shuck 30,000 oysters? Will there really be 3000 people there? These oysters are so good that I am sure both estimates will prove correct.
 Grilled Island Creek Oysters with Tomato Water Mignonette
 8 ea      Island Creek Oysters, scrubbed clean with a soft brush,
 Grill over high heat, remove top shell.
 For the tomato water mignonette
 ½         tsp        minced shallots
1          tsp        Extra virgin olive oil
½         tsp        Salt
½         tsp        Red Onion, minced
¼         C         Cucumber, peeled, seeded, fine dice
½         tsp        Italian Parsley, chopped fine
            pinch    Black pepper, fresh ground
3          tbsp      Tomato Water*
 Combine all ingredients. Taste, adjust salt and pepper. Spoon ½ teaspoon of the mignonette onto each hot oyster and serve.
* For the tomato water, cut a medium size tomato into 8-10 pieces and toss with 1 tsp of salt. Place in a small bowl and allow the tomato to rest for 20-30 minutes until the salt extracts 2-3 ounces of juice.