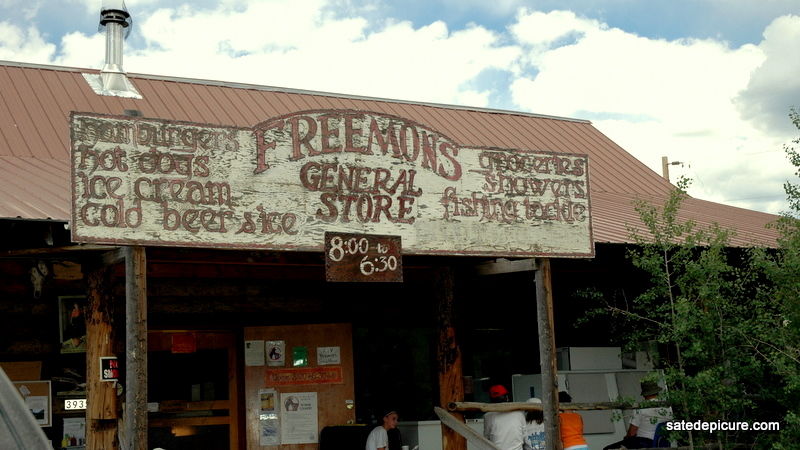 Sometimes a meal is more about emotion, peolpe, and place than it is about the food. As a professional chef, I know how emoion plays into an overall food experience. Perhaps this is why Freemon's, to me, serves the best burger in Colorado. Tucked away outside the small mining town of Creede, Freemon's is a seasonal mom and pop restaurant, general store, ice cream parlor and tackle shop that is known mostly to locals. Early summer is the best time to go.
Outside, the grass is still green at this altitude but the air is getting hot so we have the windows up and air conditioner on as we drive north. Later in the summer, this part of Colorado will dry out and the grass will become parched and brown but today the scenery is green and bright. Eve is driving us to lunch in her enormous black Suburban. Buddy the neurotic Border collie is in the back glaring though nose-smudged rear windows at the occasional rabbit or marmot scurrying in the underbrush, odd alien sounding whimpers rising in his throat at each sighting. Freemon's is just minutes away now and my mind begins to wander as I think about Eve and how gracious it is that she is taking me to the place where she used to go regularly with her late husband Billy.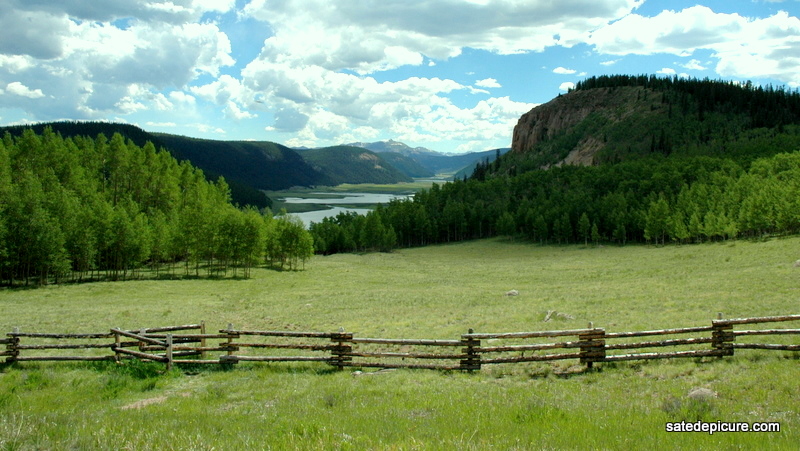 Rio Grande National Forest
Eve owns a cabin in this part of the state that she built years ago with Billy.  They had planned to fully retire and spend time here in the twilight of their lives until Billy, aged 74, fell to a bad case of cancer. Actually, it wasn't the cancer that killed him it was the surgery that did him in. He was one of those New Mexico cowboys with a western drawl, Wrangler jeans, tan Resistol hat, and big silver belt buckle inlaid with turquoise. He was tough in a John Wayne sort of way but uniquely intellectual with a Ph.D., in French Literature. I used to kid him about his inability to control his drawl as he spoke French. Although fluent, he sounded like a cross between Ross Perot and inspector Clouseau. She loved him deeply, he loved her, and together they visited Freemon's on a weekly basis. Eve invited be to the cabin for a visit and to lunch knowing I would make the trip.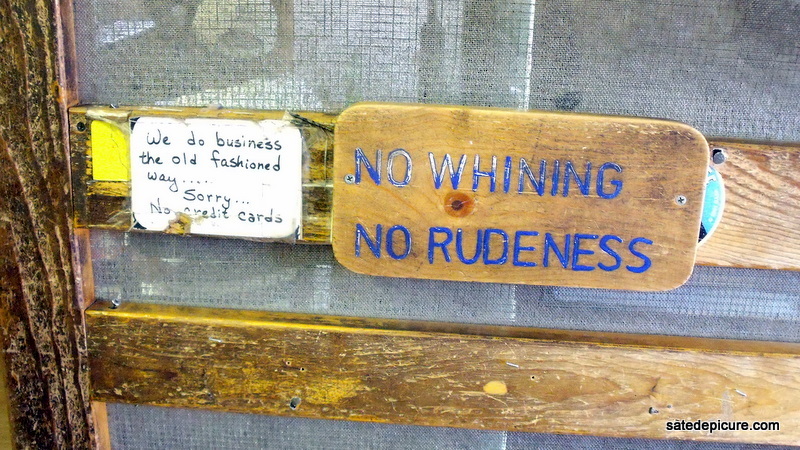 Freemon's Screen Door
Earlier today we met at the cabin so I could park my car and drive with her. Walking across the front porch of the cabin, Buddy has a melt-down at the front door and is exiled to the back yard so I can enter. We sit in the living room for a few minutes, large windows radiating Colorado sunshine through the panoramic windows facing north toward the Rio Grande National forest. There's a white Resistol cowboy hat on the end table by the sofa and Eve hands it to me. "I want you to have this. You know we never had any kids and he would have liked you to have this. He always liked you" she says. I always liked him too and my eye's wet with tears of humility as I take Billy's hat and put it on my head. Oddly, it fits perfectly. She smiles, rubbing the small of my back as we head out the door.
Dry Goods
We pull into the dirt parking lot at Freemon's in a cloud of dust, jump out leaving Buddy in the car (with the windows cracked open) and climb the worn wooden steps up to the entry. I pull open the spring-loaded screen door for Eve and follow her in as the screen door claps closed behind us. As the door swings closed I notice a small sign below the handle to the door with blue lettering reading "no wining, no rudeness" and an index card taped next to it reading "we do business the old fashioned way…sorry no credit cards." Once inside a steady stream of locals approach Eve, greeting her and engaging in brief conversation. They all know her. It's a local joint and social hub in this part of Colorado where news and gossip is shared and solidarity and support is offered. It reminds me of what America must have been like 100 years ago.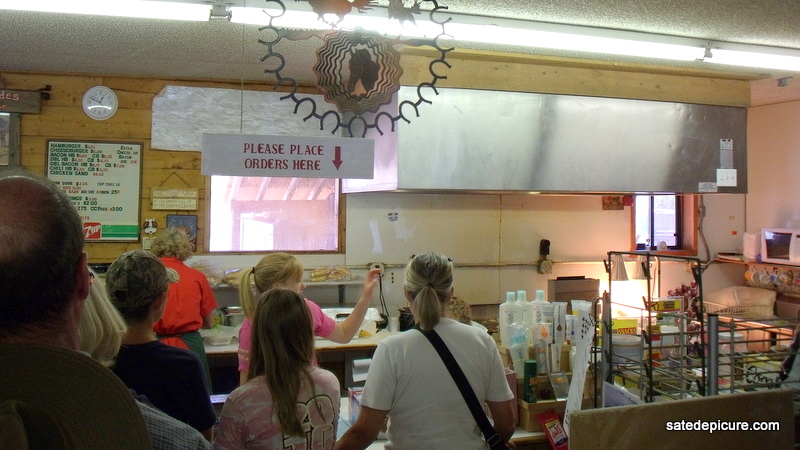 Service Counter
There's a counter at the far right corner of the general store and behind it a large grill and ventilation hood. Three older women that remind me of my mother work the grill while others take orders at the cash register and coordinate delivery. Several small tables with Formica tops and beat-up chairs are randomly placed in spots where they fit along with a couple picnic tables with red checkered vinyl table cloths. It's just about noon, all the tables are full and there's a line at the cash register. We make our way forward and I order a burger with fries, Eve orders the same and we nudge our way through the crowd to a table that has just cleared and sit down.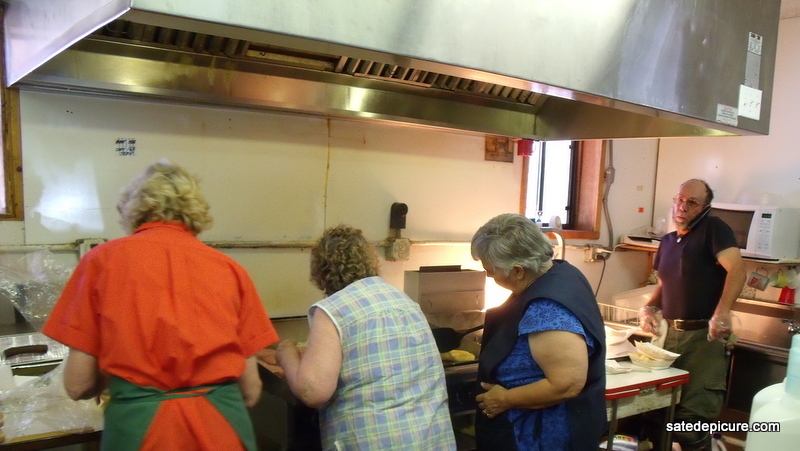 Short Order Cooks
I look around the store, taking in the room. The décor is completely random and worn with rusted fishing lures, mounted horns and antlers of varying species, old photos and various ephemera and dusty artifacts. Eve is staring at me and smiling still and I realize I am the only one wearing a cowboy hat; Billy's cowboy hat. The other men are wearing baseball hats; more than one has a John Deere logo on it. Our burgers arrive (the beef is custom ground by Mountain City Meats in Denver) and I take my first bite. It is absolutely delicious. Eve continues to smile as we feast on the burgers while an occasional visitor stops by the table to say hello. Life slows down for a moment and all is right in the world. My burger at Freemon's is one of the best meals I have ever had, Eve's smile part of what makes is all so right.
The Best Burger in Southern Colorado
Freemon's General Store
39354 Colorado 149
Creede, CO 81130-9558
(719) 658-2954