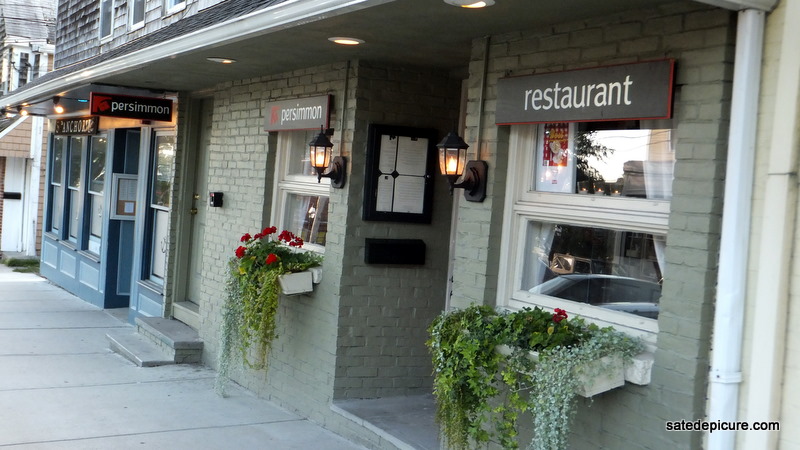 Entering Persimmon restaurant in Bristol, Rhode Island is like walking into a French impressionist painting. The entrance is pastel green painted brick with large inviting windows wonderfully weighted with planters overflowing with ivy and geraniums. Pass through the large red front door into the serene and subtly decorated dining room and you fall into the comfort and care of the lovely Lisa Speidel, wife of Chef and co-owner Champe Speidel.  Take notice of the small framed photo on the maitre d' stand located to the right of the entryway; it's a loving photo of Lisa and Champe on their wedding day. The meaning isn't lost on me. Pausing, I realize that this dining room is a place where Lisa spends dozens of hours a week. It is her office, her production floor, her work space and, at times when customers aren't present, her respite from a busy day. I am a guest now awash with comfort and I feel like I am sitting in the Speidel's living room. Persimmon evokes a relaxing vibe and feels right. All this emotion and feeling in a matter of minutes upon entering the restaurant.
Tucked into a four-top by one of the front windows, I can see most of the dining room. All the tables are full and people are visibly relaxed and comfortable on this sunny late summer evening; remnants of the sun painting parts of the room varying shades of yellow and orange. My server approaches and reviews the menu, takes my wine order and departs at a comfortable pace. Wine in hand, my first course arrives; a plate of warm Quonset Point oysters with wakame seaweed butter. I know these oysters, they are
from Bill Silke's American Mussel Harvesters salt water farm just down Narragansett Bay. There's fresh and then there's AMH fresh and nothing is better, these are as good as oysters get.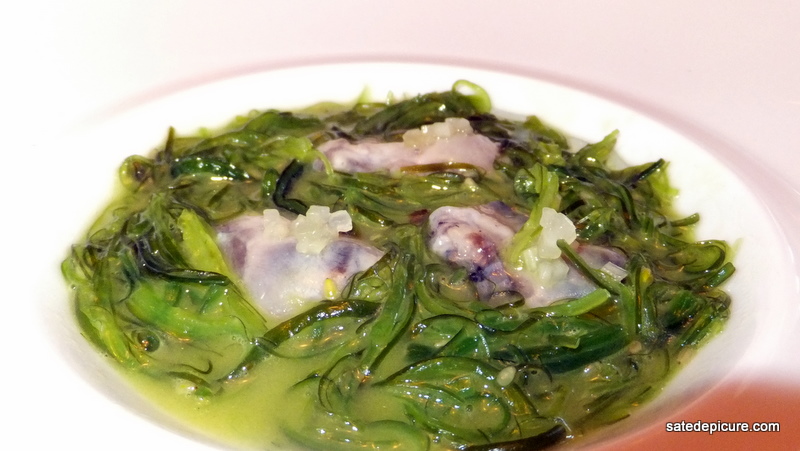 Warm Quonset Point Oysters, Wakame Seaweed Butter
Chef Champe Speidel is a James Beard Best Chef Northeast finalist for 2011 and the recognition is well deserved and overdue. Speidel opened Persimmon in 2005 with just 38 seats, vision and deep passion for the culinary profession. Having run a small fine dining restaurant myself for several years, I can only imagine how hard he works to make a restaurant with such limited seating profitable. He is soft spoken yet precise and, according to the ladies I know his good looks are the definition of dashing. From my perspective he's a professional chef's chef and the town of Bristol is lucky to have him.
The oysters are followed by a delicate scallop crudo garnished with herbs and thinly sliced red chili. I know the herbs and garnish are from a farm just up the road from the restaurant and suspect the massive sea scallops are from New Bedford, MA. Speidel knows what he likes and isn't afraid to stray away from hyper local items in favor of foods reminiscent of his youth in Florida like the Red Drum fillets on the menu tonight. Spiced with Andouille sausage and little neck clams rich with umami, this clearly isn't a Rhode Island dish but it sure is delicious and satisfying.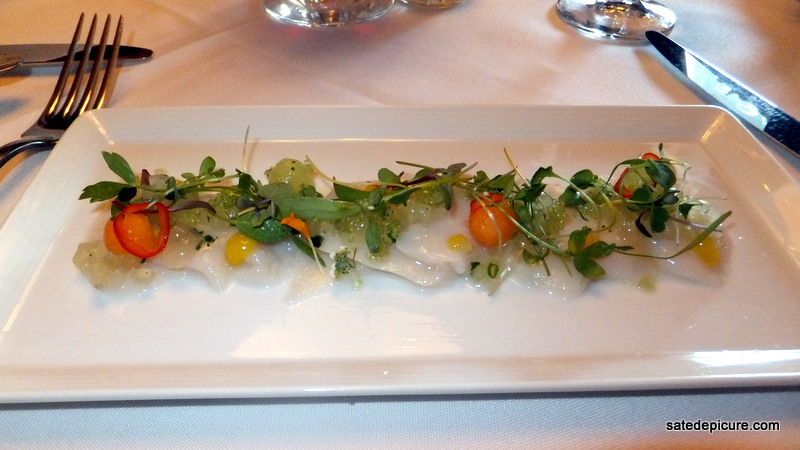 Scallop Crudo with Fresh Herbs and Red Chili
Like Rhode Island as a whole, Bristol has a disproportionate number of great restaurants relative to its size. Just one block from the stunning harbor and marina, Persimmon is in its own class and floats among the best restaurants in the country from a service and quality perspective. It isn't New York chic or tightly wound like the best modernist restaurants of Chicago; it's a classic local restaurant serving world class food without the fuss. It fits its surroundings in Bristol perfectly but could just as easily be located on the upper east side of Manhattan or the south end of Boston. Once inside this Monet painting of a restaurant you forget the outside world anyway; it's the food that takes you away.
 Foie Gras with Lamb Neck Confit
Red Drum Fillet, Andoullie, Little Necks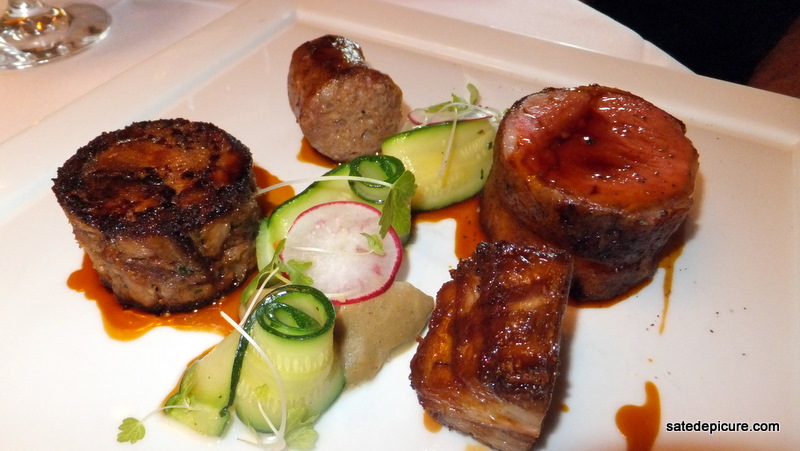 Lamb Loin, Sausage, Belly, Rillettes
Warm Salad of Native Summer Vegetales, Herbs, Flowers, Vegetable Crisps, Creamy Dressing
Carrot Cake
~~~~~
31 State St.
Bristol, RI 02809
401-254-7474