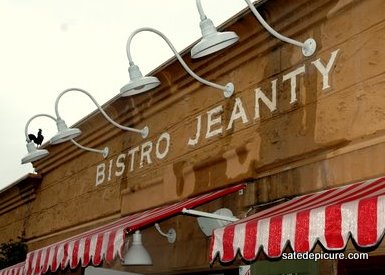 I had a dining experience in March that was so delicious that it brought back a long forgotten experience from my earliest days as a cook. The trigger was the initial smell of the beef daube at Bistro Jeanty in Yountville, California. The beef daube was so incredible that within seconds it brought me back 25 years to the first time I tasted the dish as an extern working 200 miles west of Yountville in South Lake Tahoe.
In 1986 I was on my internship at a casino in Lake Tahoe and tasted my first classical beef daube prepared by Chef Hans Jordi. Chef Hans, at six feet six, was so tall that he had to take his chef hat off to walk around the kitchen. His stride was wider than the wingspan of a small aircraft and he spoke as fast as he walked. His sharp Swiss accent and corresponding attitude was not for the faint of heart. To say he was demanding as the hotels executive chef is an understatement. However, if you paid attention and spent 2-3 hours per day working beyond your normal shift, he, in turn would spend time sharing classical recipes with whoever was willing. That we worked for free 2-3 hours per day was the norm back then. This was the 1980's when we cooks were paid at the cashier stand in the casino and offered free drink tokens with our pay.
 Many, after a couple of drinks, never even made it out of the casino with their compensation. It was a different time, but that's another story. Beef daube was one of the dishes Chef Hans shared and one that I took great pleasure in learning to make. More important, Hans drilled classical techniques and cuisine into our heads over the entire span of time that I worked for him.
Being prepared was essential to keeping up with Jordi so each of us carried a copy of Louis Saulnier's Le Repertoire de La Cuisine in our knife roll just in case he tossed out a reference to a classical dish or query regarding the proper ingredients for a specific classical French garnish. On a regular basis he would offer up a classical term and expect us to recite the proper description and corresponding ingredients without hesitation. When it came to classical sauces he expected us to know them all, from Aioli (garlic infused fresh mayonnaise) to Zingara (demi-glace with tomato, mushroom, truffles, beef tongue, ham, cayenne and Madeira). Get one or two of these mini examinations correct and you were eligible for the classical cooking lesson later that day. Get them wrong and you were sent packing.
So it was Chef Hans Jordi's face that flashed through my mind as I tasted the beef daube at Bistro Jeanty. It always amazes me how food aromas or flavors can unbind the various layers of prior experience that are laminated together like a piece of plywood in long term memory. How is it that food experiences
become such powerful memory markers and memory triggers? I hadn't thought about Chef Jordi in 20 years and now, with the smell of Bistro Jeanty's beef daube wafting in the air, it was like Jordi was standing over me (all six feet six of him).
Bistro Jeanty slow braises their beef daube to the perfect state of fork-tenderness. For $18.50, you get a good portion of daube paired with mashed potatoes, buttered peas and carrots. The moderately thick, gelatinous glace that serves as the base for the dish is so wonderfully done that the liquid alone, with a baguette, could be a meal. Note that the beef daube was not my entrée; it belonged to the guy sitting next to me. I had ordered the Pork belly with lentil and foie gras ragout ($15.50) and was halfway through the dish before I was offered a taste of the daube. I rinsed with red wine and then water and tasted a fork full of the daube. After my second bite, I traded the remainder of my Pork belly for what was left of the daube, both were outstanding.
Chef Philippe Jeanty's cuisine is as good as it has ever been. He had some tough times last year, closing his new venture "Jeanty at Jack's" in San Francisco in May. Some in the food business said that his absence in Yountville and
 the distractions in San Francisco resulted in a drop in the quality of the food and service at the Bistro Jeanty. I disagree. I think Chef Jeanty's cuisine is as good as ever and that he is preserving the art of classical French bistro cuisine that few in the U.S. can duplicate. The classical preparations he features daily have become scarce in the U.S. and the level of execution he sustains, even scarcer. Eating at Bistro Jeanty was a joy not only because of the memories it brought back but also the fact that it preserves such an important cuisine and aesthetic for all to enjoy. I left Bistro Jeanty completely sated and fondly reminiscent of my life as a cook in prior years.