It is rare that I talk about foods that I prepare myself on this blog. However, tonight I ate a tomato that inspired me. While poking around outside my back door I discovered and harvested a beautiful ripe red heirloom tomato from the small patch of vegetables I tend. I was drawn to it by the fragrant aroma radiating from the group of tomato plants on this side of the garden. The smell and taste of fresh home-grown tomatoes are two of a handful of sensory experiences that define summer for me.
As summer begins its gradual transition toward shorter days and the autumnal equinox moves closer, I stop taking my fresh tomato supply for granted. By the time our first frost arrives I often have several dozen green tomatoes that have no hope of ripening on the vine. These are tomatoes with the best of intentions that will never reach their prime. Thoughts about the fading days of late August and the end of summer flash through my head as I carefully pluck the tomato from its stem with a heightened level of appreciation.
The lucky specimen I select is a plump, globe shaped Ceylon tomato although this Ceylon doesn't look like the others I have grown in the past. It's perfect round shape and lack of pronounced ribs cause me to wonder if this plant was an actual Ceylon or some other varietal. However, when I rinse, cut, and taste the tomato it is perfectly sweet with slight acid and good bite much like a typical Ceylon. Perhaps this is the real thing.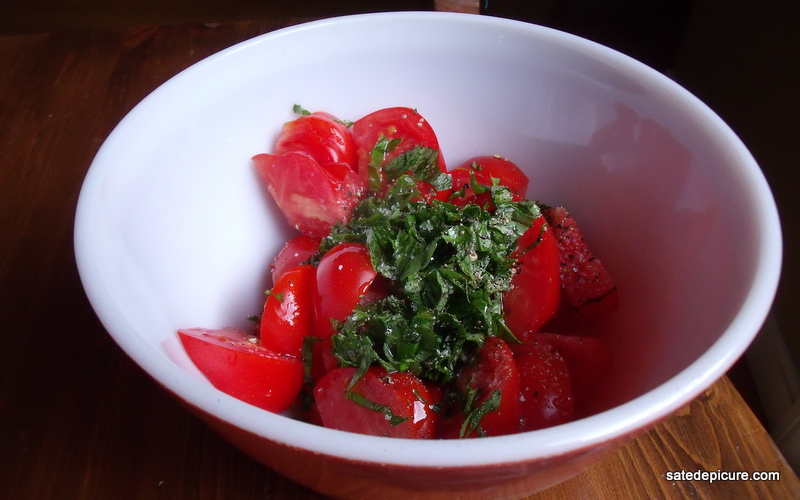 Across from my tomatoes, there's an out-of-control group of broad leaf Genovese basil plants. They are full and healthy with perfect shaped shiny leaves and a deep and sweet aroma. I snip off a handful of leaves and bring them in to my sink for a rinse. After gently patting them dry, I roll and roughly chiffonade the leaves and toss them in the bowl with the tomatoes, a rough teaspoon of sea salt, and several grinds of fresh black pepper.
Four ingredients, that's it. Four ingredients that when combined define summer and, after one bite, provide an unrivaled flavor experience.