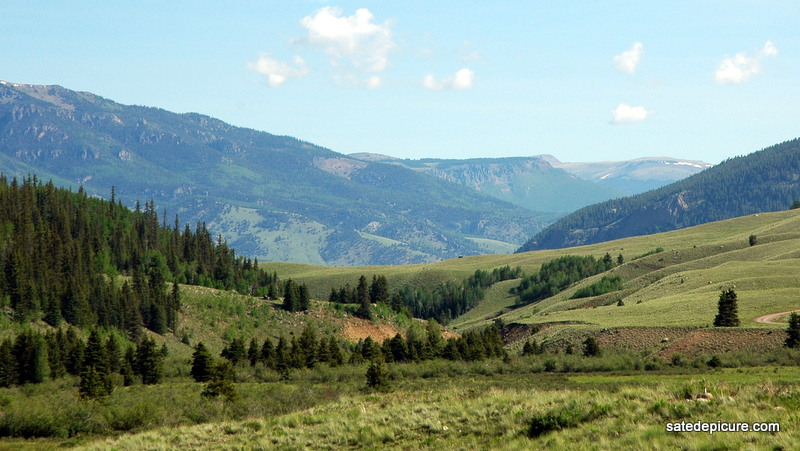 It's  sunrise and we are awake after a wonderful night of sleep in a cabin located at an altitude of 9000ft just outside of Creede, Colorado. The air is brisk at 55 degrees as we shake off the sleep, head outside into first-light and load up our SUV.  A few minutes later we are bouncing along, kicking up chalky dust as we go, driving southeast along a dirt forest service road, the headwaters of the Rio Grande meandering along to our right, the Rio Grande National Forest and its thousands of Spruce trees passing by gently to our left. Sunlight hasn't yet crested over the mountains but a soft light is already illuminating the valley. Within an hour we will be eating breakfast at one of the most incredible locations nature can provide. We are guests of a friend who scored us an invitation to a "crack-of-dawn" mountain breakfast in the Rio Grande National Forest that has been happening from time to time in this community for multiple generations. This is a locals only, invitation only, insider event and, from what I hear, they deploy into the mountains with their food and equipment like a finely tuned military unit.  The forest service road comes to an end in a mountain meadow at just under two miles in altitude. I turn and face back down the road amazed at the view; a rolling meadow giving way in the distance to mountain peaks nearly denuded of snow.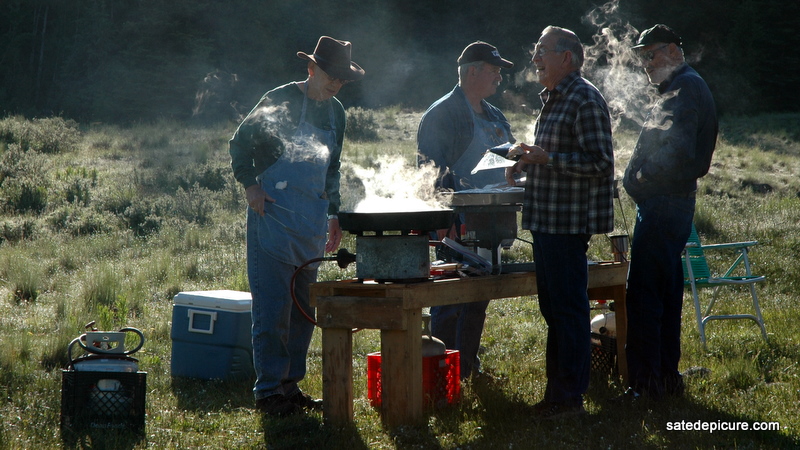 Ahead, a small group of cowpokes who arrived earlier have two propane camp stoves lit rendering clouds of steam, the smell of fresh bacon spreading through the air as it cooks. I walk over and introduce myself and find out that these four gents are all summer residents of Creede and three out of four of them are from Texas. Throughout the morning they will cook a dozen pounds of bacon, stoves propped up on a modular wooden table made for just this occasion. As we are talking, a group of women from Louisiana (summer residents too) arrive, set up their own camp stove and, after fifteen minutes or so, begin cooking beignets, lightly dusting the golden brown puffs with powdered sugar as they stack them on plates ready for service.
As the sun rises higher, the air temperature begins to heat up to a comfortable 70 degrees; the sky is crystal clear except for a few small clouds and turning a deep Colorado blue. Another group of women arrives and within moments they are cracking dozens of eggs into a large bowls in preparation for a major scramble. It is obvious that these folks have done this before. I wander over to the edge of the meadow taking it all in and find a stream about four feet wide flowing along at a good clip. The water is ice cold whooshing along and the river full of slippery rocks. The sound of arriving vehicles rises over the rushing water. We are getting closer to ready and more people are arriving.
I head back to the meadow, set up a couple folding chairs and wander over to the table. This is more than a community catered breakfast; it's also a major potluck event. Bowls of fruit salad, fresh muffins, quick breads, green chili egg casserole (our item), corned beef hash, and crispy home fries have been kindly contributed. The bacon is up, beignets crisp and ready, scrambled eggs just done and on the table; it's time to eat. We grab plates, get in line and take our time gathering small samples of nearly every item. The hot food is hot, cold food cold, and everything looks delicious. Behind us, the bacon guys cook more bacon, the beignet ladies pump out more crispy morsels, and the scrambled egg station is in full motion. Rounding the end of the buffet table, we head back to our chairs, take a seat and begin to eat, the sound of the stream providing white noise behind us.  As we finish our first round I can feel what little stress left in my body drain away as the sun grows higher.