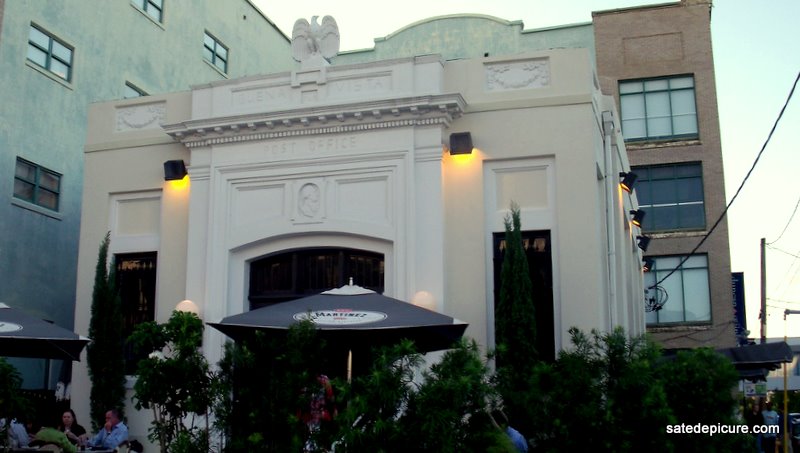 It seems strange to have dinner in Miami with the sun still shining. Even though its 8:30PM, it seems so early that I feel like I am here for the early-bird special before heading home to soak my false teeth (joking here, I dont have false teeth!) It's just too bright out to have dinner. I usually don't even head out for dinner in this town until its dark, regardless of the time of year. However Sra. Martinez is starting to get busy and I think we may have beat the rush. We take a table on the outside patio, order a couple glasses of wine and settle in.
We selected Sra. Martinez because I am a huge Michelle Bernstein and David Martinez fan and I am curious to find out how things are going. Sitting outside allows me to fully absorb the beauty of the 1920's era Post Office that David Martinez and Michelle Bernstein, aka Señora (Sra.) Martinez, converted into a hip tapas style bistro. The exterior of the building retains many of its original features including a majestic carved stone eagle perched above the main entry.  As I sip my wine, I notice my water glass coated in condensation. Taking a closer look I find the wonderful logo that Bernstein and Martinez created for the restaurant printed on the side of the glass. It's a black outlined ellipse with "Martinez" in bold lettering and a small bright red pig in profile in the center. The umbrellas above each of the outdoor tables are adorned with this logo as well.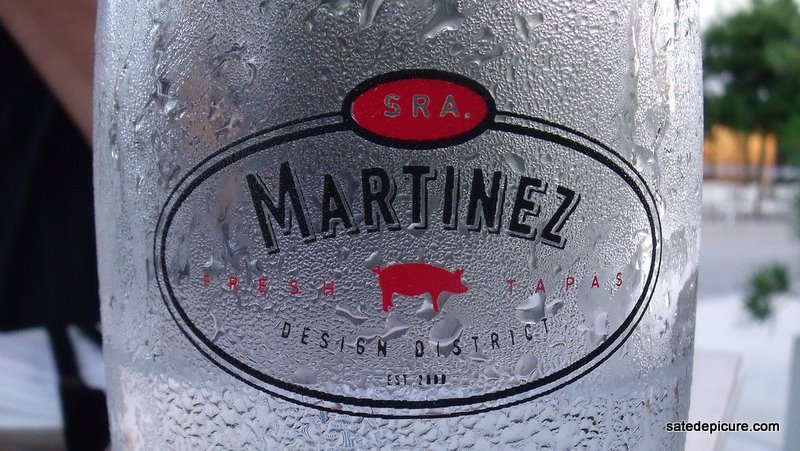 Memories of my first introduction to David flash through my mind. It was March 2005 and I was two courses into a twelve course dinner at Charlie Trotter's in Chicago when he and his delightful fiancé (now wife) Michelle Bernstein came in and sat at the table right next to us. Michelle and I had crossed paths over the years and I was delighted to see her but didn't recognize the person she was with, David and I had never met before. She waved just before being seated and I reciprocated. At that moment Charlie Trotter came up the back stairs and over to our table to say hello to us. After a brief conversation I pointed Michelle out to Charlie (he recognized her right away) and walked over to her table with him. She jumped up to give Charlie a hug, introduced me to David and she and Charlie had a polite chat while I engaged in conversation with David. The main thing I remember about this first introduction to David was how gracious and kind he seemed and how much taller he was than Michelle. I also recall Charlie asking Michelle what she was planning to do now that she was on her own and Michelle relaying a vision of opening a restaurant of her own in the near future.
Five years later and Michelle and David have opened more than a couple restaurants, consulted, participated in multiple television shows and launched Sra. Martinez as their latest venture. One of the beautiful things about Michelle, other than her ballerina like grace and wonderful culinary skill, is the energy she gives off. She never sits still. She's always on the go, there's no holding her back. I already know, from talking with friends in town who know her better than I do, that she's not at Sra. Martinez tonight. She's cooking dinner for a small group of patrons who won the bidding for her services during a charity event a few months earlier. As busy as she is, she still has time to give back. David is probably here though and I decide that after dinner I will head inside to see if he's around.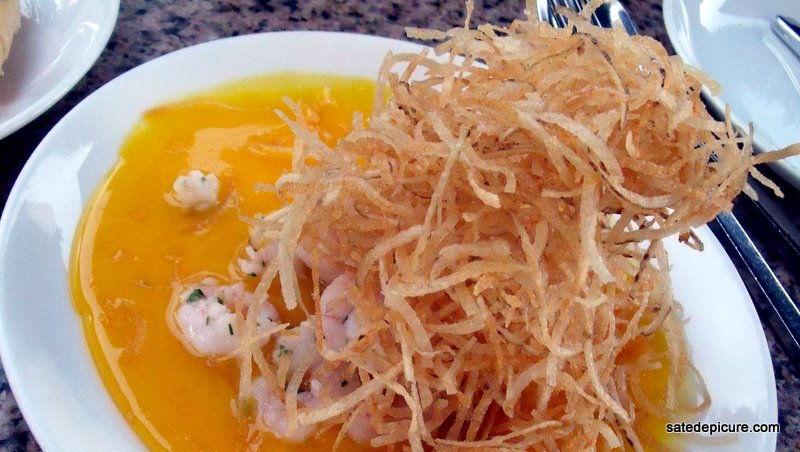 We decide to share four dishes and ask our server to pick them. Descriptions of two of the four dishes follow. The first is the Egg Yolk Carpaccio with Sweet Shrimp and Crispy Potatoes. This dish has received some publicity and I am curious to try it. When it arrives I am stunned. The dish is exactly what it claims to be, a "Carpaccio" of egg yolks. That is, a plate full of whipped raw egg yolks topped with sweet shrimp, crispy shoe string potatoes, and a drizzle of olive oil. My first thought is a knee-jerk fear of the raw egg yolks. Knowing Bernstein, there has to be more to this dish. I wonder if she cooks the eggs sous vide prior to whipping and plating them. My fear fades away after thinking about who's in charge of the kitchen. I trust Michelle and she probably knows the exact farm from where these eggs were sourced and the names of each of the chickens who gave birth to them. Fear aside, I dig in and am not disappointed. The egg yolk flavor is intense, fatty and smooth. Each shrimp is just cooked and seasoned perfectly. Their buttery sweet flavor and texture offer an appropriate and complimentary contrast to the yolks. The crispy potatoes provide the final touch and make the dish complete. It takes a bold chef to offer this type of item and an even bolder one to pull it off so well. What a great item!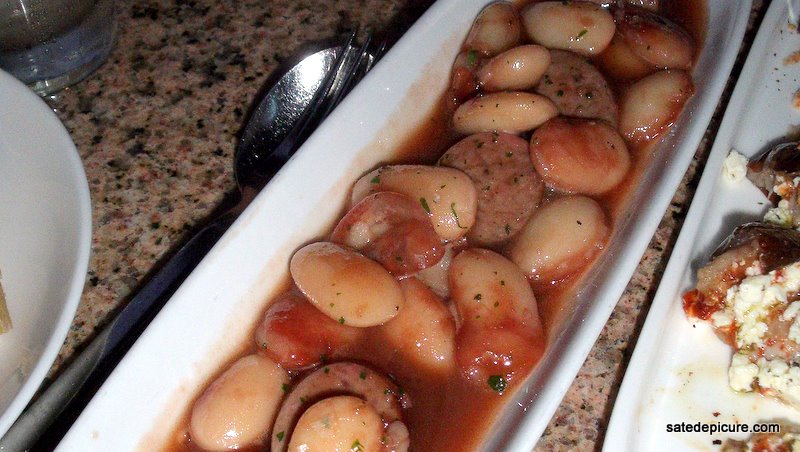 We also tried the Butifarra; a dish consisting of giant white beans, Foie Gras duck sausage, and Port Wine. Bernstein serves this item on a large, narrow, white oval platter. The white beans are huge and the duck sausage rich with Foie Gras. After a quick flash in a sauté pan the sausages are deglazed with port wine, reduced with duck stock and topped with the white beans. As I eat this dish I sop up the sauce with a thick piece of bread, enjoying the light coating of duck fat that has collected on the surface of the sauce. This is another bold flavored dish and one that I assumed would be better in the fall than in summer. Again, Bernstein proves me wrong with this dish. Although bold in flavor and rich with Foie Gras and white beans, the dish works well in the heat of Miami.
After sharing two more dishes and a few more glasses of wine, we cash out our check and move inside. The restaurant is full now and David Martinez is at the bar. He has just finished visiting each of the tables in the dining room and smiles as he sees us. We let him know that we have already had dinner and just stopped in to say hello. He shares a couple anecdotes and tells us that the restaurant is doing great. Sra. Martinez is close enough to Michy's (their other restaurant) for the two to easily travel between them. David was over at Michy's for part of the night and will remain here at Sra. Martinez for an hour before returning back. He still has that same gracious and kind vibe that I remember from our first meeting and, after such a good meal, I think he has much to celebrate.
 Sra Martinez
4000 NE 2nd Avenue
Miami, FL 33137
305-573-5474