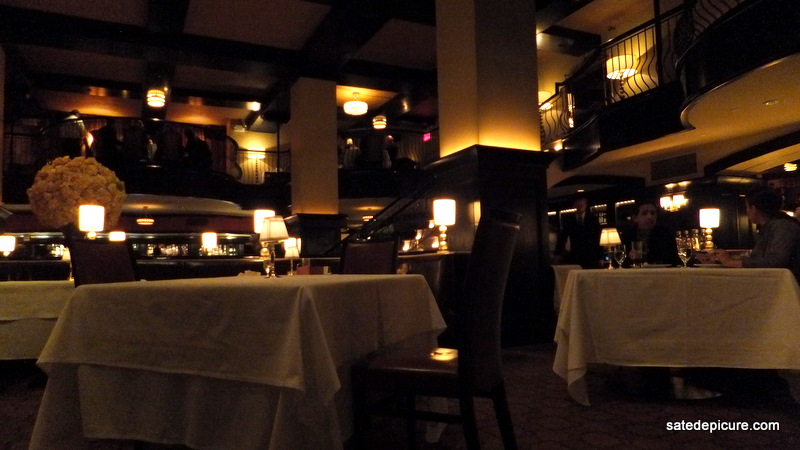 Chef Mark Ladner is a cool cat. He's around 6 foot 4 inches tall with jet black hair and those massive signature eyeglasses. But the reason he's so cool is the quality of the food he and his team produces at Del Posto down on 10th avenue in New York. For years he's been the right hand to Chef Mario Batali appearing repeatedly as Mario's right hand on all those Iron Chef episodes. All the while he's manned the stoves at Del Posto earning a fantastic reputation for his food and for appearing in his long apron, starched white chef coat and paper sailors hat in the dining room. Cool cat indeed.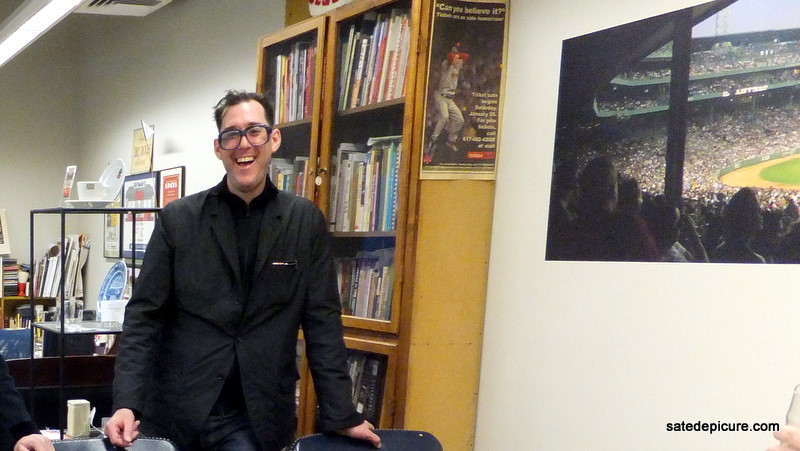 Chef Mark Ladner
On a recent trip to Manhattan I arrived 45 minutes early to sit at the bar and soak in the room (and a drink or two). Del Posto is a massive restaurant with potential for more than 500 seats (including the bar) although there aren't nearly that many in the restaurant after Mario and partner Joe Bastianich cleared out a ton of seats a few years back.
The scale of the dining room is enhanced by the two storey interior with seating along a balcony on the second level just above the bar. Colors are beige, red, dark stained wood, granite and leather with hard wood floors by the bar and a magnificent tiled floor through the center of the room. A sweeping stone staircase with wrought iron railings anchors the center of the room. It's a great room to observe. After thirty minutes sitting at the large granite bar on a leather padded stool, my table is ready.
The table cloth is pressed heavy damask and the glassware absolutely spotless. My server arrives with menus and I waive her off. Chef Ladner appears in his stark white chef's clothes and asks how many courses to send out. He says "let me know when to stop, I don't want to hurt you" with a laugh and heads back to the kitchen. His wonderful sommelier arrives and pours the first glass of the wine flight that accompanies the degustation menu. I love his sommelier. Last time I was here she turned me on to this fantastic yet affordable Roero Arneis from Piedmont by Bruno Giacosa and I have been drinking it ever since. The Arneis grape produces such a nice fresh, dry, light, mildly sweet white wine with notes of mineral; it's perfect for Ladner's selection of amuse bouche and mini Suppli. And that's how my meal starts.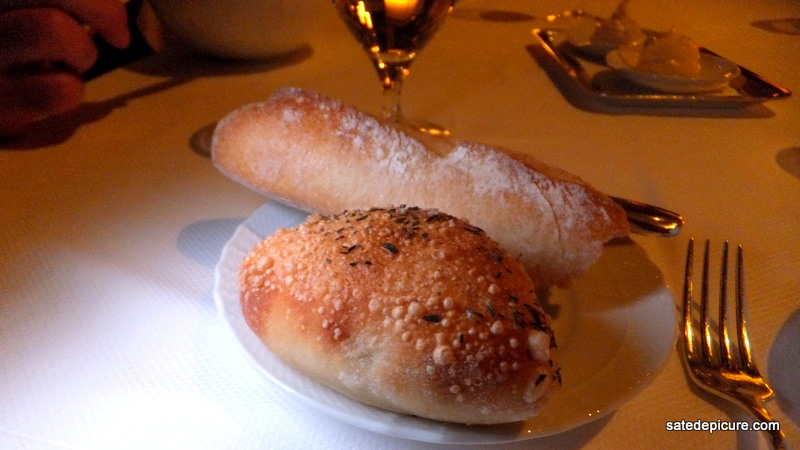 A selection of bread is brought over along with cows butter and rendered pork fat. Of course I dig into the light, perfectly tempered pork lard and spread it on crispy slices of bread. It's delicious. As I sit waiting for the first course to arrive I can't help but think about all those fantastic video's Ladner posts on YouTube.  The latest posting of chef making a classic Le Virtu soup, pigs head and trotters and all is a favorite. Ladner regularly produces short two to three minute videos with a pretty high production quality. The secrets behind making several of the items on the menu, including the signature chocolate tree, are posted for all to see. My thoughts fade back into the present and I can't help but notice how widely spaced the tables are; how quiet the dining room is; and how gentle and unobtrusive the servers are.
An empty wine glass quietly disappears and another appears and is filled with something new. The first course is placed just as the sommelier departs, flatware having magically appeared without me noticing. It's a fresh crisp salad with beef tar tar essence and truffle vinaigrette. What a perfect light palate cleanser before starting down the path of a nine course meal.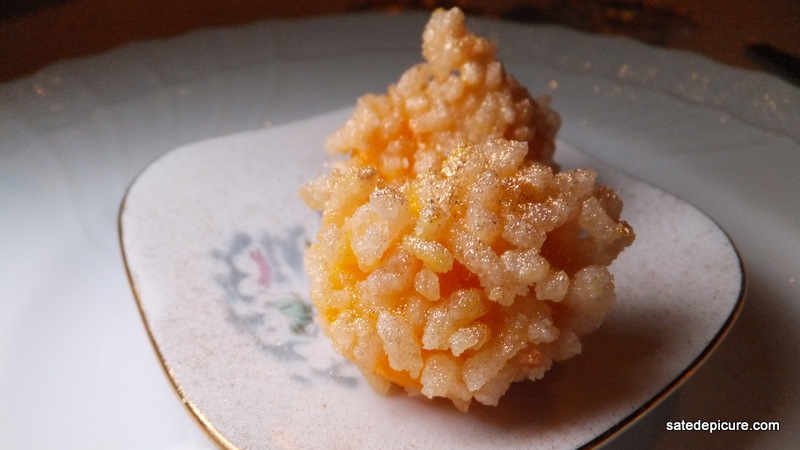 Saffron Suppli with Gold Leaf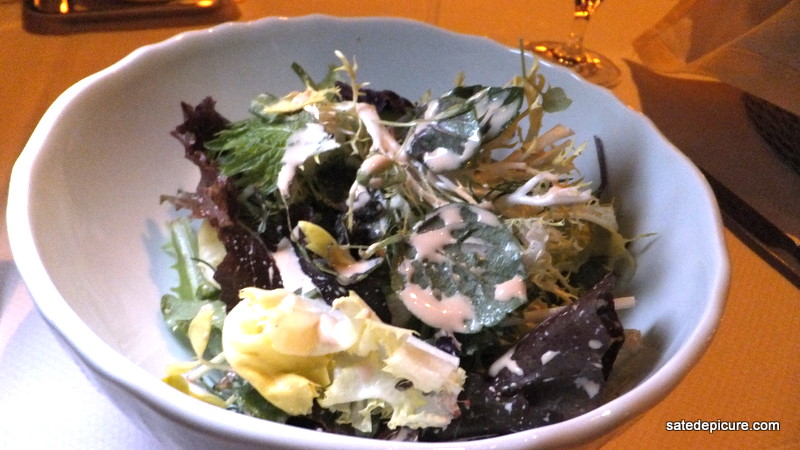 Greens and Herbs with Beef Tar Tar Essence and Truffle Vinaigrette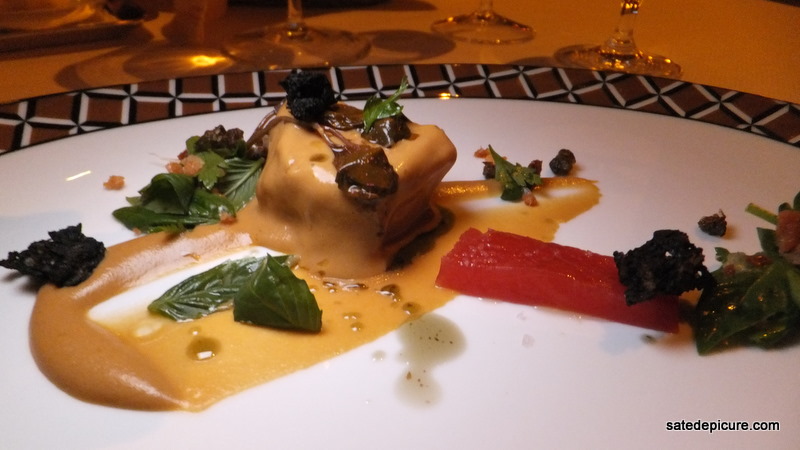 Vitello Tonnato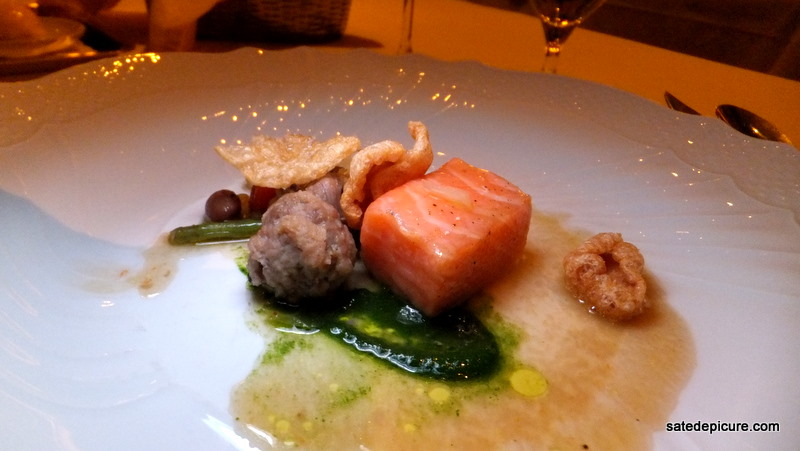 Salmon with Ciccioli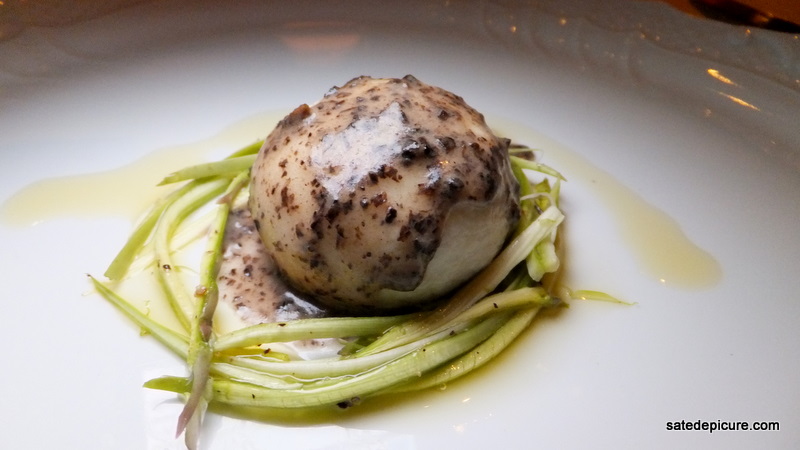 Sheep's Milk Ricotta Nudi di Uovo, Bird's Nest Style (asparagus julienne)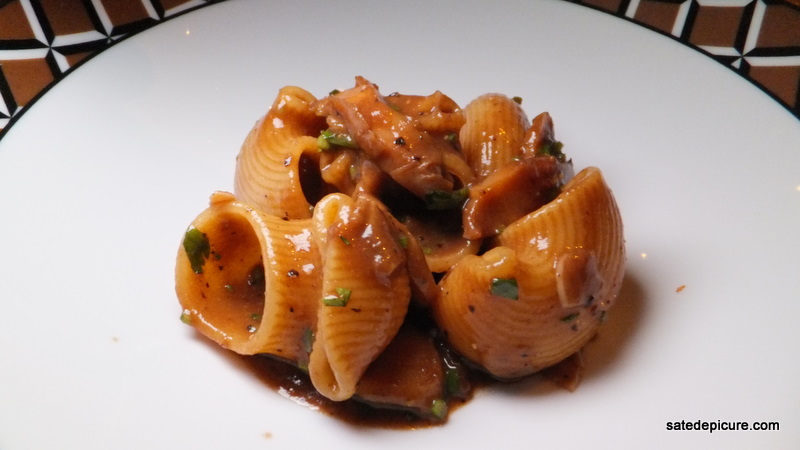 Scungile Due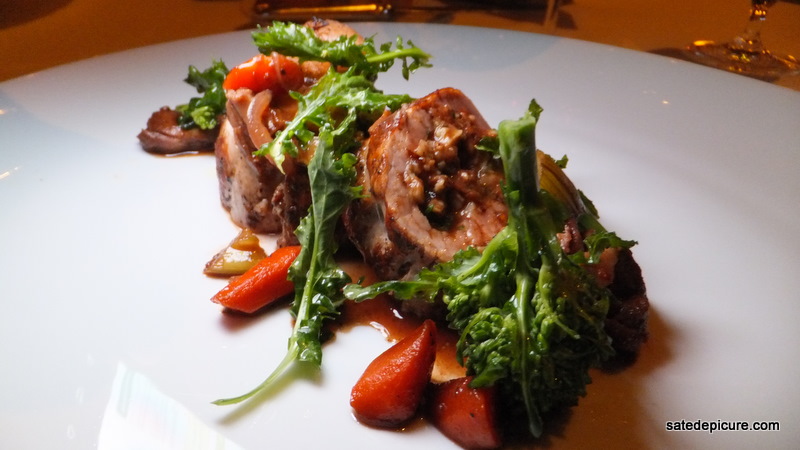 Veal Braciole, Roasted Porcini alla Cacciatore & Broccoli Blossoms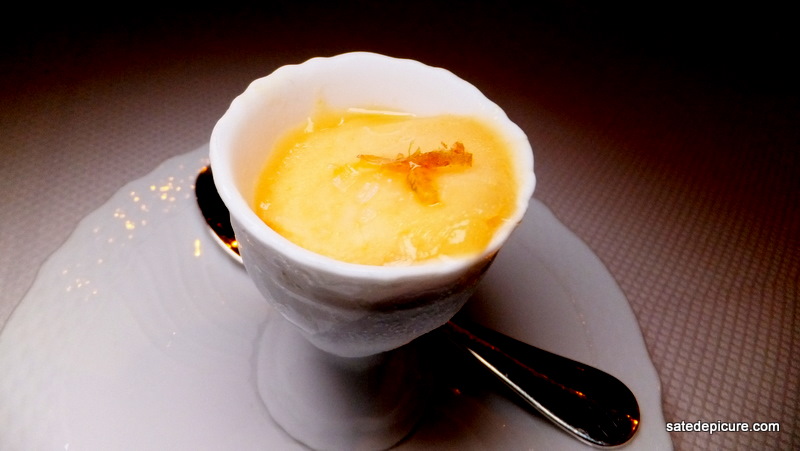 Passion Fruit Cashew Gelato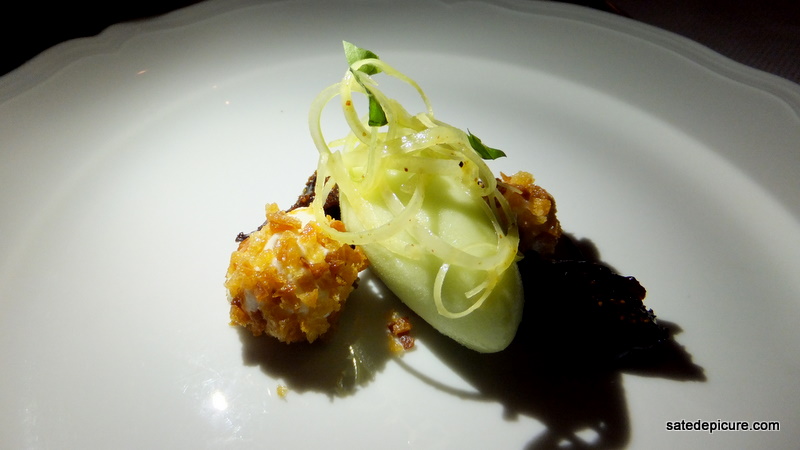 Sfera di Caprino, Celery & Fig Agrodolce & Celery Sorbetto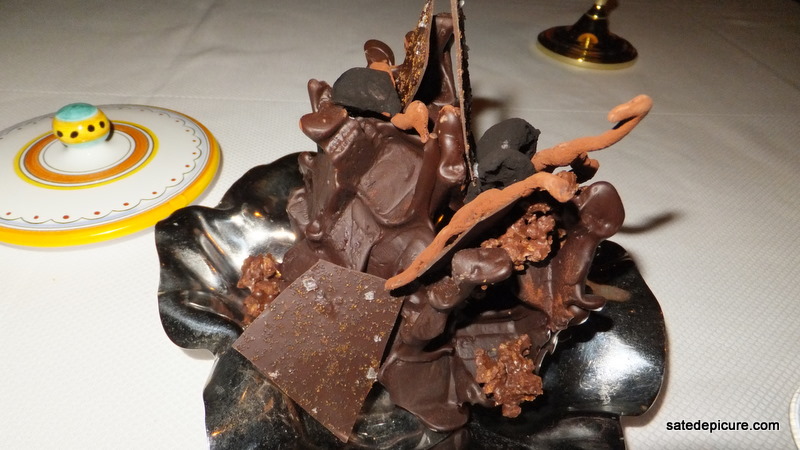 Chocolate Tree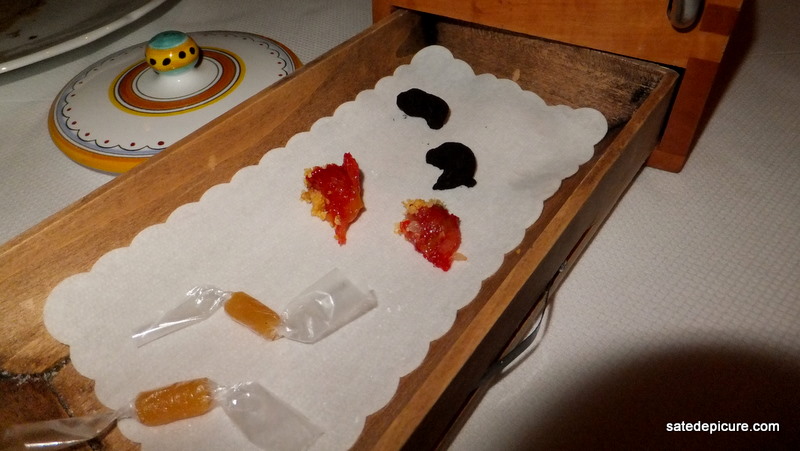 Jellies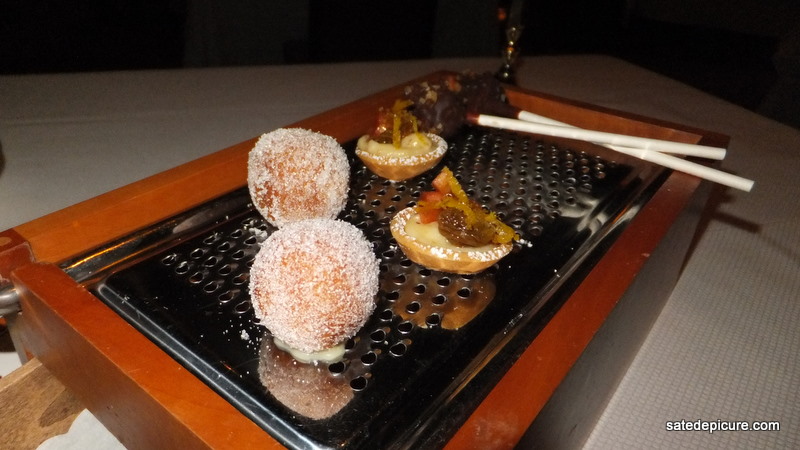 Donuts, Tarts and Pops
85 Tenth Avenue
New York, NY 10011
212-497-8090