Lake Geneva is spectacular in the summer and Lausanne is one of our favorite places to settle in for a few days to walk the quay, cruise on a boat, and withdraw to the cooler Alps for a hike. The Canton of Vaud, where Lausanne is located, spans nearly the entire north shore of Lac Léman (Lake Geneva) with a break above Vevey that leads up the E27 directly into the Canton of Fribourg, and the towns of Bulle, Broc (home of chocolatier Callier) and the touristy but delightful fortress at Gruyere. A perfect home base to explore, relax, eat and enjoy. We stop in Lausanne to get into the Swiss vibe, soak in the culture, and sample the local cuisine. Though I won't provide too much about our other incredible dining experiences (yet), I do want to share a summary of our evening at Restaurant de L'Hotel de Ville Crissier with Chef Beniot Violier and his wonderful wife Brigitte – theirs is a family business. When you walk in the entrance Brigitte blankets you in authentic hospitality and her perfectly groomed team warmly offers greetings with precision, professionalism, and the level of eye contact and delight that the best restaurants always radiate. There are four of us and we are here for Chef Beniot's Grand Tasting menu of 10 courses with wine and cheese (2015, Menu No 18).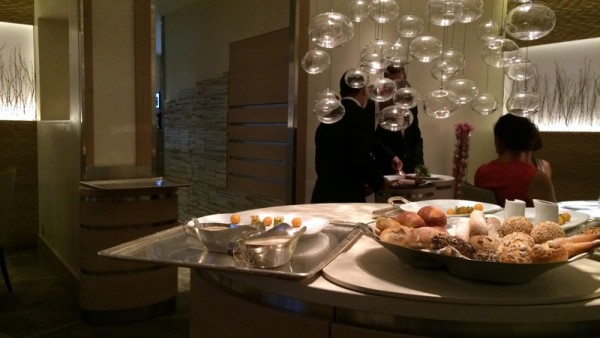 My interpretation of Beniot and Brigitte's aesthetic is one of balance – menu items highlight local and regional ingredients from in and around Vaud at peak freshness. Sources are sustainable and grounded in ecological consciousness (something the Swiss have been doing for decades compared to the US). Techniques are modernist with moderation (no fancy gadgets or additives) yet grounded in tradition. His Bubble" of Paudex Tomatoes is a perfect example – a gorgeous vine-ripe peeled and cored tomato filled with a light tomato mousse, oil made from tomato seed, and glazed in a "melt-on-your-tongue" traditional aspic of perfect bloom (I hate aspic that fails to liquefy at or above 36.6c). Chefs' cuisine also leans geometric including the use of vegetable ribbons as borders (see Rounds of Loctudy Scampi below). His style is uniquely his own. My pictures fail do to the meal justice (with apologies Chef Beniot). The meal was fantastic and Chef Beniot was a generous host whose kitchen was surgically clean and operating like a local precision timepiece. Enjoy the photos and add a visit to Restaurant de L'Hotel de Ville Crissier to your itinerary the next time you visit Fribourg or Vaud.
Multi-colored light crab Veloute from Cap Frehel
"Bubble" of Paudex Tomatoes in a selection of Ocientra Imperial Caviar
"Mariniere" of Bouchot mussels from Mont Saint-Michel Bay with Mountain Saffron
Fresh summer porcini mushrooms "Aestivalis" and field mushroom with subtle
Vintage Porto emulsion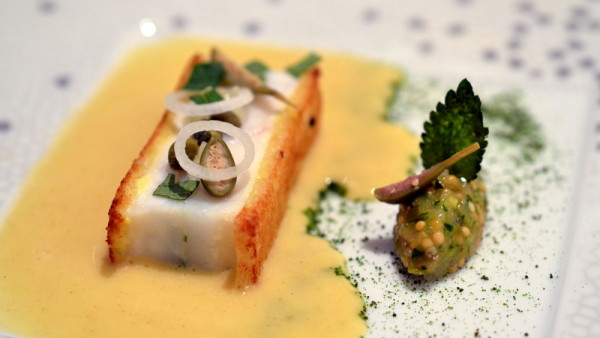 Golden brown Wild Turbot from les Sables-d'Olonne with citrus fruits and crushed start anise
Rounds of Loctudy Scampi, served in a delicate Colombard Rose jus
Prepared Roast rack of lamb from the hills of the Haut Var with Marjoram, Brive Violet mustard jus and potato "spirals"
Selection of fine cheeses
A Frozen duo of Luizet Apricots and Caramel almonds served with a hazelnut streusel
Fingers of Mara des Bois strawberries in Tahiti vanilla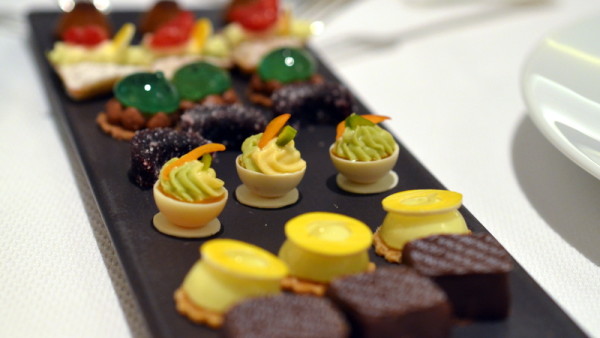 Seasonal Mignardises
Post Script: Passing of Chef Viollier
I reflect back on my time with Chef Benoit Viollier with such joy though sadness at his tragic passing remains. The herculean commitment required to reach the level of perfection and acclaim achieved by Restaurant de L'Hotel de Ville Crissier and others like it must never be taken for granted. Chef's give their heart and soul in pursuit of perfection each and every night. Ours is one of the hardest professions in the world but also one of the most rewarding. Chef Violier was such a gracious host inviting us into his kitchen, assuring we had a translator, spending twice the amount of time with us than he had to. It was a blessing to spend time with him.  I will never forget him nor will I ever forget his commitment and sacrifice.
Restaurant de L'Hotel de Ville Crissier
Rue d'Yverdon 1, 1023 Crissier, Switzerland
reservations directly on website