Bouchon Restaurant, Yountville, CA
My three part Thomas Keller Restaurant Group adventure starts at Bouchon Bakery and Café at the Time Warner Center in New York. It's fall and the city is heading into the holidays. After crashing at a friend's apartment on the upper west side, a lazy morning lounging, and a quick run through the park before noon, hunger sets in along with curiosity and we head over to Bouchon for a bite.  With a schedule in place that puts me in Las Vegas in a month and Yountville, CA a month or so  after that, I am determined to visit Keller's cafés and bakeries to get a sense of how they operate, whether they are consistent in food and service, and what the differences are in design and feel. My first stop on this mini tour is Bouchon Bakery at 10 Columbus Circle.
View of Columbus Circle from Bouchon Bakery Dining Room
I enter the lobby of the Time Warner Center and am awed by the enormous colored stars hanging from the ceiling in the expansive three-story lobby. The center is a huge building at 2.8 million square feet. It was designed by Skidmore, Owings & Merrill and cost approximately $1.7 billion to construct. I have always loved the neighborhood around Columbus circle and recall how excited I was when I first heard that the third and fourth floors of the Time Warner Center would house world class restaurants like Per Se, Masa, Café Gray, and (at the time) Charlie Trotter. In prior years, it was tough to fine great food this side of town and our favorite place to dine was just around the corner in at 1 Central Park West, home of restaurant Jean Georges and the Trump International Hotel and Tower.  Now, with so many great restaurants this close to my favorite place to crash in the city, Time Warner Center has become one of my favorite destinations  although the energy level in the building was higher when the economy was in better shape.
Bouchon Bakery Bread, Time Warner Center
After a quick escalator ride to the third floor I head straight to a table at the café, have a seat and order a cup of coffee. My server is smiling, offers a menu, makes a few suggestions and floats away. The dining room is open to the main corridor on one side and looks out over the lobby onto Columbus Circle on the other. On the south side of the space there's a large marble-topped bar serving as a focal point and a large communal table that seats around twenty people in the middle of the room. Although Bouchon radiates the aesthetic and style of Thomas Keller, I feel that the version of Bouchon at the Time Warner Center is something of an adaptive reuse of space that was otherwise unscheduled when the building was designed. Sitting in the dining room, it feels like I am in a lobby not a planned space. Food is expedited from a small closet of a kitchen across the hall from the dining area and I am not overstating when I say they are short of space. But the crew in the kitchen looks ultra professional and the food they produce is excellent for such a small space.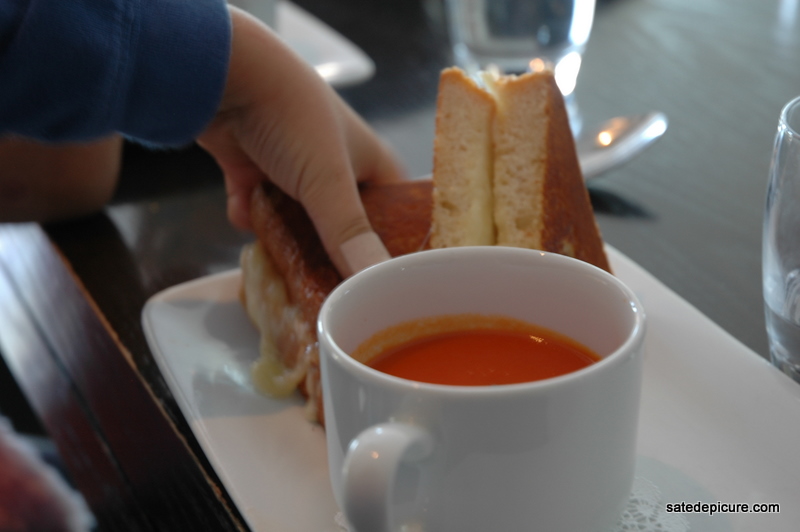 Tomato Soup & Grilled Cheese Sandwich: San Marzano tomato soup with grilled fontina & gruyere cheese on pain au lait
I am with a few friends and we order a variety of items. Our two favorite are the delicate and lemon scented open faced Tartine Au Thon (tuna salad) and the Tomato Soup and Grilled Cheese sandwich. We finish with another cup of coffee, some outstanding macaroons and head toward the door. Although some folks think Bouchon is over rated, aside from the dining area, I love the place and find the food and service consistently good and the prices value oriented for this side of town and for the view we enjoy of Columbus Circle.
Tartine Au Thon:  Tuna salad, Nicoise olives, bibb lettuce and garlic aioli with sliced egg, radish on pain de champagne
Bouchon Bakery Display, Time Warner Center
My next stop is Bouchon at the Venetian Hotel, Resort and Casino. The restaurant is located on the 9th floor of the Venezia tower at the Venetian and is off the beaten path a bit. When I arrive Bouchon is empty but, at 6:00pm, it's still early by Vegas standards. Rather than sit at a table, I take a seat at the fantastic hardwood and marble bar and order a beer and a half dozen oysters.  The oysters caught my eye after passing a fantastic, perfectly clean iced seafood display in the curved corner of the bar facing the entry to the restaurant.  Next, I enjoy the Poulet Roti; a roasted chicken with glazed celery root, poached apples, herb quenelles, chestnut confit and chicken jus. The chicken is moist, with crisp savory skin and correctly cooked. I like the flavor combination of the celery root and apples and think the dish comes together perfectly. Unfortunately, I forget to grab my camera and lack a photo to post here.
Bouchon Las Vegas is a grand restaurant on a large scale; perhaps too large. After a casual hour of dining I head for the door and see that the restaurant is still slow. At 7:00pm there are half a dozen tables eating and that's about it. I wonder how the restaurant stays afloat financially. On a positive note, Bouchon feels like it was designed for this location and built with care compared to the afterthought that Bouchon Bakery in New York seems to be. Although hidden away on the 9th floor in a bad location, Bouchon is worth the effort and the food is excellent. Service is great although a bit more casual than in New York in a Vegas sort of way.  
Bouchon Restaurant, Yountville, CA
My trip to Yountville includes seven other chef friends who I assemble with from time to time. Our first meal is at Bouchon and we will follow with dinner at Ad Hoc later in the evening. Although we had reservations for Per Se, we decided to forgo the cost and invest our resources on some fantastic wines and a home cooked meal.
At Bouchon we drag two of the marble top tables together and order a bottle of chilled white wine.  Its 2:30PM and the restaurant is packed but the patio is empty. Bouchon Yountville is located in a historic looking brick building with a bright red awning running along the street side of the restaurant. Just as the tiny Bouchon Bakery in New York and massive Bouchon in Las Vegas fit their locations, Bouchon Yountville fits its setting perfectly and is probably as close to the ideal Keller had in mind when he created his version of such a fine French bistro. We settle in and order a few appetizers.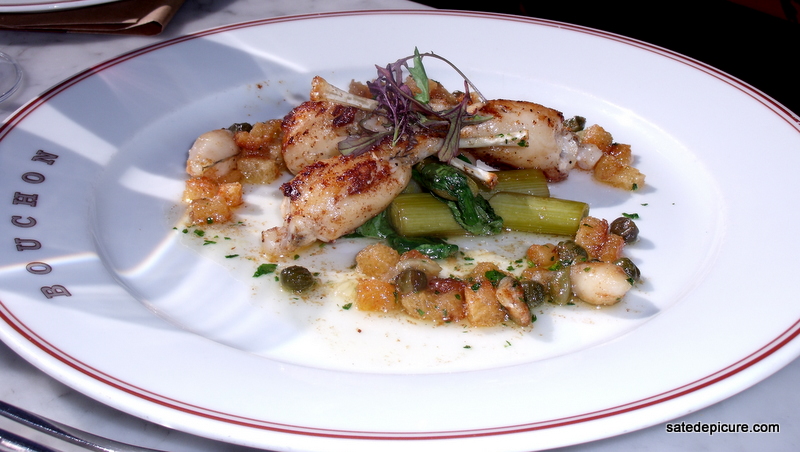 Bouchon Restaurant Yountville, CA Frog Legs Special
First up is an order of frog's legs which are featured as a special. The frog's legs come out piping hot and are tasty but a bit too delicate. I was expecting something with deeper flavor and this dish came up a bit short. However, the Brandade beignets are fantastic and I have to order two more portions to satisfy the table. We also share a rillettes of salmon, another standard menu item, and it is fantastic too. Of all the items we enjoy the side plate of pickled vegetables is the best. They are perfectly blanched, lightly pickled and beautifully arranged on a plate. As I head for the door Chef Keller is just leaving too and we chat for a few minutes. He is surprised that we are there and we let him know that we are on an informal visit, renting a house up in Glen Ellen for a quiet weekend among friends. He smiles and heads on his way and we head over to the bakery to try things out.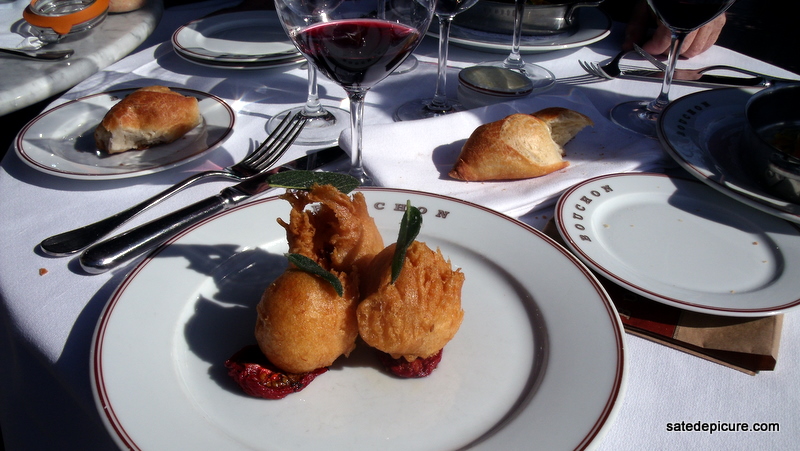 Beignets de Brandade de Morue: Cod brandade with tomato confit and fried sage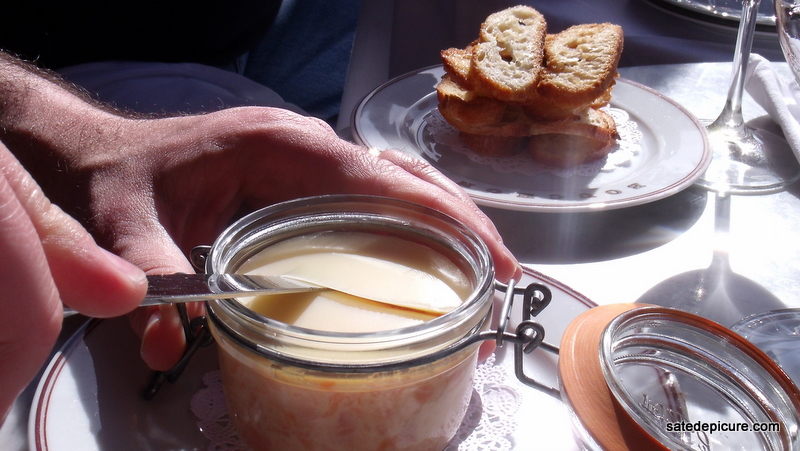 Rillettes au Deux Saumons: Fresh and Smoke Salmon rillettes with toasted croutons.
My Favorite Bouchon Side Salad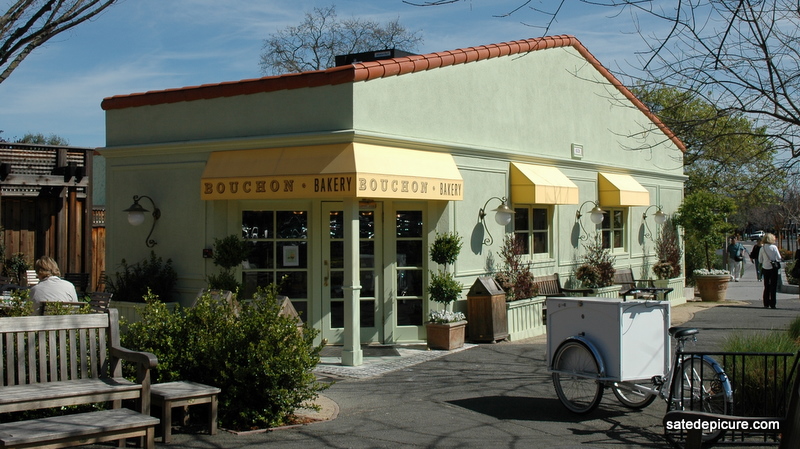 Bouchon Bakery, Yountville, CA
The bakery is in a pastel green stucco building just across the patio from Bouchon itself. My favorite aspect of the bakery is how perfectly executed all the items are. Each item on display is clean, consistent, and outstanding in quality. This was the case at the bakery in New York as well. The display case there was just as stunning and equally consistent. Again, I order a mixed bag of pastel colored macaroons and enjoy them immensely.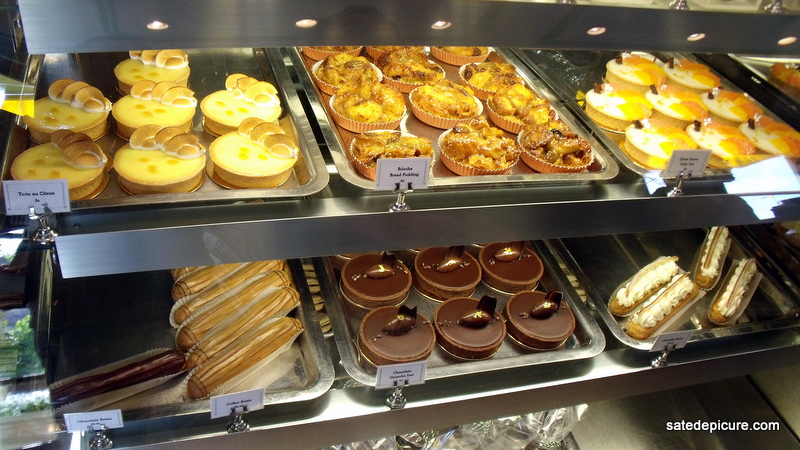 Bouchon Bakery, Yountville, CA, Pastry Display
It is clear to me that Bouchon operates on an entirely different plane than Per Se and French Laundry. However, my experience at Bouchon, whether in New York, Las Vegas,  or Yountville was fairly consistent and the food on the standard menu was excellent. Some of the specials we ordered came up short but the pastry we enjoyed was outstanding and the service consistently good. For Keller, having a mid-scale restaurant concept must be a good thing.  Bouchon helps balance Keller's restaurant portfolio with an option that is less subject to economic cycles compared to his higher end 3 Michelin star properties. I suspect that Keller will continue to expand Bouchon and know that his next Bouchon Bakery at Rockefeller Center will be a huge success.  The more successful Bouchon is the more likely Keller will be able balance his portfolio and finances and sustain Per Se and French Laundry. With this in mind, I remain a fan of Bouchon and a huge fan of Bouchon Bakery.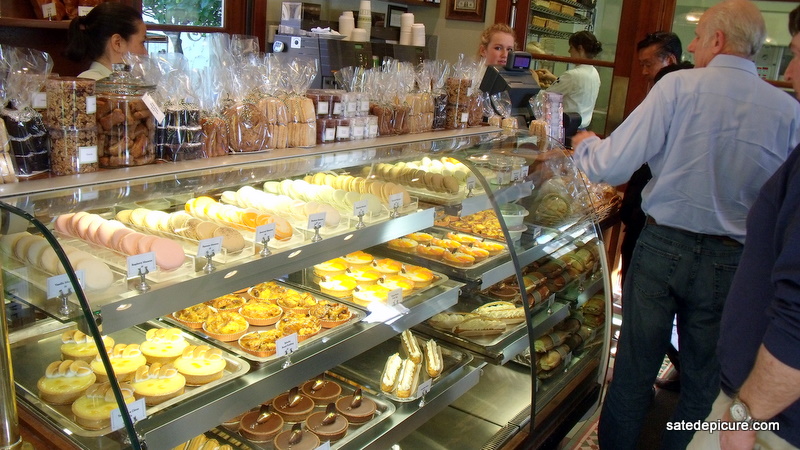 Bouchon Bakery, Yountville, CA
For more click: