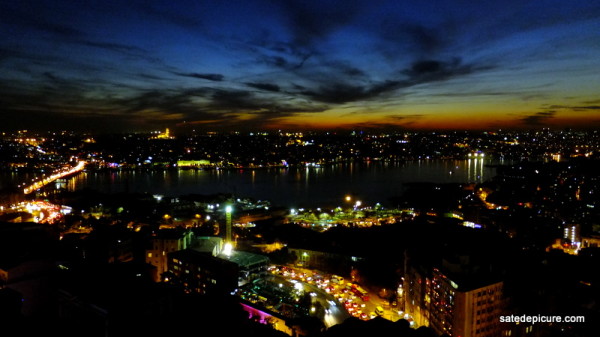 ISTANBUL AT DUSK – MIKLA Restaurant Roof Deck
Mehmet Gurs is a cool cat in Istanbul. Born in Finland to a Turkish father and Scandinavian mother, Gurs himself personifies the fusion of Asia and Europe. When I catch up with him he is cruising in his Range Rover in downtown Istanbul, we chat a bit and agree to meet later at MIKLA his restaurant perched atop a high rise building near the Beyoğlu distric of Istanbul. I promise to meet him around 8:00 PM and arrive a bit late but in time to see the incredible sky above the Asian side of Istanbul at dusk. MIKLA has a large deck outside the main dining room so we step out into the cool air while Maghrib prayers gently ring from each Mosque across the Bosporus flowing from south to north in sequence.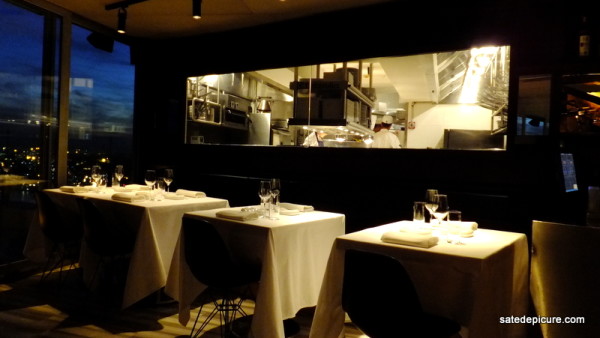 After a few minutes we are guided to our table just across from Gurs' glassed in production kitchen. Our server provides us with a ten course tasting menu to review and we sit back ready for a great night. Gurs has a deft way of weaving classic Turkish dishes like Manti with items more than gently pulled toward Scandinavia. He exercises Turkish farm-to-table and can explain in detail the origins of the raw ingredients used in his cuisine and, quite often, the history.
The meal leaves me in awe not in the same way as my first meal at Jean Louis at Watergate or Alinea two decades later – it's a different sort of awe, one rooted in the history cemented into the streets and countryside below us and the metaphor Gurs' cuisine presents on the rooftop of the Marmara Pera hotel so many floors above.  I feel bathed in the ancient and modern at the same time.
Lakerda – Cured Bonito, cucumber, red onion buffalo yoghurt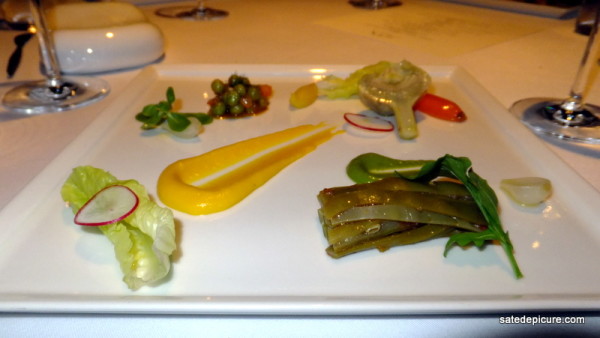 Vegetables Zeytinyağlı
Balik Ekmek – Crispy Sardines, Olive Oil Bread, Lemon Mousse
Dried Tenderloin & Hummus –Salted and Dried Beef Tenderloin, Humus, Antep Paste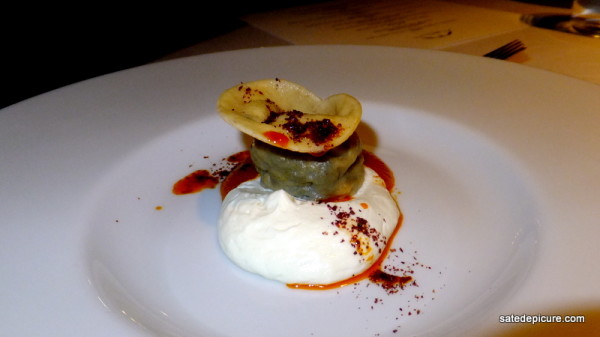 Whole Wheat Vegetable Manti – Vegetable Manti, Yoghurt, Tomato, Roasted Garlic, Sumac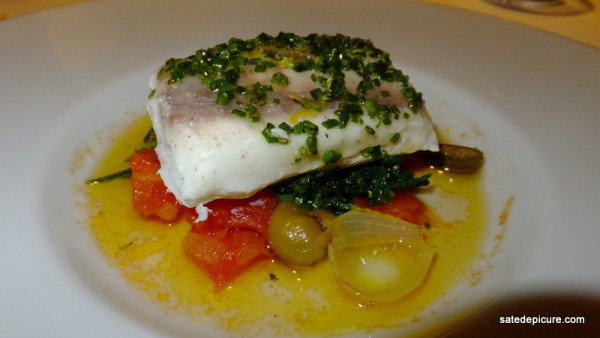 Dentex – Cooked Dentex, Oven Roasted Tomatoes, Capers, Halhal Olives Samphire, Chive-Fig Vinaigrette
Lamb Shank – Trakya Kivircik Lamb Shank, Smoked Eggplant, Stew of Kayseri Sucuk, Peas and Chard
Cheese & Honey – Anatolian raw Milk Cheese & Honey
Sütlaç – Rice Pudding with Mastic, Sour Apple Sorbet, Crunchy Mulberry
Apricot & Bulghur – Ihsangazi Siyez Bulghur Ice Cream, Confit Malatya Apricots
MIKLA
The Marmara Pera
Meşrutiyet Caddesi 15
34430, Beyoğlu, İstanbu
http://www.miklarestaurant.com/en