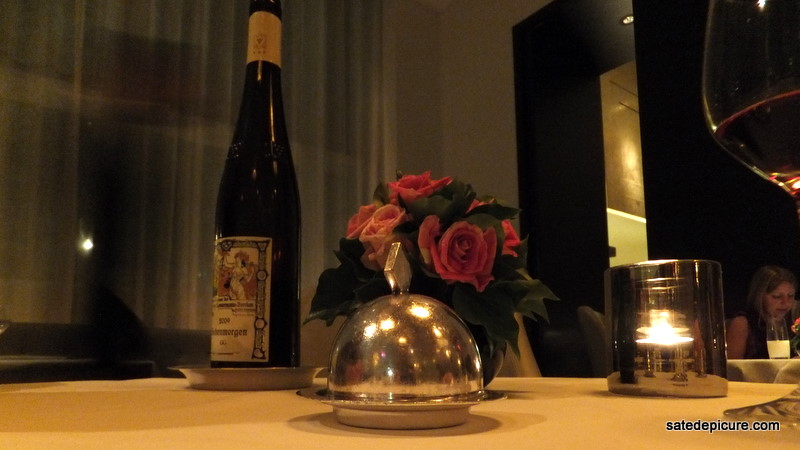 Sitting here at Jean Georges I can help but think about the impact a three star award from the Guide Michelin has on a restaurant and its chef. It's a timely thought as this past Tuesday the Guide Michelin released the 2012 dining guide for New York City. In deep Michelin thought I peer around the room and notice again how beautiful and formal Jean Georges is. The walls of glass create a modern feel and I love the soft lighting, sharp linen and the little alcove table for two recessed into the wall. The restaurant radiates simplified luxury and quality in every corner. Taking it in, I consider what may be a fading edge in formal fine dining with the 2012 edition of the Guide Michelin. That the Guide has awarded three stars to the informal and playful Chef's Table at Brooklyn Fare is proof enough that fine dining in general is loosening up and proof again that Michelin's criteria is changing too. The American dining public is becoming less formal putting its energy and cash into food, service and comfort with decreasing concern for formal décor a frills. Maybe this shift is influencing Michelin as much as the outstanding food at Chef's Table is. Perhaps this the dawn of the demise of the formal classically French three star restaurant in place of a new less formal genre?  I am torn.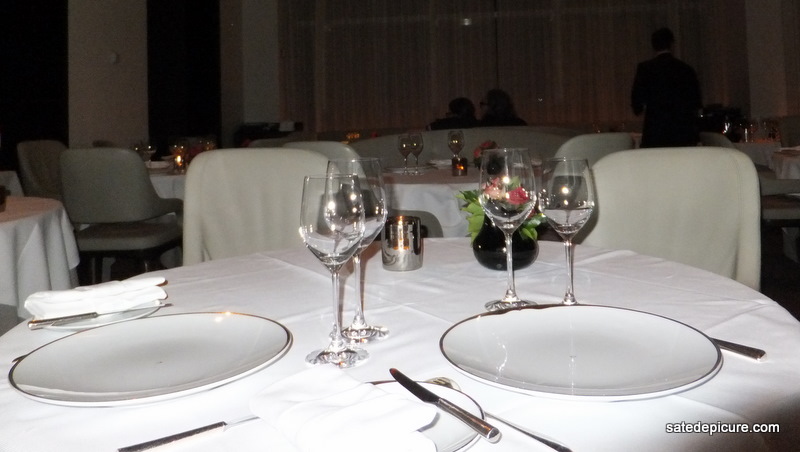 One force that may be driving this shift is the gain in financial returns that occurs when moving from formal to casual. Simply put casual dining costs less to deliver and doesn't require a sacrifice in food quality. I recently heard Bill Kim of Belly Shack and Urban Belly rave about the double digit margins he is earning in the fast casual segment claiming that his retail market is nothing more than his inventory on display and for sale thus serving as another conduit for profit without additional labor. This is the same model Brooklyn Fare follows with Chef's Table, all without a wine list or liquor license. Even Michelin is shifting to casual.
I couldn't help but think about this while I soaked in the action in the dining room at Jean Georges. It makes me wonder if Jean Georges, Eric Ripert, Daniel Bolud, Thomas Keller, Masayoshi Takayama and, as of this week, Daniel Humm of Eleven Madison Park (another new three star) are disappointed that a restaurant as informal as Chef's Table earned a nod. Having dined at Jean Georges multiple times, I have never had a meal where I couldn't find a great wine and progression of courses to satisfy my cravings. That Vongerichten and the others have spent millions on wine cellars, remote storage, liability and inventory insurance, staffing and training only to be placed in the same category as a restaurant like Chef's Table with no wine or liquor service (or inventory expense) must be frustrating. I can only imagine what Jean Georges would be like if the restaurant had none of these expenses and was solely focused on the food. This is even more frustrating when you consider the other outstanding restaurants with great food and extensive wine and beverage lists in New York (a prime example is Del Posto) that Michelin seems to ignore. I take another bite of Spicy Tuna Tar Tar and think WTF. Enough about Michelin, it's time to settle in, change my focus and enjoy dinner.
My table is attended by three servers. Their performance is absolutely smooth if not a bit inefficient. More than one hot course placed before me waits while the captain runs back to the kitchen to pick up a sauce boat and deliver a pour of hot sauce à la minute. It would have been better if the sauce immediately followed the plate drop. But these are little details that most people probably fail to notice and service doesn't really suffer. The service ware (I love the JG plates), linen, décor, and cleanliness are nearly flawless and the silver cloche over the butter dish and tight bouquet of fresh roses on the table make for a classic still life on the table. This is the image that comes to mind when I think of three Michelin stars. It's about more than just the food. Or is it?
You can see from the images below that the food at Jean Georges is well prepared. Aside from a problem with repetition (two courses repeated shrimp and two courses repeated saffron) the food is as good as ever. The egg toast with American caviar and sea bass with roasted Brussels sprouts and apple jus are absolute stand outs. Even better are the desserts prepared by rock star pastry chef Johnny Iuzzini. Each dessert plate feature four distinct section with unique elements married together by season, flavor or theme. Iuzzini sends out all four examples on his menu and follows with fresh marshmallows from a giant jar and nine different friandise. That our server can identify and describe in detail each of the nine chocolates before us is impressive. Maybe, in the long run, restaurants like Jean Georges will survive along with newer stars like Chef's Table. Better yet, the selection of Chef's Table to the three star club may be just the kick Jean Georges needs to go to the next level.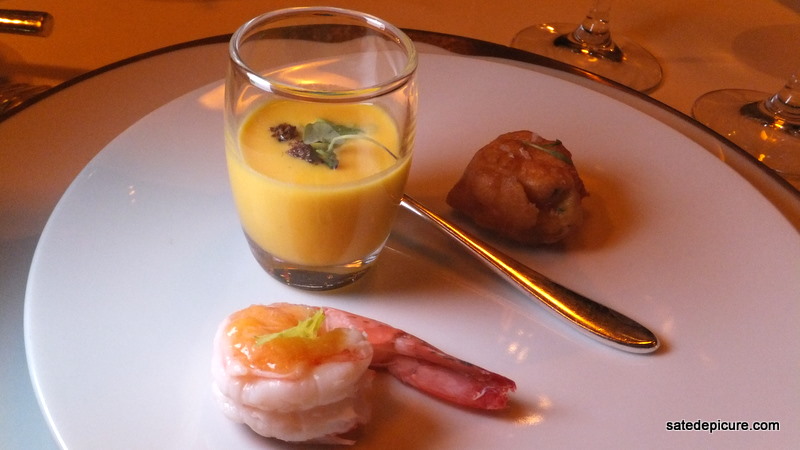 #1 Amuse of Shrimp with Peach, Yellow Pepper Gazpacho, Jalapeño Popper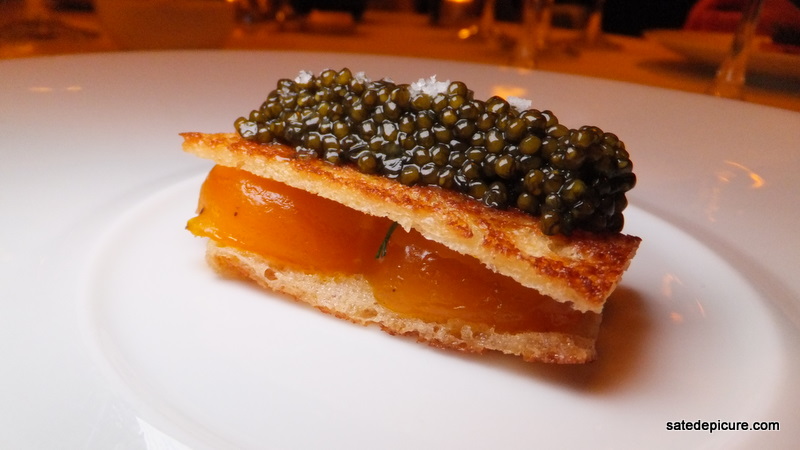 #2 Egg toast, American Caviar, Brioche Toast, Tender Egg Yolk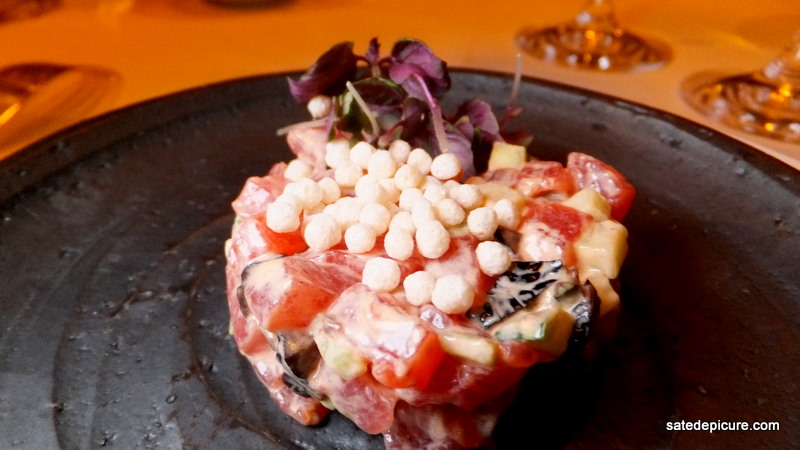 #3 Spicy Tuna Tar Tar with Black Olive and Cucumber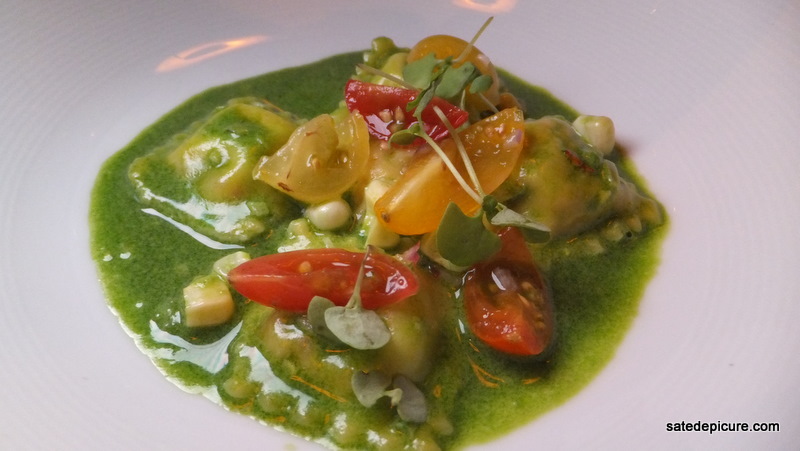 #4 Charred Corn Ravioli, Cherry Tomato Salad, Basil Fondue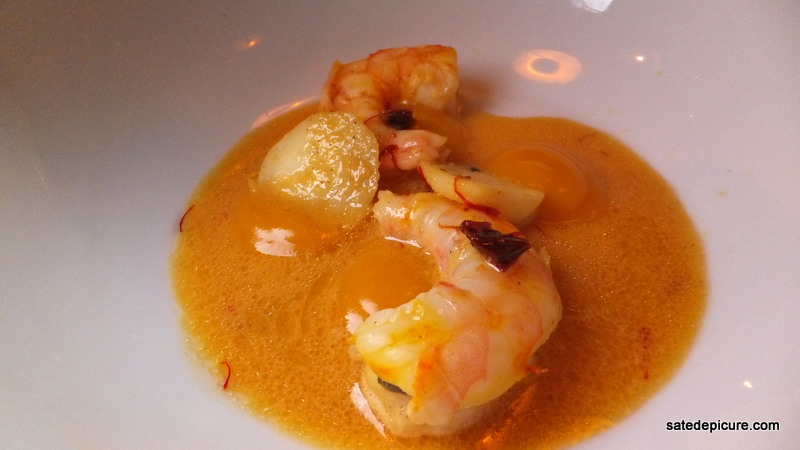 #5 Shrimp with Chipotle, Kabocha Squash, Saffron Broth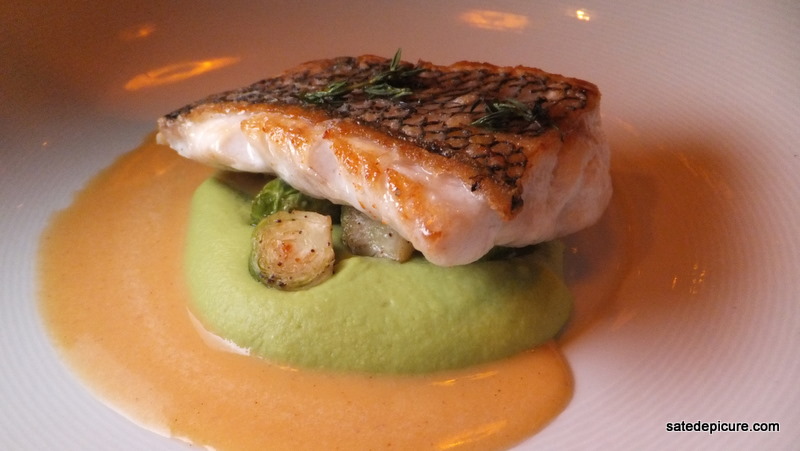 #6 Crispy Skin Black Sea Bass, Roasted Brussels Sprouts and Spiced Red Apple Jus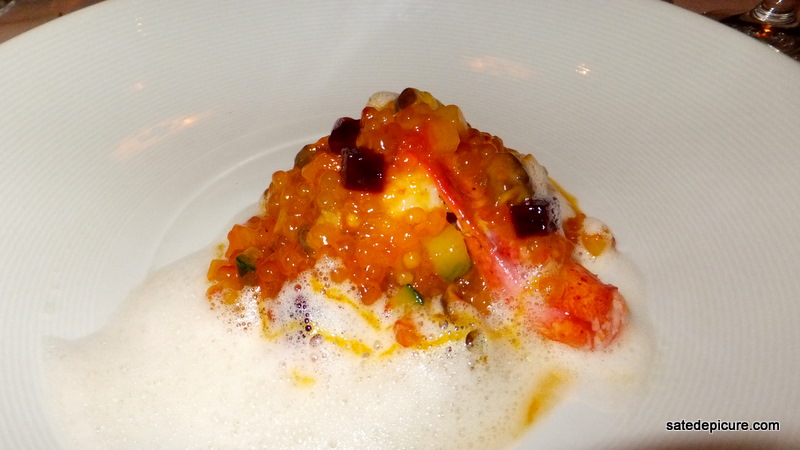 #7 Poached Lobster, Saffron Tapioca, Gewurztraminer Foam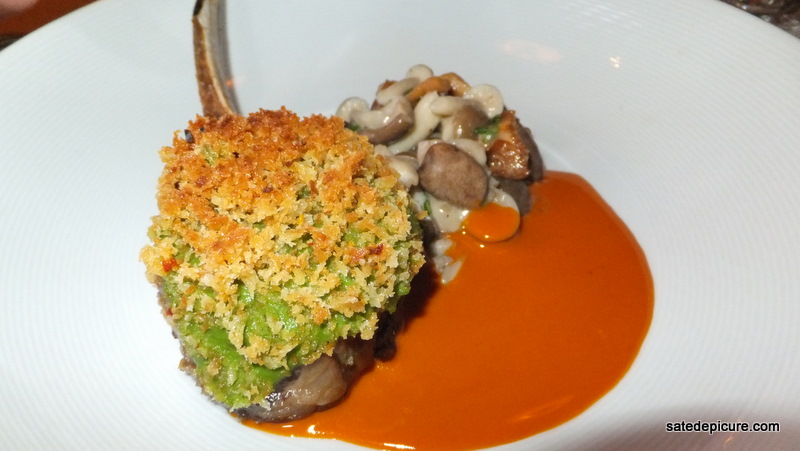 #8 Minted Rack of Lamb, Autumn Mushrooms, Red Curry Emulsion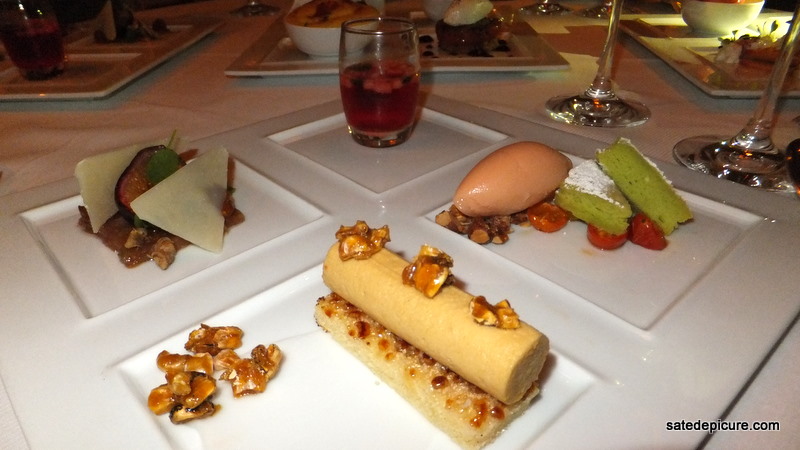 #9 Autumn Dessert Tasting One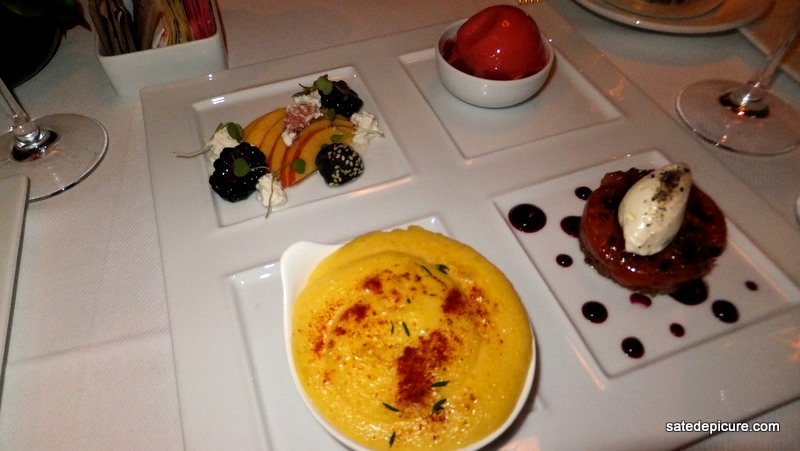 #10 Autumn Dessert Tasting Two
#11 Autumn Dessert Tasting Three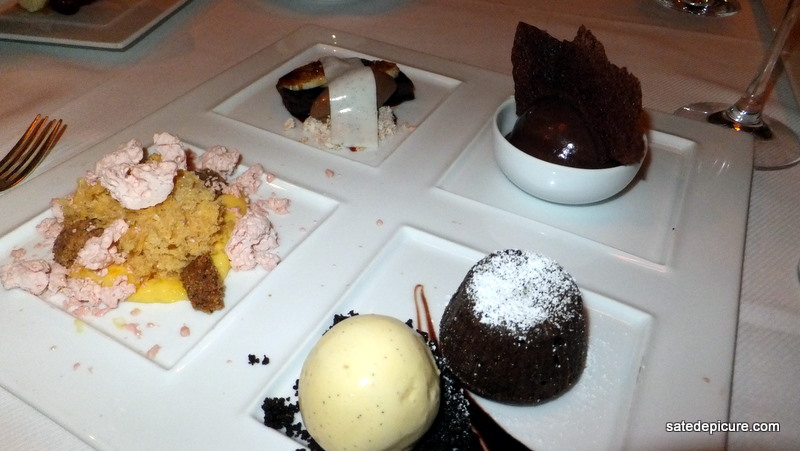 #12 Autumn Dessert Tasting Four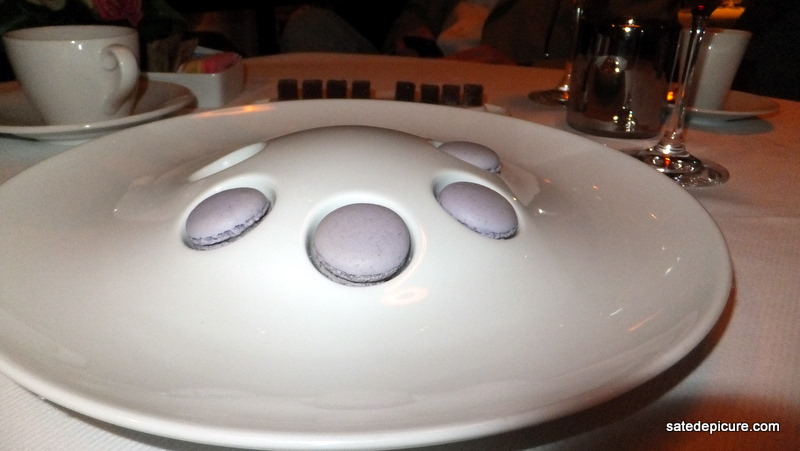 Macaroons on Flying Saucer Plate
~~~
1 Central Park West
New York, N.Y. 10023
212-299-3900