My first trip to Jaleo was four years ago. I was staying at the Mayflower Hotel with some hospitality industry friends and on short notice, was put in charge of finding a restaurant where three of us could dine without a reservation. Talking with the hotel concierge, I was reminded of Jaleo as an option and quickly recalled the press Jose Andres was generating at the time. Jose's connection with Ferran Adria and his ongoing role as translator for this uberchef had garnered tremendous attention from the press, trade publications and the professional culinary community.  The concierge's suggestion of dining at Jaleo intrigued me and, after sharing the idea with my fellow diners, we decided to make the trip.
Andres, chef owner of Think Food Group (TFG) along with partner Rob Wilder, is widely accredited as the source of the Tapas (small plates) movement in America, most notably at Jaleo. According to Andres' TFG web site, Jaleo means "revelry" or "uproar" in Spanish. The site credits the John Singer Sargent painting "El Jaleo" as the inspiration for the concept. Andres' inspired small plates, most between $8-$10, came while the U.S. economy dissolved. Customers seeking value without compromising quality or flavor intensity instantly embraced Jaleo. Within months the notion of "restrained fine dining" was born. Knowing these things, we departed for Jaleo curious about the food and attracted by the hype like a moth to a flame. All I can remember from that meal was how simple, affordable, and delicious the food was. I had a perfect Serrano ham with béchamel gratinée that still makes my mouth water when I think of it.   Jaleo was the real deal: simple, well executed, affordable with no pretense. It was entry-level fine dining, the prices were restrained, and I left sated without an ounce of guilt. The next time in Washington, I vowed, Jaleo would be on my list for a drink and quick meal.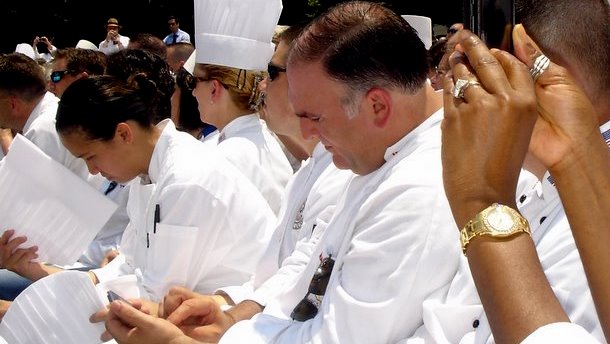 This past summer, I was in Washington again and bumped into Jose Andres at the "Chefs Move Schools" event at the White House. It was a busy visit and time didn't permit eating at Jaleo. However, I did meet the one of Andres' Jaleo chefs on the lawn of the White house. I shared my fond memory of the Serrano ham with her and she went on about where it was sourced, her technique for making béchamel (onion clouté and all) and thanked me for the compliment. She asked it I had visited any of the other Jaleoo's and described how thoughtfully designed the newer outlets in Bethesda, Maryland and Crystal City, Virginia are.  This got me thinking about how perfect Jaleo is for expansion as an upscale, full-service, multi-unit restaurant. It would compete in the same bracket as Legal Seafood, Ted's Montana Grill, and Cheesecake Factory, with lower prices on a plate cost basis, and better food. She agreed but didn't confirm whether Andres had plans for expansion. As we parted, the thought of visiting one of the newer outlets of Jaleo suck with me.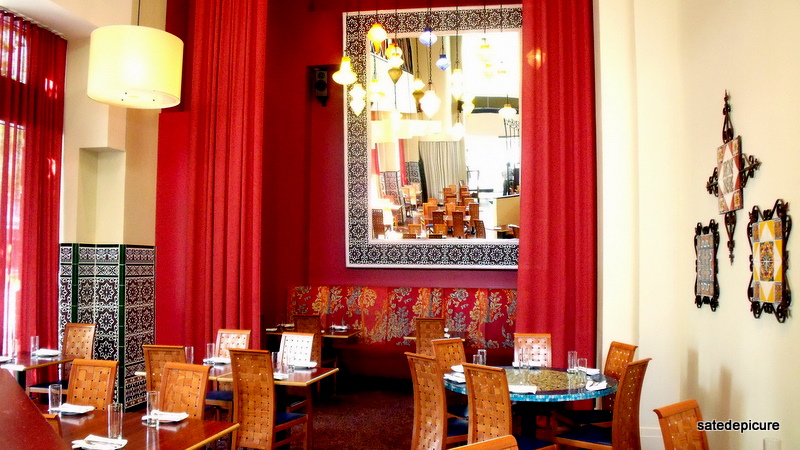 You can imagine my delight when I wound up in Crystal City, VA recently and had the chance to visit the Jaleo there. One thing is obvious at the Crystal City location; it's new and thoughtfully designed compared to the original. Being new, this store doesn't have the obvious wear as the original D.C. outlet and is more modern and bright in its design. The color palette is spot on contemporary, and the facility has high ceilings, clerestory windows, custom light fixtures and a huge mural just above the long curved bar. The interior colors are burgundy, gold, green, and natural wood giving the restaurant a contemporary feel with a slight undertone of Moorish/Iberian influence. It's gorgeous.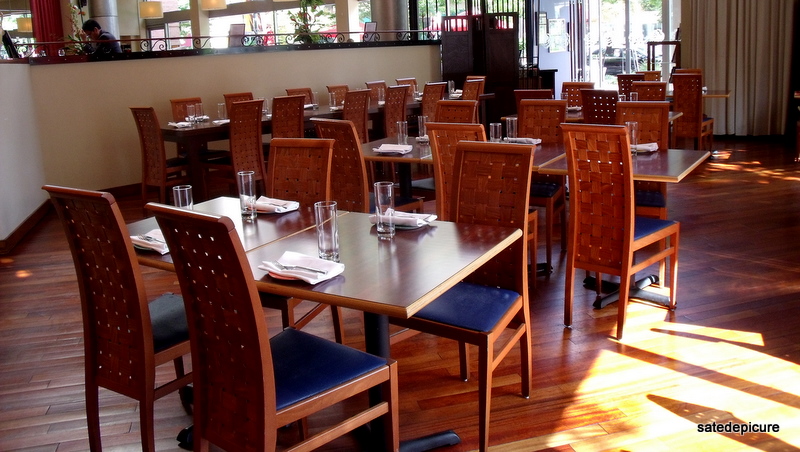 After the hostess seats me, I relax for a couple moments taking in the room and making a mental note of my first impression. Within a couple of minutes my server arrives smiling and offers to take my beverage order. I stick with water. She asks the usual "tap or bottled": tap for me thanks. Nice kid. She's authentically warm, smiling and unconcerned by the camera on the table. I usually place my compact camera on the table in plain view of my server when first seated to give subtle notice that I am likely to take pictures. Off she goes as I open the menu and contemplate my order.
The menu at Jaleo is daunting with over 80 items listed. Andres divided the menu into 12 categories including meats, cheeses, vegetables, fried foods, fish, and salads while reserving a full page for a listing of made-to-order paellas that take 25 minutes to prepare and serve 2-4 people. Although drawn to the paella, time is short so I skip to the tapas menu. My server arrives with water and I ask her what the three most popular items on the menu are. Her response is delightful. She knows the menu well and immediately describes three items that she likes that are popular with customers. I also ask if she has octopus on the menu and she confirms stating that it was just added back to the menu. Noticing my hesitation, she takes off for a couple minutes while I contemplate a final decision. She's back and I order four items; three that she recommended plus the octopus.
Gambas al ajillo
Shrimp Sauteed with Garlic $9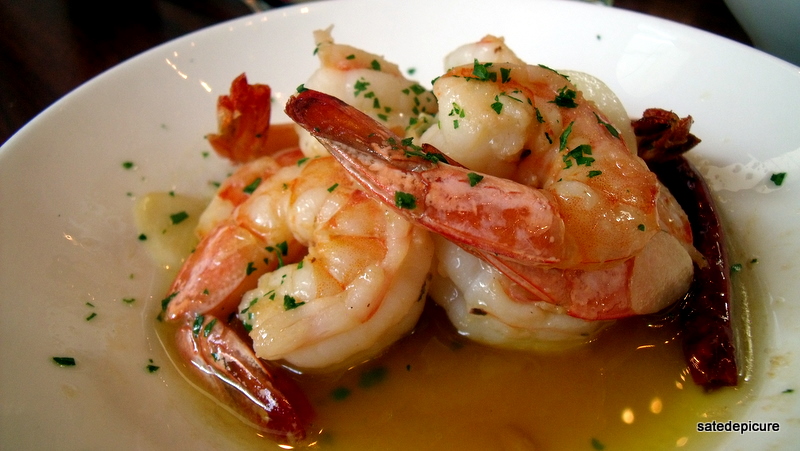 Manzanas con hinojo y queso Manchego
Sliced apple and fennel salad with Manchego cheese, walnuts and Sherry dressing $8.50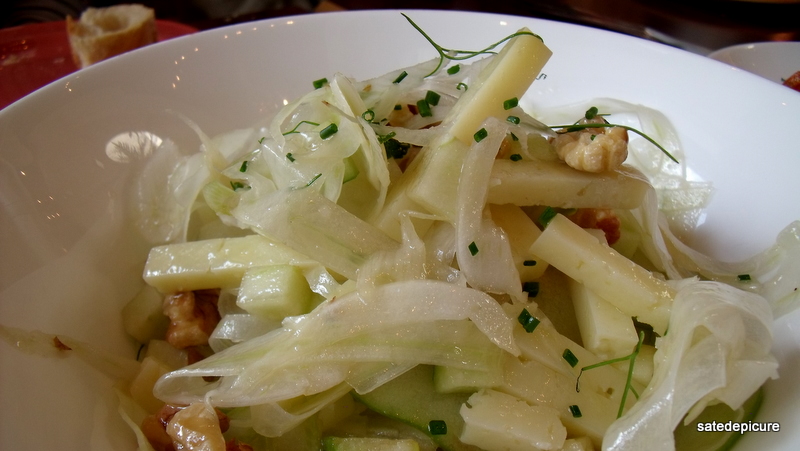 Patatas Bravas
Fried fingerling potatoes with spicy tomato sauce and alioli $6.50
Pulpo a la Gallega "Maestro Alfonso"
Boiled octopus with fingerling potatoes, pimenton and olive oil $8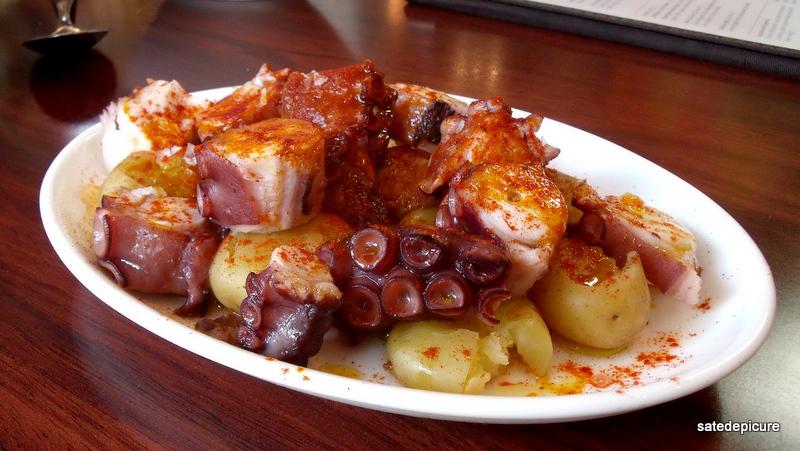 Today, TFG operates seven restaurant concepts with plans for opening a large scale Jaleo and new Chinese Mexican fusion restaurant called ChinaPoblano at the Cosmopolitan Hotel and Casino in Las Vegas this December. The Las Vegas outlet will mark the first Jaleo outside of the Washington, D.C. metro region. Perhaps Andres is planning for a wider expansion of the concept. Such an expansion is a great idea and one I hope he pursues. Jaleo is a great concept that has held up over time and is suitable to any major metropolitan area in the country.
Jaleo
2250 A Crystal Drive
Arlington, VA 22202
703-413-8181