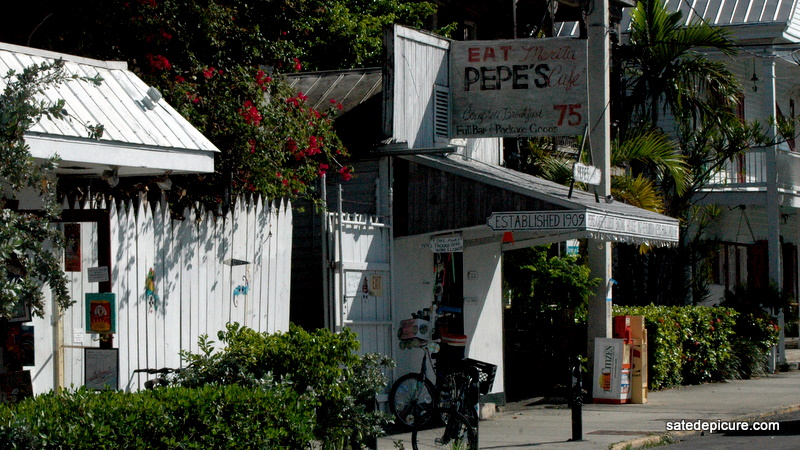 Pepe's Restaurant circa 1909
Arriving in Key West, I research the local restaurant scene and make some decisions about where to go. A couple of restaurants attract my interest but, to be honest, I am just as exited to take some time and wander around town having last been here more than five years ago. I like the Key's, the local pink shrimp, Jimmy Buffet, Ernest Hemingway, and treasure hunter Mel Fisher. The great many free spirits that call the Conch Republic home add texture and because of them Key West always provides for something unusual or unexpected. Stepping out of the steaming hot rental car, I am punched in the face by the humidity and heat. I need a cold drink. That's how things start in Key West; the heat naturally forces you to find a cold drink and soon enough things are loosened up. Time to find a watering hole and some vittles.
Key West Cuban Coffee Queen
Prior to driving to lunch I roll over to Caroline Street for a Cuban Coffee on ice to accompany me while I drive. The Cuban Coffee Queen serves the best coffee and Panini sandwiches on the island and it's still early enough for another cup. Plus, the location is nice for a short stroll. There are souvenir shops right next to the Coffee Queen with just the kind of strange, cheap, waste-of-money things that captivate me. Further down on the waterfront huge tarpon roll underneath the docks and perform if you toss some bait into the water.  Right across the street from the queen is Pepe's restaurant, one of the oldest in Key West. One quick stop for coffee and I am starting to feel settled into a Key West groove and ready to eat.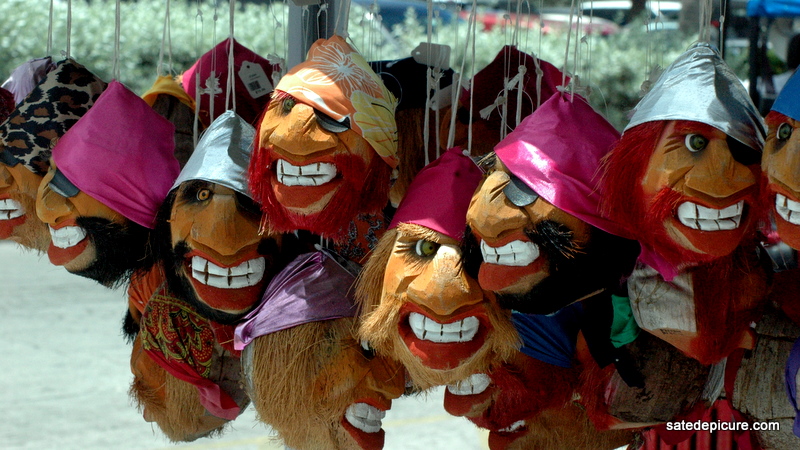 Coconut Pirates Heads ~ Tourist Trap on Waterfront
Key West has always had good restaurants. On this trip, I am looking for an established place to eat not the most recent or trendiest. It doesn't take long for me to head to Louie's Back Yard. In addition to chasing a cold drink and some food, the other reason I am at Louie's Back Yard is so I can sit on the back deck and soak in the vibe just like Chef Norman Van Aken did back in 1987. I even selected the time of day to approximate Norman's experience as closely as possible; Norman had his epiphany while sitting on the deck during the morning. You see, Norman Van Aken, a chef who I have admired for more than 25 years and the one, who arguably gave birth to what we recognize as the regional cuisine of south Florida, was the chef at Louie's Back Yard back in 1987. It was just five years after Pat and Phil Tenney bought the place and renovated it in 1982 that Norman decided to shift his culinary focus to a Nuevo Cuban
cuisine.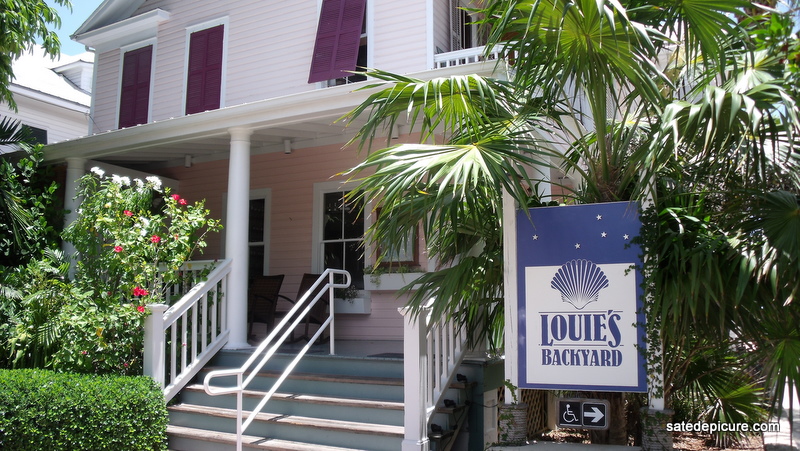 Louie's Back Yard
It didn't take long or people to notice. Under Van Aken's watch, a young Charlie Trotter ventured own to the Keys and spent a season in the kitchen earning his stripes in the Conch Republic. Trotter points to this time with Van Aken as critical to his own culinary development and focus. Twenty five years later and I am sitting on the back deck, ice cold beverage in hand, enjoying a light breeze. Although I don't expect to find anything new or earth shattering at Louie's or major urban technical cuisine this far into seasonal tourist territory, I know the food is good and the restaurant has made its mark on American regional cuisine.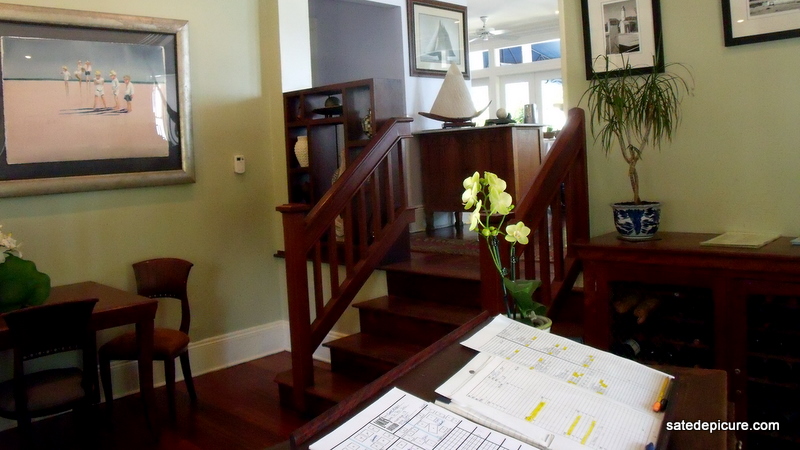 Louie's Back Yard Interior
Back in January 2011 the New York Times published a "36 hours in" article on Key West and mentioned Louie's as a perfect place for a cold cocktail comparing it to an "outdoor Cheers" with a crowd of artists and displaced New Englanders escaping the cold. Today, the deck is nearly empty because it's so hot but people appear to be enjoying themselves. The view is stunning and service is sound if not slowed a bit because of the heat.  Rather than fuss I order the daily fish special and then screen the menu for the most unusual thing I can find.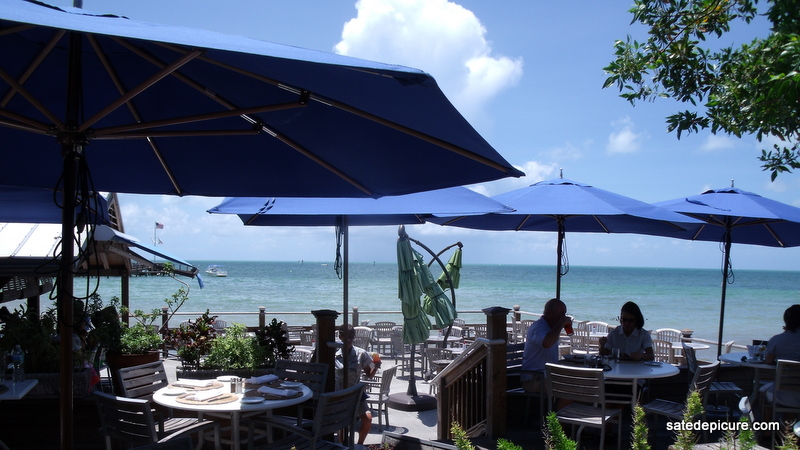 Louie's Back Yard Deck
The special is straight out of Norman Van Aken's play book consisting of a sautéed Yellow Tail Snapper over grilled peach cous cous with watercress salad. Simply prepared and presented, this dish is correctly cooked and delicious. It is also light as a feather and just the kind of entrée for the weather. The other dish I order is a bid odd but certainly interesting. It consists of two large poached duck eggs drizzled with wasabi hollandaise on toast topped with crab legs. Small round soy pearls are sprinkled over the top of the dish as garnish. This is not a dish Norman would have served nor one that quite fits my image of Louie's but the draw of modernist cuisine goes far and wide; all the way down to Key West I guess. The Snapper is a winner, the duck eggs are tasty but don't fit my preconceived notion of Key West cuisine. Still, Louie's Back Yard remains worth the trip and the traditional dishes on the menu are outstanding. The restaurant is extremely well maintained and is a standout compared to many in Key West and the service crew is dedicated and professional, another unique feature compared to other restaurants in the Keys.
It's just past mid-day now, I am finished eating and wander down to the deck bar and grab a seat in the shade facing the ocean. Although I wonder if Hemingway ever visited this house, I am sure that Van Aken did and that his presence can still be felt here all these years later.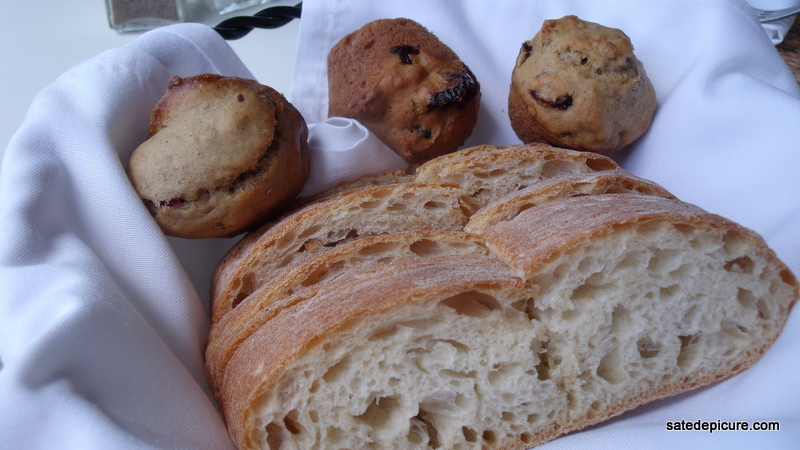 Ciabatta, Dried Cranberry Nut Muffins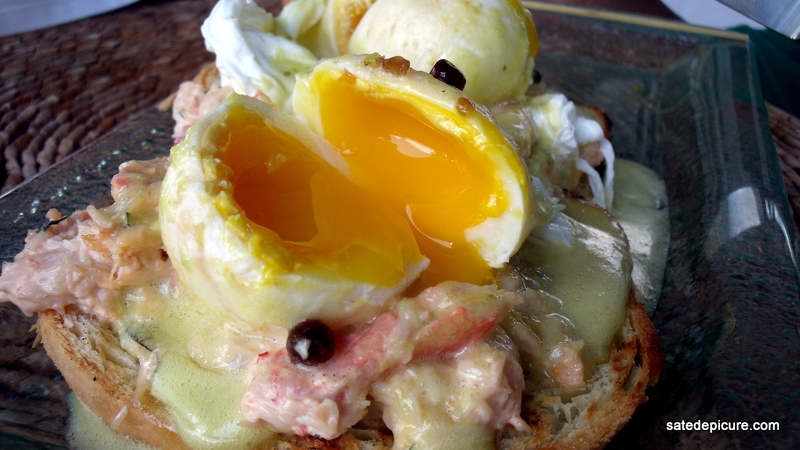 Sweet Crab and Duck Eggs Benedict with Wasabi Hollandaise and Soy
Pearls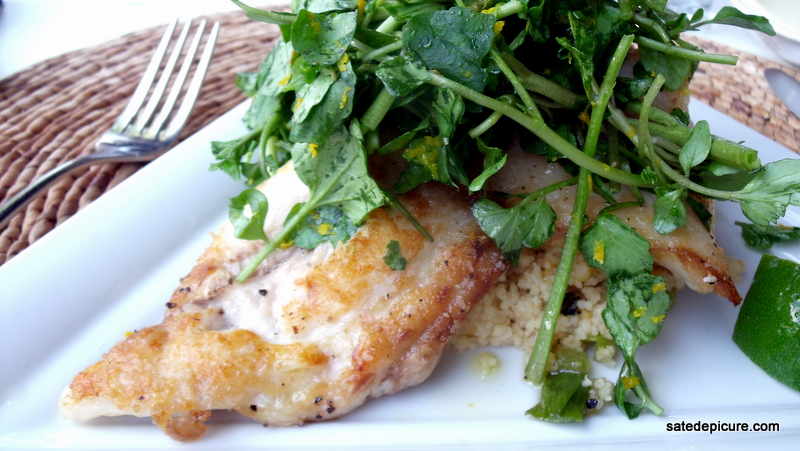 Sautéed Yellow Tail Snapper over Grilled Peach Cous Cous with
Watercress Salad
700 Waddell Ave
Key West, FL
305-294-1061