On June 4th, 1000 chefs (including me) attended the launch of first lady Michelle Obama's "Chefs Move Schools" initiative on the south lawn of the White House. This was an event associated with the "Let's Move" program mentioned in an earlier blog post. The day started with a series of presentations on healthy eating and wellness strategies for public schools at the JW Marriott Hotel around the corner from the White House. Secretary of Education Arne Duncan presented along with others including Billy Shore of Share our Strength. At 10:00 am 1000 chefs departed the J.W. Marriott Hotel and headed west down Pennsylvania avenue cuing up at the east gate leading to the south lawn. Imagine the scene; 1000 chefs dressed in their whites walking in unison down Pennsylvania avenue.
After crossing through the east gate and through multiple security checkpoints I enter the white house grounds at 10:30 am. For the next ninety minutes, I have the pleasure of walking around the vegetable garden planted on the southwest corner of the lawn adjacent to E-street, observing the new beehive up close, and interacting with dozens of colleagues, celebrity chefs, and friends. In addition to regular folks like me and my immediate companions, the festivities attract a cadre of world class chefs including Daniel Bolud, Marcus Samuelson, Tom Coliccio, and Sherry Yard along with television chefs like Cat Cora, Rachel Ray and 994 others of varying culinary backgrounds and pedigrees. By now, the launch has been widely reported in the press and from what I can tell "Chefs Move Schools" is gaining momentum. At 11:30 we make our way up toward the White House to take our seats. Through a series of lucky opportunities (and some good friends), I find three seats in the front row. Its 11:50 a.m. now.
Looking up from my seat, I am overwhelmed by this place. As a major fan of American history, my mind is reeling. Leaning back, I scan over my right shoulder, catch the eye of chef Ellie Krieger of the food network and realize she is sitting just a dozen or so yards from where Richard Nixon made his final departure from the White House and his presidency on Marine One, hands raised waving peace-signs over his head as he stops at the helicopter door to smile before taking off for the last time. My skin is tingling. Turning around to face forward, I sit quietly reflecting and realize that slightly to the right in front of me are the twin staircases leading up to the south portico where Franklin Delano Roosevelt was inaugurated for his historic fourth term, the ceremony kept sedate in 1945 due to the ravages of war around the world and (most likely) FDR's failing health. This is hallowed ground. I close my eyes for a minute to soak it in. I hear the door below the south portico open and then shut and I open my eyes again. An attendant has exited the ground floor and is carrying a small table with two glasses of water on it to the podium. I guess we are about to get started.
At 12:00 noon sharp, Ms. Obama exits the vestibule on the ground floor of the White House residence through the arched doorway just below the south portico onto the lawn to deliver her speech. There is a nervous excitement settling while she heads toward the podium. She opens her speech by commenting on the blazing heat. It's above 90 degrees and we are all sitting, sweating in full sun, a sea of starched white chef coats reflecting the sun back at Ms. Obama. After a couple of additional comments she states "I have to say I wasn't sure when I heard the goal of having nearly a thousand chefs on the South Lawn.  I said, right, Sam, sure, whatever. But you all pulled it off.  And I am just so proud and honored to have you here at the White House." The Sam she is so proud of is Sam Kass, special events chef at the White House.  Kass is a Chicago native who graduated from the University of Chicago, was on the crew at Avec under Chef Paul Kahan, and, according to the Chicago Tribune, is founder of Inevitable Table also in Chicago.
The Obama's recruited him to join the White House culinary team in January 2009 and since then he has been building a reputation as a culinary activist with a broad goal to improve the world through food. He has a heavy leaning toward local and organic foods and was the primary influence behind the now famous White House vegetable garden. Watching Kass throughout the morning and hearing Ms. Obama's comments makes me realize that, as of today, Kass has brought culinary activism to a whole new level. He has joined the national ranks of chefs Alice Waters, Ann Cooper, Dan Barber and, more recently, Jamie Oliver. Along with being a historic moment in culinary activism, Kass has just become the most powerful chef in the country.
He has taken a page out of the Obama's play-book and garnered the support of major grassroots organizations like Share Our Strength, Chef's Collaborative, Women Chefs and Restaurateurs, The American Culinary Federation, Research Chefs Association and many others to attract in less than 10 days 1000 chefs (at their own expense) to this event. Hundreds of chefs are mobilizing and volunteering at schools around the country and Sam is the force behind all of this along with Ms. Obama. This is the first time I know of that a chef at the White House has leveraged his or her role to create grassroots change in foodservice; a real historic moment.
Over the years I have dined with and spoken to other chefs who have worked at the White House. Henry Haller was a true gentleman who quietly went about his business and refused to speak about any of the details surrounding the foods that particular presidents preferred or disliked or matters related to politics. Chef Roland Mesnier, although absolutely hilarious and fun in social settings, shares a bit more of the details that Haller was hesitant to divulge but never ventures into social change or other political matters. My discussions with these chefs were about food and about continually increasing the quality of dining at the White House. It never occurred to them that being a chef at the White House would be a source of power and cultural change. They never remotely touched on activism. Considering the popularity of cooking and food as entertainment today (I am surrounded right now by celebrity chefs) the level of culinary activism emerging at the White House seems to be a natural progression. Kass is a chef of his generation just as Haller and Mesnier were. Kass is blessed with a contemporary food and culinary culture (and an administration) that allows his culinary activism to be taken seriously. He stands on the shoulders of Haller, Mesnier and the others who came before him.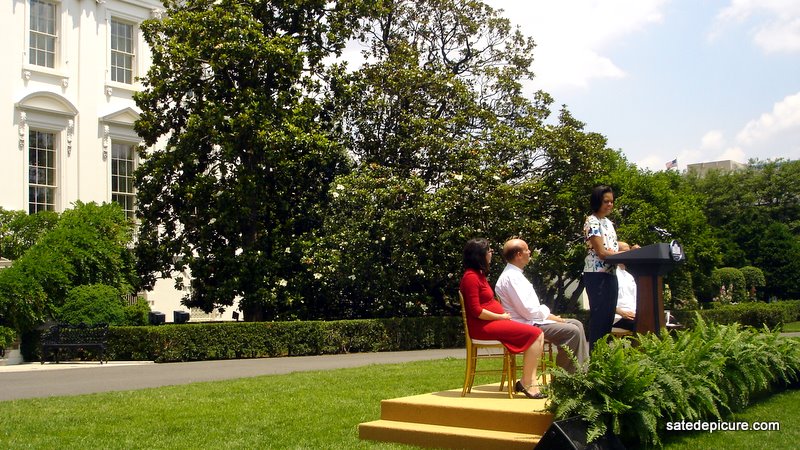 Ms. Obama continues to speak. She is talking about empowering chefs to improve school foodservice now and states "This has been a long conversation that Sam and I have had over the years, and I think it's just pretty powerful to see what started out as a few conversations in our kitchen on the South Side of Chicago turn into a major initiative that hopefully will change the way we think as a country, not just about the health of our kids but about our health as a nation." Her talk lasts another 30 minutes covering inspirational topics related to health and wellness and detailed statistics that show she (her staff) has done her homework.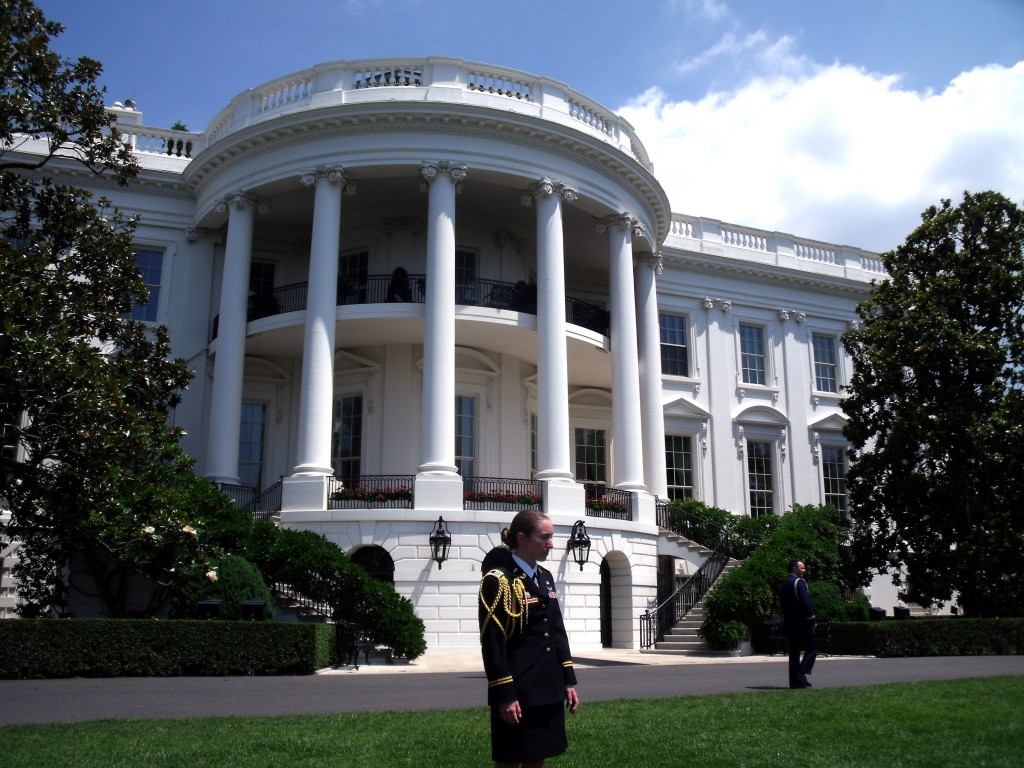 Ms. Obama wraps up her comments. "So let's move, let's get this done.  Thank you all for the work you've done.  And I look forward to seeing you all in the months to come.  Thanks so much."  She steps down from the podium and heads indoors while the secret service ushers us back out the east gate. Chefs continue to mill about taking pictures, talking, and basking in the moment, many are now sunburned and parched. Have we entered a heightened era of culinary activism? Perhaps, only time will tell. One thing is for sure, that Kass is taken seriously marks a watershed moment in the evolution of the culinary profession and a tremendous step forward for American Chefs. What a privilege to watch history as it happens.