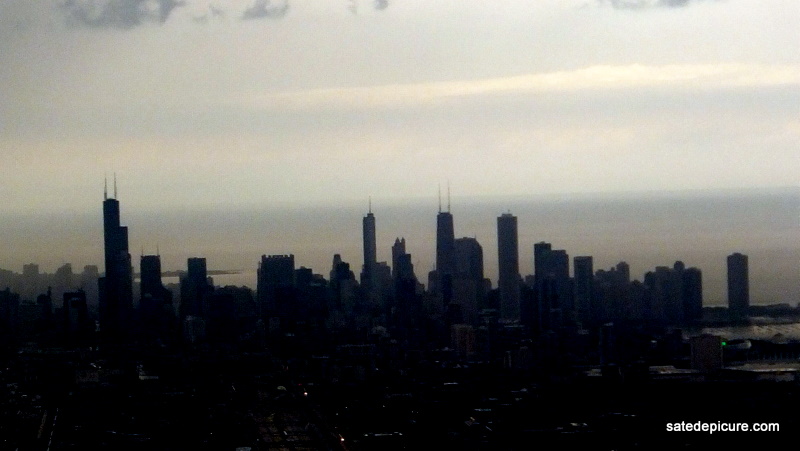 Cloudy Grey Chicago
It's one of those warm comfortable yet rainy evenings when the air is dry enough to evaporate within minutes the droplets that rest on the surface of my lightly moistened blue sport coat. I am in Chicago and the sun is straining to break through the smoky gray clouds just over my head. Out of pure luck and a true comedy of errors I unexpectedly find myself in line just outside of Aviary, Chef Grant Achatz and Nick Kokonas' widely regarded gastro-bar on West Fulton Market. It's a Saturday night and I am alone surrounded by a group of polished, beautiful people waiting to enter the hippest bar in the country. They have reservations. I do not.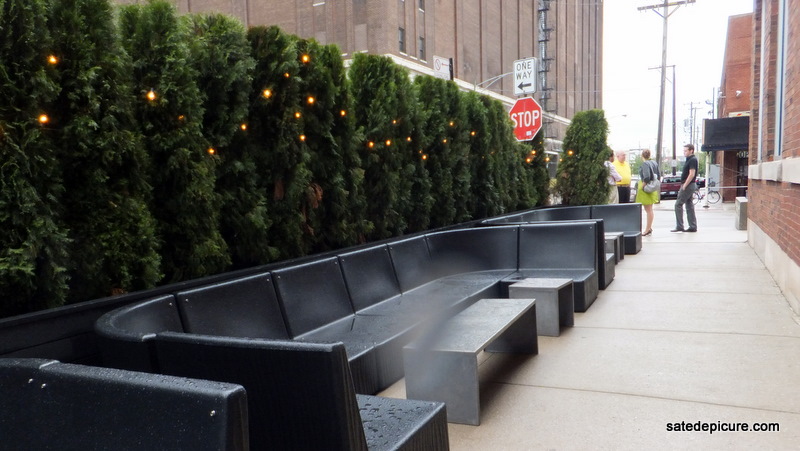 Outside Aviary & Office
It's a funny story really. A friend and I agree to meet on short notice in Chicago for a quick drive to Iowa for some personal business. He departs his airport at 5:00 pm and I depart my airport at 5:00pm, we assume our arrival times are identical. I land at 6:00 pm and text him to see where he is and find that he hasn't left yet and is just arriving at his airport. For a split second I am confused then I laugh. Like knuckleheads we both failed to take into consideration the time zone difference between us. His 5:00 pm departure will put him in Chicago at 8:00 pm; I now have two hours of precious time to spare. We both joke via text at our mutual lack of mindfulness. Shortly after he texts me back and asks which airport I landed at, O'Hare or Midway. Of course I am at Midway and he is headed to O'Hare which is 45 minutes to the north. This is getting ridiculous. I agree to grab a rental car and head north to O'Hare to meet him.  Thirty minutes later I am headed out to route 55 on my way to O'Hare when he texts me again, he's delayed for two hours and wont land until 10:00 in the evening. Now I have just over three hours of found time to kill. Without hesitation I key the address for Aviary into my GPS and head into town (admit it, you would do the same).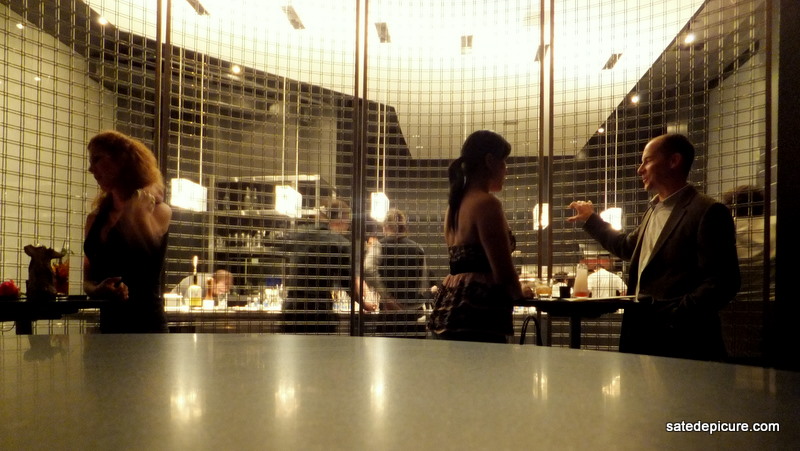 The Bird Cage at Aviary
I pull to the curb on West Fulton Market.  Aviary is around here somewhere. There is no sign, nor is there a street number on the building that I can see. The line of people standing in front of an entrance to a brick commercial building at the corner of West Fulton Market and North Morgan Street clues me in.  Walking the wide sidewalk lined with hard plastic seating and neatly trimmed arborvitae, I approach a gentleman keeping watch just in front of the door with a clip board in his hand and a secret service ear piece in his ear. The doorman asks for my name, scanning his reservation list. I give him my name and inform him that I don't have a reservation. He smiles and radios in to dispatch that he has a single walk-up at the door and departs to speak with the next group of guests. Fifteen minutes later I am inside sitting at a large high-backed upholstered banquette surrounded by the same beautiful people who were waiting outside with me just moments ago.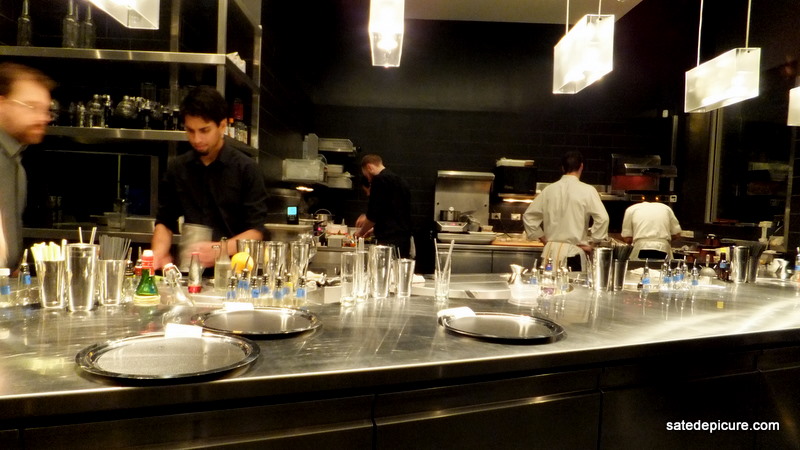 Cocktail Kitchen
Aviary is dimly lit inside. The interior is sultry, minimalist, and sexy more than romantic. To the right of the entrance is a steel cage with seating on one side and the kitchen on the other, this must be the bird cage. The space is chic, modern, monochromatic, and runs with a steady air of exclusivity and the prices to go with it. Like Alinea, there's a prix fixe cocktail menu (3 drinks for $45) and drinks sold a la carte. The range of cocktail options is wide, from a classic Margarita with agave, Fresno chili, and rare tequila to a contemporary peach cocktail with maple sap, angostura, white port, and wheat whiskey. Food selections are limited to a list of ten "bites" which are actually small hors d' oeuvres sold in groups of three (between $3 and $5 each).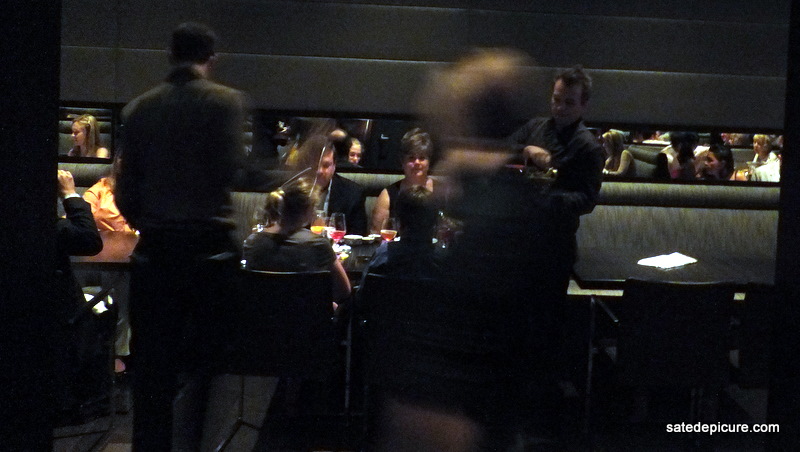 A Peek at NEXT
I order the Margarita to get things started and it exceeds my expectations. The balance between the sweet agave and sour lime is contrasted by the time-released heat of the Fresno chili which is encapsulated in ice cubes and blends in as they melt. The more you drink,the less liquid in the glass, the greater the proportion of melting ice, the spicier the drink (how cool is that). And that's the point. Aviary is an amazing place because it is so well thought out. From the mysterious unmarked exterior to the polished high-end interior, Aviary reflects a deep level of planning and design. The kitchen and cocktail preparation area is unlike any that I have seen right down to the custom stainless work tables and curved drink wells. Innovation is manifest in every corner. I take a few more sips of my drink and set it aside (I have to drive later and need to take it easy).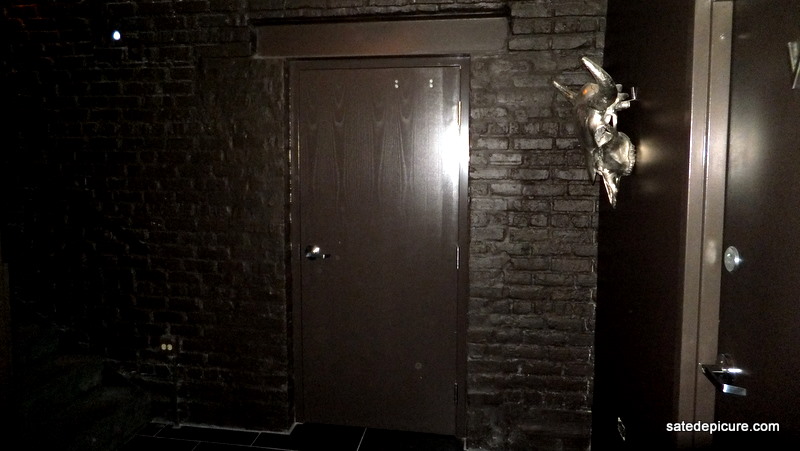 The Secret Door to Office
After sampling a few "bites" I wrap things up and get ready to leave in an effort to remain conservative with my spending (one problem with Aviary is that it is ridiculously expensive). My server stops over and inquires whether I would like to visit the private, invitation only speak-easy located in the basement. It's an offer I can refuse. The "Office" is a classic sixteen seat masculine feeling, leather and hard-wood bar and a stark contrast to Aviary. Taking a seat at the bar, I initiate what becomes an hour long discussion with the bar tender while sampling two more cocktails. I order a plate of Oysters (Island Creeks from Duxbury, MA) and they're served with a plate of six essential oils in small glass bottles with stoppers. The essential oils are a simple innovation that adds tremendous flavor to the oyster without spoiling such a pure, flavorful food.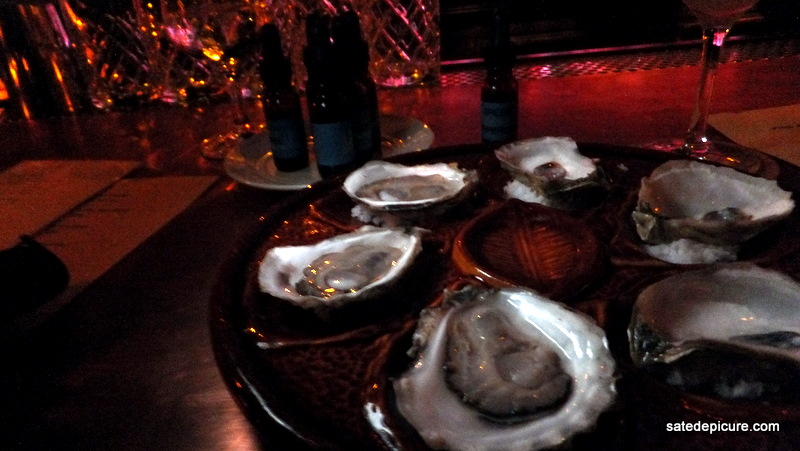 Island Creek Oysters, Essential Oils
Time running short and my wallet is now empty so I head back up the stairs and out the door. Reflecting on my time at Aviary and the Office it strikes me how well organized, efficient, and profitable this little corner of the culinary world is (including Next which is right next door). It isn't a secret that running a fine dining restaurant like Alinea isn't the most efficient way to make money. Aviary, the Office and Next absolutely are. Just as Alinea was a laboratory for Achatz to exercise his culinary genius, my guess is that Aviary, the Office and Next were deeply influenced by Kokonas' expertise in making money, something he proved as a commodities trader in Chicago. Over the next 24-36 months Achatz and Kokonas will be flush with additional financial resources generated from the successful business model Aviary, Office and Next have become. With all those resources, I wonder what they will come up with next.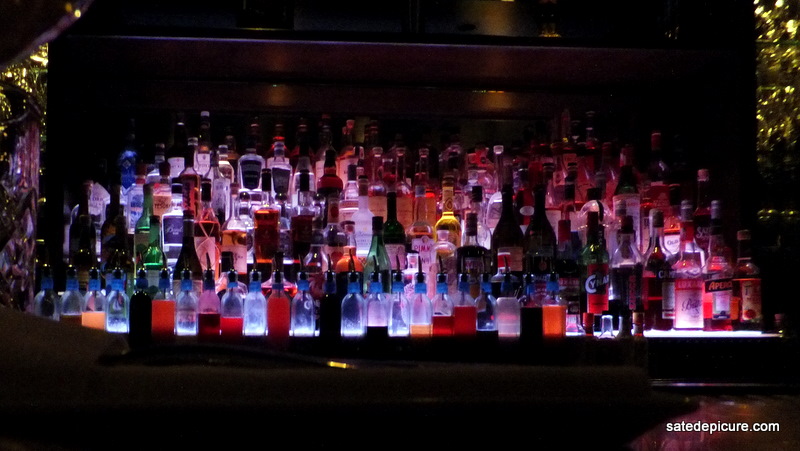 The Office Bar
~~~
 The Aviary & Office
953 W Fulton Market
Chicago, IL 60607
(312) 867-0110