Chef Barbara Lynch is setting Boston on fire. For the past thirteen years she's been steadily opening restaurants while pushing the envelope on culinary creativity and service in a city with a history of embracing strong female chefs. Her restaurants (9 as of this writing) are bold, creative, and of clear intent. Although she's generated tremendous press for her latest venture, Menton, and newer ventures like Drink (best creative cocktails in Boston),  B&G Oysters (best fresh oysters and martinis in Boston), and The Butcher Shop (best burger in the city, hands down), my favorite  Barbara Lynch outlet is good old No. 9 Park. No. 9 Park is a gem. It has old world charm with a contemporary twist and several long-standing menu items that draw me in each time I am in the neighborhood.
No. 9 Park steadily offers several signature menu items.  Lynch's prune stuffed Gnocchi with foie gras is such a dish and it's the main reason I love stop over as a "walk-in" and sit at the bar or one of the café tables for a snack. If you arrive right at 5:30 p.m., a table is usually available without reservation and within minutes hot Gnocchi and steaming foie gras can be yours.  With its deep stained wood floors, antique chandeliers, and cushioned seating by the bay window, the bar is incredibly relaxing and comfortable. Designed by Cheryl and Jeffry Katz of C&J Katz Design, the space draws on its colonial surroundings while remaining sleek and refined. In some ways, the interior of No. 9 Park reminds me of what the original Olives in Charlestown was like back in the day. Warm and inviting, refined, packed, loud, comfortable and mouthwatering.
Prune Stuffed Gnocchi with Foie Gras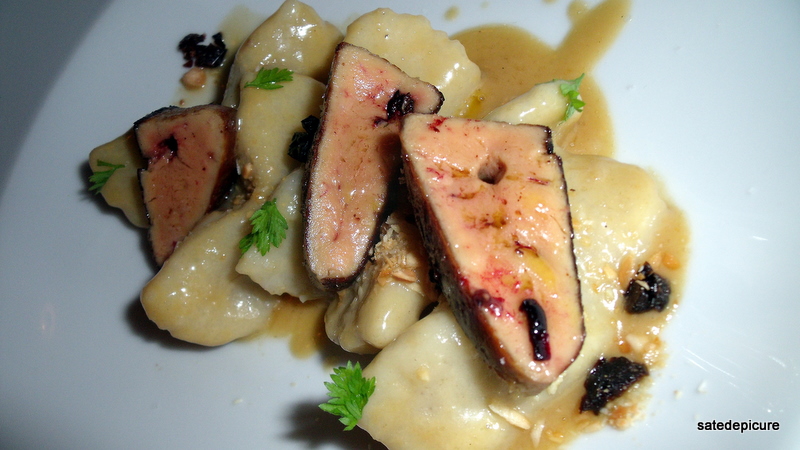 In the culinary world, there are lineages, both regionally and nationally. Lynch can trace her pedigree back to Todd English when he was cooking at Michela Larson's Michela's in Cambridge.  I had a friend that worked at Michela's at the time and she was a colleague of Lynch's. Both were running fast and hard in the midst of an emerging Boston restaurant scene. Even then it was clear that Lynch was her own woman with a future ahead. It wasn't long before Todd took off to open Olives and the rest is history as far as Todd is concerned. Barbara Lynch followed English to Olives and then over to Figs. When I eat the Gnocchi with foie gras I taste an echo of the tremendous, super rich, deeply flavorful, hearty and rustic foods that English used to serve and sense a bit of English's genetic code in what Lynch is doing. The evolution of a chef and the lineage he or she draws from results in subtle similarities in menu items and techniques between the master and apprentice.  I see this as complimentary to both parties. Don't get me wrong, Barbara Lynch owns the dining scene in Boston in a way that Todd English never has.  The apprentice is now the master cooking with some similarities.
Today, Barbara Lynch operates nine different restaurant concepts and employs over 200 people. She serves as CEO of Barbara Lynch Gruppo and has a fantastic track record adding new concepts to her portfolio. It was only 13 years ago that Lynch opened her first restaurant! She probably has another new concept in development at this very moment.  As far as I can tell, there is no other female chef in the country with such a high quality restaurant portfolio or the accolades that Lynch has earned over the years. These are the thoughts that fill my head as I take my first bite of Gnocchi, steaming slab of foie gras attached.  You have to try this dish. Go to No. 9 Park and take a seat at the bar. Order a glass of champagne and a plate of the Gnocchi to get you started, and soak in the room. This may be the very dish that launched an empire and it is one that will warm your soul.
Charcuterie Plate
Composed Salad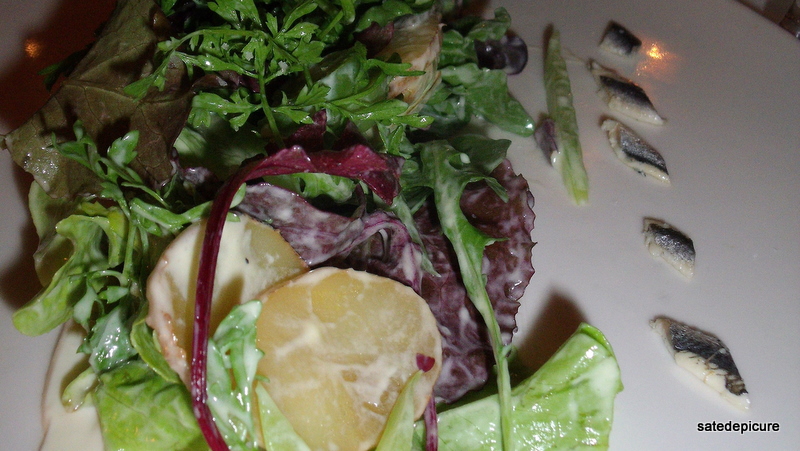 Black Olive Clafoutis
Chocolate Cremeaux
No. 9 Park
9 Park St.
Boston, MA 02108
617-742-9991