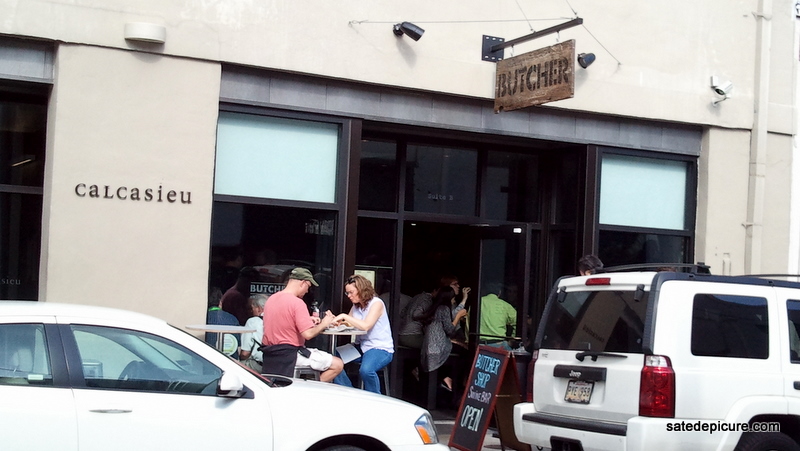 Sometimes I stumble upon a great restaurant without intending to do so. This was the case recently when I wound up on a bar stool in Butcher, Chef Donald Link's sibling restaurant to Cochon in the warehouse district of New Orleans. Butcher was not my destination, I had originally set out to find the National World War II museum on Magazine Street. After a couple of wrong turns I ended up in the vicinity of the museum but three blocks further west than intended.  Looping back around the block I wound up in a maze of one-way streets woven through warehouses, condos, and restaurants that make up this side of the city. Within minutes I was back at the corner of Tchoupitoulas Street and Andrew Higgins Drive where I originally started feeling frustrated.  Andrew Higgins was the founder of Higgins Industries in New Orleans during the 1920's. His Higgins Boats, light military landing craft designed to deliver troops directly from ship to shore, are widely acclaimed as one of the crucial innovations that helped the allies win World War II. That I  am on Andrew Higgins Drive indicated that I was in the right vicinity and that it would make more sense to park the car and walk over to the museum than continue wandering.  Thats when I found Butcher.
Fate would have it that I parked the car diagonally across the street from Chef Donald Link's famous Cochon restaurant. Approaching on foot curious and hungry for lunch it was disappointingly clear due to inactivity that the main restaurant was closed. However, there was activity further down the block at small shop called Butcher.  Although reasonably well informed when it comes to restaurants, I hadn't heard of Butcher prior to spotting it up the street. The customers seated at each of the two small tables on the sidewalk and group of people standing just outside the entrance are what caught my eye, the entrance being otherwise pretty ordinary.  
Once inside my perspective completely changed.  Although small in size, the seating area in the café was packed and there was a line five deep at the counter. Butcher was humming and the food being served looked excellent.  Customers at Butcher cue up just inside the entry and place their orders at a counter with two cash registers at the back end of the shop. The lines form up against two massive refrigerated deli cases filled with homemade charcuterie and fresh meats on the left side of the room.  A small hot kitchen is just on the other side of the cases.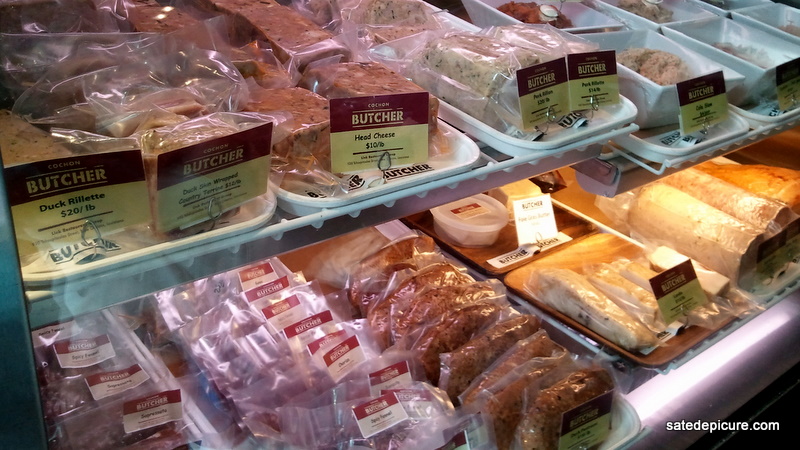 I am in line now staring into the first deli case on the left which is packed with a selection of sausages, bacon,  long brown links of house made Andouille sausage, packages of Boudin Sausage (four links per pack), fresh pork loin, skirt steak, and ribeye, even a Jambalaya stuffed fresh chicken.  The line moves and I shift forward several feet where there's another case with gorgeous house-made Pork Rillettes, Duck Rillettes, Duck Terrine, head cheese, Mortadella, Salami Cotto, and Duck Pastrami. I am in hog (and duck) heaven. The quality and craftsmanship on display in these cases is outstanding bordering on inspirational. A fan of all things Garde Manger, my mouth is beginning to water.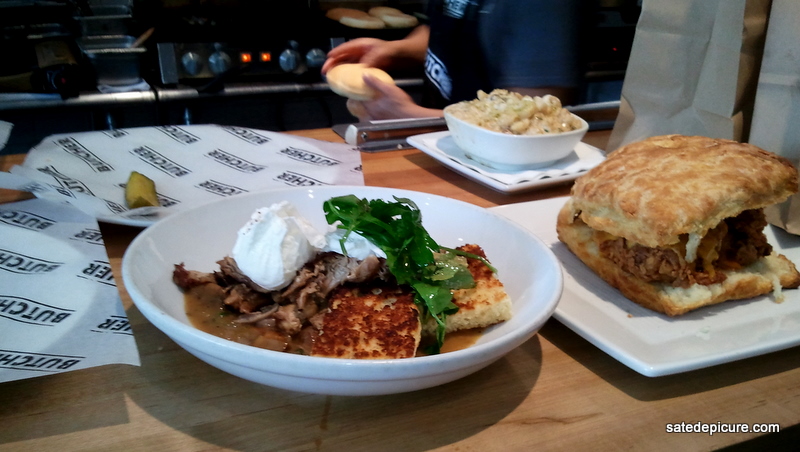 The line moves forward again and now I am next to the small butcher block countertop that serves as the pass for plates coming off the hot line. Studying the kitchen for a moment I am quickly distracted by a plate of braised duck on cornbread with poached eggs and mushroom gravy that comes up off the line. It is absolutely gorgeous and a perfect brunch item. A server passes by grabbing the poached eggs and another couple of dishes, forces his way through the line and runs them to a table. Starving, my attention shifts to the three large menu boards hanging above the cash registers and I start to narrow down my order. There are too many interesting items on the menu for me to choose just one so I order a Cubano sandwich, a duck pastrami slider, and a pancetta mac and cheese. The cashier hands me a number and I turn back toward the seating area to the right of the cue to find a place to sit. Seats vacate just as I start to move away from the cashier and I grab a bar stool up against the wall and to wait for my order.
It's just around noon time on a Sunday morning and Butcher is packed with a mixed bag of late morning revelers, brunch seekers, and folks that strolled over from local residences. Based on the steady stream of food coming off the hot-line it's clear that these people know how to eat; smoked country sausage with two eggs, house-made biscuit and Steens syrup,  fried chicken and biscuit with caramelized onion and cheddar cheese, BLT of house made bacon, arugula, tomato, and onion. It feels good to be in this restaurant.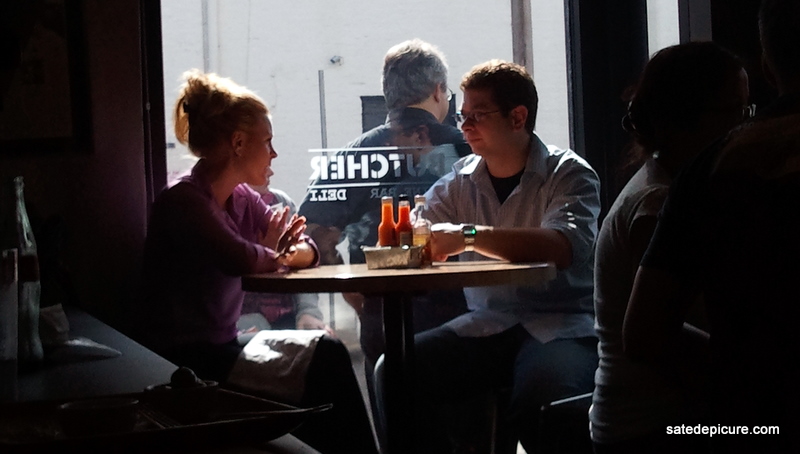 The sun is shining brightly through the south-facing storefront and a handsome couple enters and takes a small table up front next to the window.  Glancing over at the couple as they settle in, I consider how warm, pleasant, and comfortable this place is compared to what it must have been like just after hurricane Katrina. Donald Link opened Cochon in 2006 after six months of delays due to the hurricane. In early 2009 Link added Bucher to his growing list of restaurants and the New York Times promptly dubbed it a "smart-casual" restaurant. I like the idea of a place being smart and casual.
Duck Pastrami Slider $6.00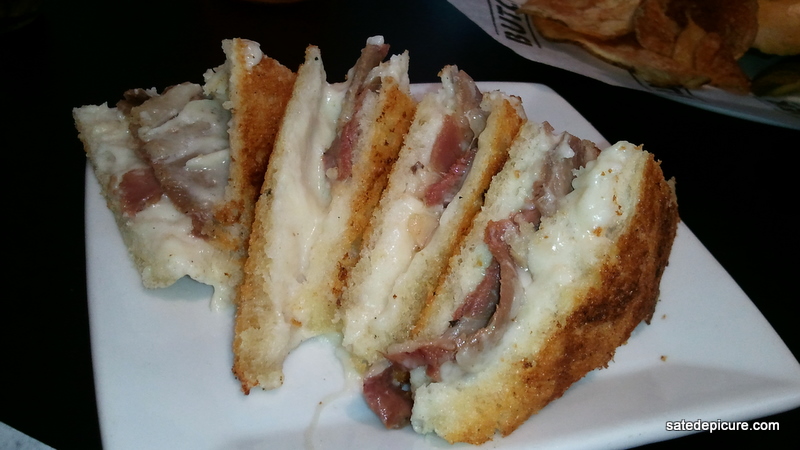 My food arrives and I dig in. The mac and cheese is rich, creamy and full of savory richness from the pancetta. My Cubano is made with slow roasted pork loin (cochon du lait), smoked ham and cheese and grilled golden brown.  I splash a bit of Link's sweet potato habanero sauce on one half of the sandwich and the sweet spicy flavor of the sauce adds a nice contrast. My favorite item however, is the Duck pastrami slider. A generous portion of sliced duck breast pastrami is grilled with cheese between two slices of bread until crispy and golden brown. By the time the plate gets to me, the cheese is just barely oozing out of the sandwich. It tastes delicious.
Pancetta Mac & Cheese $6.00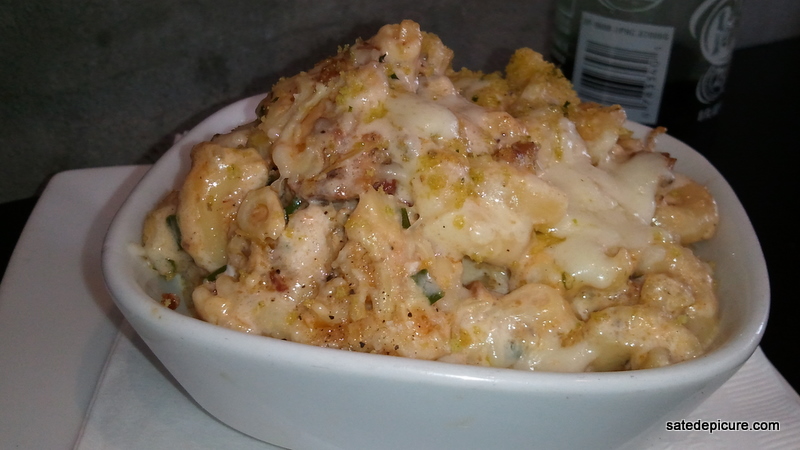 I can only imagine the vision and perseverance required to withstand the challenges of Katrina and the BP oil spill in New Orleans. And yet the city lives on in places like Butcher due to people like Donald Link. Smart, casual, and sated…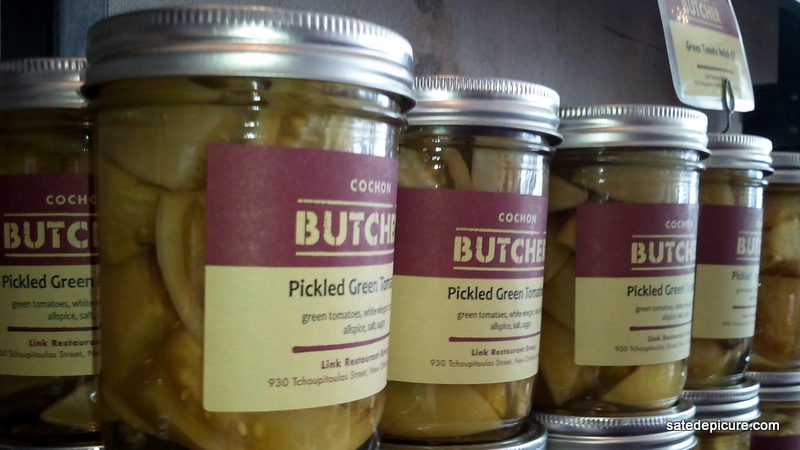 Cochon Butcher
930 Tchoupitoulas St.
New Orleans, LA 70130
504-588-7675