Haddock Brandade Tart with Red Crab, Pea Sprouts, Lemon Rind, Salmon Roe, and Pickled Red Onion Brunoise
I had the pleasure of demonstrating this item at the MIT Food + Agriculture Collaborative today. As a professional chef, my concern for food integrity and sustainability is deeply rooted as is the case with most chefs worth their salt. Of the many food issues associated with sustainability, sustainable seafood is my passion and I had sustainable seafood in mind when I created this item (a riff on an item orignally created by Charlie Trotter).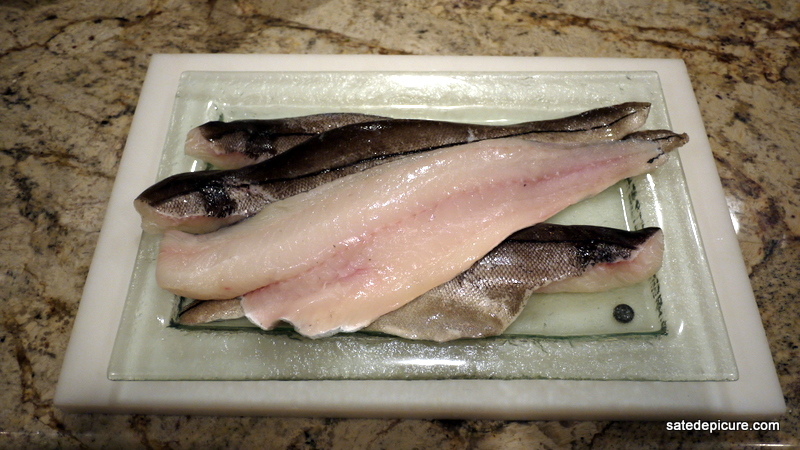 The recovery of haddock due to expanded use of the Eliminator net, a net that reduces by-catch when harvesting haddock off shore, is an amazing story. Fisherman and net designers in association with the Rhode Island Sea Grant Institute figured out that haddock, while being caught, tend to swim up toward the surface while codfish in similar circumstances swim down. The Eliminator is a net with not bottom and a tightly designed top. Haddock get caught in the top, cod and flounder escape through the bottom. The numbers are staggering. Cod by-catch is reduced by 81% and flounder by-catch by 95%. What a success story; one that chefs and others need to celebrate. Now professional chefs have a much more sustainable source of haddock in the Gulf of Maine than ever and cod stocks are actually recovering.  
Let's also celebrate the sustainable fishery that Red Crab has become in the northeast as certified by the Marine Stewardship council (MSC). The folks at the Atlantic Red Crab company spent the time and resources to properly certify though the MSC their sustainable approach to harvesting red crab, a species that can live up to 15 years at depths of up to 2000 feet. Slow growing deep water species like red crab require and deserve careful handling and harevsting and MSC has validated that this is the case (at least for now).
The recipe below, supplemented by line-caught Norwegian salt cod, is a celebration of sustainable seafood done right! The recipe follows:
Local Haddock Brandade Tart with MSC Certified Red Crab and Leek Emulsion
 Ingredients: Brandade
1          Cup     Salt Cod (line caught, Norwegian)
6          Ea        A.P. Potato (PEI, Organic, peeled, cooked*)
2          Ea        Eggs
¼         Cup     Shallots (roasted whole, pureed)
¼         Cup     EV Olive Oil
Ingredients: Haddock Puree
1          Lb        Haddock, Gulf of Maine (MSC Certified)
2          Ea        Eggs
¼         Cup     Heavy Cream (steeped in Red Crab shells, strained)
1          Cup     Red Crab (MSC Certified, cooked)
¼         Cup     Dill, Fresh Chopped
Salt & Pepper
 *Cut 3 whole potatoes into 1/8 inch slices and reserve to line the tart. Use trim pieces in brandade.
Method: Brandade
Soak the salt cod for 24 hours, changing the water every 4-6 hours. Place the salt cod in a sauce pan and cover with cold water. Simmer for 10 minutes until fish is tender. Lightly simmer fish, don't boil. While warm, place the cod in a small mixer fitted with a paddle and slowly beat it on medium speed until it starts to fluff. Add the warm A.P. Potato bit by bit until fully incorporated. Add eggs, shallots, olive oil. The mixture should be light and fluffy while holding together when scooped. If mixture is too thin, add a bit more potato. Add roasted shallots. Drizzle in the olive oil and mix until smooth.
Method: Haddock Puree
Cut the haddock into 2 inch chunks and chill. Place the haddock into a food processor and pulse, add the eggs, heavy cream and puree until smooth. Keep chilled.
Tart Dough:
1          C         All Purpose Flour
½         C         Whole Wheat Flour
1          t           Kosher Salt
1          C         Butter, cold, diced
1/3       C         Water
Place the flour, salt and butter in a bowl. Using a pastry cutter, cut the butter into the flour until fine in texture. Add the ice water and mix until combined. Form dough into a ball and wrap tightly. Refrigerate for one hour.
For the Tart:
Dust a ½ sheet pan with oil and flour and line pan with 1/8 inch of tart dough. Place an even layer of sliced cooked potatoes on the tart dough. Fill in gaps in potatoes with a small amount of haddock puree. Top the potatoes with a ½ inch layer of brandade. Add a layer of haddock puree. Seal with a layer of dough, glaze with egg yolk and bake at 350 degrees for 25 minutes or until done. Cool, slice and serve.
Oil & Flour a 1/2 Sheet Pan (cookie sheet)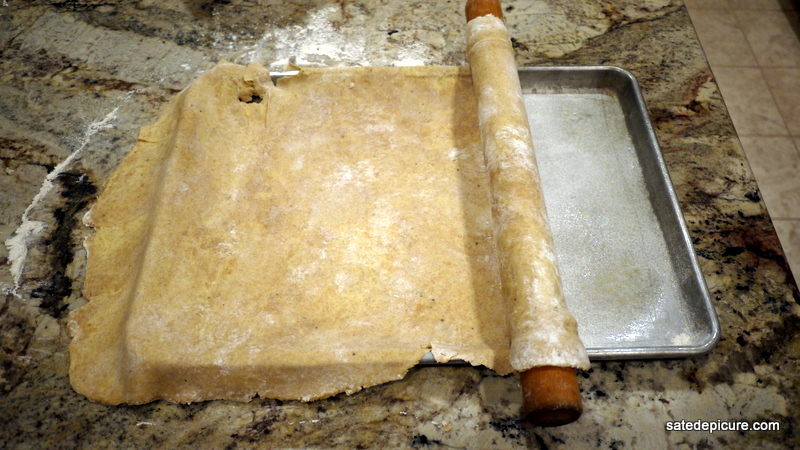 Line Pan with Whole Wheat Dough
Add a layer of sliced cooked potatoes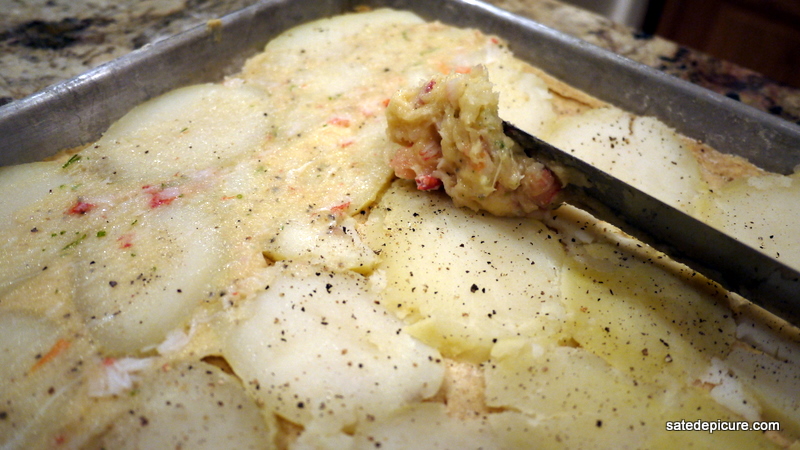 Fill in teh gaps between the potatoes with Crab and Haddock puree. Smooth it out with a spatula.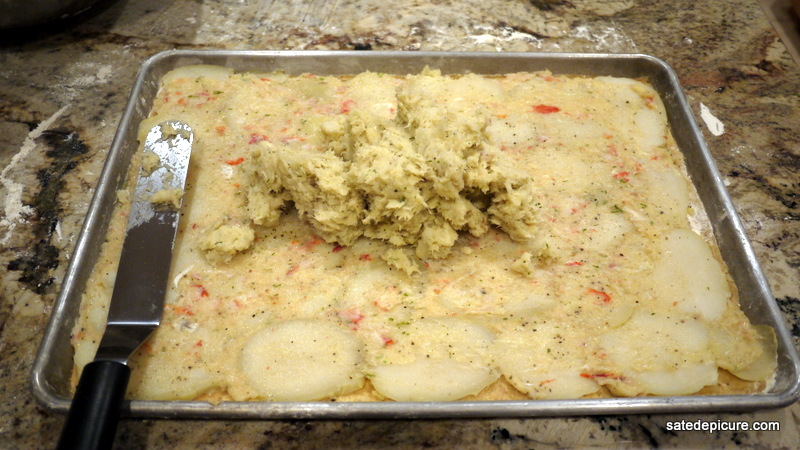 Spread a 1/2 inch layer of brandade onto the potatoes, be sure it is even.
Add the final layer of red crab and haddock puree. Be sure to spread it evenly.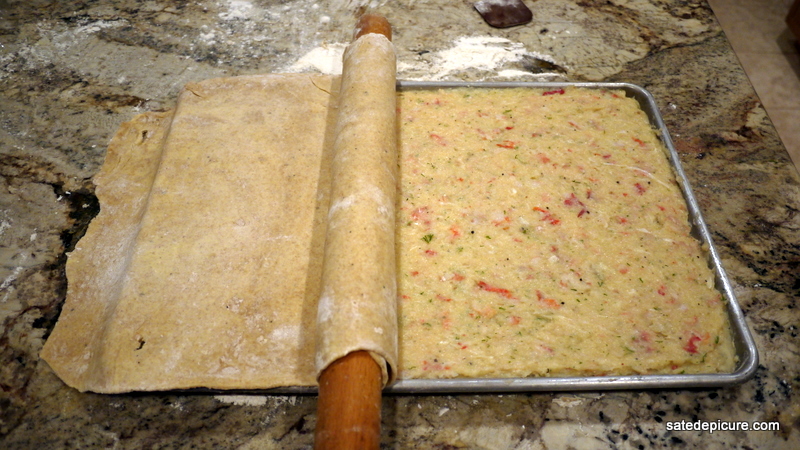 Add the final layer of dough.
Oven ready tart. This is a rustic dish, it doesn't haev to be perfect. Bake at 350 degrees for 20-25 minutes, cool and serve.