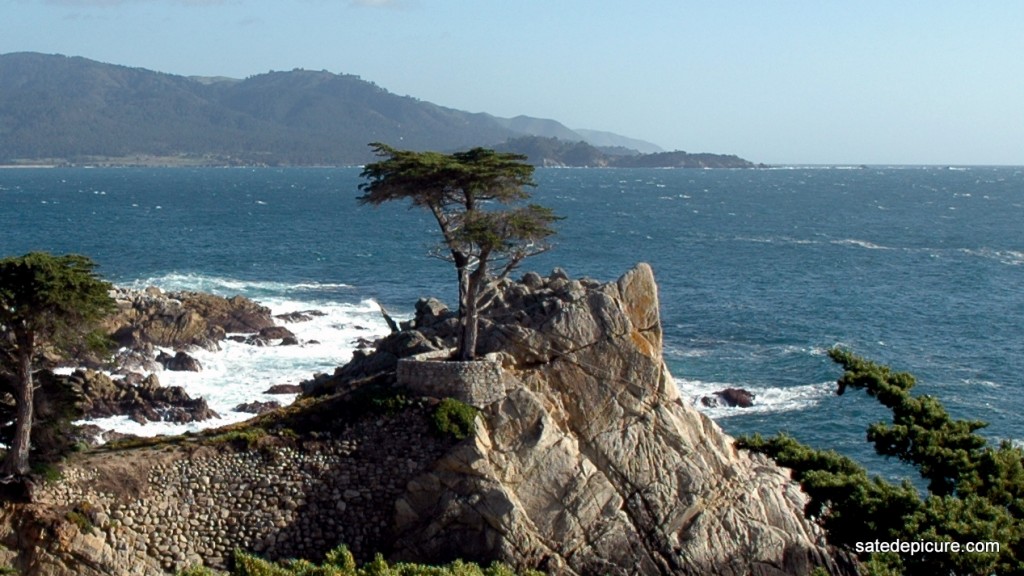 My exploration of Pebble Beach California had to include a trip to Roy's restaurant over at the Inn at Spanish Bay Resort. More than one foodservice insider told me that this Roy's outlet, one of 29 Roy's restaurants located in seven states (Arizona, California, Florida, Hawaii, Illinois, Maryland, Nevada), operated by famed chef Roy Yamaguchi is the best of all and that Mexican born Chef de Cuisine Pablo Mellin is one of Yamaguchi's more talented leaders.  After a wonderful long weekend in a rainy Pebble Beach volunteering for a local non-profit, the weather brightened up and I set out for Spanish Bay for dinner.  There is nothing like the drive south from Monterey along Forest Lake road to Seventeen Mile Drive. Once you pass the guard shack into Pebble Beach proper the world changes and a feeling of wealth and privilege pervades everything. The community is made up of homes belonging to the rich and, in many cases, the famous. The setting is absolutely amazing and fitting for The Inn at Spanish Bay, a resort that in early 2010 made the Conde Nast Traveler Gold List of the world's best places to stay.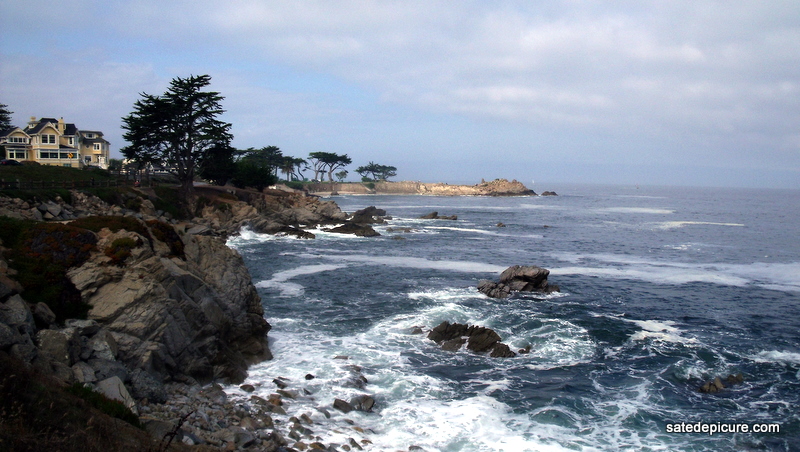 We pull up to the resort in our rental car, a nice Dodge Charger, and pass the keys on to the valet.  Sitting in front, parked for all to see is a spanking new Bentley GT convertible. Although some think it's kitschy to display cars like this in front of a hotel or restaurant, I love it; it sets a tone for the clientele and suggests that the place is special.  After all, we are at Pebble Beach. Just the night before I was in this same hotel and passed Tom Brokaw walking down the hall and said hello. I recognized his nasally voice while walking past and then had to step aside for Leon Panetta (a resident of Pebble Beach from what I hear) and his Central Intelligence Agency entourage (black Chevy Suburban SUV's at the front door and all) as they made their way to their vehicles parked at the entrance.  Spanish Bay is other-worldly and so are the clients that visit here.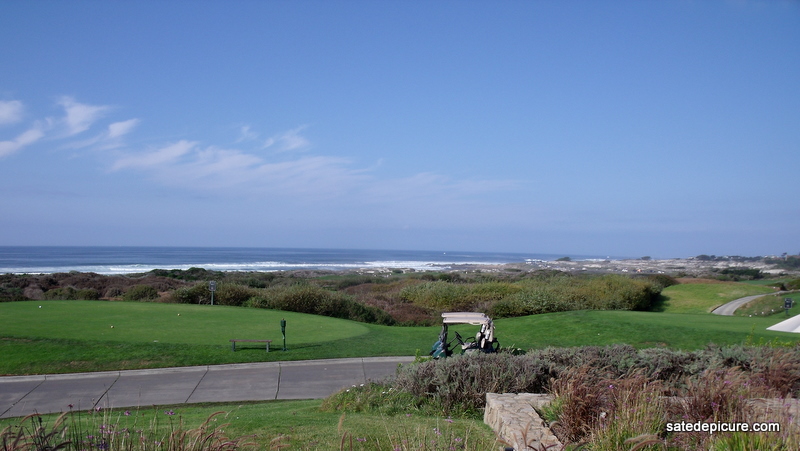 As we exit our car and head toward the resort's front entrance, I notice a gentle but comforting heat radiating down from the warmers located in the porte-cochere ceiling above us. By the time we arrived  the weather had cooled and this little bit of gentle warmth was a nice touch. Looking around the entrance, the building was well lit with large exterior windows and high quality architectural design.  All of the sidewalks and exterior grounds were spotless and perfectly kept down to each blade of grass.  The doorman held the door for the ladies, welcomed us warmly and, more important, genuinely as we entered. It was a wonderful first impression, just the kind of attention to detail that is becoming rare in this economy as we value engineer the finer details out of commercial life.
Roy's Restaurant Dining Room
Once inside Spanish Bay, finding Roy's is a straight forward task. You take a quick left, then a right and pass the main lobby and the large bar and sitting area and proceed toward the back of the room until you come to a maitre d' station at the entrance to the restaurant. On the other side of the restaurant's entrance the room opens up to a multi-level modern space with a huge open kitchen and a large dining room with well over 150 seats. Roy's isn't small and, when busy, the kitchen probably runs fast like a locomotive.  When we arrive its early (6:00PM) and the room is only half full.
Foie Gras Mochi $16.50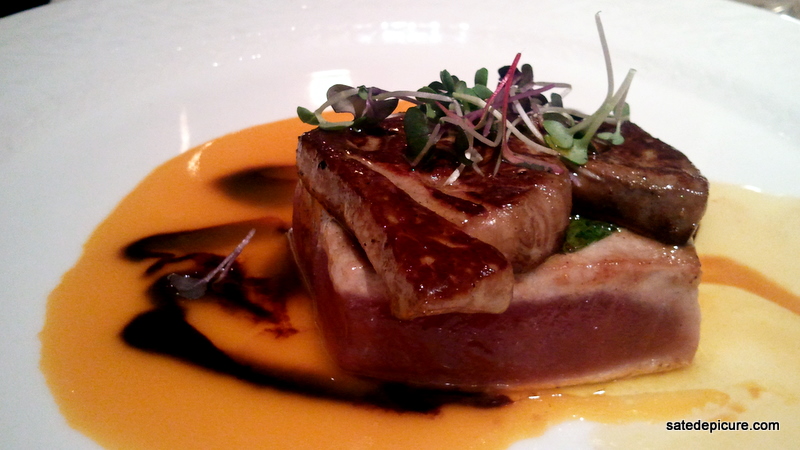 I am with a group of three other individuals and we quickly decide to share four or five items from the menu and place our order within minutes. Service is prompt if not a bit slow but this often is the case when a restaurant is running half full. Experience tells me that the best time to be in a restaurant, contrary to intuition, is when it is running full speed. Don't misinterpret, full speed means running at capacity not running over capacity. Restaurants hit a tipping point when more than ten percent of dining room capacity is pushing to get a table. They also hit a point of declining return when service is running at half speed. Give me a full restaurant with well managed table turns and no line at the door any day of the week. Roy's service was running slow but, luckily, the food didn't reflect this at all. Roy's is also just one culinary cog among many wheels that spin and make Spanish Bay the multi-million dollar resort that it is.
Spanish Bay Sunset Roll $19.75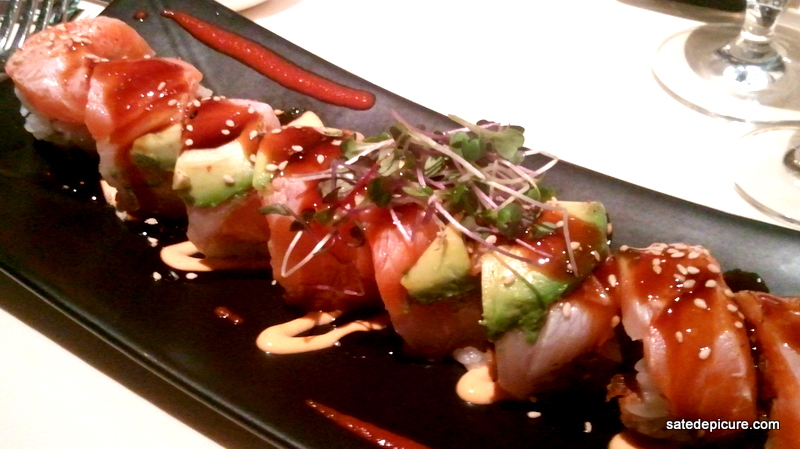 While at Spanish Bay I had the chance to tour the back of the house including the main banquet kitchen, pastry kitchen, the conference rooms and banquet dining rooms; all of them wheels that spin to make Spanish Bay what it is. The restaurant outlets, including Roy's, share a common purchasing, facilities,  operations, and human resource departments. I met Chef Mellin while taking my tour and talked with him for a minute or two. With jet black hair that's tightly cropped on the side, neatly trimmed mustache and huge smile, he is an affable, friendly, and passionate culinary leader. I was inspired to see one of our Mexican colleagues, a key hardworking group in American foodservice that often gets overlooked, finding such success and it was clear as Mellin made his way through the property that he was highly respected by his peers.  We need more of this in foodservice!
Our food arrives and we dig in. The first dish I taste is the Foie Gras Mochi with a healthy slab of seared foie gras sitting on a seared pave' of tuna. I have had this combination before and it is a match made in heaven.  My next taste is a sampling of sushi (maki and nigiri) with one piece each of Tuna, Salmon, and Yellow Tail and three pieces of spicy tuna roll with seaweed salad. My colleague orders the Spanish Bay Sunset Roll composed of spicy tuna and avocado and I taste a piece. Everything is at the peak of freshness, tastes great and is perfectly executed. Sushi is simple and varies little from place to place other than in the fine details like how the seafood is sliced and the quality and freshness of the ingredients. Mellin is using the best he can get his hands on and the quality we experience reflects this. We continue eating and try a couple other appetizer items and wrap up our dinner. The room is filling up now and the kitchen is starting to rock and roll as we head to the door.
Roy's Kitchen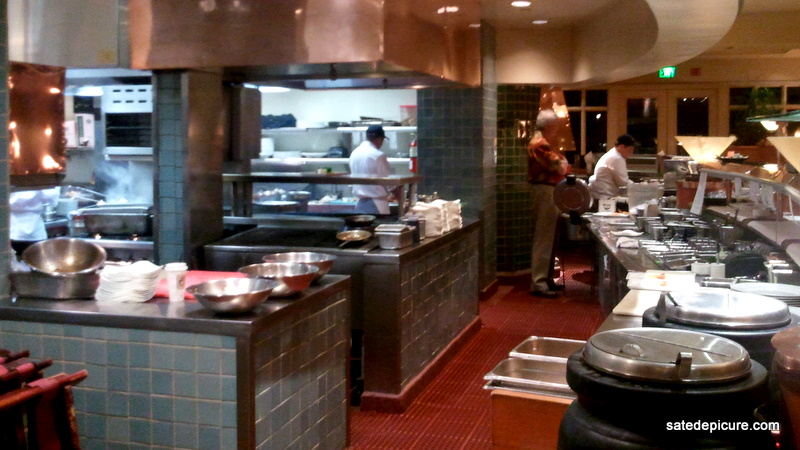 Spanish Bay is a beautiful property and may be the nicest of all the Pebble Beach resort properties. It's well maintained public spaces, tremendous Spanish inspired design, and pristine golf course (some say the best at Pebble beach) creates a relaxing if not ultra high-end feel and Roy's fits right into this setting serving  a super-fresh, light, Hawaiian Fusion cuisine. There are a few good restaurants in Monterey and some interesting places like Nepenthe further south in Big Sur but Roy's could be the leading restaurant in this stretch of California coastline (I will let you be the judge).
Roy's
Inn at Spanish Bay
2700 Seventeen Mile Drive
Pebble Beach, CA 93953
831-647-7500