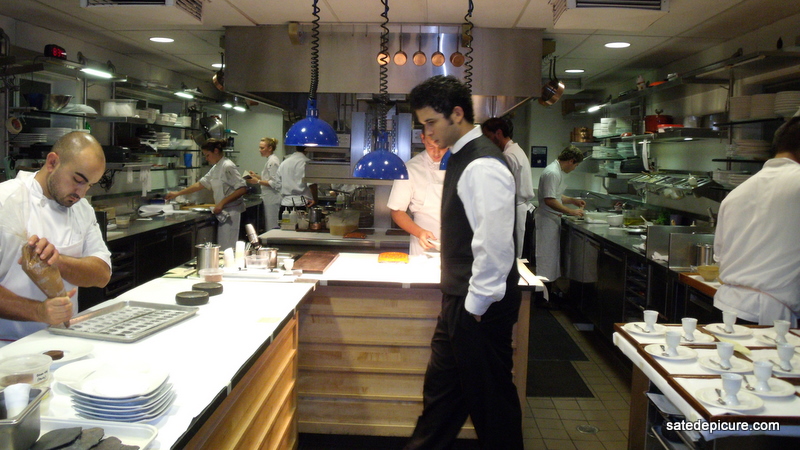 1.     Modernist or Molecular Techniques in Cooking
Molecular gastronomy has gained traction over the past decade and nearly all of the fine dining restaurants I visited (approximately 80%) employed at least one molecular technique (usually a stabilized foam). In 2011 modernist techniques will gain greater momentum based on several factors. Major academic institutions gave the modernist movement further momentum beginning with MIT's hosting of the TEDx Cambridge conference "How do you Eat" which featured presentations on multiple modernist topics. Harvard University's School of Engineering and Applied Science followed last autumn with an 11 part series on science and cooking that featured globally renowned chefs including Ferran Adria.  Attention from Harvard and MIT elevated the modernist movement to a new level but it's Nathan Myhrvold's epic work "Modernist Cuisine" due out in March 2011, that will give even greater momentum to scientifically based cooking and will assure that by 2012 the science behind cooking and food will become central to how young cooks learn their craft and force old cooks to learn anew. The science of food and cooking, otherwise known as molecular or modernist cuisine, will blossom in 2011 and reach full bloom in 2012. I predict that culinary schools will be abuzz with curriculum changes in the coming year in reaction to this seismic shift in how we think about food and cooking. We should all thank Nathan Myhrvold for his great intellectual (not to mention financial) commitment to advancing our knowledge of food.
2.     Seafood with Integrity
Simply put, pressure will be ongoing to assure that seafood, whether farmed or wild, will have integrity. With so many varying types of eco-labeling and certification programs (including MSC, ASC, ISO, Friends of the Sea, Global Aquaculture Alliance) in use, chefs lack a reliable way of determining whether the seafood they serve has integrity. This has resulted in a shift toward hyper-local sourcing of seafood (in some cases) and chef driven source and supply chain verification to assure sustainability and integrity in farming  or wild catch practices, wholesomeness, freshness, and the technologies used to increased yield and improve shelf life. Writer Paul Greenberg hinted at the concerns many chefs have is in his excellent book "Four Fish" and I suspect that chefs and consumers will grow increasingly concerned with the integrity of the fish they serve and eat and emerging issues such as genetic manipulation of farmed fish and advances in modified atmosphere shipping and packaging (including the use of carbon monoxide). The higher the degree of seafood integrity at a restaurant, the better the restaurant will do. Consider Legal Seafoods as the trend leader.
3.     Café Cuisine and Culture
In 2011 America will experience a resurgence of café cuisine and culture as an extension of the smart casual shift in fine dining of the past three years. As I traveled the country in 2010 I noticed this shift although it started the year before. Late in 2009 the New York Times described the trend as smart casual. While fast food restaurants shifted upscale in quality (not price) to fast casual, fine dining shifted down from formal to smart casual without losing focus on food quality. The smart casual movement provided consumers with great quality fine food in a casual dining environment that was more approachable and comfortable but didn't tip too far to the casual side. Today smart casual is shifting again to a more complicated café cuisine reminiscent of the quality you can find in local full service restaurants in continental Europe. Chef Francisco Migoya added momentum to the café cuisine trend by publishing a fantastic book titled The Modern Café (John Wiley & Sons) in 2010. Migoya is a one of the leading chefs in the country and the hands (along with some others) behind the outstanding food and service at Apple Pie Bakery at the Culinary Institute of America in Hyde Park, NY. I consider Migoya one of the catalysts behind the café cuisine trend. For an example of café cuisine in real-time visit the Apple Pie Bakery.
4.     The Necessity of Social Media and Custom Apple/Android Apps
Chefs and foodservice operators better be social media savvy and offer valued customers a custom application that works on both Apple and Android formats by the end of 2011. Having spent the past six months investigating the workings of applications for hand-held devices, it is clear to me now that we are experiencing the beginning of what will be a much larger movement in years to come. I particularly enjoy Zagat's NRU, Yelp,  Open Table, Epicurious, and Urbanspoon as examples. In addition to applications for mobile devices chefs and restaurateurs will increasingly use social media and digital communications to build their customer base and increase customer loyalty. Facebook will lead the way (this is not new news) along with savvy email campaigns and direct to consumer promotions and loyalty programs. Companies like Campbell's (see the Campbell's Kitchen App) are mapping the way for restaurants and other food manufacturers to participate in mobile marketing and social networking (yes Campbell's is a leader) in innovative and new ways while restaurants spend more time and resources than ever engaged in social networking and digital communications.
5.     Source Mapping and Transparency
In 2011 restaurants will continue to focus on the integrity of their products with an emphasis on supply chain and source management. It is likely that food purveyors, manufacturers, distributors, and restaurant operators will engage in increased source transparency and use technology to do so. Leo Bonnati, a researcher at the Media Lab at MIT, has developed a source tracking system and established sourcemap.org as an open source platform for tracking products through the supply chain and estimating their carbon footprint. In the coming year mapping technology will be applied in a larger scale and savvy restaurateurs will be proactive and ready to disclose where their products come from by mapping from source to table digitally and making this data available to the public. 2011 will be a year of expanded source mapping and transparency. Look to Stonyfield Farm as a leader.