The Five Reasons Why "Modernist Cuisine" is The Most Important Culinary Book of the Decade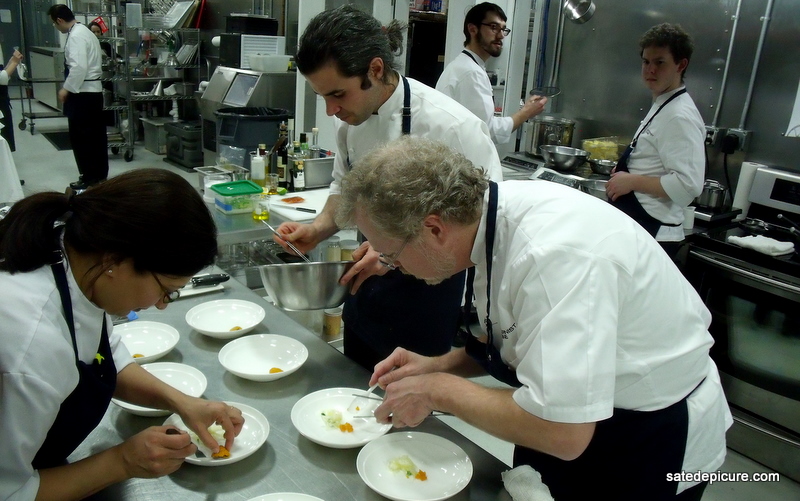 Chef Maxime Bilet and Nathan Myhrvold plating a course
I am trailing a small group of people including food writers, professional chefs, and culinary educators, being led by Nathan Myhrvold through the varying nooks and crannies of his IVF laboratories in Bellevue, Washington.  Myhrvold, dressed in dark slacks and a stark white short-sleeved chef coat, is animated his voice pitching up an octave from time to time as he gets excited. He is showing us The Cooking Lab with all its technology, tools, and toys. It dawns on me that he is Willy Wonka and I am a very lucky Charlie Bucket. There are fourteen of us here tonight, each with a golden ticket. Our purpose is to experience a 28 course menu prepared by Myhrvold's team in celebration of the release of Modernist Cuisine; a book authored by Myrvold and chefs Chris Young and Maxime Bilet. Myhrvold is showing us around the lab as a warm up to what will be a dinner of the century later in the evening. In the first room he shows us a microwave oven that he cut in half, magnetron tube and all, so it could be photographed for the book. Next, pink cheeks aglow and smiling with excitement, he shows us the electric plasma cutter he used to slice other pieces of equipment in half and a high powered water jet cutter where he custom fabricates all sorts of matter.  Why? Because he can!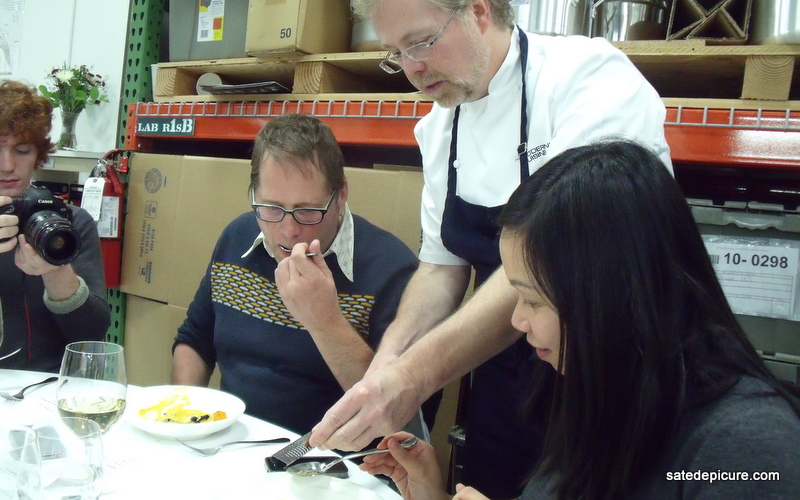 Myhrvold shaves Sea Urchin "bottarga" for Pim Techamuanvivit while Chef David Kinch looks on.
I find him energized, brilliant, and immediately likeable, and intellectually one of the smartest (if not the smartest) person I have ever met. Myhrvold has invited a diverse group to this dinner and is completely aware of how amazed (and jealous I must admit) we are by his laboratory. Chef Sam Mason, former pastry chef at WD50 is to my left, tattoos bursting with color (he radiates cool), and the shy, extremely talented and kind David Kinch of Manresa is to my right, dapper in a blue sweater and knit scarf. Ahead of me, the legendary and statesmanlike Harold McGhee, the original curious cook, is peering at an electron microscope as global food expert and rock-star blogger Pim Techamuanvivit (Chez Pim)takes photos. In 2010 Fast Company called her one of the most influential women in technology. How the hell was I lucky enough to get on this list? Myhrvold passes by an electron microscope and a large printed image of what appears to be the roundworm Trichinella spiralisis taken using the device while researching content for Modernist Cuisine. I am floored that these folks have their own electron microscope and notice that Myhrvold is smiling at us. What fun!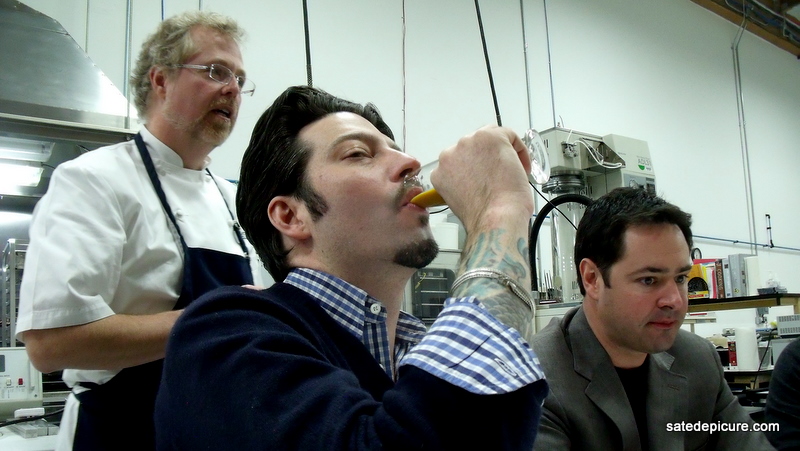 Chef Sam Mason downs a glass of Foie Gras Egg Nog, Myhrvold to his right, Chef Chris Young to his left.
We turn another corner in the lab and make a loop back to the IVF kitchen where two tables of eight have been set for our dinner. Myhrvold wraps on a blue apron, explains that we will enjoy 28 courses that are intended to show the range of techniques and recipes featured in Modernist Cuisine rather than a menu focused on a logical progression of flavor (although that was a consideration too I am sure). We all sit excited with anticipation, and fasten our seat belts. It's 6:45 P.M. PST and our first course is placed on the table: Asian pear, Watermelon and Spicy Pickle Chips. The pears, watermelon and pickles are sliced, coated with modified starch slurry, compressed in vacuum bags, removed from compression, patted dry and fried. I have never had crispy watermelon before and it's delicious. The pickles are even better. My mind drifts for a moment as I look around at the other guests and realize we are in for a night.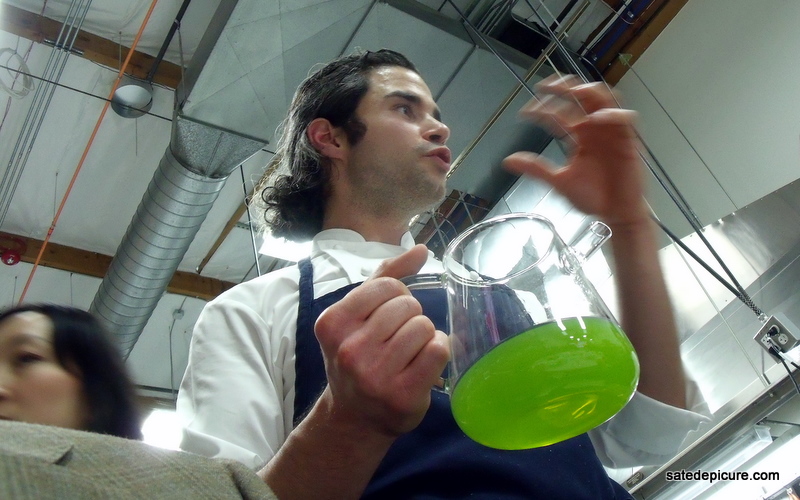 Chef Maxime Bilet with centrifuged pea juice
The rest of the meal ebbs and flows from extremely simple items like the fourth course of grilled chicken skin glazed with pineapple and Sansho pepper (cooked sous vide for 12 hours prior to grilling, powerful chicken flavor, crisp, deeply savory, addictive) to the incredibly beautiful and complex thirteenth course of rare beef stew (an extraction of beef broth kept rare through separation in a commercial centrifuge poured over the most beautiful three Michelin star composition of garniture).
I provide detailed descriptions of the meal and with photos at http://satedepicure.com/2011/02/1365/.
It's 10:34 PM now and I am chewing on the last of 28 courses: fresh made olive oil, vanilla, and thyme gummy worms. Myhrvold, radiating with positive energy, holds up the fish lure molds he used to make the gummy worms and explains the recipe to make them (for more buy the book). They are the best damn gummy worms I have ever had. I close my eyes for a second to soak in the moment and consider how blessed I am to be here. Every once in a while life comes to a complete stop and I realize that I am experiencing first hand significant moments in the evolution of our profession. Tonight is one of those nights and Myhrvold, Young, and Bilet, have sent us crashing through a glass ceiling of culinary practice. I hover in mid-air over his lab in Bellevue Washington looking down on the city below. My golden ticket still in hand, it is clear that the culinary profession will be profoundly changed by the tremendous gift Myhrvold and his team has given to the profession.
I offer below five simple reasons why Modernist Cuisine is the most important book of the decade. Note that I feel the five reasons listed are a gross understatement of the real value and importance of Modernist Cuisine.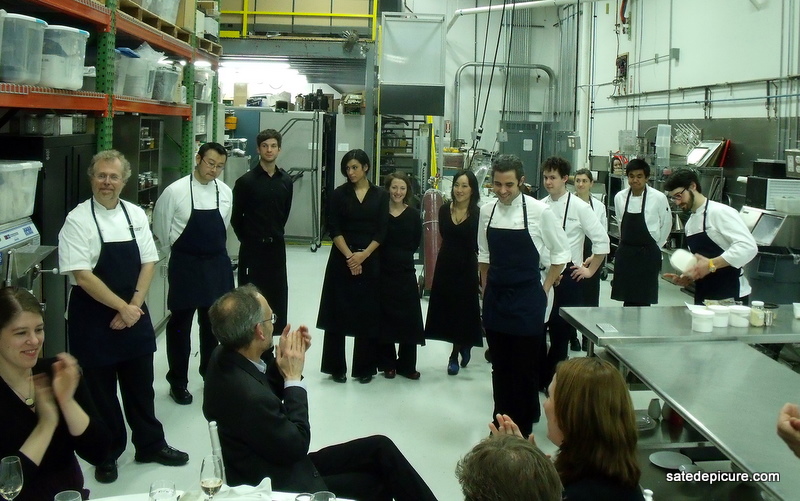 The Modernist Cuisine team at The Cooking Lab
Reason 1: The Perspective and Intellect of Nathan Myhrvold
Myhrvold's intellect is of a level and type unique in the world. He is one part Thomas Edison and another Auguste Escoffier. That food and cooking caught his attention and that Modernist Cuisine is the result is an enduring gift to the culinary profession. His perspective and intellect inform the many discoveries, schema, and taxonomy that appear in the book. Without Myhrvold's mind as a lens, the new discoveries and syntheses of prior practice would not have achieved the level of innovation documented in the book. Nathan Myhrvold is the first reason why Modernist Cuisine is the culinary book of the decade and we should thank him for sharing his intellect, curiosity, and resources (he funded this work himself).
Reason 2: Modernist Cuisine Places Modern Cooking into the Context of Traditional Cooking
Modernist Cuisine is not about molecular gastronomy, it's about linking modern cooking with traditional cooking in an evolutionary and, subsequently, revolutionary way. Just as Escoffier (and others) codified classical cuisine in the late 19th and early 20thcentury, Myhrvold and his team have done the same from a modernist perspective. Historically, something of this magnitude tends to happen once a century. The influence of Modernist Cuisine will be nothing short of Le Guide Culinaire and will probably exceed it from a historical perspective. Basic scientific method was used to unpack the science behind cooking and food without any sacrifice to the aesthetic or emotion to food or dining. Myrvold, Young, and Bilet took this scientific knowledge and polished it with a solid understanding of the aesthetics and creativity that underlie a great dining experience. In turn they discovered many new and tantalizing facts and techniques. Modernist Cuisine is about using scientific principles to inform food preparation in pursuit of making food and a dining experience better. Through it all, Myhrvold and his team repeatedly state that in order to understand modern cooking you must start with a firm understanding of traditional cooking from which to build.  I am reassured by the notion that Modernist Cuisine is rooted, in part, in the traditional. The baby wasn't thrown out with the bathwater; instead the water was tossed and replaced with fresh water precisely heated with a thermal circulator.
Reason 3: Modernist Cuisine is Incredibly Thorough and a Great Value
The breadthand depth of topics covered in the book, all 2438 pages worth, is expansive. Myhrvold must have spent a fortune unpacking each of the topics he covers and there are few organizations or individuals on the planet that could have matched the effort, passion, and completeness of his coverage. There are five volumes in the set including: 1)History & Fundamentals, 2) Techniques and Equipment, 3) Animals and Plants, 4) Ingredients & Preparations, and 5) Plated Dish Recipes. Although priced at $625 per set, Modernist Cuisine represents a tremendous value when you consider its content. $625 is a small price to pay.
Reason 4: Modernist Cuisine is Advanced Professional Cooking and is Approachable
The book is written in easy to understand language. Myhrvold, Young, and Bilet were thoughtful about keeping the narrative easy to read. They offer thousands of photos, illustrations, and diagrams including  innovative models like a periodic table of essential oils and a table of egg custards. The "parametric" recipe format used is virtually foolproof as long as you can precisely measure. The team has produced a volume that is within reach of most cooks young or old, professional or not.
Reason #5: Modernist Cuisine Throws Convention on its Head
I thought, after 30 years of professional cooking, I knew what I was doing. Myhrvold proved me wrong and demonstrates that we barely know anything about the real science of cooking and food. While sitting in his IVF conference room, Myhrvold had an assistant place a vitimix on the conference table. She proceeded to pour a 750ml bottle of red wine into the blender and then she fired it up, pulsing for four or five times. Then she poured the wine into glasses and we did a side by side comparison of the aerated wine and the same wine straight from the bottle. We all tasted and the aerated wine was wonderful. Point made: wine can be aerated in seconds using a blender. Why hasn't anyone thought of this before (my oenology friends are probably squirming)? This is just one example of how Myhrvold throws convention on its head. The point of this isn't to raise the dander on sommeliers across the country, it's to prove that much of what we practice in our profession is handed down from generation to generation without any regard for the science behind what we practice or concern for improving practice based on this science. Modernist Cuisine will shift us in the right direction.