Wrapping up my commentary on a recent trip to Gotham, it's late at night, or early in the morning depending on how you look at it, and I am bouncing around in the village. On a lark, I head over to see if Chef Wylie Dufresne is at his station at WD50; he's there. The restaurant is nearly empty and there are seats at the bar so I belly up and relax for a while, enjoy the cool air, and have a quick nightcap before heading up country (to 89th and Lexington).
Wyllie's' maître d' greets me at the bar and after a long shift he's turned out in a perfect grey suit, pink shirt and salmon tie, hipster hair parted to the side and a huge smile. He's a musician doubling as a two Michelin star host and carries himself like a mixture of the two. Cool cat indeed. After a chat, I slip to the back kitchen and catch Wylie doing his final rounds before he packs it in (its 1:22 am). His wife is eight months pregnant and he is headed out the door soon. However, there is no pressure for us to leave so I aggregate with a group of folks by the bar. One never knows what to expect late night in New York.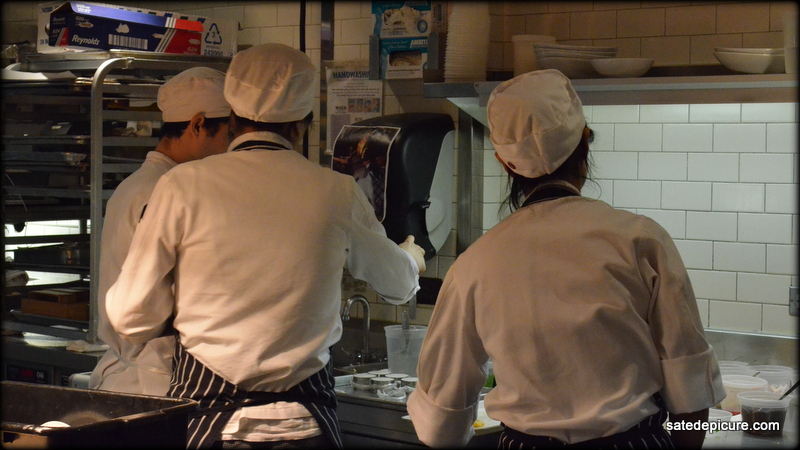 It strikes me as odd that there's a guy at the bar wearing a tuxedo with real bow tie, French cuffs and L.L. Bean rubber boots. Heading toward the bar I get a full profile of the guy, he's wearing Phil Donahue glasses with his hair slicked back. Turns out he's a D.J. visiting with a couple of friends one of which is a Ph.D. candidate at Columbia in food science. They came to W.D.50 because of her, straight from one of the D.J.'s gigs.
Now we are all at the bar and Dufresne' s long time bartender starts making custom cocktails, carbonating them to order using an industrial sized cylinder of CO2. I start with an Averell Damson gin liqueur and carbonated grapefruit. Crisp and refreshing it goes down easy. With a refill, I take one more trip to the back. The kitchen crew is now ending the day with a final round of desserts coming of the pass.  Three pastry cooks shuffle to clean up the station and write a final prep and purchase list for later in the day.  I finish my drink and watch as the lights in the dining room are dimmed, the custom red flame lanterns on either side of the kitchen casting a warm glow through the room. Another restaurant day is ending.
Dufresne reappears in green cargo shorts, black back pack and helmet with flashing red light in front. He unfolds a Swift Folder bicycle, the kind of bike where you pop the pedals off, store them under the front handlebar, pull a pin and flip the thing in half. In New York where space is at a premium, it makes total sense. Headed for the door, he turns on the flashing helmet light, a taillight, and handlebar lantern and heads to the curb. Like a flashing Christmas tree, Dufresne rides off into the city at 2:05 a.m., headed home to his young son, pregnant wife and a short night of sleep before starting it all over again. This is the back end of a restaurant experience that most people never see; the final part of the day when things come to an end and an exhausted team of cooks head out into an existence that runs polar opposite the rest of the word, circadian rhythms upended. Their 2:00 a.m. is your 5:00 p.m., but the world offers nothing this time of night other than an underground world known to professional cooks and others who share this temporal existence. Nowadays I am just a visitor to this dimension and I too head out the door, grab a lonely late night cab and head north, my 2:00 a.m. is still 2:00 a.m.
WD50
50 CLINTON ST. between Stanton & Rivington on Manhattan's Lower East Side
212.477.2900