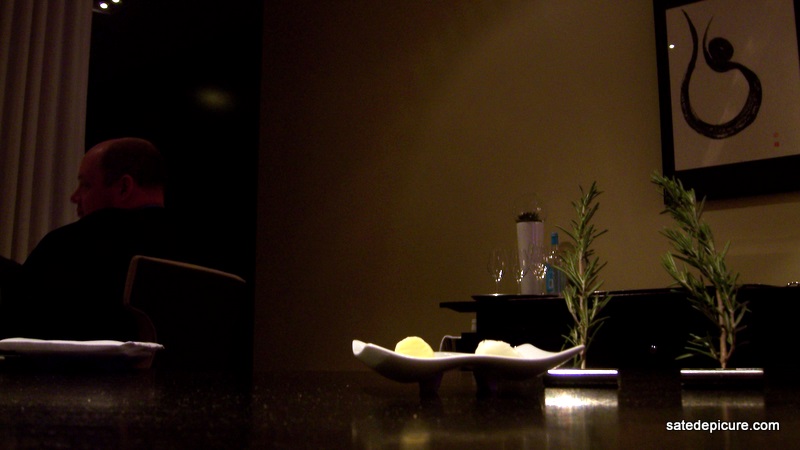 Reading Christopher Borelli's March 15th story about Chef Grant Achatz in the Chicago Tribune last week motivated me to finish up this posting about my first trip to Alinea. Borelli's story piqued my interest and left me emotionally mixed due to the subtle rancor it exposed between Achatz and Chef Charlie Trotter, a rancor that has existed for years. Those of you who read this blog know that I admire Charlie Trotter and consider him a friend. He has made an indelible mark on American cuisine and, to my dismay is occasionally vilified for his intense personality and leadership style. It seems at times that people fail to notice his incredible heart and his enduring commitment and contributions to the profession. We are all fickle at times.
Achatz, on the other hand, is a true inspiration. I know him by two degrees of separation through a very good friend who worked as poissonnier at the French Laundry when Achatz was the chef de cuisine there and through several others who have stagieired with him. Achatz's reputation is stellar and those that have worked for him stay in contact and consider him a friend. They speak of him with deep admiration of an authentic and heartwarming kind. That Achatz earned three Michelin stars delights me; that Trotter did not is saddening. In all forms of art there is a natural passing of the guard as generations shift, new talent emerges, and earlier icons transition to the background. In such a physically demanding profession, this is the cycle of life. Examples from the profession are too numerous to mention. I know Trotter could achieve 3 stars if he chooses, he and his team have the talent, drive, and resources. Time will tell.
Rather than see this cycle of change as unnatural or competitive like a foot race where a younger culinary runner outstrips an older runner who used to run a four minute mile, I see it as a relay race where Trotter burned a lap or two at his peak and has now handed the baton, begrudgingly, to Achatz. Someday Achatz will go through the same cycle and relinquish the baton to another younger culinary runner. Alinea is the restaurant in Chicago right now, one of the top 5 in the country, and Grant's legacy is assured. However, Trotter's legacy will remain intact too even as Achatz takes the lead role. Had Michelin come through in the 1990's or early 2000's, Trotter would have three stars. These are the mixed feelings that come to mind as I write of my delightful experience at Alinea; one that is on par and compares with my first trip to Charlie Trotter's way back in the early 1990's.
Alinea
It's cold and dark and I think my cab driver is lost on the north side of Chicago. The address we are searching for is on North Halstead and that's where we are, heading north but we can't find our destination. We are desperately scanning the rows of brownstones for 1723 North Halstead home of Grant Achatz's Alinea. I know we are in the right place but there's nothing but row houses along the street. Its 9:20PM and my reservation is for 9:30. I am starting to get pissed, concerned that the cab driver took me to the wrong location. I wonder if I should get out of the cab and walk a while, but the street is deserted and I worry I won't be able to find another cab if I am in the wrong place and have to back-track. The driver pulls over and we try to figure things out.
That's when we see a bunch of people congregating around the entry of a two story loft like building made of grey brick and glass. It has to be Alinea. There is no big sign, no flashing lights or anything else. You arrive at Alinea when you find it. A stark contrast to the press and hype that Chef Achatz has endured these past five years, his name in lights everywhere but here. I pay and tip the cab driver feeling apologetic for assuming he was at fault and make my way across the street relieved to be on time and feeling excited.
In the dining room now, I am greeted and escorted directly to my table, a stark square table with a dark wooden top. The dining room is modern, equally as stark and comfortably spaced. Sitting alone for a bit I check out the service ware, glassware is Spiegelau, china is Bernadaud or custom made (as I will soon find out). Scanning the room while I wait, there are two waist-high buffets pushed up against a wall with white cloth tops, the servers using them as side stations. I continue to wait. The sound of a barely audible acoustic guitar floats from the sound system in the background. I unwind and relax. This environment feels cool and relaxing in a minimalist, Zen-like way.
Finally my server approaches, introduces himself and asks if I am planning to have the 12 or 22 course menu. This is an interesting question and one that I didn't expect considering the fact that I wasn't provided with a menu yet. Intuition firing, it becomes clear that the rules at Alinea are different so I ask how things work. My server educates me. The rules of the game require that I order from either the 12 course or 22 course menu. The menus are prix fixe and "engineered" for maximum flavor, balance, and creativity but can be adjusted for food allergies (not any) and dietary restrictions (none, thank you). Other than that, you are along for the ride and eat what you get. And this is where things get interesting. My meal was breathtaking and full of surprises and emotions unlike any other I have had before. Here's a recap.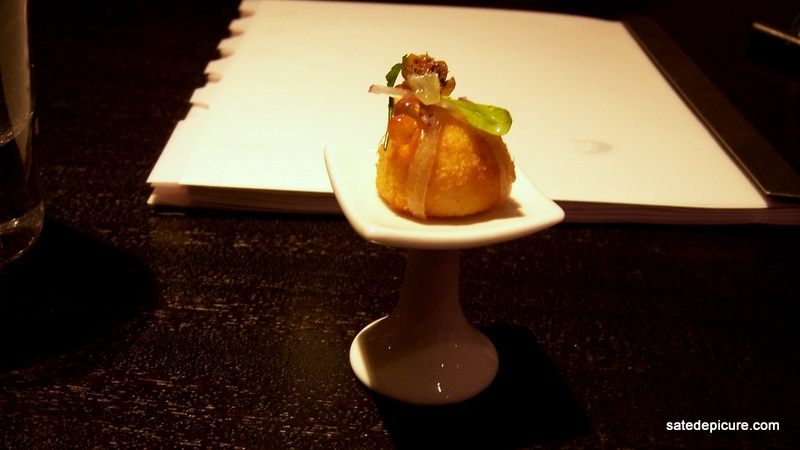 Croquette of Steelhead Roe with Parisienne of Cucumber, Sour Cream with Endive, Fried Caper and Steelhead Roe.
The little white ceramic pedestal this dish is served on intrigues me. That it is piping hot in the middle with so many tiny little garnishes blows my mind. Achatz's mise en place must be pristine.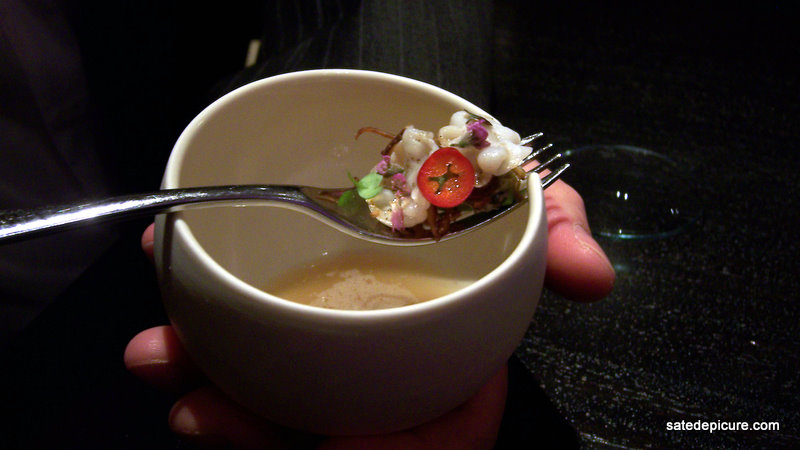 Lightly Grilled baby Octopus with Shiso and Broth
Another complicated dish with another twist added, the server hands you the bowl and warns not to put it down. Once you have the bowl in your hand, you must engage this dish and eat it. To keep things simple, a fork full of octopus is balanced on the edge of the bowl and ready for consumption. A quick bite off the fork and a couple of sips of the broth and it's done. Servers rush in to take the bowl before it rolls across the table.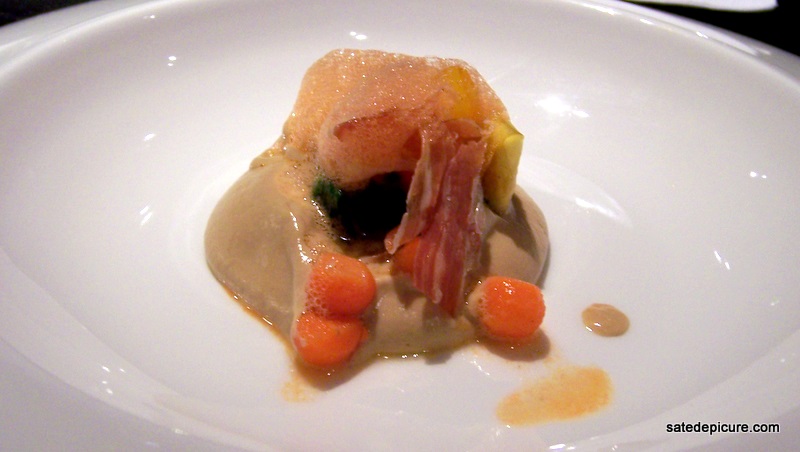 Golden Chanterelle Puree with Curry, Spinach, Dijon, Tomato and Apricot, Cured Ham, Carrot Foam
I have to admit that the thought of curry, apricot and Dijon didn't initially appeal to me but once I tasted this dish I loved it. The deep savory mushroom puree with its silky texture served as a perfect base for the additional garnish and none of the garnishes were lost in this dish. Each brought its own notes of complimentary texture and flavor.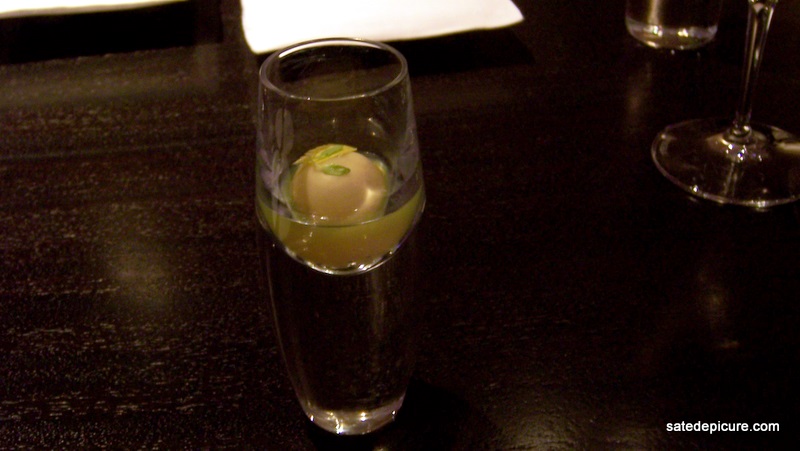 Celery Water and Apple Juice inside a Coco butter shell, Micro Celery Fronds
When the server places a top-heavy crystal clear shot glass with a tiny white ball and some green liquid in front of me, I am once again intrigued. The server warns to suck this item down like a shooter and to keep my mouth shut once I have the ball in my mouth to prevent it from exploding out across the table. In it goes…and wham…there's an explosion. The cocoa butter ball totally bursts open upon impact and melts in milliseconds on contact with my tongue. The apple juice is tart and washes it down leaving a perfectly clean palate. Just incredible.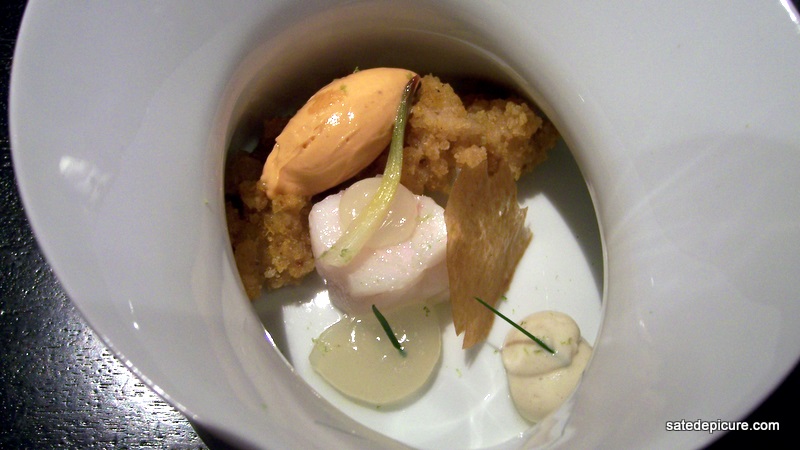 Monkfish Loin Fillet and Liver Quenelle with Banana Lime Pudding, Crispy Monkfish Tail, Dehydrated Onion Paper, Chive and Snowy Ramp
This dish is served in a lovely Luna plate is by "O" and it looks a bit like a commode. The presentation is striking if not subdued. Although a contrast in flavors that are rich and lean, savory, sweet, and acidic, this dish is also a real treat in contrast including smooth (quenelle), creamy (pudding), toothsome (loin), and crisp (tail and onion).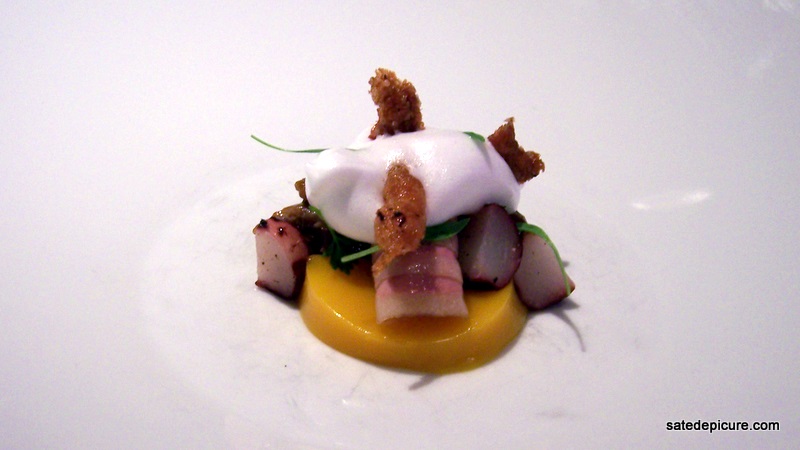 Juniper Duck 3 Ways with Wine Braised Turnips, Duck Leg Confit, Sliced Cured Duck Breast, Duck Craklings, Whipped Yogurt Water and Mango
My server places a pillow in a white linen cover in front of me of me and I don't know whether to take a nap or use it as a napkin. A moment later the same server returns with my duck dish and places it on the pillow and the pillow immediately begins to deflate letting out a gentle bursts of juniper "air" that engulf my face. Inhaling the juniper, my mouth waters and I dig into the duck. Some real thought had to go into this dish, the flavor profiles engineered into it, and the theatrics that surround it. The overall experience is stunning.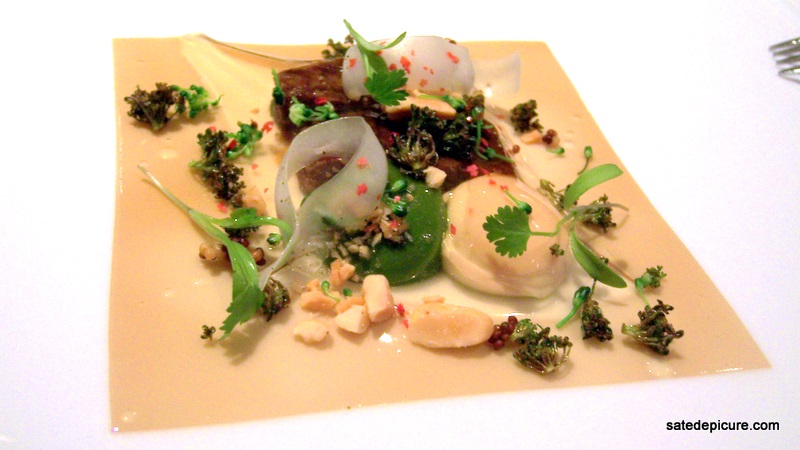 Cayenne Short Ribs with Guinness Gelée, Toasted Peanut, Peanut Puree, Broccoli Puree, Shaved Broccoli Stems, Crispy Broccoli Florets
Just when I think there are no surprises left, Achatz's serves this piping hot short rib with a thin sheet of gelée over it. It looks like he shrink-wrapped the plate prior to sending it out to me. The gelée is suctioned to the short ribs and pureed garnish below it. Additional garnish are placed on top of the gelée providing a wonderful texture and contrast to the items pressed below. Aesthetically, this is the most profound course yet. That Achatz would think to create a thin sheet of gelée with the perfect level of bloom so that it stays intact over hot food but still melts effortlessly on the palate and then execute it so flawlessly speaks to his craftsmanship and creativity. The dish is absolutely delicious.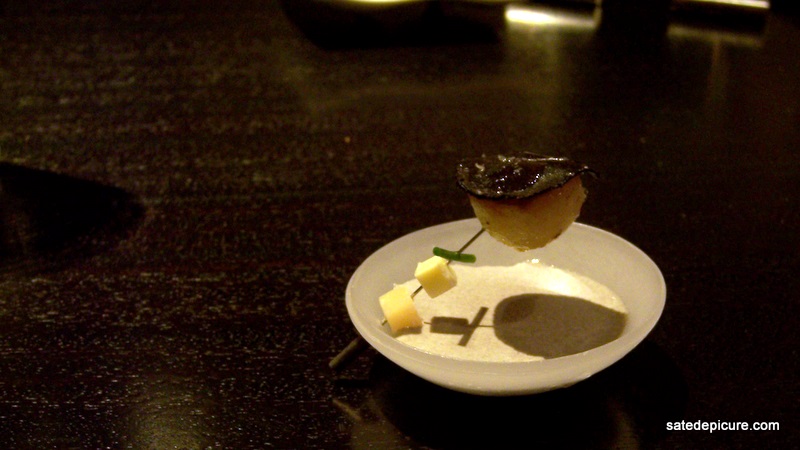 Potatoes and Truffle
This simple bite-sized item is a study in simplicity, the wax bowl seeming to me to be a bit of a novelty. Great tasting and the truffle is bold and full flavored.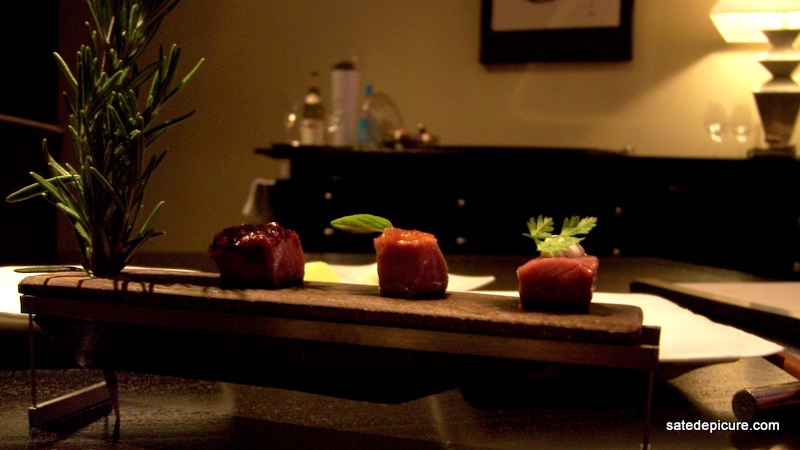 Lamb Loin Three Ways
Three square pieces of lamb arrive at the table on a sizzling hot rectangular stone mounted on a custom metal frame. At one end of the stone, there's a bunch of rosemary propped up vertically through a hole. My server lights the tips of the rosemary and they smolder for a second or two, the scent of deep toasted pine lingering over the table. I consume this dish using chopsticks, each chunk of tender sous-vide lamb going down in one bite. The toasted rosemary is a nice touch.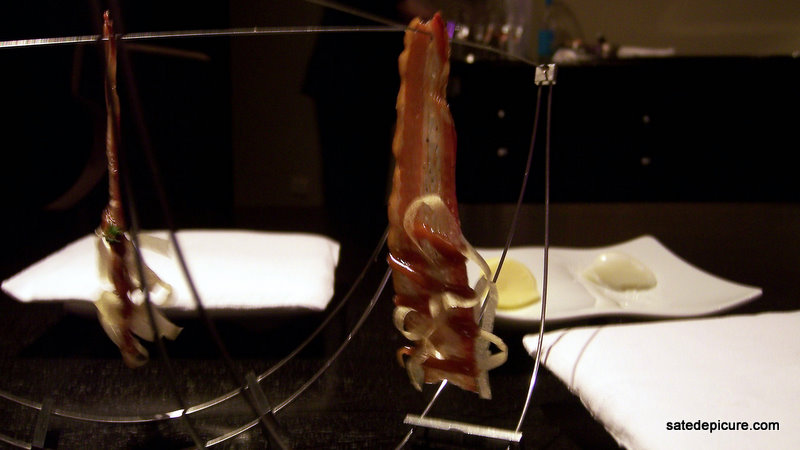 Bacon
Anyone who serves bacon as a course unto itself is a hero in my mind. Achatz's fresh bacon is creatively served on a wire frame and is delicious and mild.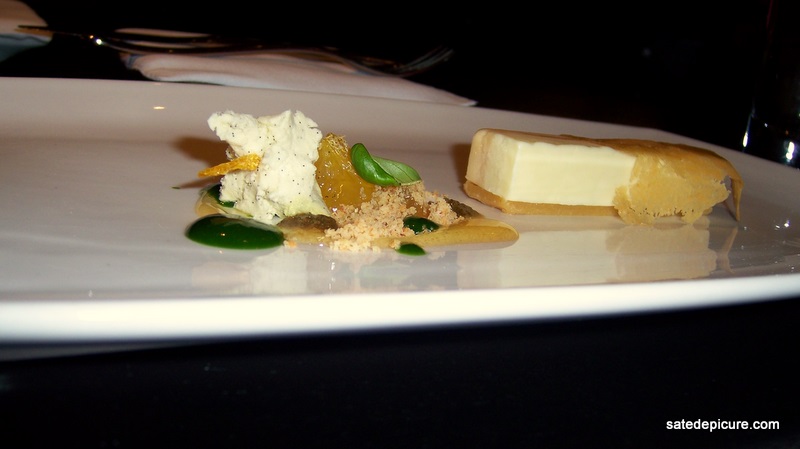 Extra Virgin Olive Oil Ice Cream
The olive oil ice cream is smooth and delicious and the pressed cookie base under the pavee is fantastic.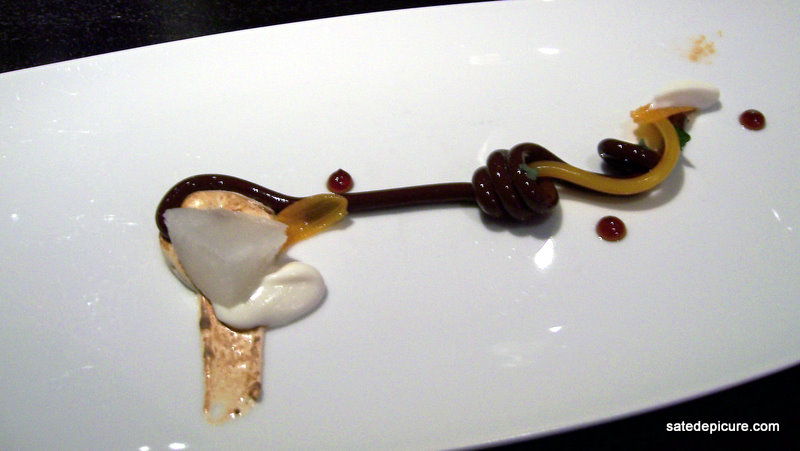 Chocolate and Passion Fruit Noodles
These hydrocolloid noodles represent a molecular technique that I like but feel is a bit over-done. Luckily they taste great; the chocolate is deep and slightly malted and the passion fruit a nice end-of-meal palate cleanser.
~~~~~
This is a long entry and one I have been meaning to post for some time. This meal was an adventure. When I started my meal without a menu my curiosity was peaked and each dish thereafter exceeded my expectations, entertained me, was innovative, delicious, and engineered on multiple sensory levels. There was more than a light dose of theater in my experience: exploding apple, puffing pillow, burning rosemary and all. Alinea is a national treasure and a place that, in my mind, defines one of the many facets of American fine dining in the new millennium. Achatz deserves three Michelin stars for taking the experience of dining to a whole new level. May he run the fastest lap yet during his time on the track.
Alinea
1723 North Halsted St
Chicago, IL 60614