It's close to noon time and I am running late. A light but steady delicious San Francisco rain is drizzling as I make my way down Market Street through the center of the city. My first visit here was in 1985 and it was raining that day too and each time it rains in this city I am reminded of that first wonderful trip. We made the run from Lake Tahoe in a beat up Chevy Caprice, landed in San Francisco for a series of eating experiences and, later that night, pushed south to Santa Cruz and slept in the car near the beach stomachs full and sated. I ate my way through the city for the first time then, the experience new and electric, and I plan to do it again this time. The sweet San Francisco rain comforts me and gives me life as the Ferry Building comes into view.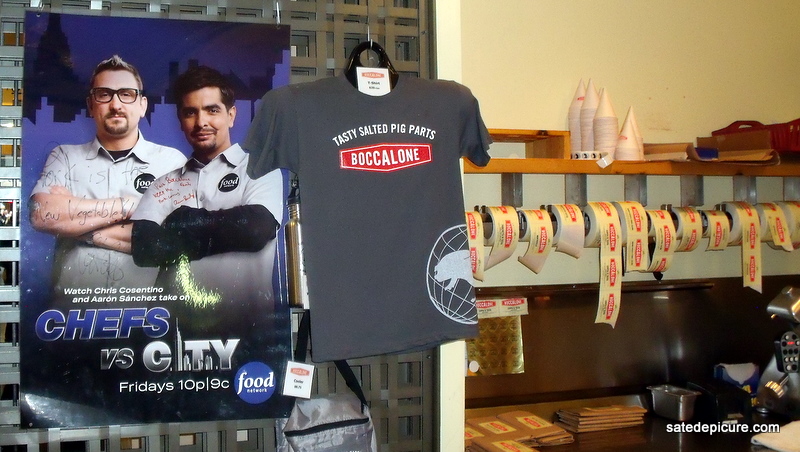 At present, I have less than an hour to get to Chris Cosentino's Baccalone to try some "Tasty Salted Pig Parts". As you know from prior blog entries, I really, really love tasty salted pig parts and I love that there's a retro garde manger movement taking hold in America. Baccalone is a manifestation of this movement as are some of the other examples I have written about like Cochon Butcher in New Orleans and il Mondo Vecchio in Denver. John Kowalski author of the new and outstanding "The Art of Charcuterie" has given further momentum to the movement and provides one of the best explanations of the production of dry, semi-dry, and fermented sausages. That a book of this quality has just been released in 2011 is further evidence of my prediction of the expansion of the art.
As these thoughts cross my mind my mouth starts to water. I have less than an hour before I have to return to the conference I am attending so I pick up the pace while traversing The Embarcadero to the Ferry building marketplace. The Ferry Building is a destination resort for food lovers. You can always tell whether you are in a city dedicated to good food by the types of markets and foodstuffs sold and this building and its farmers market is the center of gravity in San Francisco. Although the Ferry Building is packed with world class restaurants and food boutiques, what attracts me the most is that it is home to CUESA, the "Center for Urban Education about Sustainable Agriculture" and a food with integrity philosophy that more communities should mirror.  Three days per week the building comes to life as the Ferry Plaza Farmers Market, a market full of certified farmers selling local farmstead products, attracts food lovers from across the city.
Inside the building, there are multiple shops and food retailers that follow a less stringent set of standards but still carry a tremendous food ethic. Baccalone is one of those shops and as I enter the building, it comes into view directly across the hall to the right of the main entrance. With a large arched storefront leading to a retail space that includes a three door curing cabinet (for those tasty pig parts), chilled case with vacuum packaged terrines, sausages, and pates, and a large display of dry cured sausages wrapped in brown paper, Baccalone has a artisan feel to it. I approach the curing cabinets and peer in. There are nearly a dozen varieties of salumi hanging at 70% humidity and several are dusted white in full bacterial bloom. I take notice of a beautiful batch of Nduja spreadable salami on display and I start to crave a taste. Another case is loaded with tasty little links of Capacollo.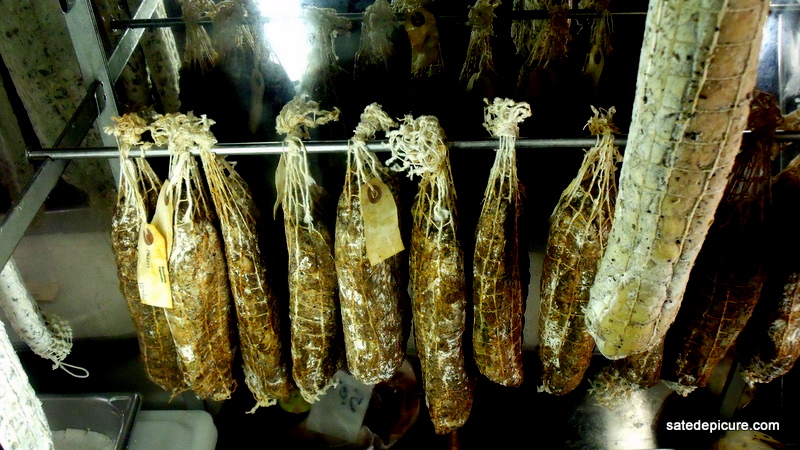 To the right of the curing case there's a large display of additional charcuterie including vacuum packed slabs of pate de Campagna and silky white chunks of Lardo. One of my favorites on display in the case is Cosentino's Ciccioli terrine. He prepares this classic garlic and rosemary flavored terrine by braising pig parts with skin and fat and pressing them into a mold. The package on display in the store clearly shows layers of pork skin and fat bound in braised meat with natural gelatin. Next to the Ciccioli there's a fresh Coppa di Testa head cheese and a beautiful Sanguinaccio pork blood sausage. I have to restrain myself from loading up my basket.
Curious about the dry cured and fermented products on display I pick out a package of Orange and Wild Fennel Salame and a Salame Pepato; dry cured salami with pepper. At the counter I also grab one of Cosentino's famous mixed salumi cones and devour it while paying for the rest of the items I have picked out.  Time is running out now so I head for the exit smiling with delight. It was a good visit even though it was short. The staff at Baccalone was friendly, knowledgeable, and passionate. The product on display was fantastic and I plan to cut into the two Salame when I get back to my room tonight.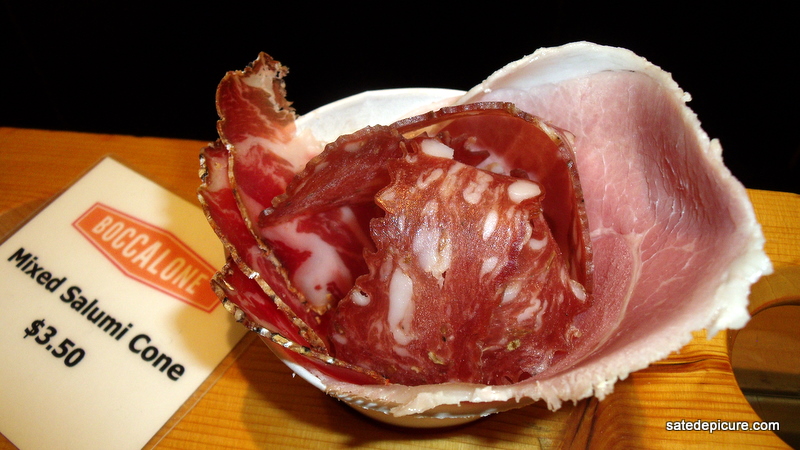 Mixed Saumi Cone: A daily snack!
  Orange and Wild Fennel Salame: One per package, firm, lighly sweet, mild salt and very mild orange and fennel notes.
 Salame Pepato: One per package, beautiful fermentation, great deep pork flavor with hints of pepper and spice.
 BOCCALONE SALUMERIA
Ferry Building Marketplace
Shop 21
San Francisco, CA 94111
(415) 433-6500