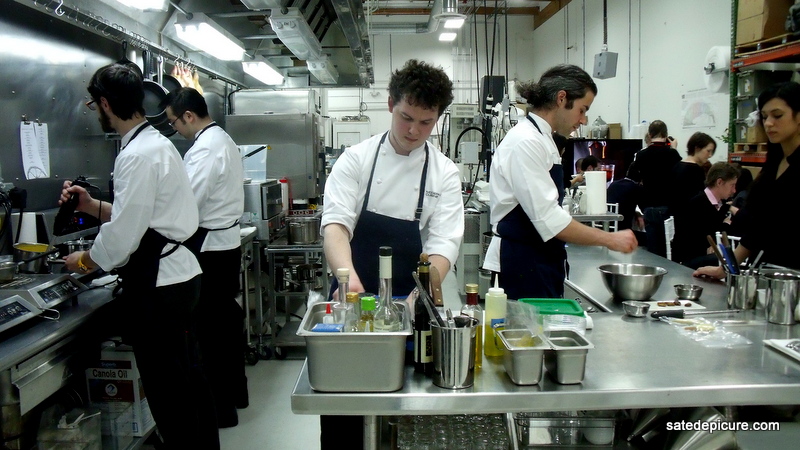 2012 ~ The Year When Cooking will Really Matter
Cooking: This is a simple and self-evident trend but it is worth unpacking; cooking matters more than ever. The best restaurants in the country demand that new cooks demonstrate excellent culinary technique before a permanent job offer is made. This has been the case for years but outside the fine-dining segment of the market the demand for culinary skill depended on the restaurant segment and ownership philosophy. This has changed as high-end chefs enter the full-service and fast-casual markets where culinary skill was often secondary to efficiency. These chefs have brought culinary talent and scratch cooking with them and flipped the regional and national chains,, business that for years have selected centralized manufacturing and efficiency on their head. In turn, this has put pressure on local operators and regional and national chains to invest more in on premise cooking and culinary talent. Major companies like Sodexho and Compass Group have also taken notice and understand that there is a direct link between the craft of cooking that occurs on site and other major consumer-driven demands like sustainability and nutrition. Those that promote local onsite scratch cooking benefit from an expanded web of cooks who bring broader perspectives and potential innovation to the organization while meeting the needs of customers. Operators large and small, fine and fast recognize and are investing in cooking again. Let's hope this continues.
Digital Culinary Networks E.G.: Kitchit and Trace & Trust: Social networking is old news but the use of web-based networking continues to gain ground in foodservice. One of my favorite examples of this is Trace and Trust a digital network of fisherman, distributors, fish processors and restaurants. The key to Trace and Trusts business model is the ability to track fresh seafood from the exact location where it is harvested all the way to a restaurants back door. This is the precise and trusted supply chain control chefs required to assure the seafood they buy is properly and locally harvested. Another example is Kitchit, the new online network connecting consumers hosting an event with a personal chef and/or caterer online. Kitchit is the brain child of a small group of Stanford graduate students and the reaction from the professional culinary community has been unusually positive. Look for expanded use of Trace and Trust and Kitchit to expand beyond San Francisco to a city near you in 2012.
Celebrity Chef Casual Gourmet/Take Out: Celebrity chefs have moved well past the fine dining segment of the foodservice marketplace and continue to launch casual restaurants with fine food. Some of my favorite examples this past year include Jody Adam's Trade in Boston and Billy Kim's growing "Belly Shack" group in Chicago. Epicerie Boulud, Chef Daniel Boulud's market and take out shop on Broadway at 64th in the city is another example. Customers want great fast food produced by chefs (brand names) they can trust. Chefs, in turn, understand that money is to be made in the emerging casual gourmet market and that they own the night when it comes to integrity and customer loyalty. As Billy Kim recently said "there's nothing wrong with making money if you are going to work so hard"!
Performance Cuisine: Performance cuisine, cuisine engineered to meet the strict dietary and athletic performance demands of specific clients without any loss in appeal is going to expand in 2012. For years Bachelor of Science in Culinary Nutrition graduates of Johnson & Wales University have been hired to act as personal chefs to celebrities and athletes because each has the unique skills and knowledge required to produce foods that yield dietary performance without sacrificing sensory quality. One graduate shared that Madonna's performance based diet while on tour was regimented and as disciplined as her work out routines. Another colleague and former chef to the LA Lakers gave me insight into the challenges he faced meeting the specific performance based dietary needs of team members (Kobe ate differently than Pau). But the driving trend behind performance cuisine in the coming year will come from the impact the Arrillaga Family Dining Commons that recently opened at Stanford University will have. The Arrillaga commons features performance and wellness cuisine developed in partnership between Stanford Atheltics, the Stanford Medical School and the Culinary Institute of America. This isn't an echo of the neutri-ceutical movement of the 1990's it's a full-fledged trend toward informed food choices based on wellness and performance needs and at Stanford thousands of performance meals will be served each year. Perhaps Stanford will see an increase in the number of wins across all athletic teams in 2012 due to improved food choices.
Understanding the Senses:  Dr. Rachel Herz, an author and researcher on smell, emotion, and cognition, opened my mind to the sensory sciences after we spent a couple hours talking at a recent lunch. Her work has many applications to the culinary world; so much of what we do links sensory experiences with emotion. Additional recent research conducted by Dr. Jeff Woodbury at the University of Wyoming allows sensory biologists to map the neural network our senses employ when activated by an input for the first time in history. As we learn more about how the sense work chefs will surely use this new found knowledge to advance the craft. It is likely that 2012 will bring deeper knowledge about how the senses of touch, smell, and taste function. It wouldn't be surprising if chefs use this new knowledge to their advantage in 20212, 2013 and beyond.