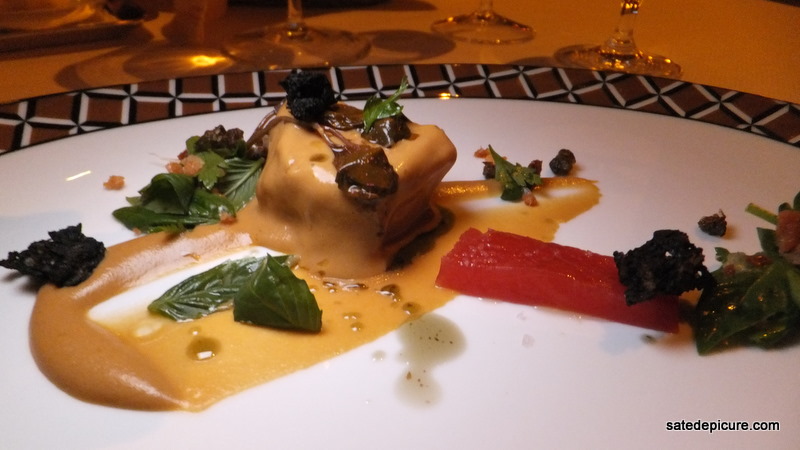 Mark Ladner's Vitello Tonnato
Hand Rolled Rustic Pasta (Strozzapreti, Trofie, etc):  Menus across the country feature these simple, fresh pasta preparations and it is the simplicity in preparation and diversity these pasta's allow that drive the expansion of their use. My favorite rustic pasta dish of the past year is Barbara Lynch's Rabbit Strozzapreti at Sportello in Boston. Look for these rustic pastas on more restaurant menus in 2012
Cauliflower: Cauliflower is making a comeback. Michael Solomonov at Zahav serves it as a Mezze and fries it crispy with chive oil, mint and garlic. Rasika in Washington D.C. prepares traditional cauliflower (Ghobi) Manchurian Calcutta style with spicy Chinese sauce so delicious you won't want to share. Chefs are serving it pureed with garlic, olive oil and lemon until silky smooth, roasting it, and slicing it whole to cook sous vide. The mundane is now interesting.
Sablefish and Clean Oysters: Sablefish (Black Cod) is a sustainable seafood species mostly found on the west coast that has gained traction on menus from Seattle to Chicago. With a light white flake, wonderful rich flavor and firm texture Sablefish is a leader in the seafood category. My favorite of the year was the Black Cod prepared by Chef Jason Freney at Canlis in Seattle. In addition to Sable Fish clean oysters are the rage. Ever since American Mussel Harvesters figured out a way to eliminate bacteria from shellfish by soaking them in sterilized running sea water for 24-48 hours the results have been industry changing. Back in October I feasted on a raw bar buffet of AMH's oysters along with Chef Thomas Keller at an event in Newport Rhode Island. Keller was inspired to hear how AMH purges the oysters and a week later connected his culinary director at Bouchon with AMH's sales office. The increased safety of these oysters and clams is motivation enough to pay the slightly higher cost.  
Vitello Tonnato: This veal and tuna dish is old school Italian and gained popularity after Sam Sifton wrote a story about the dish in the times back in August 2011. Over the past couple of years I found the dish on occasion usually at an established Italian restaurant in one of the larger metropolitan markets but it wasn't until I visited Del Posto and sampled Mark Ladner's version back in May 2011 that I gained a full appreciation. On my second visit to Del Posto, I had the dish again and it was even better. This is a fantastic dish and I a wonderful alternative to the ubiquitous Ahi tuna on so many menus, a fish that is often treated with carbon monoxide to prevent discoloration. Look for more Mediterranean and Italian restaurants to copy Del Posto in the coming year.
Offal:  One of the best dishes that I sampled in 2011 was the venison heart that Chef Alex Talbot of Ideasinfood.com served during the 2011 Star Chefs conference in New York. Talbot seasoned and cooked the heart at 57c in water bath for nine hours, cooled, cleaned, and trimmed the hearts and sautéed them. Served with charred pecan topping, they were delicious. I also had fantastic duck hearts at Zahev and lovely Ciccioli at Baccalone in San Francisco. Offal is making a comeback and this time chefs know what they are doing. Chef Chris Cosentino of Baccalone and Incanto fame in San Francisco told me that his definitive work on the subject (offal) will be published by Williams Sonoma in March 2012. Look for increased interest from chefs and consumers alike.