When I travel through Boston, there are a few restaurants I like to visit even if it's just for an appetizer or dessert. Clio, owned by Chef Ken Oringer is one of these restaurants and I have eaten there many times over the years. Ken is one of the leading chefs in New England and his restaurants, all of which are in Boston, include Clio, Uni, Toro, KO Prime, La Verdad. Of these, Clio is my favorite.
The first time I met Ken Oringer from Clio restaurant was at Charlie Trotters in Chicago. The two of us wound up at the bar just inside the restaurants entryway at the end of a gala dinner Trotter hosted for his foundation. It was a great meal and even nicer to hang back at the end of the meal after everyone had left to have a few drinks with Ken, Charlie and a group of other chefs and industry veterans. Ken, as a guest chef, had prepared one of the courses served that night to raving acclaim. It was a good night for him. However, his intensity was still quite high while we chatted at the bar. I found this unusual particularly at the end of what must have been a very busy day. Most chefs would have settled in, enjoyed a few drinks and laughs and lightened up a bit. Curious, I asked him about his background, where he had trained (he's a CIA grad, worked for David Burke, Joanne and George at Al Forno and with Jean Georges Vongerichten) and what inspired him. Ken started to provide some details when Charlie, who was listening at the time, interrupted and stated that Ken was the leading American avant garde chef of his generation. Ken smiled with approval and at that moment I got it. Oringer as a person and as a chef occupies the edge rather than the center. He's inventive, creative and travels his own path, a path of his own choosing and inspiration. He's a chef to be reckoned with, as bold as the flavors he creates. Follow or get out of his way.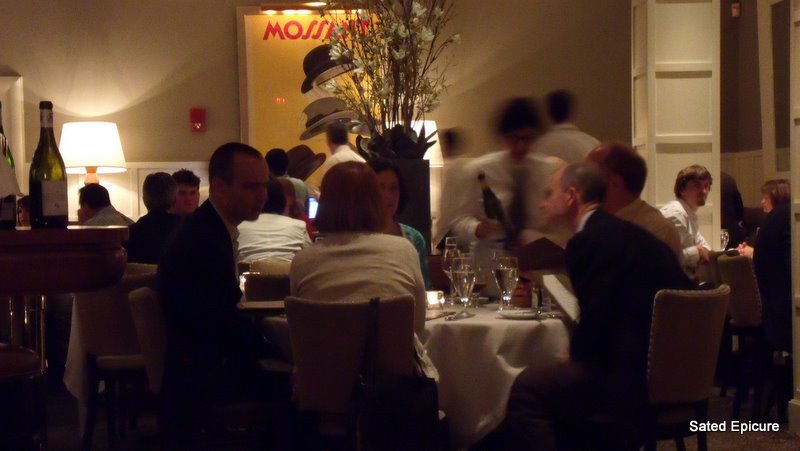 Bold, however, is not the first word I would use to describe Clio. Oringer's flagship restaurant is refined, comfortable and smoothly running. The flavors of some dishes are bold, on others subtle and refined. The service matches the food. Ken selects his service staff wisely, after a dozen meals I have never had bad service. When I arrived this past weekend it was 6:00PM on a busy Saturday night. Within a couple of minutes my table was ready and I was seated. My favorite place to sit is along the windows on the Massachusetts Avenue side of the dining room. The windows provide adequate natural lighting for my camera (I rarely use flash) and I like being able to see the entire dining room.
Once seated my first surprise wasn't food related it was the water. My server proudly announced that the restaurant was serving Poland Spring water due to a major water main rupture west of the city. There was a mandatory boil water order issued by the department of health yet the restaurant didn't miss a beat. It takes a well oiled restaurant to run "business as usual" when the unexpected happens. It was also reassuring to know that the commercial dish machine in the place was properly working!
And then the food started to arrive!
Foie Gras "Terrine"
Marcona Almond Crème, Rhubarb, Violet Artichokes, Nasturtium ($20) 
I love a good foie gras dish and this was memorable. This was served with a crispy eggplan, cocoa nibs, parisienne of apple and a mini frizee salad on the side.
Cassolette of Sea Urchin and Lobster
Parsnip Emulsion, Crispy Shallots, Candied Lemon ($17)
This was an outstanding dish loaded with generous portions of lobster and sea urchin. The urchin was cooked perfectly and melted into the dish when split with a spoon. Notes of lemon and chive finish this dish as the lobster and urchin linger. Garnishes included spicy dried chili threads and minced chives. I love the "O" Luna bowl this is served in although the bowl looks a bit like a commode.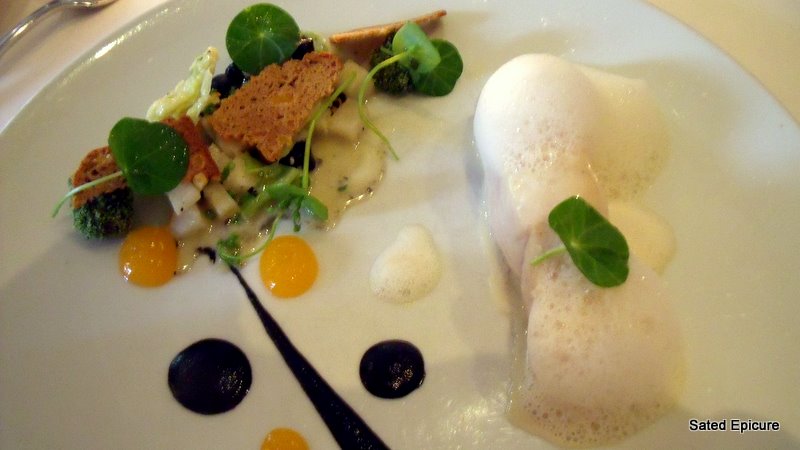 Wild Alaskan Ivory King Salmon Confit
Sun chokes, Mandarin Orange, Black Gnocchi, Pain D' Epice Emulsion ($38)
This dish was excellent. The fish is as ivory as the description in color and buttery smooth due to the sous vide cooking method used. Although the mandarin orange was a bit overpowering, in moderation it complimented the overall dish.
Seared Diver Scallops
Artichoke Chutney, Black Bean Sprouts, Thai Brown Butter, Young Coconut Jus ($35)
This dish was deep in umami and wonderfully complex in flavor. Rich but balanced and totally free of dairy, the flavors were outstanding. Good balance of salt, sweet, acid and umami.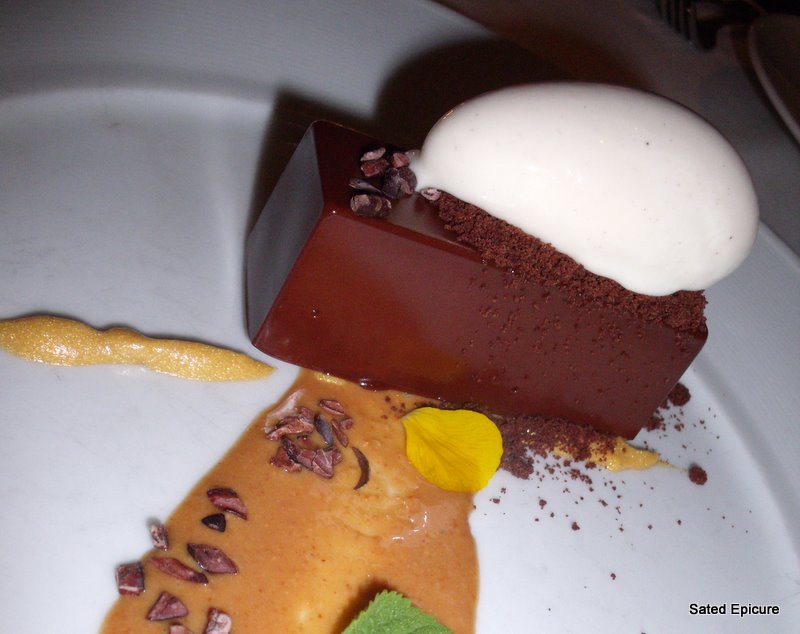 Miso Dark Chocolate Cremeux
with Banana Ice Cream, Golden Miso & Cashew Butter ($11)
The Asian inspiration continued with this item. This dark chocolate cream was more of a dense ganache with mild notes of miso. The flavor combination worked very well (the salt of the miso complimented the chocolate).
A Taste of Summer
with Coconut Tapioca, Guava Sorbet, Peanuts & Fresh Passion Fruit ($11)
Another dairy free item of wonderful proportions and excellent flavor. The coconut tapioca was wrapped in a paper thin white chocolate cylinder, it oozed out when cut with a spoon.
Clio
370A Commonwealth Ave
Boston, Massachusetts 02215
617-536-7200