Dinner at The Cooking Lab: An Evening of Modernist Cuisine
This is a posting of thirty photos from a recent dinner at Nathan Myhrvold's cooking lab in Bellevue, Washington. The dinner was a celebration of modernist cuisine and the release of Myhrvold, Young, and Bilet's new book by the same name. (to purchase Modernist Cuisine visit Amazon.com) A more detailed description of this gathering of professional chefs, writers, can be found at satedepicure.com
Note: I prefer to post the photos of each course served in this format so each can be viewed with a detailed description and in the order served. The notations made under each item are taken from guidelines distributed during the dinner. Special thanks to Dr. Myhrvold, Chris Young, Maxime Bilet and the rest of the The Cooking Lab team along with the esteemed guests I had the pleasure of meeting and dining with.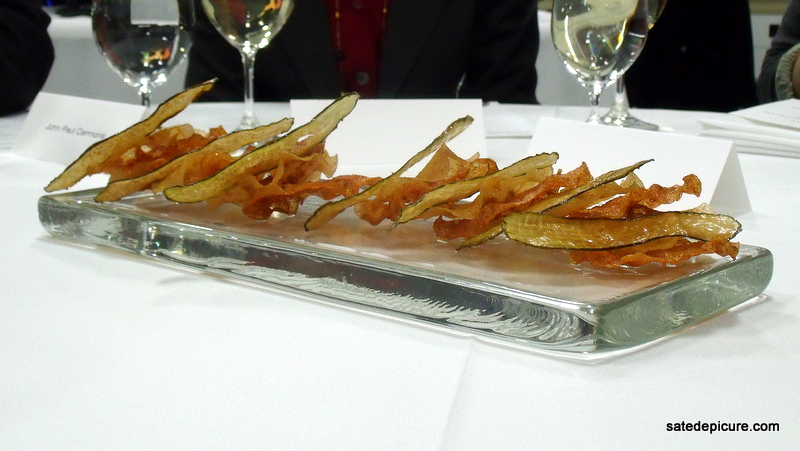 #1: Asian Pear, Watermelon, and Spicy Pickle Chips (starch compression)
Asian pear, watermelon and spicy pickles that have been thinly sliced, coated with modified starch slurry and fried at a medium high temperature until crispy.
#2: Roasted Corn Elote (freeze drier, N-Zorbit powder)
Freeze dried yellow corn kernels with brown butter powder, spicy mayonnaise, cilantro blossoms, Lime and Ash Powder.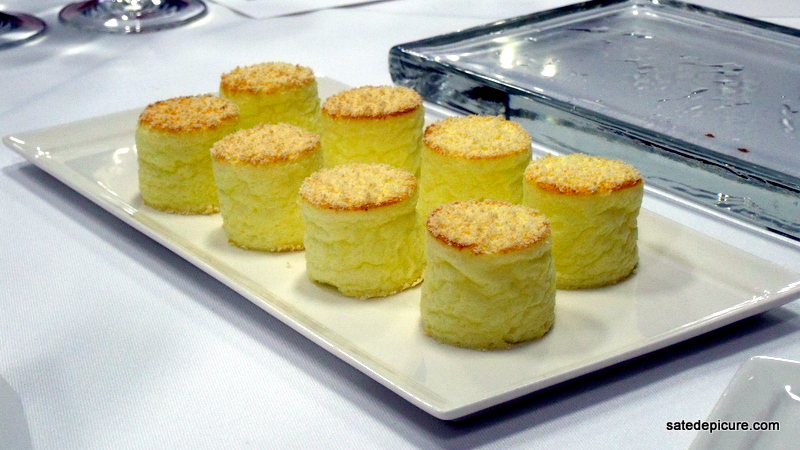 #3: Cheese Soufflé (constructed, re-heatable, soufflé, N-Zorbit crumble)
Delicate gruyere cheese soufflé steamed and baked with a cheese crumble. The soufflé is a mixture of intense cheese water, egg yolks, albumin powder and corn maltodextrin. The crumble is made from grated cheese blended with N-Zorbit. After steaming, the soufflés are topped with the cheese crumble, baked and served.
#4: Grilled Chicken Skin (sous vide skin gelatinizing)
Sous vide cooked, fried and grilled chicken skin, glazed with pineapple and seasoned with sansho pepper. The chicken skin is cooked sous vide for 12 hours so the skin doesn't recoil when fried.
#5: Foie Gras Egg Nog (warm constructed cream)
Warm emulsified soup of pressure rendered foie gras fat and roasted shallot juice spiked with Calvados. The cream is equal parts foie fat and shallot juice emulsified with a rotor stator homogenizer.
#6: Green Apple and Fresh Wasabi Snow Ball (vacuum aerated sorbet, frozen fluid gel powder)
Aerated green apple juice sorbet with frozen fresh wasabi powder. The apple juice is slightly thickened with glucose, albumin and gelatin and transferred to a whipping siphon. It is famed into a mason jar inside a vacuum chamber to hold the vacuum. The jars are deep frozen…how cool is that!
#7: Foie Gras Rocher (frozen, molded foie gras)
Foie gras parfait with a hazelnut core, coated in rich hazelnut praline and rolled in hazelnut crumble, garnished with a sliver of Meyer lemon. The foie parfait is molded, deep frozen and dipped, then very carefully halved on a band saw while frozen.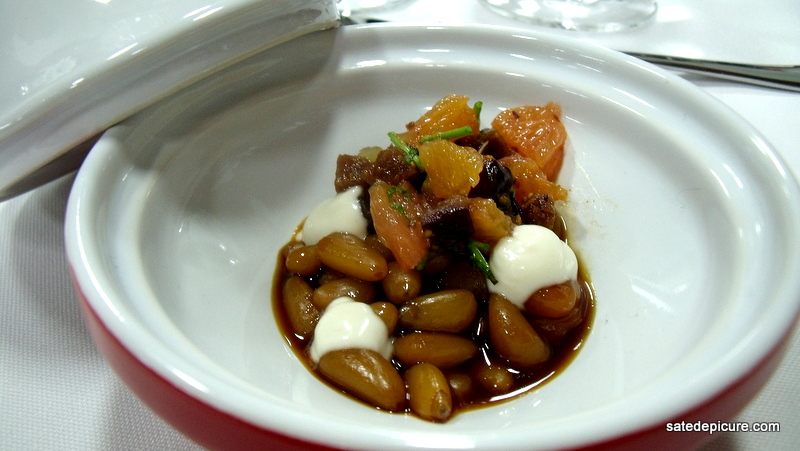 #8: Chickpea Tajine (sous vide chickpeas, pressure cooked pine nuts)
Sous vide chickpeas and pressure cooked pinenuts braised in a preserved lemon tajine jus. Garnished with a salad of Cara Cara orange, beldi olives, black caraway, argan oil, pickled dried fig and mint, finished with a roasted sesame yoghurt.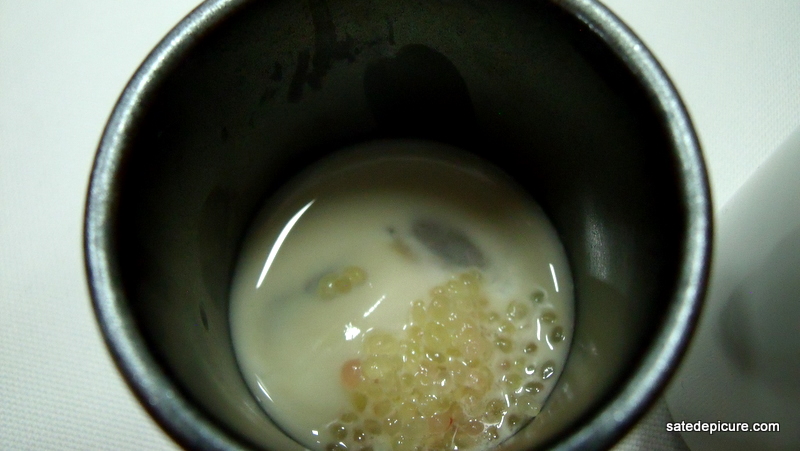 #9: Oyster Cocktail (liquid nitrogen shucking)
Preparation 1: Shigoku Oyster with chufa nut horchata and finger lime droplets
Preparation 2: Shingoku Oyster with ponzu, hazelnut oil and smoked char roe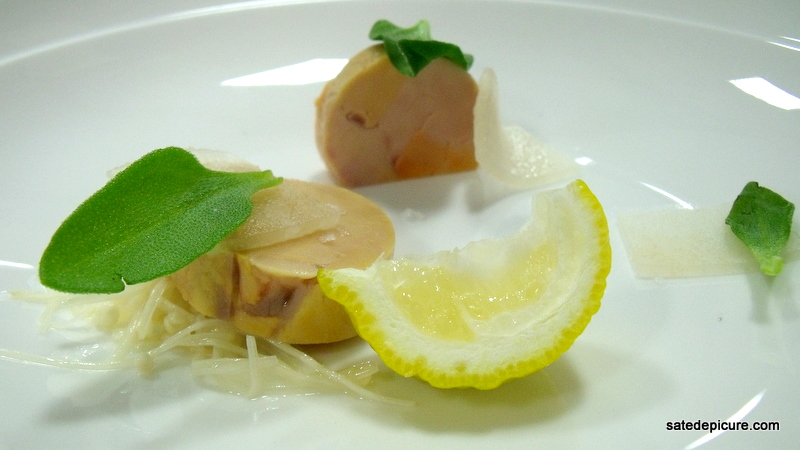 #10: Ankimo, Yuzu, Enoki, Pear (sous vide torchon, centrifuged juice)
Ankimo (Monkfish liver) torchon, centrifuged pear juice seasoned with honey vinegar, fresh yuzu and white soy, enoki salad dressed with macadamia oil, ficoide glaciale, Asian pear.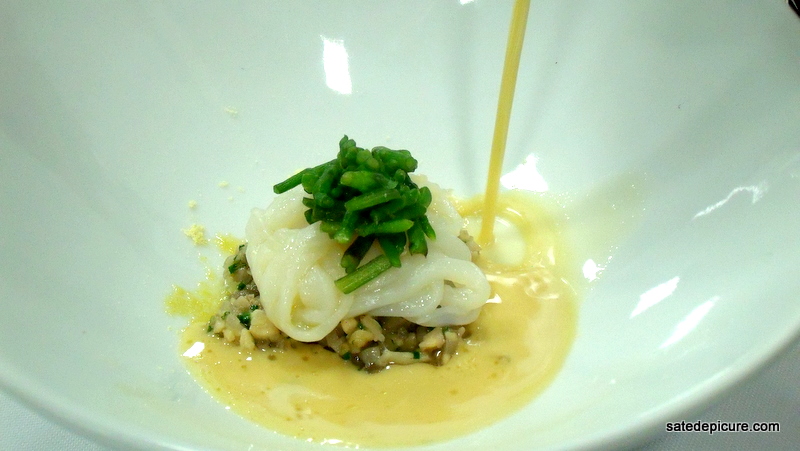 #11: Spaghetti Vongole (centrifuged broth)
Goeduck clam "noodles" dressed with garlic confit oil, bagna cauda broth, sea beans, goeduck belly, maitake and walnut marmalade, dried miso powder. The Goeduck siphons are split, sliced into sheets and pounded in sous vide bags to allow them to be cut into noodles.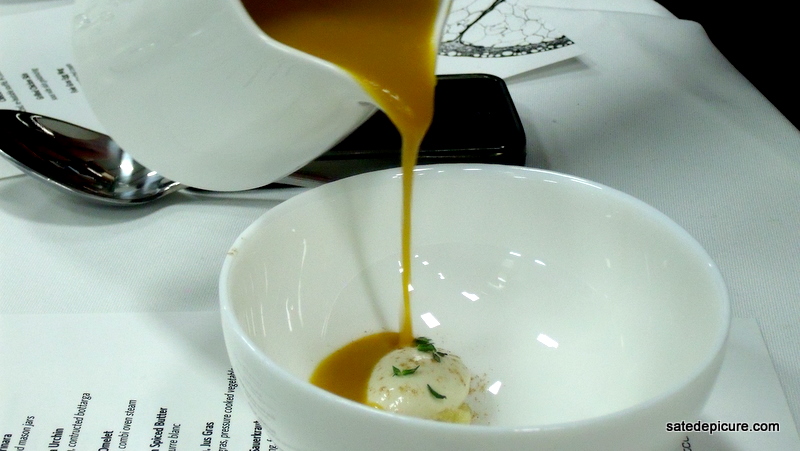 #12: Squash Soup (pressure cooker and baking soda)
Caramelized squash soup, sunchoke ice cream, chaat masala, flash pickled Fuji apples. The baking soda increases the pH allowing for deeper browning and intense aroma and flavor.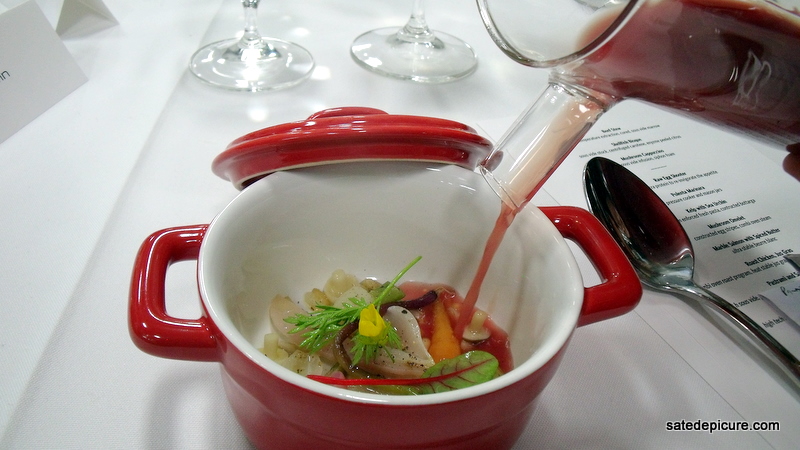 #13: Beef Stew (low temperature extraction, cured, sous vide marrow)
Rare beef broth, sous vide cooked small root vegetables, curd marrow, pressure cooked barley, chard leaves. Beef cubes are cooked sous vide at 53C for 4 hours. They are pressed with a wine press and the resulting juice is then centrifuged.
#14: Shellfish Bisque (sous vide stock, centrifuged carotene, enzyme peeled citrus)
Shellfish broth with coconut cream powder, carrots cooked in carotene butter, young coconut noodles, mandarin and lemon verbena.
#15: Mushroom Cappuccino (sous vide infusion, siphon foam)
Intense mushroom broth with warm bacon Chantilly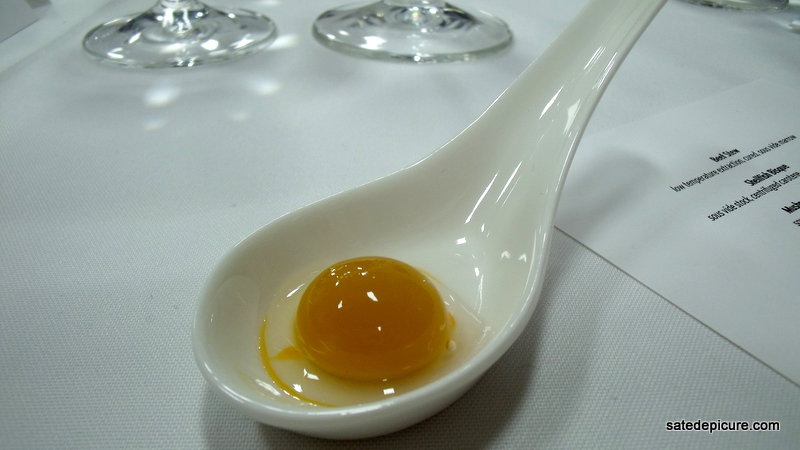 #16: Raw Egg Shooter (reverse spherification)
Raw "quail egg" of passion fruit yolk, lemongrass white and a few drops of chili oil. A reverse spherification is used; the setting bath has alginate and the set liquid has calcium to provide a finer membrane. The white is given its texture with a combination of xanthan gum and locust bean gum
#17: Polenta Marinara (pressure cooker and mason jars)
Grits cooked in corn juice with a quince, Bartlett pear "marinara" toasted corn husk consommé, ricotta salata and basil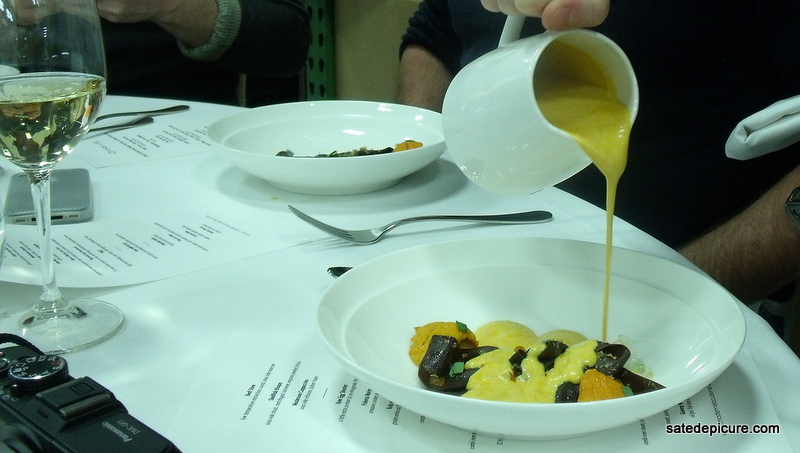 #18: Kelp with Sea Urchin (gluten enforced fresh pasta, constructed bottarga)
Cocoa pasta sheets dressed in cocoa butter, sea urchin tongues, sea urchin butter, salted candied grapefruit, tarragon and a shaving of sea urchin bottarga.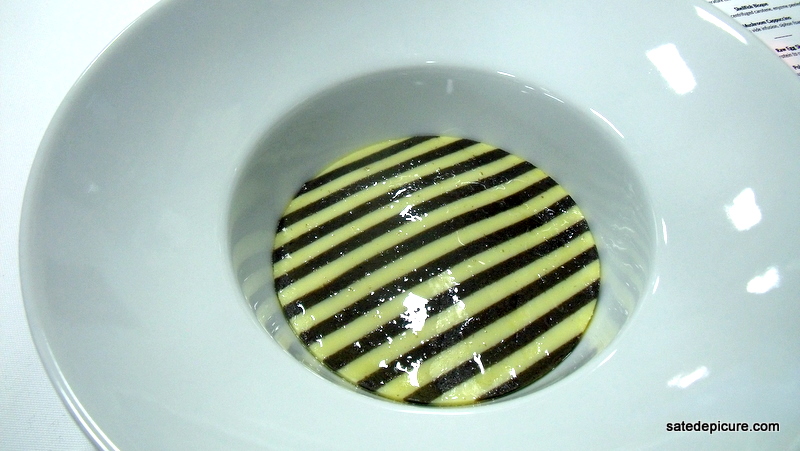 #19: Mushroom Omelet (constructed egg stripes, combi-oven steam)
Black trumpet mushroom and egg striped with aerated scrambled egg based, mushroom marmalade and fines herbs. The egg stripes are created using a pastry comb on a silicone baking sheet.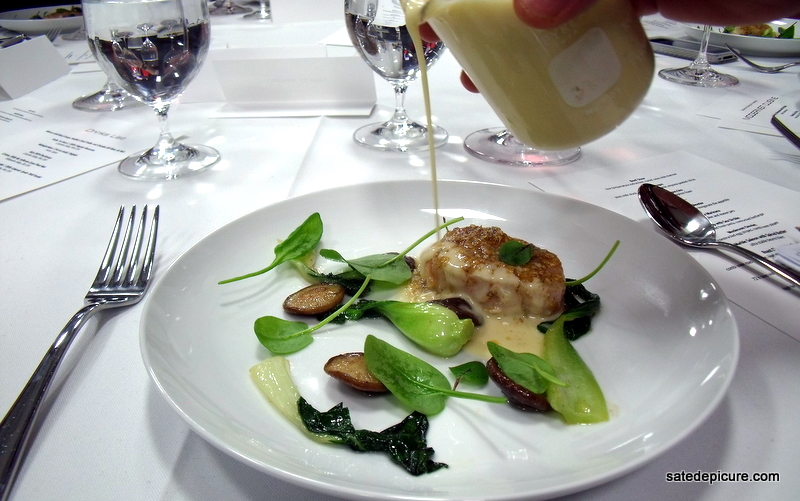 #20: Marble Salmon with Spiced Butter (ultra stable beurre blanc)
Sous vide salmon with butter composed of coriander seed, sesame seed, roasted hazelnut, white poppy, ginger and chamomile. It is served with a beurre blanc of sake, white soy, shiro miso and lime and garnished with shiitake, bok choy and sorrel.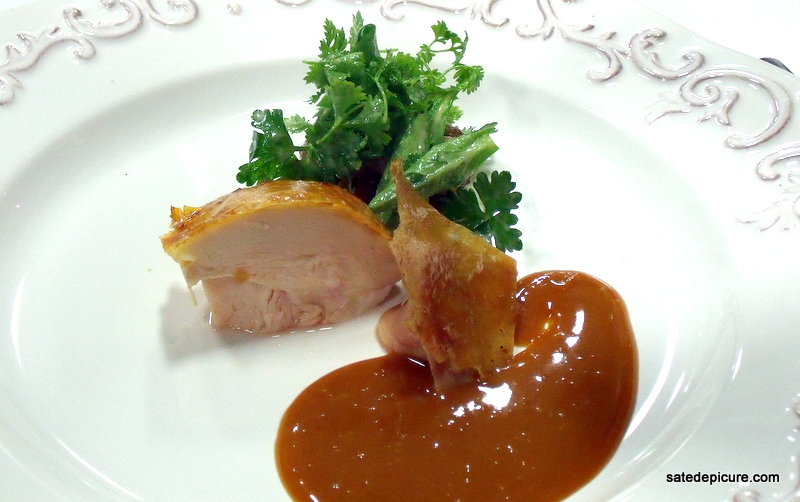 #21: Roast Chicken, Jus Gras
(combi oven roast program for chicken, heat stable jus gras, pressure cooked vegetables confit)
Roasted chicken with a rich emulsified gravy of dark chicken just and pressure rendered chicken fat. Accompanied by vegetables that are pressure cooked in mason jars with chicken fat. These are garnished with an herb salad dressed with quince vinegar vinaigrette. The chicken roast program includes injecting the chicken with brine and hanging it for three days refrigerated to desiccate the skin. The chicken is cooked in dry heat at 60C until it reaches temperature, rested for 30 minutes. Prior to service it is brushed with oil and roasted at 300C for 6-7 minutes until deeply roasted and crisp.
#22: Pastrami and Sauerkraut
(72 hour sous vide, precise curing and brining, fermentation, dehydrated bread)
Short rib pastrami, house-made sauerkraut with sweet onions, Brussels sprout leaves with fish sauce butter, cognac mustard with pickled mustard seeds, black bread crisps. The ribs are brined, smoked, dry rubbed and cooked sous vide for 72 hours.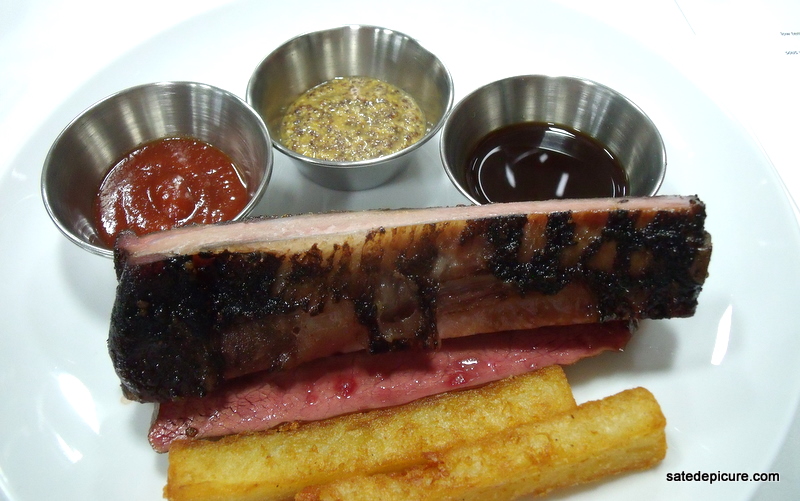 #23: "BBQ" (high tech smoking, sous vide, centrifuged sauce, ultrasonic fries)
Hot smoked spareribs, cold smoked flat iron, Kansas City, South Carolina and MC Barbecue sauces served with ultrasonic fries. The ultrasonic fries are made by cooking large fries sous vide until tender. They are cavitated in an ultrasonic bath while warm to create lots of invisible fissures. The final product is deep fried resulting in fries that are furry with a crispy outer texture.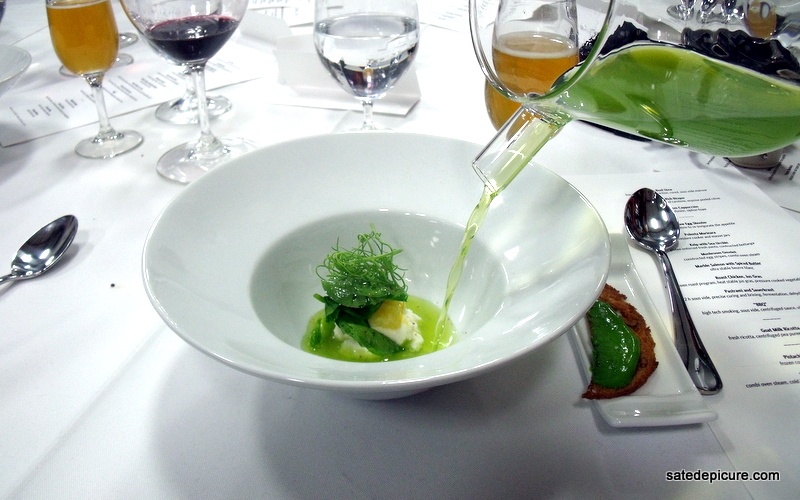 #24: Goat Milk Ricotta (fresh ricotta, centrifuged pea puree layers, essential oil)
Fresh goat milk ricotta with pea juice, pickled lemons, cinnamon, walnut and pea butter toast. The peas are centrifuged yielding pea juice and pea "fat" which has the same intense pea flavor with the texture of butter.
#25: Pistachio Gelato (frozen constructed cream)
Dairyless, eggless pistachio gelato with cocoa nibs, candied black olives, and Arlettes. The cream is made with pistachio butter, pistachio oil, water, sugar and an emulsifier, all churned in a Pacojet.
#26: Pots de Crème (combi oven steam, cold infusion, vacuum reduction, acid coagulation)
The first cream (L to R)is a cold infused coffee egg custard finished with a smoked egg yolk curd. The second is a vacuum reduced whisky sabayon on top of centrifuged banana juice fluid gel. The third is a cold infused earl grey posset garnished with sous vide lemon curd.
#27: Caramel Mou (sweet, savory caramel, edible film)
Gruyere cheese caramel, cheese water film. Grated cheese and cheese water are added to a basic caramel base. The cheese film is set with agar and gelatin.
#28: Gummy Worms (oil gel, fish lure molds)
Olive oil, vanilla, and thyme gummy worms made with 200 bloom gelatin, gum Arabic.