Last month during one of my trips to Washington D.C., I made a point to trek over to Rasika at 633 D. St., NW in Penn quarter on for a meal. Being a fan and follower of great Indian food, I had been meaning to eat at Rasika for months but never had the time. This trip the timing worked so I made a reservation with high anticipation. What excites me most about Rasika is that it's pushing the limit on Indian fine dining in America and earning rave reviews along the way including one of the highest scores for food in Washington D.C. by Zagat. Rasika also has talent in the kitchen. Executive chef Vikram Sunderam, one of the few Indian chefs to be nominated for a James Beard award (best chef Mid-Atlantic 2010), has a refined yet authentic touch when creating menu items and produces food as elegant as the stunning décor and service at Rasika. This is a serious Indian restaurant with a serious, talented, professional Indian chef.
Sunderam was hired away from the Bombay Brasserie in London by Rasika owner Ashok Bajaj. With Sunderam at the helm, Bajaj opened Rasika in 2006 to compliment his collection of restaurants in the Washington D.C. metro area. It's telling that Bajaj had to recruit talent from London when opening Rasika. There's no one else in America pushing the limits on Indian food the way Bajaj is at Rasika and, other than from India itself, London is the only place with an Indian culinary community mature enough to provide Rasika with this level of back-of-the-house talent. Reflecting on the restaurant décor, website, food, service and style, it is clear that Ashok Bajaj is a man of vision.
Bajaj's first restaurant, Bombay Club, opened in 1989 and is now a Washington institution. After arriving in Washington in 1988, having completed stints with the Taj hotel group in India and London, Bajaj scraped together the resources to open Bombay Club with a partner and, sans partner, has added another restaurant to his empire every 2-4 years since. While dining at Rasika Bajaj stopped over to my table to say hello. He's a distinguished looking, well dressed gentleman with great presence. He departed my table after a minute or two and I watched him walk away. As he walked he shifted his head from one side to the other, eyes darting around the restaurant to each table. Bajaj has the intuitive ability to "sense" when a restaurant is running well that all great restaurant owners have and his vision drives the progressive Indian fusion cuisine Rasika is known for.
Rasika represents the steady evolution of Indian cuisine in the U.S. Twenty years ago it wasn't uncommon to find one or two good Indian restaurants in major cities but the cuisine was less prevalent in suburban areas and the food was tame compared to Indian food in the U.S. today. Even Bajaj agrees that the American dining public is shifting toward a wider acceptance of Indian cuisine. Perhaps we are headed into an era where Indian flavors and cooking techniques will become as common in America as Latin and Mediterranean flavors have been in recent years. If this happens, we will have Sunderam and Bajaj to thank, in part, for showing us the way.
My meal at Rasika was served family style for a table of seven. The photos below reflect this (FYI).  
Chili Garlic Scallops $12 Ginger, lemon juice, poha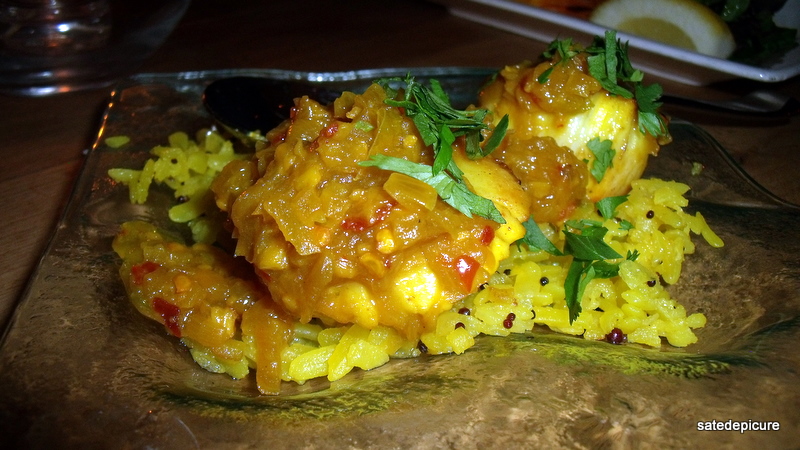 Barbeque Shrimp ($12) Fresh mint chutney
Entrée (l-r) Bhindi Amchoor (sliced okra with dry mango powder), Dal Makhani (lentils, tomato, garlic, fenugreek), Chicken Tikka Masala, Basmati rice
Rasika Bread Basket $8 Assorted Naan/Roti
Gulab Jamun ($8) & Apple Jalebi Beignet with Cardamom Ice Cream ($8)
Rasika 633 D St. NW
Washington, DC 20004-2904
 202-637-1222