Every once in a while I dine alone. The solitude is relaxing to me and my sense of observation is heightened when I am by myself. Being alone forces me to take things in at a slower pace and to view the world undistracted. Perhaps this is due to the hectic pace that runs like a raging river through my life. I love charging ahead each day with full force but realize that I miss the details of life from time to time. I am surrounded by people who live this way, the successful people I run with fully engage life. No one is sitting on the sidelines and we tend to run in a pack. Because of this, it's rare for me to be alone, let alone, eat alone. When I do, my senses are heightened.
Tonight, to further enhance my experience I plan to eat at a restaurant within one or two miles of the waterfront hotel where I am staying here in Boston (again). From time to time when travelling, I walk from my hotel to a restaurant to soak in a city at street level. Walking, so long as the weather is good, helps slow things down as well. It provides heightened details about the neighborhoods and environment surrounding the restaurant that you can't see, smell, or feel, when riding in a vehicle. For tonight's adventure I select Tim Cushman's O Ya which is exactly one mile from my hotel at 9 East St., in Boston. The sky is blue and sunny and I am heading that way on foot.
I leave the hotel at 7:00pm walking northwest on Congress street toward the city. The sun is just starting to dip below the Boston skyline and the city arteries are slowing down as rush hour eases. It is still 80 degrees out, so I pause for a moment and consider jumping on the Silver Line bus that runs under the seaport directly to South Station. East Street is a stones throw from South Station and riding would save me from the heat. The Silver Line station is absolutely deserted and strangely clean. This makes me uneasy for some reason so I head back up the stairs and out the door. To hell with the bus, I could use the exercise anyway.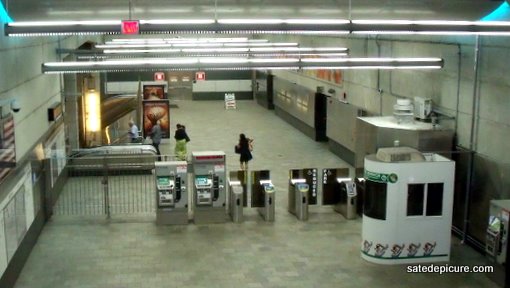 After passing the intersection of A Street and Congress I notice a huge piece of graffiti by (now famous) Shepard Fairey pasted to a building. Fairey is the artist best know for riffing on an Associated Press photo of Barak Obama creating one of the most recognizable posters of the 2008 campaign and a heap of copyright infringement trouble for himself in the process. Four stories up next to a fire escape is a large four foot by six foot stencil of "Obey" Fairey's 1990 ode to the professional wrestler Andre the Giant. If you drive down Congress Street you will miss this work because the building is set back behind a parking lot parallel to the street. There are thousands of these images stenciled on buildings around the world now, if you miss this one, there will be others. I click a few shots of it and move on.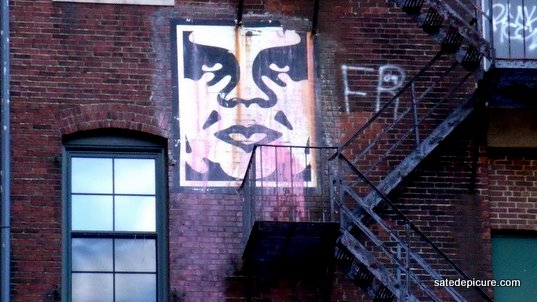 A few minutes later I am on Atlantic Avenue heading south toward South Station. The stone façade of the station is speckled with sunlight reflecting off of a sky scraper across the street. Studying it for a moment, the light shifts and the building entrance, windows, and clock are lit by the reflection. What a beautiful image.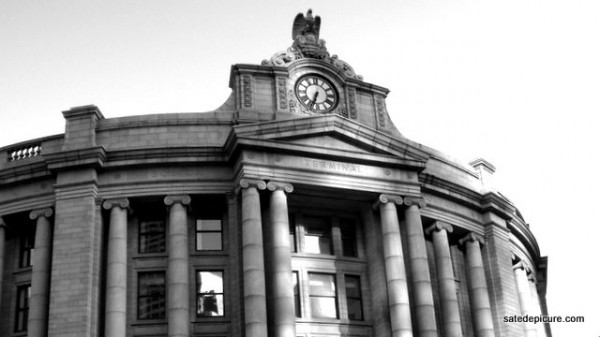 Crossing the street I am now just a minute or two from O Ya. I continue down Atlantic Avenue passing Essex Street and make a right onto East Street. O Ya is just ahead, hidden on the south side of the street. For some reason Tim Cushman and his team designed an entrance that is so completely understated that you could miss it. Located in a multistory brick building, O Ya's street presence consists of a small sign and a door that appears to be made of graying slabs of rough hewn barn-board.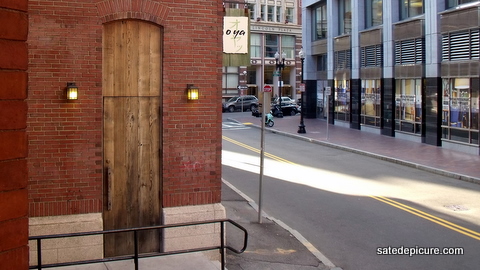 I enter into a small vestibule and approach the maître d' station. The hostess greets me and escorts me to a table. I order a beer and scan the room taking it in. O Ya has an industrial feeling, loft like interior with concrete floors, exposed ventilation and brick. The dining room consists of a long sushi bar with eighteen bar stools on one side and, on the opposite wall, a long banquette with eight tables for two. Three large arched windows provide natural light. The wall above the banquette is painted a pastel green with natural colored wood trim and the tables are a lightly stained cherry. Wooden chopsticks on small ceramic rests are located at each place setting. My pair is made of Yew and rest on a green ceramic fish.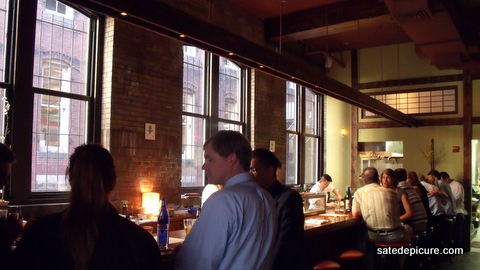 When my waiter arrives to take my order, I ask him to have Cushman send out four courses of what ever he feels like sending so long as it doesn't have Wagyu or Faberge in the name. He smiles with delight and tells me I wont be disappointed.
1) My first course is the Diver Scallop with Sage Tempura, Olive Oil Bubbles and Meyer Lemon. Five pieces of scallop arrive on a pastel green square platter. Each is topped with a tempura fried sage leaf and a rich, lemony, olive oil foam. The texture of the scallop contrasted with the sage leaf is fantastic. The olive oil foam adds an almost heavy cream like richness to the dish with a wonderful lemon perfume finish.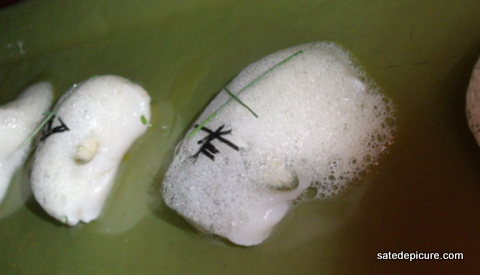 2) Next, I have the Hamachi with Viet Mignonette, Thai Basil, and Shallot. Three, fatty, skin-on, perfect slices of Hamachi arrive. They are simply presented with a chiffonade of Thai Basil, the Mignonette, and a dusting of dried shallot and spicy red chili. The Himachi is pristine and the combination of flavors wonderful. Halfway through the first bite, the basil cuts in with the saltiness of the mignonette. After a few more bits, the chili kicks in for a nice warm, lingering finish.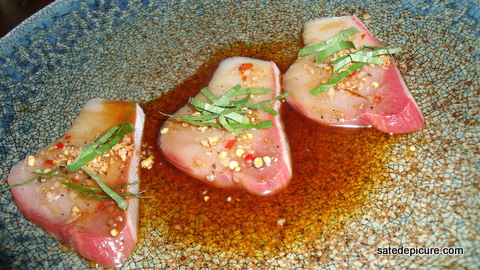 3) I have had these Fried Kumamoto Oysters with Yuzo Kosho Aioli, Squid Ink Bubbles before. They are tiny little oysters that are flash fried and served warm and sexy. The squid ink foam, when it arrives at the table, is almost purple in color and sits atop each oyster. Beneath each oyster is a small "button" of aioli that serves as a flavorful glue, keeping the oyster attached to the sushi rice. Excellent!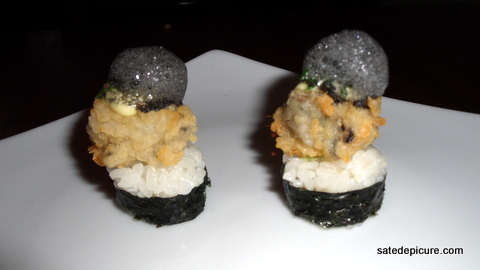 4) Out comes a Soft Shell Crab with Soy and Sesame mousse. Topped with a fine julienne of scallion, this dish is explosive in flavor. The soy and sesame mousse is so perfectly balanced and thick in texture that it coats my palate while I crunch on the salty, oceany flavored crab. As I dismantle the crab, small wisps of steam escape perfuming the air. Another winner.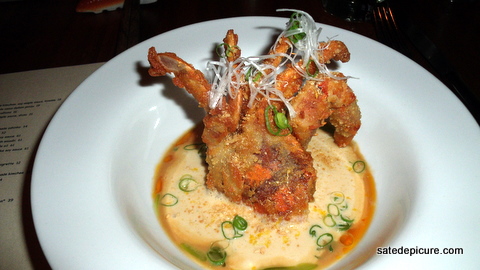 5) Tea Brined Fried Pork Ribs with Hot Sesame Oil, Honey, and Scallions. I anticipated that this item would have some flavor overlap with the crab since several ingredients are used in both dishes but this wasn't the case. When I took my first bit of the Pork Ribs I inhaled just before putting the fork in my mouth and got a full head of the complex flavor that made Frank Bruniof the New York Times swoon over this dish back in 2008. The tea Cushman uses in the brine adds such a depth to this dish and, surprisingly, the subtle notes of flavor from the tea remain fully intact after frying.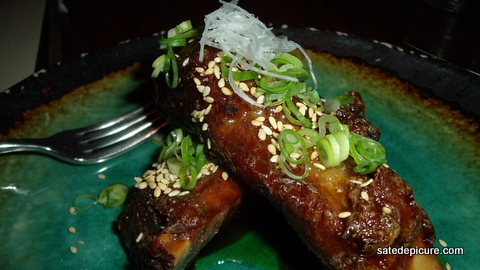 6) The festivities end with Soy Milk Blancmange with Chilled Thai Tea, and Thai Basil Seeds.  This is the one dish that I ordered on my own.  I chose it because the description was interesting and I have yet to find a soy cream of any sort that meets my expectation. When the blancmange arrived, I was a bit disappointed at the presentation but this changed once I tasted it. This was the smoothest, most flavorful soy dessert I have had in years. The basil seeds floating on top added such a wonderful perfume and crunch and the cream was spectacular. Heads up all you lactose folks. I would order it again.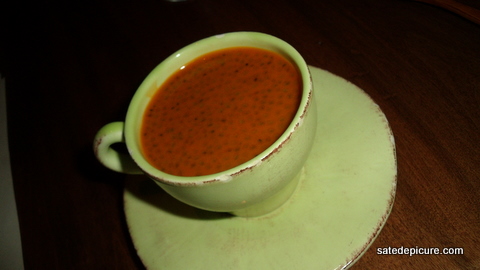 Six courses later and I am ready to walk back to the hotel. The past 90 minutes went by quickly but I feel great. Portion sizes were perfect and O Ya is just as good as I remember it. Having a great meal like this leaves me resonating with a love for the culinary profession. I think I will take the long way home!
O Ya
9 East St.
Boston, MA 02111
617-654-9900