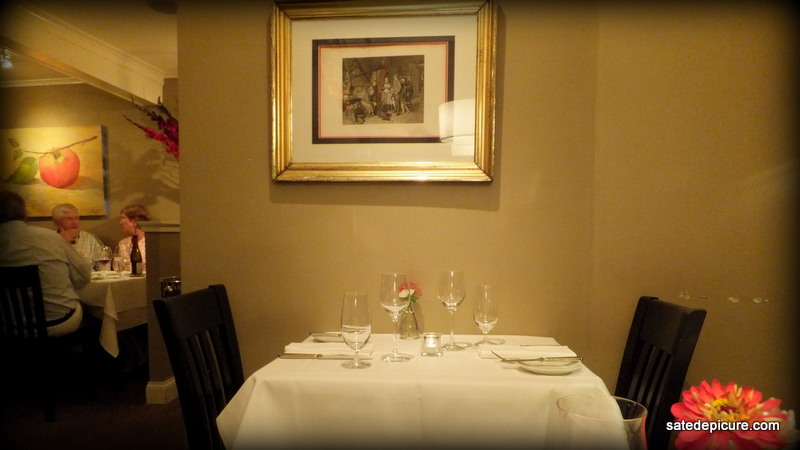 Two Top: Persimmon Restaurant, Bristol, R.I.
Introduction:
Making foodservice related predictions for 2012 is a fun game and one that requires reflection on the prior year to determine where things are headed in the short term. Looking back on 2011 it was a pretty good year for foodservice. For or fun and sanity, Americans turned to eating out as a lower cost recreational activity throughout the year. As of this writing, the U.S. foodservice industry, according to the National Restaurant Association, continues to set sales volume records and has added over 200,000 jobs since the depths of the recession representing a real bright sector in the  economy. Chefs continue to gain momentum as cultural icons and America's fascination with all things culinary appears to be expanding rather than receding. 2012 will be a year when chefs continue to expand their reach in media, food manufacturing and retail, commercial foodservice and travel. That this sector of the economy can't be outsourced or shipped overseas is nothing but a bright spot as well. Looking ahead to 2012 and into 2013 there is nothing but upward opportunity for the restaurant industry. The observations and predictions made below are but a spotlight on trends noticed first-hand in recent months.
The Process of Finding Food Trends:
These trends for 2012 were compiled based on my own expertise, thoughtful observations from visiting or eating at dozens of fine dining restaurants, supermarket and fast casual restaurant concepts in more than a dozen U.S. cities. When visiting a city I preplan an itinerary that involves visiting at a minimum, one fine dining restaurant rated 26 or higher for food (if available) by Zagat guide, one quick service restaurant (preferably independently owned) and a visit to the prepared food section of a least one high-end supermarket. It isn't unusual for a visit to include multiple restaurants and retail markets as time and budget allows. My primary goal is to gauge the culinary talent, menu trends, restaurant design, service, wine and beverage, pricing and overall economy as measured by restaurant pricing and volume, even if based on a limited sampling of the local market.
During my visits, in addition to dining, I usually talk with the chef or owner of the establishment and spend time prior to the visit studying the establishment's web site and menu if available. After dining at a restaurant and taking notes, my experiences from select visits are posted in simple form on satedepicure.com along with a photo record of the dishes I enjoyed and, in some cases, comments and reflection. Through the past year I have once again collected hundreds of photos of the dishes I sampled. One of the interesting things about satedepicure.com is that the site features photos of what I was served rather than studio shots of dishes created for public relation purposes. Satedepicure.com captures an experience in actual form along with notes based on expert opinion.
Early in December I synthesize these data while searching for patters in cooking methods, ingredients, menu descriptions, décor, service, and philosophy. If provided a tour of the restaurant, I look through my notes for trends in design and equipment as well. Once I have compiled a rough list of patterns from the past year I sort them according to ones that are emerging (gaining momentum) and ones that have become so ubiquitous that they have transitioned to permanent. With so much data on hand, this process of sorting and listing is time-consuming but surprisingly easy to do; the patterns become obvious at the macro level. For ease of publication and search I have posted three sets of trends.
The Food Trend Reports:
The items listed in the links above are based on the synthesizing and sorting process noted. They are my own (with all their limitations) and represent, to the best of my knowledge, wheresome aspects of food, dining, and service are headed in 2012. Happy New Year and thank you for reading Satedepicure.com