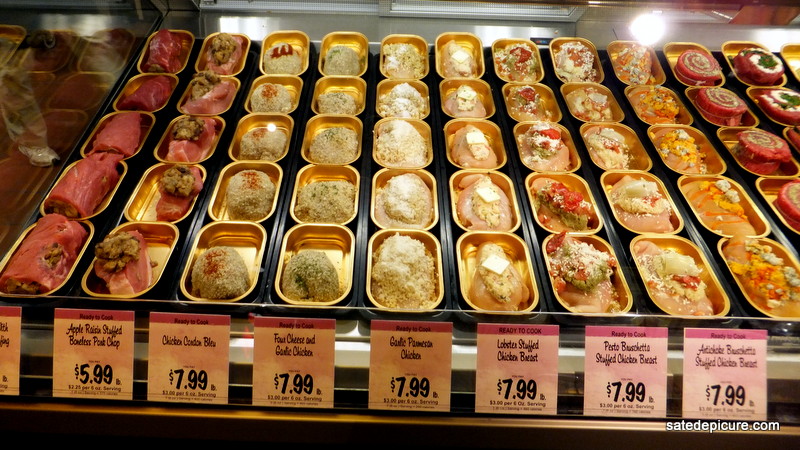 Wegman's Supermarket
Culinary Science: The modernist cooking movement, mostly driven by Modernist Cuisine patron Nathan Myhrvold and coauthor Chris Young has energized a changed craft where culinary science reigns supreme. This isn't molecular gastronomy, it is the chemistry and physics of food that underlies all we do in the kitchen. Chefs are using the science of cooking along with an improved understanding of agriculture and nutrition to innovate and improve their practice.
Small City High Quality: As a national traveller there was a time when it was hard to find great fine food in smaller markets like St. Louis, Orlando, Birmingham, Denver, Salt Lake and Phoenix. Today, there are excellent restaurants in these and other small markets that mirror the major national food cities like Chicago, San Francisco and New York in quality and relative creativity. A good example is ChoLon bistro in Denver where Chef Lon Symensma performs his trade. After working with Jean-Georges Vongerichten and Steven Starr at Buddakan in New York Symensma could have found a home in New York but chose Denver as his new home base further elevating the food scene in that city. Chef Kevin Nashan is doing the same in St. Louis at Sidney St. Cafe. What a wonderful evolution.
Chef Inspired Culinary Media: According to some, food is second only to sex in occupying the human mind. The decade long radical expansion of food related media and entertainment commercializes this phenomenon but is all too often driven by media executives who are outside the realm of the professional chef. In 2011 chefs continued to create their own media opportunities and it is likely that some will continue to grab hold of and direct media in the year to come. A good example is the emergence of David Chang and writer Peter Meehan's irreverent food journal Lucky Peach. Chang, the incredibly gifted (both in an out of the kitchen) owner of the Momo Fuku empire attracted Anthony Bourdain as film critic and some of the best chefs in the country contribute recipes. It's worth a subscription. I also like the videos chefs like Mark Ladner (del Posto) and  Daniel Humm (Eleven Madison Park) post on YouTube. Makes me wish YouTube would create a food channel of its own so these videos are easier to find.  
Quality Chef Driven Food Manufacturing: In case you missed it, the products manufactured under the brand name of chefs like Emeril Lagasse, Mario Batali and Norman Love have earned first place in their respective categories as noted by Consumer Reports magazine. Emeril's cookware even out ranked (paced first) the Culinary Institute of America's line of cookware (placed last) in Consumer Reports. This emerging trend suggests that professional chefs have moved beyond simple brand marketing and co-packing of products and are focused on producing high quality food products and hard goods that consumers will genuinely appreciate. Perhaps the era of simply selling a face is giving way to a real focus on quality.
Fine Supermarket Prepared Food: To be sure, I listed the supermarket trend last year and thought it was maturing. However, just when it appeared that supermarkets had fully evolved their prepared foods departments Wegman's, a regional chain in the North East, raised the bar an developed a massive high end global food court with hundreds of seats and amenities and rolled out the concept to huge success. Supermarkets like Wegman's are leveraging their brand position, buying power and raw ingredient costs, vertical integration, culinary talent and product quality to produce restaurant quality food on location. According to insiders, the revenue per square foot earned in these high end prepared foods departments exceeds most other departments in the supermarket and the trend to push food preparation up front so its visible to customers (think chefs in whites cooking as you watch) is driving sales growth. Keep an eye on supermarkets in 2012, they have the revenue and resources to push into foodservice even deeper, much deeper than even I predicted in 2011.